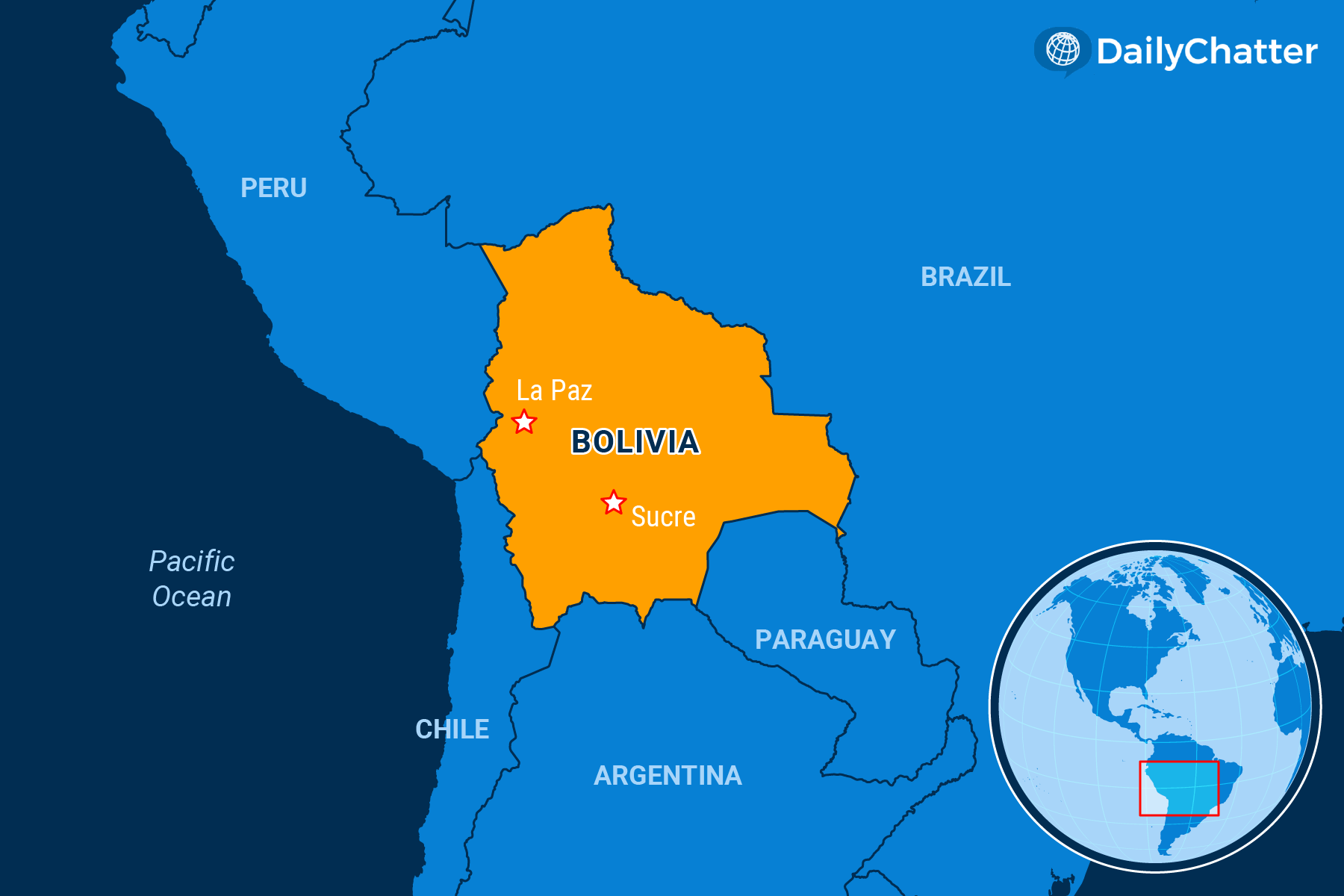 The World Today for August 04, 2023
Listen to Today's Edition
NEED TO KNOW
An Antiquated Model
BOLIVIA
China has invested more than a billion dollars in lithium and other mines in Bolivia. Former President Evo Morales and current President Luis Arce – both of the leftwing Movement for Socialism political party – actively cultivated this capital for years, reported the Diplomat.
Now, however, the negative implications of these economic policies are becoming clearer. Between 2005 and 2018, Bolivia increased exports to China 19-fold and increased imports by 12 times. The South American country's debt to China, meanwhile, has ballooned 26-fold in the same period.
The country, say analysts, is on the verge of an economic crisis.
This growth looked good in its early stages. In the 2000s and 2010s, explained Reuters, Morales used revenues from commodities, especially natural gas, to spend on social welfare programs and help the country's poorest people, especially those part of Indigenous communities that historically have suffered oppression and few opportunities.
In recent years, however, gas production has plateaued while inflation and other costs have skyrocketed. Analysts have even forecast that Bolivia might transition from becoming an exporter of natural gas to Argentina and Brazil to becoming a net importer by 2030, according to Merco Press.
As a result, the country today is now running out of cash to pay its bills, fund public services, and keep its financial system humming.
Earlier this year, for example, Bolivians queued up at banks to withdraw cash, especially American dollars, as a hedge against the value of their currency plummeting, the Economist wrote. The central bank stopped publishing data on Bolivia's dwindling foreign currency reserves. The price of Bolivian bonds collapsed as foreign investors lost interest in them.
Experts are skeptical that Chinese help in mining lithium will deliver much. South American countries are notoriously dependent on commodities whose prices rise and fall, driving economic instability in the region. Bolivia has a history of high prices in natural resources causing boom and bust cycles that don't lead to long-term growth.
"Bolivia's case underscores how commodity booms distort the economy by promoting unproductive policies, allowing governments to pursue their wildest dreams and papering over their economic cost," wrote Bloomberg columnist Eduardo Porter.
The value of Bolivian mineral exports to China, furthermore, is worth only 20 percent of the imports from China that Bolivians purchase, noted El País. Critics have also pointed out that Chinese companies – like many foreign companies invested in the continent – also foment corruption and ignore the environmental consequences of their operations when they work in the region.
Bolivia doesn't need more cash so much as it needs a new way of spending it.
THE WORLD, BRIEFLY
Open Season
POLAND
Polish President Andrzej Duda signed off a bill this week that allows the creation of a special body to investigate Russian influence in Polish politics, despite criticism at home and abroad that the legislation could be used to target political opponents, Politico reported.
The legislation will establish a nine-member commission by parliament – where the ruling Law and Justice party (PiS) holds a majority – that will have access to all government institutions and their documents to probe alleged interference in Polish politics from 2007 to 2022.
Lawmakers initially introduced a harsher version of the bill in May, which included imposing sanctions on individuals found guilty by the commission of acting under Moscow's influence.
The law's approval prompted a large backlash against the Polish government, with critics saying that it was unconstitutional and created to target opposition leader Donald Tusk – prime minister from 2007 to 2014 – ahead of the upcoming general election later this year.
On Wednesday, Duda signed an amended version of the law that scrapped some of its most contentious provisions. Even so, opponents warned that the revised bill could still be used to target opposition politicians.
Supporters of the bill countered that the commission is needed to review issues such as Russian gas deals signed by Warsaw during the time Tusk was prime minister.
Still, some of these agreements were made before Russia's annexation of Crimea in 2014. Under the PiS government, Poland continued buying Russian gas until this year.
Bloody Strategies
BRAZIL
Police raids killed at least 45 people across Brazil this week, prompting concern over the use of lethal force by authorities as they step up operations against criminal gangs, the Washington Post reported.
On Wednesday, a gunfight between police and armed assailants in Rio de Janeiro killed 10 people, including two suspected drug-trafficking kingpins. Local media said that most of the officers that participated in the raid did not wear body cameras, despite a government push to monitor law enforcement to ensure accountability and reduce abuse.
Meanwhile, 16 people died during a five-day raid this week in São Paulo, Brazil's most populous state, after a police officer on patrol was shot dead.
The deaths in São Paulo sparked protests in the coastal city of Guaraja this week, while Rio state lawmakers have criticized the security strategy of the state's government in addressing violence and organized crime.
The fatalities have triggered renewed concerns about police violence in Brazil in recent years.
Former conservative President Jair Bolsonaro, who governed from 2019 to 2022, had backed harsher tactics against criminal groups. His successor, leftist incumbent Luiz Inácio Lula da Silva, has criticized Bolsonaro's support of police violence.
According to the 2023 Brazil's Annual Directory of Public Security, 6,430 people were fatally shot by the police across the country last year.
The Blame Game
TURKEY
Turkey's ruling Justice and Development Party (AK) criticized a reported decision by the Walt Disney Company not to broadcast a documentary series about modern Turkey's founding father, Mustafa Kemal Atatürk, on its Disney+ streaming platform, Al Jazeera reported.
The controversy began after a series of Turkish and Armenian reports suggested that the streaming service had pulled the plug on the series following lobbying efforts by the Armenian National Committee of America (ANCA).
Disney+ had previously announced that the documentary would be released on Oct. 29 to coincide with the 100th anniversary of the founding of the Turkish Republic, according to the Washington Post.
In June, ANCA called for its cancelation, saying that it "glorifies a Turkish dictator and genocide killer."
Following the reports, AK party officials slammed Disney+ for succumbing to pressure from the Armenian lobby and accused the latter of hindering Turkey–Armenia relations. At the same time, Turkey's television watchdog has launched a probe into the matter.
In May 1915, Turkey initiated a mass deportation of Armenians from eastern Turkey. Armenia says around 1.5 million people died in massacres or because of starvation and exhaustion.
While Turkey acknowledges the killings, it has rejected the "genocide" label.
Mustafa Kemal – later known as Atatürk – was a commander during World War I and later went on to establish the Republic of Turkey in 1923 after the fall of the Ottoman Empire.
Walt Disney Turkey responded by announcing a special version of the Atatürk documentary on FOX TV in Turkey and later in theaters, but it remains unclear if it will still be available on Disney+.
UKRAINE, BRIEFLY
This week, the Polish government complained that more than 100 Russian-linked Wagner Group mercenaries have moved close to its border in Belarus, the Associated Press reported. The movement of Wagner members follows the group's arrival in Belarus after their short-lived rebellion in Russia earlier this summer. Tensions between Poland and Belarus have existed for two years due to an influx of migrants from the Middle East and Africa toward Poland's eastern border, which the Polish government views as a form of hybrid warfare orchestrated by Russia and Belarus to continue to destabilize the region.
At the same time, Poland's unwavering support for Ukraine's defense against the Russian invasion is being tested by a diplomatic dispute over grain imports, Euronews wrote. This has already resulted in the summoning of the Polish ambassador to Kyiv. Analysts say Russia may exploit this dispute to its own advantage. Meanwhile, Poland and other European Union countries have imposed import bans on Ukrainian grain because it impacts their own grain production industry. While the European Commission adopted a temporary measure allowing the transit of goods to the rest of the EU and third countries, Poland has said it will continue to ban Ukrainian grain beyond September when the EU's measure expires.
Also this week:
China said it will restrict the export of long-range civilian drones due to concerns about their potential military use in the conflict between Russia and Ukraine, the Hill reported. The move comes amid reports of Chinese-made drones being used for reconnaissance and carrying out attacks, especially by Ukraine, which has regularly used drones to take out Russian supply trucks and tanks. This week, the country escalated its drone attacks on Russian territory, Vox reported, this time on a skyscraper in Moscow. While the attacks are unlikely to significantly change Moscow's strategy, it signals that Ukraine is able to strike into Russian territory, potentially forcing Russia to defend different assets and stretch its military capabilities.
Meanwhile, Ukrainian forces recaptured the town of Staromaiorske after engaging the Russian troops in the Donetsk province, according to El País. The fight was part of Ukraine's offensive to regain control of occupied territories. Despite progress, the road to Mariupol remains challenging, with open plains exposing soldiers to continuous attacks. The conflict has left towns devastated, with few inhabitants remaining, enduring harsh conditions without basic amenities.
Saudi Arabia is set to host peace talks this month, bringing together Western countries, Ukraine, and key developing nations, in an effort to consolidate international support for Ukraine's peace demands, the Wall Street Journal wrote. The talks seek to establish shared principles for resolving the war, with the hope of a peace summit later this year. Russia won't be part of the summit as it has resisted serious peace discussions, but Saudi Arabia aims to encourage China's participation. However, there are differences between Ukraine and developing countries on issues like sanctions on Moscow.
DISCOVERIES
A Universal Light Show
Auroras, the colorful lights in the night skies of Earth's polar regions, are also present on Mercury, Forbes reported.
These beautiful light shows occur as a result of charged particles – electrons, protons or ions – accelerating along a planet's magnetic field lines.
So far they have been seen on Earth, Jupiter and Saturn, but are also present on Venus and Mars – even though the latter two lack global magnetic fields, according to Science Alert.
Mercury has a magnetic field but it's extremely weak. Even so, a joint European-Japanese spacecraft found evidence of "Southern Lights" near the planet's southern pole.
In their paper, researchers explained that the data was collected from a flyby of the planet by the BepiColumbo spacecraft, on a mission to study the planet close to the Sun.
In 2021, BepiColumbo collected images and took readings of Mercury's southern magnetosphere – the area dominated by the planet's magnetic field.
The research team explained that Mercury's aurorae are similar to those seen on Earth and Mars. They added that they also change depending on the strength of the solar wind, similar to other planets like Earth, Jupiter, Saturn, and Uranus.
The findings suggest that the aurorae could be present in some form or another throughout the solar system.
But data from the BepiColumbo mission just showed one facet of long-neglected Mercury.
The mission is made up of two orbitals that will analyze the planet and try to understand how solar wind affects it.
Thank you for reading or listening to DailyChatter. If you're not already a subscriber, you can become one by going to dailychatter.com/subscribe.
Not already a subscriber?
If you would like to receive DailyChatter directly to your inbox each morning, subscribe below with a free two-week trial.
Support journalism that's independent, non-partisan, and fair.
If you are a student or faculty with a valid school email, you can sign up for a FREE student subscription or faculty subscription.
Questions? Write to us at hello@dailychatter.com.