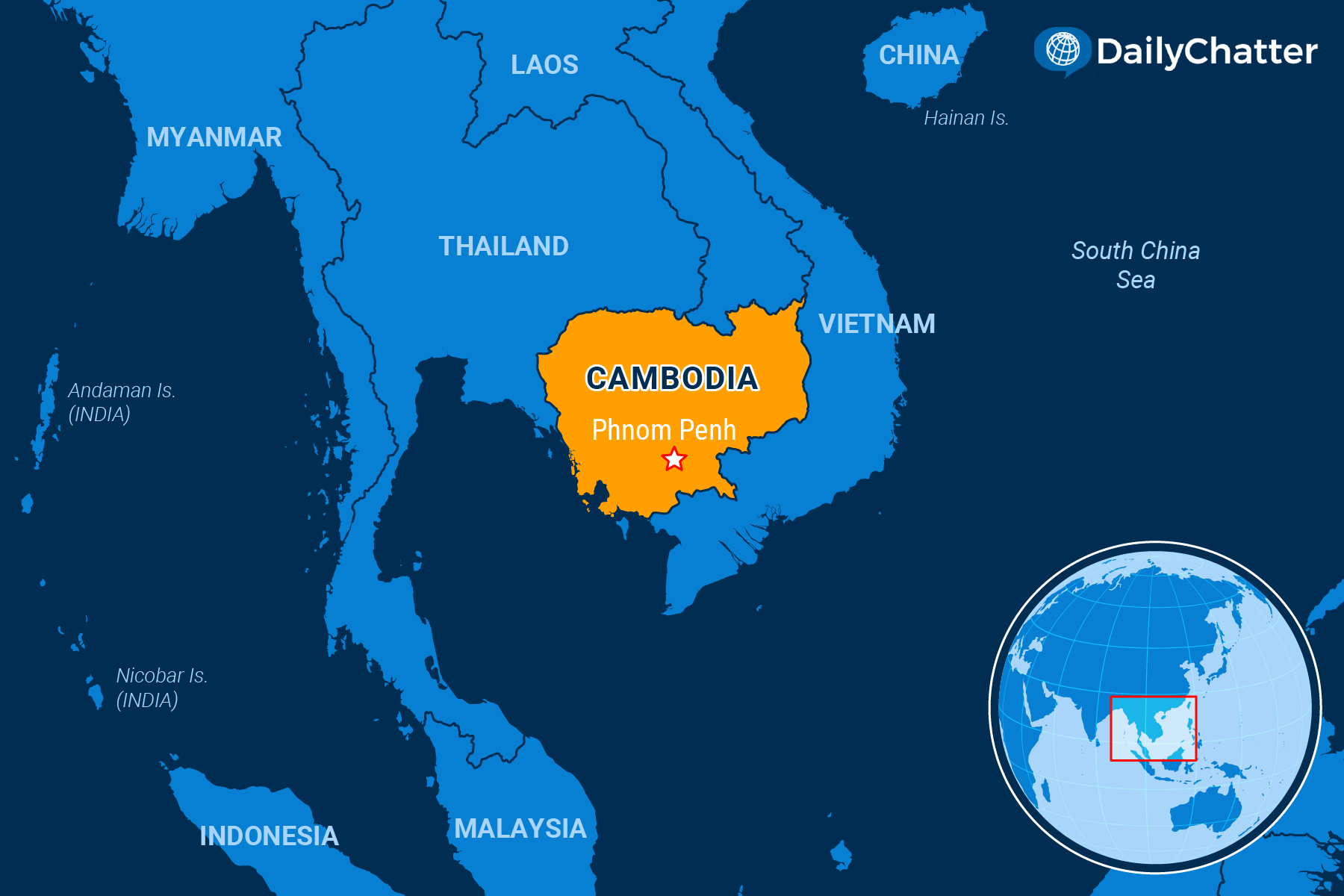 The World Today for July 21, 2023
Listen to Today's Edition
NEED TO KNOW
Null and Void
CAMBODIA
Cambodian Prime Minister Hun Sen's chances of winning reelection on July 23 are very good. It's not a stretch, in fact, to say he is essentially running unopposed.
Hun Sen's government banned the opposition Cambodia National Rescue Party (CNRP) in 2017 after a supposed coup attempt, wrote the Council on Foreign Relations. In May, officials banned a second political organization, the Candlelight Party, that arose in its wake. CNRP leader Kem Sokha is in jail. Another opposition leader, Sam Rainsy, is in exile in France because he would likely face charges of treason if he stepped foot back in his home country. The government has shuttered every independent media outlet.
Hun Sen has threatened to arrest anyone who still associates with Rainsy, Radio Free Europe added. In the run-up to the election, he also attacked other potential critics. United Nations experts, for instance, recently called for the release of Theary Seng, a Cambodian-American human rights and pro-democracy activist who was arrested on treason charges that her defenders say are baseless, the Associated Press noted.
The 70-year-old prime minister has run Cambodia for almost 40 years. His son, Hun Manet, who is also running for parliament, is expected to succeed him once he exits the Southeast Asian country's political stage.
Hun Manet's background arguably makes him ideally suited to running Cambodia as it is now. In the New York Times, University of Texas communications professor Samuel Woolley wrote that the prime minister's son has been running a cyber war room, where online trolls wage propaganda wars against his father's enemies on social media and elsewhere.
In an opinion piece in the Diplomat, Rainsy said that many voters will express their dissatisfaction through canceling their ballot by drawing a large cross all across it. "Such a null and void vote will allow the voters to show their frustration at not being able to vote for the party of their choice," argued Rainsy.
In response, Hun Sen is now asking Cambodian lawmakers to amend election laws to bar Cambodians from running for office in the future if they refuse to vote for one of the pro-government parties, reported Reuters. Rainsy told the news agency that such changes reflected how Cambodian democracy was a joke.
Hun Sen is not a modest man. He built a "marble and concrete monument to his rule," explained the Economist, one modeled on Angkor Wat, the historical site that is the most spectacular remnant of the ancient capital of the Khmer Empire.
The prime minister's actions certainly suggest his ego is fragile, however.
THE WORLD, BRIEFLY
Of Tribes and Tribulations
INDIA
A video showing two tribal women being paraded by a mob in the northeastern state of Manipur sparked outrage across India this week, amid criticism that authorities have been slow at quelling the ongoing ethnic violence in the region, the BBC reported Thursday.
The footage showed the women being dragged and molested by a mob of men who then pushed them into a field. The incident took place in May, but it only now has received national attention when the video went viral on social media.
Police officials said they are investigating the attack as a case of gang rape and have detained a man connected to the incident. They added that they expect to make more arrests.
For the past two months, deadly clashes between Manipur's Meitei and Kuki tribal communities have plunged the Indian state into turmoil. The violence has resulted in the deaths of at least 130 people, while 60,000 have been displaced.
Tribal officials and authorities said the two women were from the Kuki community and were assaulted by men belonging to the Meitei group.
The video prompted condemnation from across the political aisle, including Prime Minister Narendra Modi – who finally broke his silence about the situation in Manipur more than two months after the clashes began.
Opposition politicians also admonished the ruling Bharatiya Janata Party for not doing enough to curb the violence, while other critics questioned why authorities took so long to make the first arrest.
The Right To Burn
IRAQ
Iraq cut diplomatic ties with Sweden on Thursday as hundreds of Iraqi protesters stormed the Swedish embassy in Baghdad, the latest show of anger over another planned burning of the Quran in Stockholm, the Financial Times reported.
Video footage on social media showed Iraqi protesters attempting to break down embassy doors and smoke rising from a building in the compound that houses the Swedish diplomatic mission.
Some demonstrators carried flags depicting influential Shia cleric Moqtada al-Sadr, who had called for the expulsion of the Swedish ambassador.
Swedish officials swiftly condemned the attack and Iraqi Prime Minister Mohammed Shia al-Sudani ordered authorities to investigate the matter.
Still, hours later, al-Sudani expelled the Swedish ambassador and ordered Iraq's chargé d'affaires to withdraw from the Iraqi embassy in Sweden, the New York Times added.
The diplomatic incident came after Swedish authorities allowed two protesters to proceed with the burning of the Islamic holy book and the Iraqi flag in front of Iraq's embassy in the Swedish capital.
While the individuals did not burn the objects, they kicked around the book and stomped on the flag.
The desecration of the Quran – a blasphemous act in Islam – has been particularly problematic in Sweden, which has some of the strongest protections for free speech. The country has previously given permission for protests featuring the burning of the Quran.
Last month, an Iraqi asylum seeker in Sweden burned pages of the Quran in front of a mosque in Stockholm, sparking outrage across many Muslim-majority nations.
The situation has raised concern about the impact of Quran burnings on national security, foreign policy, and diplomatic relations between Sweden and Muslim-majority countries.
Revived Anger
PERU
More than 20,000 people took to the streets of Peru this week to protest widespread poverty in the Andean nation, while also calling for the resignation of President Dina Boluarte, Reuters reported.
Transport officials said demonstrators blocked at least eight highways across the country Wednesday, while local media reported a few isolated incidents involving clashes between police and protesters.
The demonstrations targeted the inequality in the copper-rich country, while also calling for Boluarte to step down. Others also demanded the dissolution of the country's right-wing congress and called for early elections and a new constitution.
Wednesday's anti-government protests are the latest challenging Boluarte. The president took office in December shortly after her leftist predecessor Pedro Castillo was removed for attempting to dissolve Congress.
The ousting of Castillo and his arrest sparked months-long demonstrations in Peru, with authorities launching a bloody crackdown that killed more than 60 people.
Boluarte criticized the new demonstrations as "a threat to democracy" and the government warned it will "make rational use of force" if the protests turn violent.
Peru, the second-largest supplier of copper globally, could also face disruption along its key mining corridor, a region where Castillo is popular.
UKRAINE, BRIEFLY
This week, Ukraine's Black Sea cities of Odesa and Mykolaiv faced Russian bombardment, with multiple cruise missiles and attack drones targeting the cities' vital ports, CBS News reported. More than 20 civilians were wounded, including five children, as the attacks continued for three consecutive nights after Russia withdrew from a deal allowing Ukraine's cargo ships safe passage through the Black Sea blockade. Moscow warned that any ship sailing through those waters could be considered a military target, drawing condemnation from Ukraine and other nations.
Meanwhile, Ukraine suffered significant losses with around 20 percent of its armament and vehicles damaged or destroyed during its counteroffensive, according to the New York Times. This compelled officials to reassess their strategy and slow down the advance to reduce further losses. President Volodymyr Zelenskyy stressed the importance of foreign aid, adding that talks with 20 countries have taken place to garner support for Ukraine's cause. Meanwhile, Ukrainian Gen. Oleksandr Syrskyi told the BBC that the advance has been slower than expected due to Russian strongholds and defensive barriers, especially those involving landmines. Syrskyi is leading the counteroffensive in eastern Ukraine and is aiming to recapture Bakhmut and other lost territory. The retaking of Bakhmut is considered strategically and symbolically important for Ukraine.
Also this week:
DISCOVERIES
Wanted: Soft and Squishy
The Anomalocaris canadensis was considered an apex predator of Earth's oceans some 500 million years ago, even though it measured less than two feet in length.
While it might not seem as impressive as a great white, the creature was among the largest ones during the Cambrian Period and is thought to have struck its prey using its two spiny appendages on its face.
Previous findings suggested that the extinct creature preyed on hard-shelled trilobites, but a new paper showed evidence that the shrimp-like A. canadensis preferred softer food, Science News reported.
Fossils of injured trilobites suggested that a creature had attacked them. Scientists would point to the A. canadensis, but paleobiologist and study author Russell Bicknell was skeptical.
He explained that the trilobites' exoskeletons were hard and thick, adding that no one had yet presented evidence that A. canadensis could break them.
To solve this mystery, he and his team used computer simulations to test the primitive appendages' toughness, range of motion and optimal swimming position. They also compared these flexible appendages with those of modern arthropods.
The findings showed that the prehistoric predator was an efficient and agile hunter, but its appendages were best suited for softer animals swimming in the water.
"That's going to absolutely pincushion something soft and squishy," Bicknell quipped.
According to Joanna Wolfe, an evolutionary biologist from Harvard University who was not part of the study, the results also suggest that even the earliest predators were likely skilled hunters. She said these ancient ecosystems were surprisingly complex, despite their antiquity.
Thank you for reading or listening to DailyChatter. If you're not already a subscriber, you can become one by going to dailychatter.com/subscribe.
Not already a subscriber?
If you would like to receive DailyChatter directly to your inbox each morning, subscribe below with a free two-week trial.
Support journalism that's independent, non-partisan, and fair.
If you are a student or faculty with a valid school email, you can sign up for a FREE student subscription or faculty subscription.
Questions? Write to us at hello@dailychatter.com.