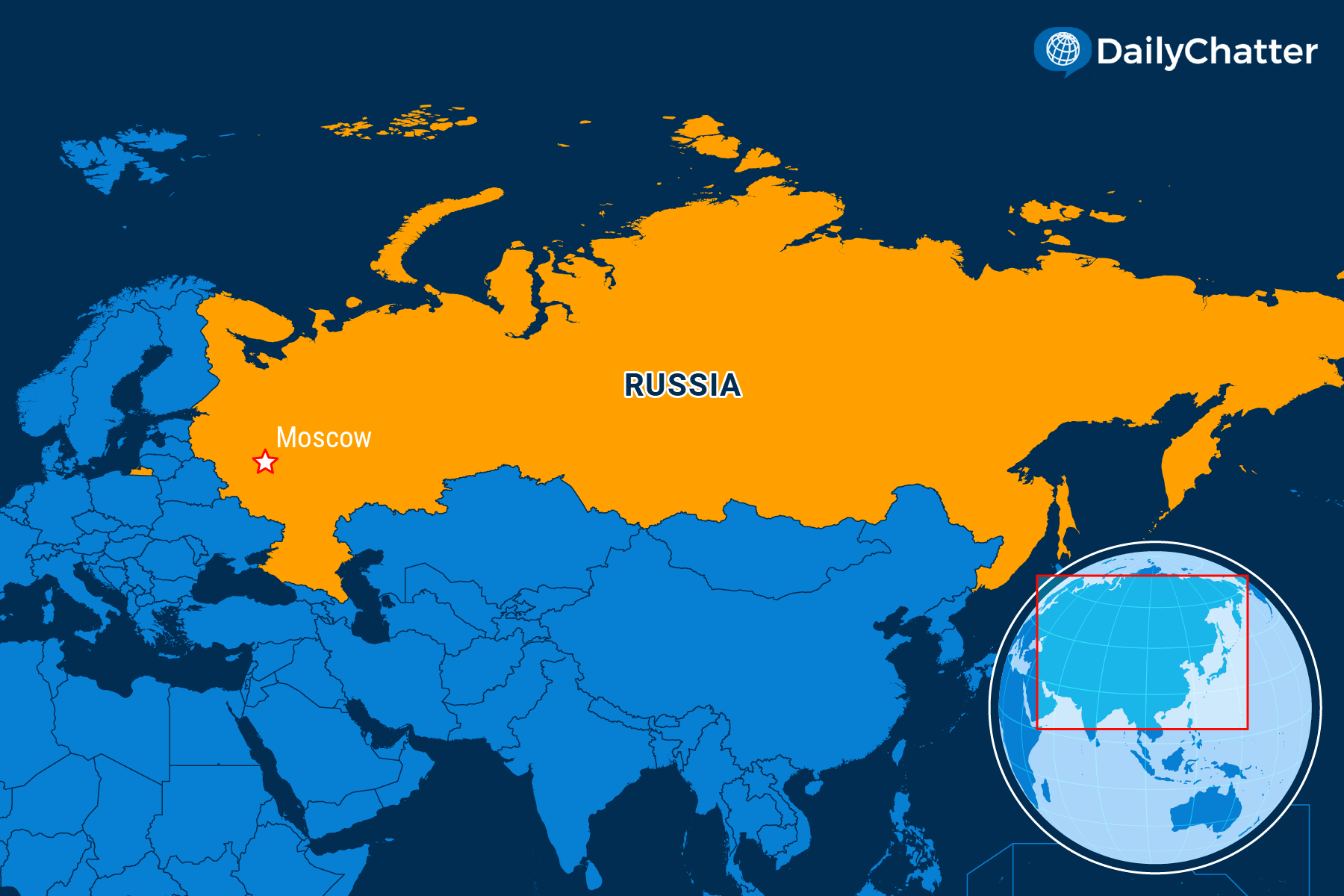 The World Today for March 02, 2022
Listen to Today's Edition
NEED TO KNOW
The Kitchen Sink
RUSSIA
Before the end of the Cold War in the late 1980s, the communist Soviet Union was largely cut off from free markets in the West. The result was an economy that, while powerful, failed to evolve as digital technology, high finance and other innovations took over the world.
In the wake of Russian President Vladimir Putin's decision to invade Ukraine, history might be readying to repeat itself.
Moving to punish Russia for its wanton violence in the pursuit of territorial expansion and domination, Western nations are moving to remove Russia from the Society for Worldwide Interbank Financial Telecommunication (SWIFT), a system that the Wall Street Journal described as "the financial-messaging infrastructure that links the world's banks."
That's only the most high-profile move, though.
As the National Law Review explained, recent US sanctions block Americans from conducting business in the eastern separatist regions that Russia has recognized as independent; bar American financial institutions from trading Russian sovereign debt; stop transactions with Russia's two largest banks; prohibit transactions with the Central Bank of the Russian Federation, and freeze assets that Putin and other high-ranking Kremlin officials hold in the US.
Britain and the EU have announced a bevy of similar economic punishments. Britain is additionally launching a crackdown on "unexplained wealth" that corrupt Russian oligarchs have transferred into the country – which has been a boon to the London real estate market in the past 20 years, as Bloomberg wrote. The European Union also banned exports of technology that Russian oil companies need to continue operating and shut down Kremlin-controlled media companies like Russia Today and Sputnik in their territories.
At the same time, the US, Britain, Canada, the EU and others have banned Russian planes from their airspace, Reuters added. Last week, the chairman of Russia's parliament and his delegation were forced to avoid Swedish and Finnish airspace by diverting their route by almost three hours to northern Norway to get home from Cuba, the Barents Observer reported. That ban has forced the private jets of rich Russian to suddenly change course and pushed Russia's foreign minister to cancel his attendance at a UN meeting Monday.
Meanwhile, Germany has also halted the approval process for the Nord Stream 2 gas pipeline that was going to carry Russian gas to Europe's largest economy. The Swiss-based company building the pipeline – a subsidiary of Russian energy giant Gazprom – declared bankruptcy on Tuesday, Agence France-Presse reported.
And both Britain and the EU are also extending sanctions to include Belarus, a Russian ally and former Soviet republic with an autocratic government, India's Hindu noted. Belarus joined the fight in Ukraine Tuesday.
Meanwhile, Russia's currency, the ruble, collapsed, wrote Axios. Trading in the country's stock market was paused. Putin's stockpile of billions in foreign reserves – created to withstand sanctions – is losing value fast. As New York Times columnist and Nobel Prize-winning economist Paul Krugman wrote, much of that money is held in the form of deposits in overseas banks that can be frozen or in foreign government debt that issuers will no longer honor. Few countries will want to barter goods for Russian gold, too.
European and American leaders along with those of Australia, New Zealand, Japan, South Korea, Singapore and other countries aren't hiding their aim. They want to bring the Russian economy to its knees. In that vein, the sanctions will certainly hurt ordinary Russians before Putin stops the fighting, the Conversation argued. Such sanctions have caused suffering and sown bitterness toward the West in countries like Iran.
Still, it's going to hurt the rich, powerful Russians in Putin's circle, too – many of them are among the almost 700 individuals sanctioned, which now includes Putin himself. France is creating a list of luxury villas, yachts and sportscars it intends to seize from these Russians: The French Riviera, along with London, Monte Carlo and Baden-Baden in Germany, has long been a playground for ultra-wealthy Russians, with many spending their summers on yachts or in their luxury villas on the Mediterranean coast, the Local France noted. Neighboring Monaco, also a playground for the rich, also moved to seize Russian assets. Some Russians have moved quickly to sail their yachts to more "friendly" jurisdictions like the Maldives, Agence France-Presse reported.
At the same time, some elite Russians are starting to get uncomfortable with the situation and questioning Putin's moves in Ukraine, however softly, the Washington Post noted.
If Putin cares about any of this, he hasn't shown it. He dubbed the sanctions illegal, calling them an escalation that compelled him to put the entirety of his armed forces on high alert, including his nuclear arsenal, according to news.com.au.
It's as if the Russian president never believed he would have to pay the piper.
THE WORLD, BRIEFLY
Go, Stay…
ISRAEL/ WEST BANK
The Israeli Supreme Court ruled Tuesday that a group of families facing eviction from a neighborhood in East Jerusalem could remain in their homes, a verdict that could potentially ease tensions in the district that sparked the 11-day war between Israel and Hamas last year, the Associated Press reported.
The judges said the families could stay in their homes until Israel conducted a land arrangement, a process that could either take years or not be carried out at all.
A number of Palestinian families in East Jerusalem are facing eviction by Jewish settler organizations, including those in neighborhoods such as Sheikh Jarrah.
Last year, the dispute escalated into clashes between Palestinians and Israeli security forces, eventually culminating in a war between Israel and Hamas in Gaza.
Tuesday's ruling comes nearly two months after Israeli police evicted two Palestinian families from the Sheikh Jarrah neighborhood, the New York Times reported.
The issue of evictions stems from decades-old legal battles between Palestinian residents and Jewish settlers: During the 1967 Six-Day War, Israel captured the West Bank – including East Jerusalem – and annexed it.
Most of the international community does not recognize Israel's annexation but the country considers the city its capital.
Palestinians, meanwhile, want East Jerusalem to be their capital for their future state.
Fighting the Tides
CHINA
China enacted a new law Tuesday that would rein in the use of recommendation algorithms in apps in an effort to curb the influence of large tech companies in shaping public opinion, the South China Morning Post reported.
The Cyberspace Administration of China (CAC) unveiled the regulations in August and published the final version of the rules in January.
Officials emphasized that algorithms must be regulated because they can potentially damage "personal rights and interests, and even (endanger) national security in more serious cases."
They also noted that the regulation aims to resolve the issue of "algorithmic discrimination," which arises when some online platforms use data about their customers' spending patterns to charge high-spending consumers higher prices.
The new rules cover nearly all service providers using algorithms, including short video-sharing apps, e-commerce sites and delivery platforms. Tech companies are also ordered to "promote positive energy" and allow users to reject personalized recommendations offered by their platforms.
The new rules are also expected to aid authorities in cracking down on content recommendations which can potentially shape public opinion or instigate "social mobilization."
The new law underscores China's continues efforts to control online content and comes at a time when misinformation is running rampant on Chinese social media despite strict government censorship.
The issue has gained more attention in recent days because of the Ukraine-Russia conflict, which prompted authorities to shut down thousands of accounts, videos and posts related to the war.
No Rest for the Weary
SUDAN
Thousands of Sudanese took to the streets of the capital, Khartoum, this week, the latest protests against the October military coup that removed the civilian-led transitional government in Sudan, the Associated Press reported.
Health officials said that at least one person was killed and dozens were injured during clashes between protesters and security forces.
The recent marches are part of the near-daily street demonstrations that have plagued the African country since the Oct. 25 coup that ended the civilian-military transitional government that was to guide the country toward democratic elections, according to Reuters.
Demonstrators have been demanding the creation of a fully civilian government to complete the country's democratic transition. However, Sudan's military leaders said they would only relinquish power to an elected government.
Elections are planned for next year.
Meanwhile, at least 83 people have died and more than 2,600 have been injured since the coup.
The takeover ended Sudan's short-lived transition to democracy: The country had been on a fragile path to democratic rule since a popular uprising ended the three-decade rule of autocratic leader Omar al-Bashir in 2019.
UKRAINE, BRIEFLY
Russia intensified strikes on cities across Ukraine on Tuesday, with a missile strike hitting Kyiv's main TV tower and a nearby Holocaust memorial. Still, satellite imagery showed a huge Russian military convoy – about 40 miles long – heading toward Ukraine's capital as stalled, according to CNBC. Meanwhile, Belarus joined Russia's invasion of Ukraine, with its troops entering the Chernihiv region in northern Ukraine, Politico noted. Russia called for a second round of talks.
Nearly 680,000 Ukrainians have fled the country since the start of the Russian invasion, said the UN high commissioner for refugees Monday. More than half have gone to Poland, with the rest entering Moldova, Slovakia, Romania and Hungary in what is the largest exodus in Europe since the Balkan wars of the 1990s. Meanwhile, Ukrainians and others from around Europe are headed to Ukraine to take up arms against Russia, often with their leaders' blessings.
Large multinational corporations such as GM, Exxon and Shell are pulling out of Russia, joining a broad swathe of the international community in its efforts to isolate the country in reaction to its invasion of Ukraine, the Hill reported. Apple paused its services including limiting Apple Pay and also the sales of its products, it said Tuesday. Meanwhile, Russia imposed temporary curbs on foreign investors from dropping Russian assets, Politico added.
DISCOVERIES
The Final Playback
A new study found that life may indeed flash in front of one's eyes before death.
For the first time, scientists recorded the brain activity of a dying individual and discovered an increase in brain activity associated with memory retrieval, Futurism reported.
The findings were purely accidental as researchers were initially analyzing the brain activity of an 87-year-old epilepsy patient for seizures using electroencephalography (EEG).
Unfortunately, the patient suffered a heart attack during the study while still connected to the device, which incidentally allowed researchers to record 15 minutes of brain waves of the dying individual.
The team said there was a spike in brain waves known as gamma oscillations, which are known to occur during dreaming and memory recall. They suggested that the patient could be experiencing moments of their life flashing before them.
"Through generating oscillations involved in memory retrieval, the brain may be playing the last recall of important life events just before we die, similar to the ones reported in near-death experiences," lead author Ajmal Zemmar said.
The authors acknowledged that the study only focused on one person with neurological disorders but said previous studies on dying rats also showed similar gamma activity.
Meanwhile, Zemmar believes that the results can offer some sense of hope and closure to grieving families.
"Although our loved ones have their eyes closed and are ready to leave us to rest, their brains may be replaying some of the nicest moments they experienced in their lives," Zemmar noted.
COVID-19 Global Update
Total Cases Worldwide: 438,550,298
Total Deaths Worldwide: 5,964,860
Total Vaccinations Worldwide: 10,547,512,063
Countries with the highest number of confirmed cases worldwide as of 4 a.m. ET*
US: 79,092,025 (+0.06%)
India: 42,938,599 (+0.02%)
Brazil: 28,818,850 (+0.08%)
France: 22,960,014 (+0.36%)
UK: 19,036,574 (+0.08%)
Russia: 16,257,688 (+0.59%)
Germany: 14,974,722 (+0.42%)
Turkey: 14,149,341 (+0.43%)
Italy: 12,829,972 (+0.37%)
Spain: 11,036,085 (+0.53%)
Source: Johns Hopkins University
*Numbers change over 24 hours
Not already a subscriber?
If you would like to receive DailyChatter directly to your inbox each morning, subscribe below with a free two-week trial.
Support journalism that's independent, non-partisan, and fair.
If you are a student or faculty with a valid school email, you can sign up for a FREE student subscription or faculty subscription.
Questions? Write to us at hello@dailychatter.com.