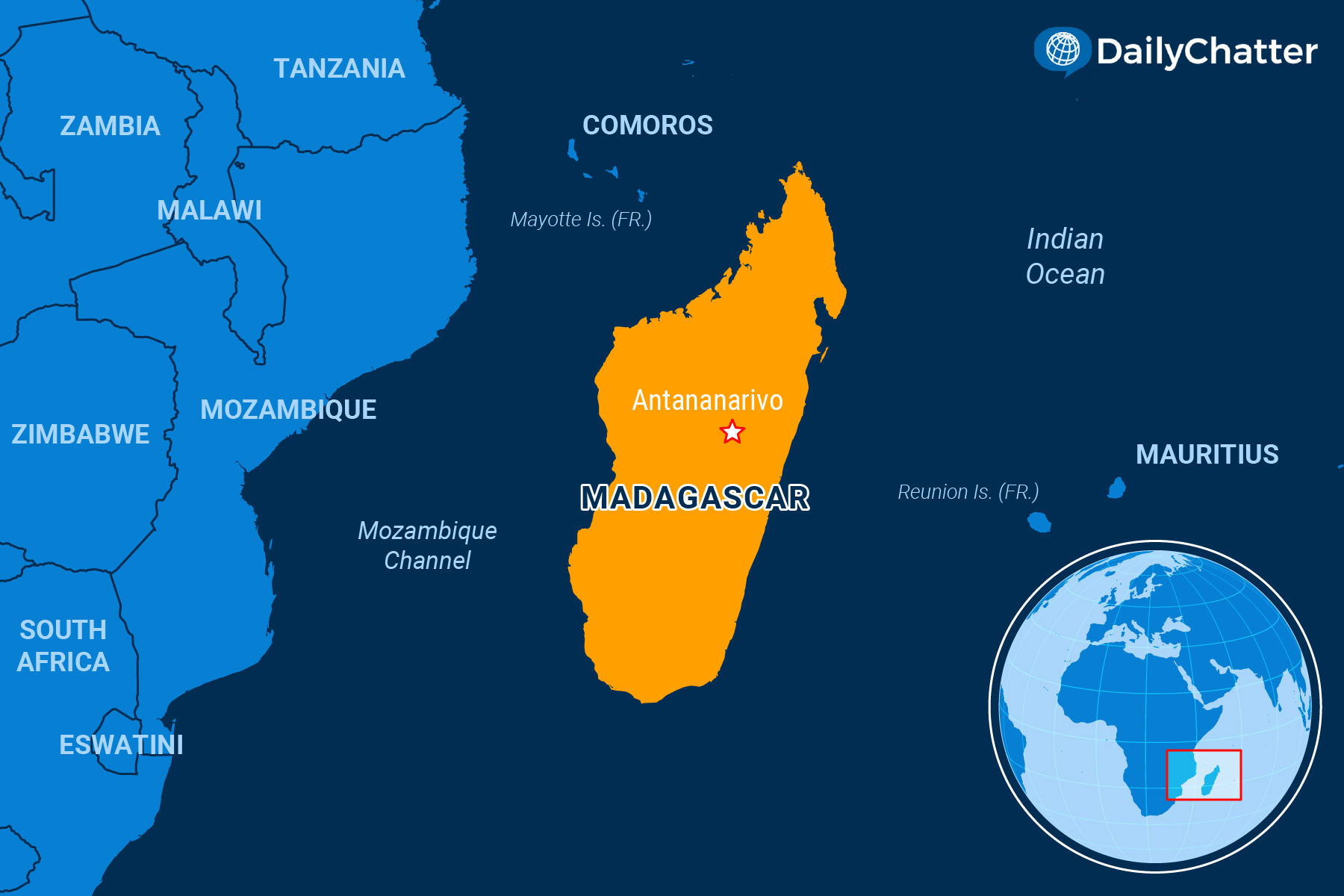 The World Today for November 09, 2023
Listen to Today's Edition
NEED TO KNOW
The Grudge Match
MADAGASCAR
A Madagascan court recently postponed the first round of the country's presidential election by a week to Nov. 16, after security forces injured opposition candidates at unauthorized political demonstrations.
Police dispersing the demonstrations fired a tear gas canister that struck and injured opposition candidate and former President Marc Ravalomanana's leg, wrote the Associated Press. Another opposition candidate, Andry Raobelina, sustained an eye injury after a tear gas canister hit him at a different protest.
Tensions are simmering in the Indian Ocean island nation because incumbent Andry Rajoelina, who was president until he resigned in September to run for reelection per the country's laws, served as interim president for the government that followed Ravalomanana's removal in a coup in 2009.
Ravalomanana, Raobelina, Hery Rajaonarimampianina – another former president – and other opposition figures in the so-called Collective of Eleven have organized unauthorized protest marches against what they describe as Rajoelina's repressive regime, wrote the Institute for Security Studies, a think tank. They say that election officials and the security forces have rigged the election in Rajoelina's favor, reported Africa News. American and European officials have lent credence to those suspicions by publicly saying they would watch the ballot closely.
Still, tear gas, rubber bullets, beatings and arbitrary arrests have marred demonstrations in the island country off the east coast of Africa, prompting the United Nations High Commissioner for Human Rights to appeal to Madagascan security forces to uphold citizens' freedom to assemble and "refrain from using disproportionate force – to create an environment conducive to free, fair, and transparent elections."
Rajoelina's critics also charge that he is not a Madagascan citizen but is in fact French, added Reuters. He has denied the accusation, saying that, while he is a French citizen, he was born and raised in Madagascar.
Rajoelina said he applied for French citizenship because he qualified and he wanted his children to continue studying in France. But he might have become French as part of a Paris-brokered diplomatic deal where he bowed out of politics temporarily in 2013 to defuse a political crisis that was threatening to pull the country into chaos.
Madagascar is a former French colony that experienced brutal oppression under their imperial masters, a London School of Economics publication wrote.
In an interview with Radio France Internationale, Rajoelina said he didn't agree with the court's decision to postpone the election. He also rejected claims that a double standard exists in the country because security forces allowed him to hold political rallies but always dispersed those of the opposition.
He was right in asserting that he was not muzzling anyone, or muzzling them effectively, at least.
THE WORLD, BRIEFLY
Identity Crisis
PANAMA
Mass protests continued in Panama this week over the government's contract with First Quantum Minerals, which grants the Canadian company mining rights to a significant portion of the country's land, the Washington Post reported.
The unrest has seen demonstrators block key arterial roads and vandalize businesses. Clashes with police have resulted in hundreds of arrests and at least four people have been killed during the demonstrations.
The discontent was sparked over a government contract with First Quantum, which allowed the company to expand its copper mining operations in the country. Under the deal, the company had the right to mine copper across a 32,000-acre expanse on the country's Caribbean coast for at least 20 years.
Supporters said that the deal will bring substantial economic benefits to the country, creating thousands of jobs and bringing in significant financial revenue to the Central American nation. But opponents have raised concerns about the environmental consequences of large-scale mining operations.
For some Panamanians, the issue of land and resource management is deeply rooted in Panama's history. US President Theodore Roosevelt broke the country off from Colombia in 1903 so the United States could complete and control the Panama Canal. That international interest in Panama's natural wealth and strategic location continues to this day.
However, protesters want Panama to prioritize sustainable industries, such as agriculture, fishing, and tourism over large-scale mining projects. They also want local control over local resources.
President Laurentino Cortizo has tried to appease the protesters by imposing a moratorium on new mining concessions and renewing any existing contracts – via a bill that was passed by parliament last week, the Associated Press reported. However, demonstrators view this as a temporary solution and insist on a more comprehensive resolution.
Also, the moratorium doesn't apply to First Quantum – it already has a deal in place.
Meanwhile, Panama's Supreme Court is slated to review the legality and constitutionality of the First Quantum contract.
If the court deems the contract unconstitutional, it could lead to significant repercussions for the Canadian firm, observers told the Post.
Opening Doors
AUSTRALIA
Australia's High Court ruled Wednesday that the government's power to hold individuals indefinitely in immigration detention centers is illegal, a landmark ruling that overturned a nearly two-decade-old precedent that has significantly influenced the country's border policies, the BBC reported.
The case involved a stateless Rohingya man – known by the pseudonym NZYQ – who has faced lifelong detention because no country has been willing to resettle him due to a criminal conviction for child sexual offenses.
The government said his detention was lawful and intended to remove him from Australia. Even so, a number of countries, including the United Kingdom and neighboring New Zealand, had refused to resettle him.
In its decision, the top court overturned a 2004 ruling that shaped Australia's border policies. Known as the Al-Kateb v. Godwin case, the High Court found at the time that indefinite detention was lawful, as long as the government planned to eventually remove the person from the country.
But many individuals facing deportation contend that they are stateless with no resettlement prospects. Consequently, numerous asylum seekers find themselves in prolonged detention within the Australian immigration system, with an average detention lasting 708 days.
Currently, 124 individuals have been detained for more than five years, according to the Human Rights Law Centre (HRLC).
A HRLC representative welcomed the decision, noting that it would have "life-changing consequences for people who have been detained for years without knowing when, or even if, they will ever be released."
The ruling could result in the release of 92 people held in immigration centers under similar circumstances to NZYQ. Nine of them are stateless, while the rest cannot be returned because of the threat of persecution.
The country's solicitor general warned that the verdict could prompt a wave of compensation claims.
A Little Finger-Wagging
UNITED KINGDOM
The British government rejected criticism from the United Nations's official in charge of poverty and human rights, Olivier de Schutter, who accused the country of violating international law over its poverty levels, according to the Guardian.
De Schutter's comments as he is preparing to visit the country this week, where he will urge British ministers to increase welfare spending.
In the interview, he said it is unacceptable that "we have more than a fifth of the population in a rich country such as the UK at risk of poverty today."
According to the World Bank, the UK has the sixth-largest nominal gross domestic product in the world. At the same time, government data shows that 14.4 million people were in relative poverty in 2021-2022.
Among his concerns, the UN envoy warned that the British 'Universal Credit' basic allowance system, which grants single adults over 25 around $105 per week, was insufficient to protect people from poverty. He also cautioned that the weekly amount was in violation of the UN's International Covenant on Economic, Social and Cultural Rights, which the UK has ratified.
The agreement guarantees everyone the right to social security.
The prime minister's office disagreed with the UN diplomat, countering that since the Conservative Party came to power in 2010, the number of people in absolute poverty has decreased by 1.7 million and that "households are at least £6,000 ($7,400) a year better off in full-time work than out of work on benefits."
De Schutter is not the first UN official to irritate the UK government on the topic of poverty.
In 2018, his predecessor, Philip Alston, had toured the country and came to harsh conclusions on the state of its welfare system. In this latest confrontation, De Schutter said "things have got worse," adding, "we need to stop thinking that economic growth will lift all boats."
DISCOVERIES
A Full Tank
No water? No problem for an evergreen shrub found in arid coastal regions of the Middle East, which packs a unique and sophisticated mechanism to obtain water in extremely harsh environments, Science News reported.
In a new study, a research team explained that the Athel tamarisk (Tamarix aphylla) can tolerate and even thrive in saline soils.
The plant can secrete excess salt through specialized glands in its leaves. As this salt is excreted, it forms conspicuous white crystals on the plant's surface, which can be seen glistening in the intense daytime heat.
But researchers discovered that the tamarisk's real innovation lies in its use of these salt crystals to collect water from the surrounding atmosphere, even in low-humidity desert conditions.
Time-lapse videos of the plants in their natural habitat showed that the salt crystals that formed during the day absorbed water at night. Laboratory experiments confirmed that these naturally encrusted branches collected a significant amount of water on their leaves, while washed branches yielded far less.
Meanwhile, the study found that the salts themselves, not the plant's surface, were responsible for this phenomenon. The team identified a diverse mix of salts, including sodium chloride and lithium sulfate, with the latter playing a vital role due to its exceptional water-absorbing properties at lower humidity levels.
The authors said the findings have implications for tackling water scarcity and offer potential insights into innovative solutions for water harvesting in arid regions.
They also suggested that other undiscovered water-harvesting adaptations may exist in desert plants, hinting at a wealth of scientific exploration and innovation in the future.
Thank you for reading or listening to DailyChatter. If you're not already a subscriber, you can become one by going to dailychatter.com/subscribe.
Not already a subscriber?
If you would like to receive DailyChatter directly to your inbox each morning, subscribe below with a free two-week trial.
Support journalism that's independent, non-partisan, and fair.
If you are a student or faculty with a valid school email, you can sign up for a FREE student subscription or faculty subscription.
Questions? Write to us at hello@dailychatter.com.