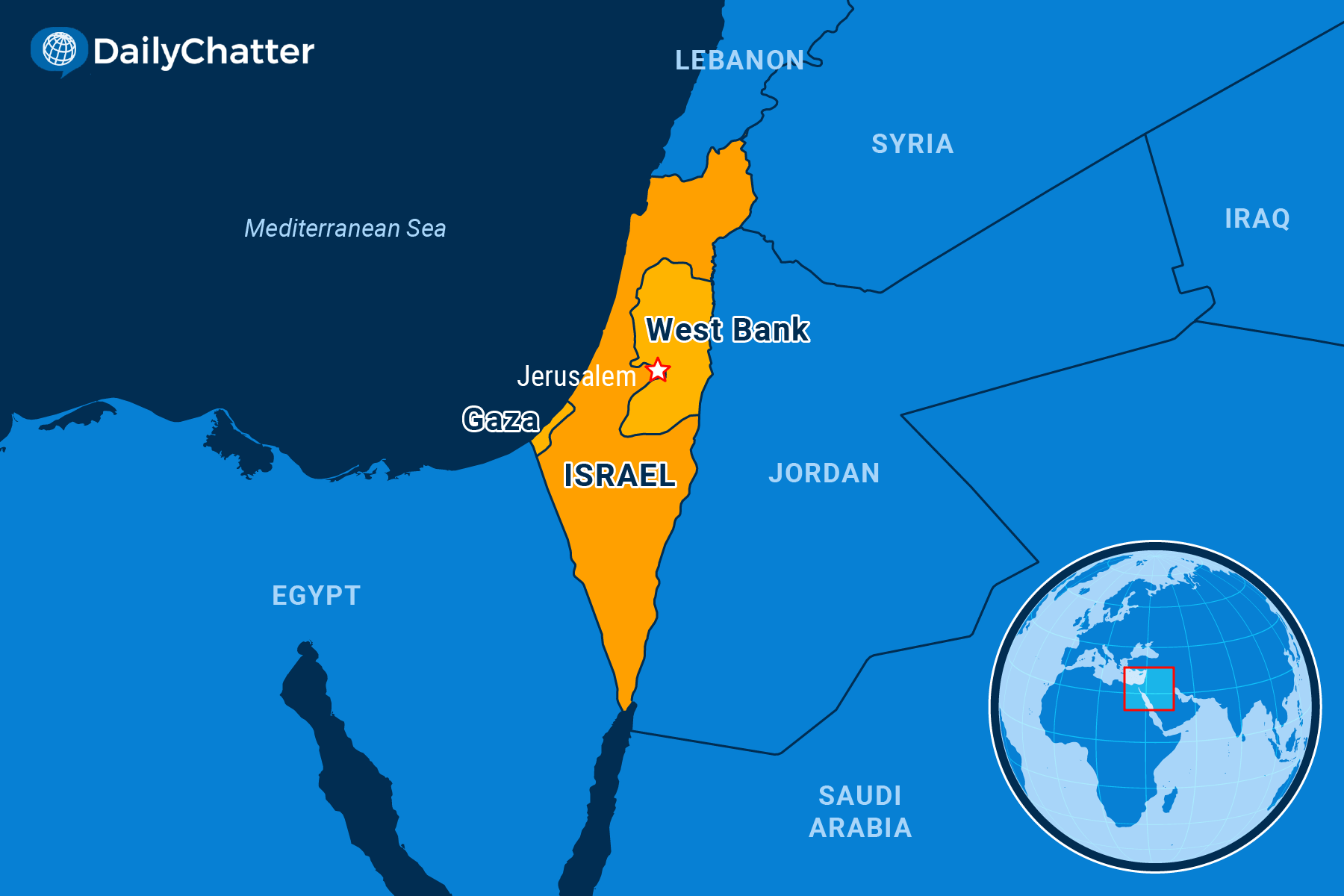 The World Today for October 24, 2023
Listen to Today's Edition
NEED TO KNOW
No Quarter
ISRAEL/ GAZA
When Israel gave the order to evacuate northern Gaza in advance of military strikes, Lubna and her four children had already left their home there to flee south to her friend's house, knowing that safety was going to become ever more elusive.
She was all too correct, she says. These days, the sound of bombs is a consistent soundtrack to their new lives. Her friend's house has narrowly missed being hit. So far.
"We are not the only family at the house now …We are sleeping seven ladies in the same room and the men (are) sleeping outside," Lubna told the Guardian from Khan Younis near the Egyptian border. "There is no electricity or water," she said. "The strikes are everywhere … When I say everywhere, (they are) literally everywhere."
Lubna now is one of 1.4 million people who have been displaced since the devastating attacks by Hamas on Israel on Oct. 7 that killed 1,400 people, mainly civilians. Under siege since then, Gazans have been rationing food. Fuel and power are scarce. Many have already run out of water.
But it is safety that has become the scarcest commodity.
A drone flying over the Gaza Strip for USA Today captured the devastation that Israeli air strikes have wrought in the enclave abutting Israel, Egypt, and the Mediterranean Sea.
As of Monday, more than 5,000 Palestinians have been killed, almost half of them children, and more than 15,000 have been injured in the war. These tolls don't include the hundreds of people who sought safety near the Al-Ahli hospital in Gaza City but died when a missile strike hit, the BBC wrote, noting that Israelis and Palestinians have blamed each other for the blast.
"Charred cars lining a parking lot. The courtyard littered with bloody blankets and backpacks. Tattered clothing where dozens of bodies had lain," wrote New York Times reporters on the scene. "The smell of blood and burned metal hanging in the air."
The destruction is the latest chapter in the sad history of Gaza, a 140-square-mile territory whose borders date to the Six-Day War of 1967 when Israel defeated a coalition of Arab countries that sought to destroy the Jewish state, Le Monde explained. Israel then controlled Gaza and its 2.3 million inhabitants until 2006, when Hamas won elections, ousting Fatah, the political organization that still controls the West Bank.
Israel responded by imposing a blockade on Gaza to prevent weapons and other non-humanitarian supplies from entering the enclave. While this blockade immiserated ordinary Palestinians – Slate was one of many publications that described Gaza as the world's largest "open-air prison" – it apparently failed to prevent Hamas from obtaining missiles and other weapons, many of which came through hundreds of miles of tunnels constructed under the strip.
But it is keeping millions of Palestinians in, and in conditions so dire that the UN chief António Guterres called it a "god-awful nightmare."
"It is impossible to be here and not to feel a broken heart," he said at the border with Egypt over the weekend, waiting for the first aid trucks to be let in since the war began.
Israel's ambassador to the United Kingdom, Tzipi Hotovely, disputed that the conflict has created a humanitarian crisis in Gaza, according to the Hill.
Many in the West agree that Israel's cause is just, recognizing Israel's right to defend itself and eliminate Hamas to make sure nothing like Oct. 7 ever happens again. But as demonstrations around the world and statements from leaders in the region, Europe and elsewhere start using the terms "war crimes" and "collective punishment" when talking about what's happening in Gaza, it's becoming clear that the backlash to the missile strikes could create more of the same in the future, wrote Washington Post columnist David Ignatius.
"Fighting Hamas is a just war, but it must be accompanied by a clear plan, framed by the United States and friendly Arab countries working with a new generation of Palestinian leaders, to rebuild Gaza and invest in the West Bank," he wrote. "Otherwise, the war will create nothing but more rage in a barren land."
Still, theoretical discussions about cause and responsibility and the future don't matter much to mothers like Lubna, who has other things consuming her right now that are more important than rage.
She's worried about food and water, and the bombs.
THE WORLD, BRIEFLY
Cry For Me
ARGENTINA
Argentina is headed for a presidential runoff after the two top vote-getters – the economy minister and a right-wing legislator – failed to garner enough support to win the election outright, the BBC reported Monday.
The favorite, Javier Milei, a brash libertarian congressman who rallied young voters enraged at a Peronista government that has struggled against the country's worst economic crisis in two decades, was widely expected to lead the first round of voting Sunday.
Instead, former lawmaker Sergio Massa, who has been warning of the impacts of a possible Milei presidency, took the lead with 36 percent of the vote to Milei's 30 percent. Massa, the minister overseeing the crumbling economy, had portrayed himself as the moderate and pragmatic leader the country needs, one where 40 percent live in poverty and prices increase every week.
The runoff election, to be held Nov. 19, will essentially pit the establishment left against a man who has vowed to destroy it, the Washington Post wrote.
With the peso currency plummeting and inflation at nearly 140 percent, a large swath of voters in this nation of 46 million have demanded change. In Milei, an admirer of former US president Donald Trump, they found a candidate who promises to blow up the entire system. Running on attacks against the country's political "caste," he has proposed shutting down the central bank, dollarizing the economy and taking a "chain saw" to government spending.
His attacks on the peso sent shock waves through the economy. Days after his primary win, the peso collapsed and inflation spiked.
Still, in a country where public services are heavily subsidized, and where the leftist party of former leaders Juan and Eva "Evita" Peron has dominated politics for decades, many were unwilling to gamble on Milei.
But Massa, who finished third in the 2015 presidential election, is also a problematic candidate, analysts said. While he has tried to distance himself from the unpopular administration of President Alberto Fernández following the primaries, Massa pledged to expand welfare benefits for large segments of the population – and slash income taxes.
That would likely threaten a deal with the International Monetary Fund that calls for cuts to government spending.
Fernández opted out of running for reelection.
Revolving Doors
PAKISTAN
A Pakistani court on Monday indicted former prime minister Imran Khan on charges of revealing official secrets after his 2022 ousting, a move that could lead to a death sentence and preempt the former cricket star from running in elections in January, the Associated Press reported.
Khan and also Shah Mahmood Qureshi, a close aide and the deputy leader of Khan's opposition Pakistan Tehreek-e-Insaf party, will go on trial in closed-door proceedings starting Friday at a high-security prison in Rawalpindi, in central Pakistan, where he is being held.
He has denied the charges and objected to the non-public trial.
The case centers on a speech the Islamist politician gave at a rally for supporters after he was deposed via a parliamentary vote of no confidence in 2022. Then, Khan held up the alleged letter, claiming it was proof that he was being threatened and that his overthrow was a US conspiracy, allegedly carried out by the military and the government in Pakistan. The US government and Pakistan have denied these allegations.
The document, known as Cipher, has not been made public, but is thought to contain diplomatic correspondence between the Pakistani ambassador to Washington and the Ministry of Foreign Affairs in Islamabad.
Meanwhile, Khan is facing more than 150 charges, ranging from contempt of court to terrorism and inciting violence. In August he was sentenced to three years in prison for corruption: That sentence was suspended by the High Court in the capital, Islamabad.
Still, Khan is not eligible to run for office in the January elections because of that conviction, which is being appealed.
Over the weekend, Khan's main political rival and former Prime Minister Nawaz Sharif returned to Pakistan, ending four years of self-imposed exile in London after he failed to appear in a Pakistani court in 2019 following a conviction and a 10-year sentence on corruption charges.
However, a federal court recently granted him protection from arrest. He will appear before the Islamabad High Court on Tuesday.
In January, Sharif and his Pakistan Muslim League party are expected to face tough competition in the elections from Khan's party, which has high levels of support among Pakistanis.
Riding High
SWITZERLAND
The right-wing Swiss People's Party (SVP) scored one of its best results ever in national elections, capitalizing on a campaign that stressed concerns over immigration and other domestic issues, Bloomberg reported Monday.
The SVP won 28.6 percent of votes in Sunday's election, up from 25.6 percent four years ago, surpassing expectations and nearly matching its 2015 record of 29.4 percent.
The Social Democrats (SP) came a distant second and the Center Alliance took third place over the pro-business Free Democrats. Switzerland's two Green parties reversed most of the gains they made in 2019.
Still, there isn't likely to be a shift in Switzerland's executive because the seven-seat government is not formed by a coalition or outright majority, but is a compact between the largest parties.
Ministers will be elected by lawmakers on Dec. 13 – and the centrists have already announced that they will not challenge sitting members, Politico said.
The SVP's win translates into nine additional seats in the 200-member lower house, bringing its total to 62.
The elections, meanwhile, highlighted how the SVP has become the country's most popular party, mainly due to its focus on immigration and the economy. The SVP wants to limit the country's population to 10 million people, saying that the country can't handle a larger population, especially in terms of housing.
The party also wants to enshrine the country's traditional neutrality – despite calls to respond more forcefully to Russia's invasion of Ukraine – and to cap the costs of the switch to sustainable energy.
Still, the outcome of the parliamentary election is much less of a determinant for future policy in Switzerland compared with other countries, as initiatives and referendums, held several times a year, give voters a say on everything from corporate tax to immigration.
DISCOVERIES
Feasting the Departed
Today's funerary practices usually involve burying or cremating the dead, and lifting a glass in celebration of the dearly departed.
In the distant past, however, some Stone Age civilizations in Europe opted to eat them, Science Alert reported.
About 15,000 years ago, Europe was occupied by two distinct cultures: The Magdalenian culture in the northwest and the Epigravettian in the southeast.
The Epigravettians were known to bury their dead, while the Magdaleanians left behind a treasure trove of artifacts. But scholars have remained puzzled at how the latter northwestern culture dealt with their dead.
Now, researchers examining Paleolithic human remains in northern Europe have found that cannibalism was a normal and widespread cultural practice then, according to a new study.
Researcher William Marsh and his colleagues recently conducted a literature review for evidence of cannibalism in Europe and also studied 59 sites belonging to both prehistoric cultures.
Only 25 sites showed evidence of funerary practices and 13 of them had signs of cannibalism: Researchers explained that the bones in these sites had signs of cuts and tooth marks associated with butchering and eating. Some of the remains were also repurposed to be used as tools and vessels, such as cups or bowls made from human skulls.
The team added that all the sites that showed the grisly practice were Magdalenian.
To add to the mystery, a genetic analysis of Epigravettian remains showed that they were genetically distinct from the Magdalenians – and that as a group lived thousands of years longer than their cannibalistic counterparts.
The authors admit that more research is needed to understand why Magdalenians opted to devour their dead.
Even so, the combined findings hint that the two cultures didn't merge, but that the Epigravettians eventually replaced the Magdalenians – and opted to bury their dead.
"The Magdalenian-associated ancestry and funerary behavior is replaced by Epigravettian-associated ancestry and funerary behavior, indicative of population replacement as Epigravettian groups migrated into northwestern Europe," Marsh said in a statement.
Thank you for reading or listening to DailyChatter. If you're not already a subscriber, you can become one by going to dailychatter.com/subscribe.
Not already a subscriber?
If you would like to receive DailyChatter directly to your inbox each morning, subscribe below with a free two-week trial.
Support journalism that's independent, non-partisan, and fair.
If you are a student or faculty with a valid school email, you can sign up for a FREE student subscription or faculty subscription.
Questions? Write to us at hello@dailychatter.com.