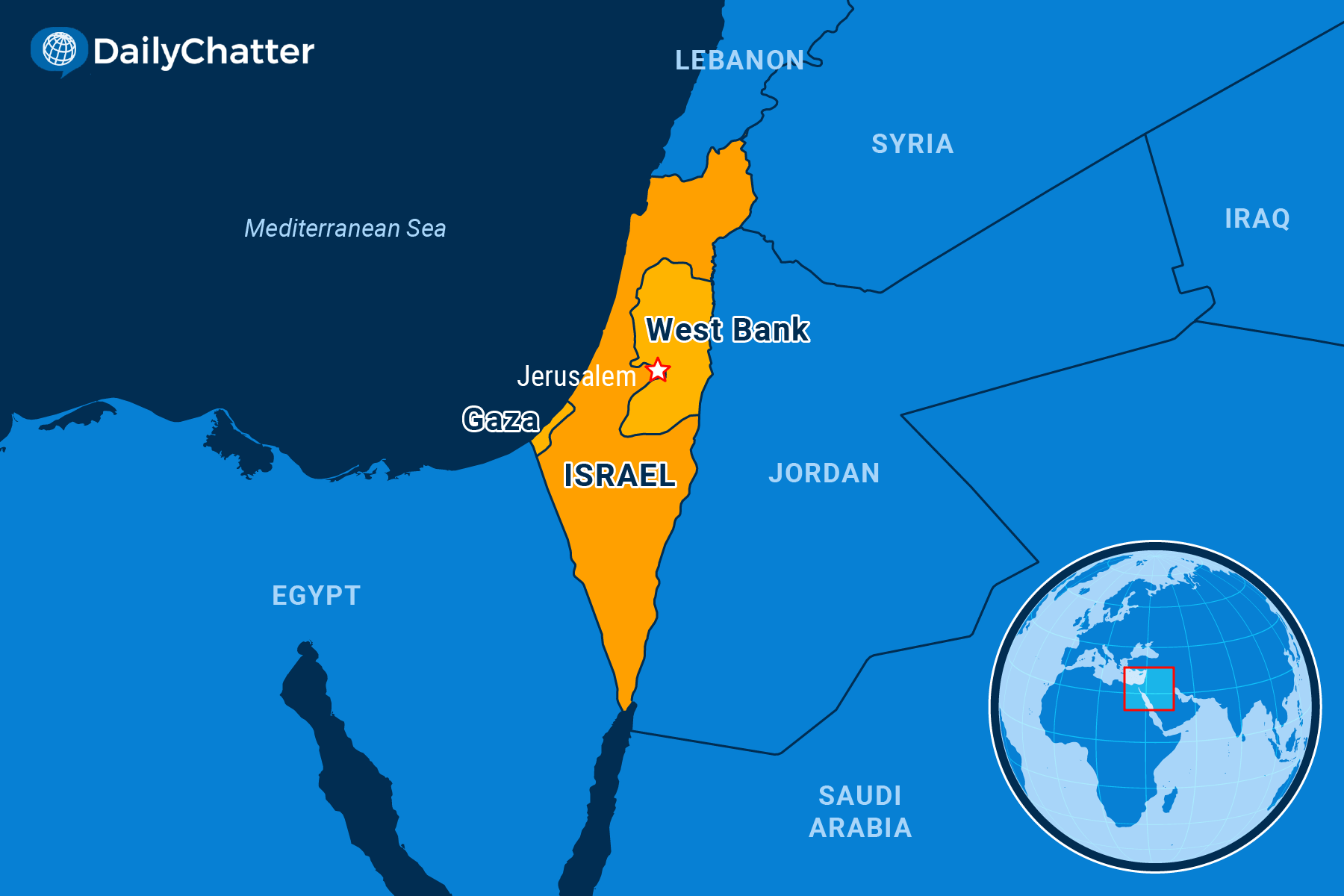 The World Today for October 17, 2023
Listen to Today's Edition
NEED TO KNOW
The Before and the After
ISRAEL/ GAZA
No matter what one thinks of the plight of the Palestinians who have suffered mightily for years under Israeli occupation, the atrocities that have come to light in the wake of Hamas' attack on Israel on Oct. 7 will go down in the long, tragic history of violence against Jews, argued the Economist.
"Hamas has chosen mass murder and there is no going back," the British magazine wrote, referring to the Palestinian terrorist group that controls the Gaza Strip.
In addition to raining missiles down on Israel, Hamas used bulldozers to break through the Gaza-Israel border fence, and then massacred unwitting families in scenes that evoked Nazi atrocities in the Holocaust and Russian pogroms.
"The terrorists went from house to house, systematically murdering families, killing parents in front of their children and taking hostages, even babies and grandmothers," wrote Hebrew University of Jerusalem historian Yuval Noah Harari in the Washington Post.
Hamas is responsible for these horrors. But many Israelis and others are also now angry about their government's intelligence, deterrence, and security lapses before the attacks.
One could blame Israeli hubris – thinking they could ignore the plight of Palestinians in Gaza living in poverty under the government of terrorists – as the reason why the Israeli government failed to avert the attacks, Harari reasoned. But he and Wall Street Journal columnist William Galston believe Israeli Prime Minister Benjamin Netanyahu is culpable, too.
"There is commentary, even in centrist or slightly right-wing newspapers, that has said this is certainly the worst government that Israel has had and that it has damaged national security," Clive Jones, professor of regional security at the University of Durham, told France24.
Ironically, added the Wall Street Journal, Netanyahu always claimed that security was his strong suit.
Vowing to wipe Hamas off the face of the Earth, he has ordered a massive counterattack against Hamas, reported Reuters. Now many Israelis don't know whether to rally behind Netanyahu or punish him, reported NBC News. They are wondering whether accountability can wait until the threat has passed. Many, even opponents, say that is necessary, though.
Netanyahu is the longest-tenured prime minister in the country's history. He is also currently on trial for bribery, fraud and breach of trust charges, the New York Times explained. He has denied all the charges. Politico wondered if he might use the crisis to fashion a new centrist coalition that would be more stable than the government of right-wing figures that he assembled late last year, and that is now partially being blamed for the calamity that occurred last week.
He has already moved to create a unity government with his most powerful rival, former military Chief of Staff Benny Gantz and his National Unity party, while marginalizing the two most right-wing members of the government, Bezalel Smotrich and Itamar Ben Gvir.
Bibi, as the prime minister is known, is a survivor, as he has amply demonstrated in numerous elections.
Still, even with the significant concessions he has already made, many doubt he can survive this, or should.
Looking for thoughtful, independent coverage of US political news? Try Tangle.
DailyChatter only reports news from around the globe, so we look to our colleagues at Tangle to help us discern what's happening in the complex world of US politics. Tangle is a daily newsletter that covers political news in the United States with the same kind of balance and neutrality we strive for in covering the rest of the world. It's a rare breed – news that's read and trusted by a wide range of people from across the political spectrum. Tangle's rational, reasoned, and nuanced coverage earns media bias ratings that are always in the center which makes the Tangle newsletter a highly valued resource for many, including us.
Try it for free. Plus, get 20% off your Tangle membership with the Black Friday deal they are running this week.
THE WORLD, BRIEFLY
The Politics of Fatigue
POLAND
Poland's ruling Law and Justice Party (PiS) lost its majority in the country's parliamentary elections over the weekend, according to exit polls, a result that reflects a notable shift in voter support toward opposition parties that have pledged to reverse the erosion of democracy seen in the country, and enhance the nation's ties with the European Union and Ukraine, the Associated Press reported.
The centrist opposition, made up of three key parties and led by former Prime Minister Donald Tusk, has collectively secured 248 seats in the 460-seat lower house of parliament, according to Politico. Voter turnout was nearly 74 percent, the highest in Poland's democratic history – surpassing the historic 1989 vote that saw the end of communism.
The early results surprised observers, many of whom said before the vote that the opposition was faced an uneven playing field: The governing PiS mobilized its administrative resources to bolster its position, influencing the administration of the election and the distribution of votes in electoral districts in a way that observers deemed unfair, the newswire wrote.
This dramatic shift in voter sentiment is seen as a response to the divisive policies pursued by the PiS over the past eight years, which has led to numerous protests and disputes with the EU over matters of the rule of law.
Political commentators said the opposition's victory is important to the EU in the hopes of preventing further democratic backsliding seen in Hungary as well as under the PiS' governance.
They added that the results will also impact Poland's relationship with neighboring Ukraine: Since last year's invasion, Warsaw has supported Kyiv in its conflict with Russia, but the two neighbors have bickered in recent months over the impact of Ukrainian grain entering Poland's market.
While exit polls showed that the opposition had the most seats, the final results are still not out and some voters remain concerned about the smooth transfer of power.
So far, the PiS appeared to have secured the most votes of any single party, with more than 35 percent of the vote. The nationalist party said it would attempt to form a new government led by current Prime Minister Mateusz Morawiecki.
Even so, questions remain about how the PiS could realistically hold on to power as it would require attracting lawmakers from opposition parties, a move that appears unlikely given the large number of lawmakers required to change allegiances.
At the same time, political scientists cautioned that even if Tusk and the opposition take power, they will face challenges in carrying out their policies. Poland's president, Andrzej Duda, is an ally of the PiS and could veto new legislation.
Meanwhile, the Constitutional Court, whose role is to ensure that laws don't violate the constitution, is loyal to the current governing party.
Building a Dynasty
INDONESIA
Indonesia's top court ruled against lowering the minimum age for presidential and vice-presidential candidates, a decision that just a few months before the elections in 2024 could see the son of incumbent Joko Widodo run for the country's top post, Al Jazeera reported Monday.
The Constitutional Court rejected a number of petitions to lower the minimum age from 40 years to 35, with judges saying the petition had no "reasoning according to law" and the decision to change the age limit should be left to parliament.
However, it also ruled that there could be an exception for presidential and vice-presidential candidates who have been elected as regional leaders.
The verdict comes as Indonesia gears up for its presidential and parliamentary elections on Feb. 14, 2024. Widodo – popularly known as Jokowi – is barred from running because of term limits.
The governing Democratic Party of Struggle has picked the governor of Central Java, Ganajar Pranowo, as its candidate. Meanwhile, Defense Minister Prabowo Subianto is also expected to run.
Despite Jokowi's absence, speculation has mounted that one of his sons, Gibran Rakabuming Raka, is considering running for the vice presidency, perhaps as Prabowo's running mate.
Gibran is 36 years old and currently serving as the mayor of Surakarta city. While the court's decision allows Gibran to run, he has not publicly expressed interest in the elections.
Indonesia has a history of political dynasties, with previous leaders having familial connections in politics.
One such case is Megawati Sukarnoputri, who became the country's first female president and is the daughter of Indonesia's first president, Sukarno. Prabowo is also the former son-in-law of Indonesia's late dictator, Suharto.
Times-a-Changin'
ECUADOR
The heir to a banana empire won Ecuador's presidential election this week, following a poll that was plagued by political assassinations and drug-fueled gang violence, the Washington Post reported.
Daniel Noboa defeated his rival, Luisa González, a former leftist lawmaker loyal to former President Rafael Correa, in a runoff vote. At 36 years of age, Noboa will become Ecuador's youngest president.
Noboa's election comes at a time of increased youth participation in politics and a desire for new leadership to address pressing issues, including job opportunities and security.
The president-elect – who also served in the country's legislature – campaigned on a platform to tackle Ecuador's security crisis by overhauling the prisons' governing body and establishing a centralized intelligence unit. González, meanwhile, vowed to restore some Correa-era ministries and address the main causes of crime through social programs.
The election outcome comes as Ecuador – a peaceful country just a few years ago – has become a crucial transit node for narcotics and descended into a de facto warzone as rival gangs vie for dominance. The violence has contributed to a surge in migration to the United States.
The violence also spilled into the election, when presidential candidate and former lawmaker, Fernando Villavicencio, was fatally shot days before the first round of voting on Aug. 20. Earlier this month, seven suspects in his killing were found dead in prison.
Analysts say, meanwhile, that Noboa will face a challenging task in tackling the violence in Ecuador: He is expected to serve as a caretaker president, completing the remaining 18 months of outgoing President Guillermo Lasso's term.
In May, Lasso avoided impeachment by dissolving the legislature, a constitutional move that enabled him to rule by decree but required a new election within six months. Lasso opted not to run for re-election.
Meanwhile, political commentators said that Noboa's victory also signals a rejection of the socialist, pro-Correa party that still remains a force in the South American nation.
Correa, who lives in exile in Belgium, is both praised for combating inequality and reviled for his authoritarian tendencies. He was sentenced in absentia to eight years in prison on bribery charges.
DISCOVERIES
Toys for Whales
Migratory baleen whales are not "all work and no play," the Washington Post reported.
Instead, marine researchers recently observed that the whale group – which includes humpback and gray whales – have a fondness for playing with seaweed as they swim.
For their study, the scientists analyzed aerial observations of the whales and social media posts about them to document more than 160 cetaceans' interactions with seaweed.
Known as "kelping," the activity sees the marine mammals finding floating clumps of seaweed, rolling in them and rubbing against them, as well as wrapping the kelp around their fins.
The research team said examples of kelping were recorded off Australia's east coast and in North America. The unique behavior was present in four distinct humpback whale populations, with researchers noting that adults were more likely to interact with the seaweed than youngsters.
The findings offer some new insights about whales, which were not thought to be particularly playful with objects, unlike dolphins.
Questions still remain about why they do it: The team has theorized that kelping could be a kind of self-care or a playful sensory experience for the marine creatures.
It could also be pure play, which can boost learning and help the large creatures survive in the wild.
The authors say more research on whales' kelping is necessary, especially given recent, large kelp die-offs that have endangered kelp beds in Australia, California and elsewhere.
Thank you for reading or listening to DailyChatter. If you're not already a subscriber, you can become one by going to dailychatter.com/subscribe.
Not already a subscriber?
If you would like to receive DailyChatter directly to your inbox each morning, subscribe below with a free two-week trial.
Support journalism that's independent, non-partisan, and fair.
If you are a student or faculty with a valid school email, you can sign up for a FREE student subscription or faculty subscription.
Questions? Write to us at hello@dailychatter.com.