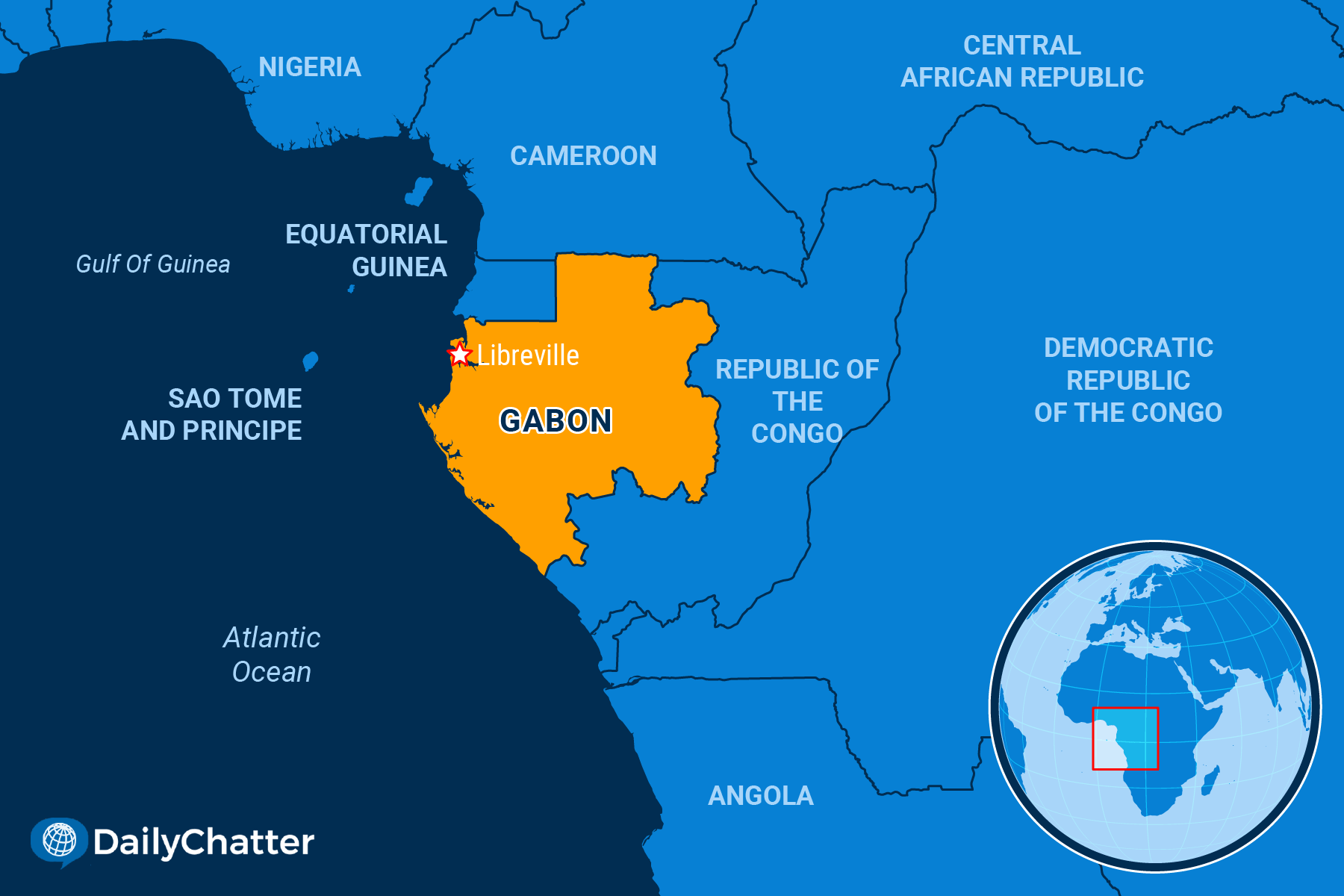 The World Today for September 15, 2023
Listen to Today's Edition
NEED TO KNOW
A Worn Out Welcome
GABON
The leaders of the Aug. 30 coup that ousted President Ali Bongo Ondimba of Gabon from office recently appointed one of his opponents, economist Raymond Ndong Sima, as interim prime minister.
Sima served as prime minister under Bongo from 2012 to 2014, but then became a fierce critic of the president, Deutsche Welle reported. He even ran against Bongo unsuccessfully in 2016 and in last month's general election.
Bongo's family ruled the oil-rich Central African country for more than five decades. He assumed office in 2008 when his father, Omar, who ruled the country for 40 years, died. The elder Bongo's wealth grew enormously while he was in office in part due to his cozy relations with France, the country's former colonial power, said the International Consortium of Investigative Journalists. Meanwhile, though Gabon's oil wealth technically makes it a middle-income country, a third of Gabonese citizens live in poverty.
Bongo had suffered a stroke in 2018, leading many voters to question whether he was fit for the job, the BBC explained. When voting irregularities and other problems marred the August election, military leaders who dubbed themselves the Committee for the Transition and Restoration of Institutions saw an opening to depose the president and take over, the Associated Press reported.
A "mixture of ineptitude and willful incompetence and chaos" marked the Aug. 26 vote, argued St. Petersburg College political scientist Gyldas Ofoulhast-Othamot in the Conversation. Bongo also cut the Internet and imposed a curfew soon after the polls closed, a sign that he might have been preparing to flout the will of the people if election officials declared that he failed to win reelection.
Gen. Brice Clotaire Oligui Nguema, who now serves as Gabon's interim president, said he would conduct "free, transparent and credible elections" within two years to return the country to civilian government, Radio France Internationale wrote. Oligui also released Bongo recently, allowing him to journey abroad if necessary for medical treatment.
Initially, regional and world leaders condemned the coup, noting how it was just the latest in West Africa following ones in Mali, Burkina Faso, and most recently in Niger. The African Union suspended Gabon's membership, Reuters reported. Still, as the New York Times noted, Bongo was "a Darling of the West" but "Wore Out His Welcome at Home."
Jules Lebigui, a jobless young man local to Libreville, the capital, attested to that. "I am joyful," he told Reuters. "After almost 60 years, the Bongos are out."
Still, the leader of the opposition, Albert Ondo Ossa, who lost the recent election to Bongo, said that military leaders essentially executed a "palace coup," to continue the family's reign, the Associated Press reported. Soldiers who toppled President Ali Bongo Ondimba put Bongo's cousin, Gen. Nguema, head of the elite republican guard, in charge.
Meanwhile, leaders at the Economic Community of Central African States, an important regional bloc, won't likely stand up for Bongo. "I think there's no general desire in a democratic era to see leaders who run in perpetuity in power," David Otto-Endeley, director of the Geneva Center for African Security and Strategic Studies, told Voice of America. "This is more or less a dynasty (within) some kind of democratic institution."
And, sooner or later, all dynasties end.
THE WORLD, BRIEFLY
The Long, Muddy Slog
BRAZIL
Brazil's Supreme Court began trying hundreds of former conservative President Jair Bolsonaro's supporters, who stormed and vandalized the country's three main governmental buildings in January, the Financial Times reported.
On Wednesday, the court heard the cases of four men on a slew of charges, including seeking to abolish the democratic rule of law and violence against property of the state.
Nearly 1,400 defendants will be tried by the 11-judge tribunal, which has signaled it will take a hard line to punish those involved, according to Le Monde.
On Jan. 8, thousands of Bolsonaro supporters marched on the capital, Brasilia, to protest against President Luiz Inácio Lula da Silva's victory in last year's presidential elections. Protesters then stormed Brasilia's Praça dos Três Poderes (Three Powers Square) which houses the country's Congress, the Presidential Palace, and the Supreme Court.
Bolsonaro, who was in Florida at the time, denied involvement in the riots. Still, Brazilian authorities are looking into whether the former leader instigated rioters with social media posts.
Lula's administration has described the incident as an attempted "coup."
Legal analyst Rafael Maefi told the FT that Brazil has "a history of leniency with coups," adding that tough convictions will be "essential to reinforce the message that political violence and attempting to overthrow elected governments are serious crimes that do not deserve tolerance."
Brazilian prosecutors have asked for sentences of up to 30 years. Observers said the crime of attempting to overthrow the state alone carries a sentence of up to 12 years.
Meanwhile, authorities have launched a series of probes into Bolsonaro, including one involving the attempted sale of jewelry given to the former leader and his close associates by foreign dignitaries.
Trickling Down
BURKINA FASO
Fighting between government forces and insurgents has closed nearly a quarter of all schools in Burkina Faso, according to a new report warning about the looming education crisis in Africa's restive Sahel region, the Guardian reported Thursday.
The report by the Norwegian Refugee Council (NRC) and the United Nations found that the number of closed schools rose by almost a third over the past year to more than 6,100, affecting nearly one million students.
It also said many of the educational institutions that remain open are suffering from poor conditions and a lack of teachers.
The findings came as the West African country continues to grapple with violence and instability, which has increased since last year's military coup. The current junta has launched an offensive against militant groups that has resulted in accusations of human rights abuses on all sides.
UN officials warned that the closures and insecurity risk "the future of Burkina Faso's next generation." They added that children out of school are in danger of being forced into labor, recruited into armed groups, or becoming victims of sexual abuse and exploitation.
The report also looked into data from other countries in central and western Africa that are dealing with rising insecurity.
It found that some schools were abandoned due to nearby fighting, while others were deliberately targeted. In Nigeria, 52 schools were attacked by militants in January, and in the Democratic Republic of the Congo's violence-hit eastern region, 31 schools came under attack.
The Embarrassment of Riches
ITALY
Venice's government will introduce a new entry fee for visitors next year in an effort to address the rising number of tourists and other challenges facing the picturesque Italian city, the New York Times reported.
Starting next spring, day-trippers visiting during peak tourist season will be required to pay a 5 euro fee – about $5.50. Officials said the fee will be applied on the 30 busiest days of the year and visitors will need to obtain a QR code online to enter the city.
They added that the fee – which they describe as a "contribution" – is not intended to cap the number of tourists entering Venice. Instead, they hope it will urge tourists to make reservations ahead of time to ensure a better experience for both visitors and residents.
Currently, officials say Venice's cultural and environmental heritage is at risk, while the city also faces challenges stemming from climate change, mass tourism, and development projects.
To address these concerns, the city has already implemented a series of measures, such as installing massive floodgates to protect against high tides and banning large cruise ships from navigating its inner canals.
While the fee has been met with mixed reactions, some critics argue that it doesn't address the issue of overcrowding effectively.
That is an issue other countries are also grappling with.
For example, Athens is experimenting with different strategies to address overcrowding issues at its historical sites, CNN said. One initiative is a new booking system that will enforce hourly slots for tourists visiting the Acropolis. The system seeks to reduce the number of daily visitors from 23,000 to 20,000.
Meanwhile, the United Nations Educational, Scientific and Cultural Organization (UNESCO) decided Thursday not to add Venice to its World Heritage in Danger list due to insufficient progress in addressing threats of climate change and mass tourism, the Associated Press added. Venice officials welcomed the move, but scientists and environmental groups warned that it "signals an alarming trend of nations not being held accountable for protecting some of the most iconic and irreplaceable natural and historic sites around the globe."
UKRAINE, BRIEFLY
This week, North Korean leader Kim Jong Un expressed "full support" for Russian President Vladimir Putin during a summit in Russia, highlighting their nations' relationship as a "top priority," NPR reported. During a meeting in Russia's Far East, Putin offered Kim technological support for launching a satellite into space and suggested potential military cooperation with Pyongyang. The meeting underscores the alignment of interests between the two nations both facing Western sanctions, prompting speculation of arms deals between them. South Korean intelligence believes Russia has already raised the possibility of a three-way naval exercise with North Korea and China. While the summit did not publicly mention missile cooperation, both satellites and missiles rely on dual-use rocket technology.
Also this week:
DISCOVERIES
Poisons of the Past
Wild boars in southern Germany are so radioactive that they can't be consumed and scientists have finally figured out why, Science Magazine reported.
Many scientists have suggested that the radioactivity could be blamed on the 1986 Chernobyl nuclear disaster in Ukraine, which impacted many of Europe's forest-dwelling animals.
That nuclear meltdown released radioactive fallout that spread over the environment and contaminated areas with radioactive cesium – specifically cesium-137.
Still, this isotope of cesium has a short half-life and disappears after a few decades.
But when the research team analyzed the meat of 48 boars they found traces not only of cesium-137 but also cesium-135 in all of the samples. They explained that the more stable cesium-135 is caused by nuclear explosions and has a half-life of more than two million years.
Their findings suggest that the radioactive contamination began during the nuclear weapons testing in the 1960s: During the Cold War, more than 2,000 bombs were detonated worldwide, including 500 that were tested in the atmosphere – releasing radioactive particles that then drifted down to the ground.
Those cesium-135 particles eventually ended up in the soil. Rainfall then helped them to be absorbed deeper into the ground over the years. Eventually, those particles accumulated in fungi, including the underground truffle mushrooms that the boars love to eat.
The study paints a picture of the impact of nuclear testing and incidents on the environment and ecosystem.
"It is a cautionary tale that the long-forgotten atmospheric nuclear weapons tests and their fallout still cast a shadow on the environment," the authors told BBC Science Focus. "Just because they took place 60 years ago doesn't mean that they no longer impact the ecosystem."
Thank you for reading or listening to DailyChatter. If you're not already a subscriber, you can become one by going to dailychatter.com/subscribe.
Not already a subscriber?
If you would like to receive DailyChatter directly to your inbox each morning, subscribe below with a free two-week trial.
Support journalism that's independent, non-partisan, and fair.
If you are a student or faculty with a valid school email, you can sign up for a FREE student subscription or faculty subscription.
Questions? Write to us at hello@dailychatter.com.