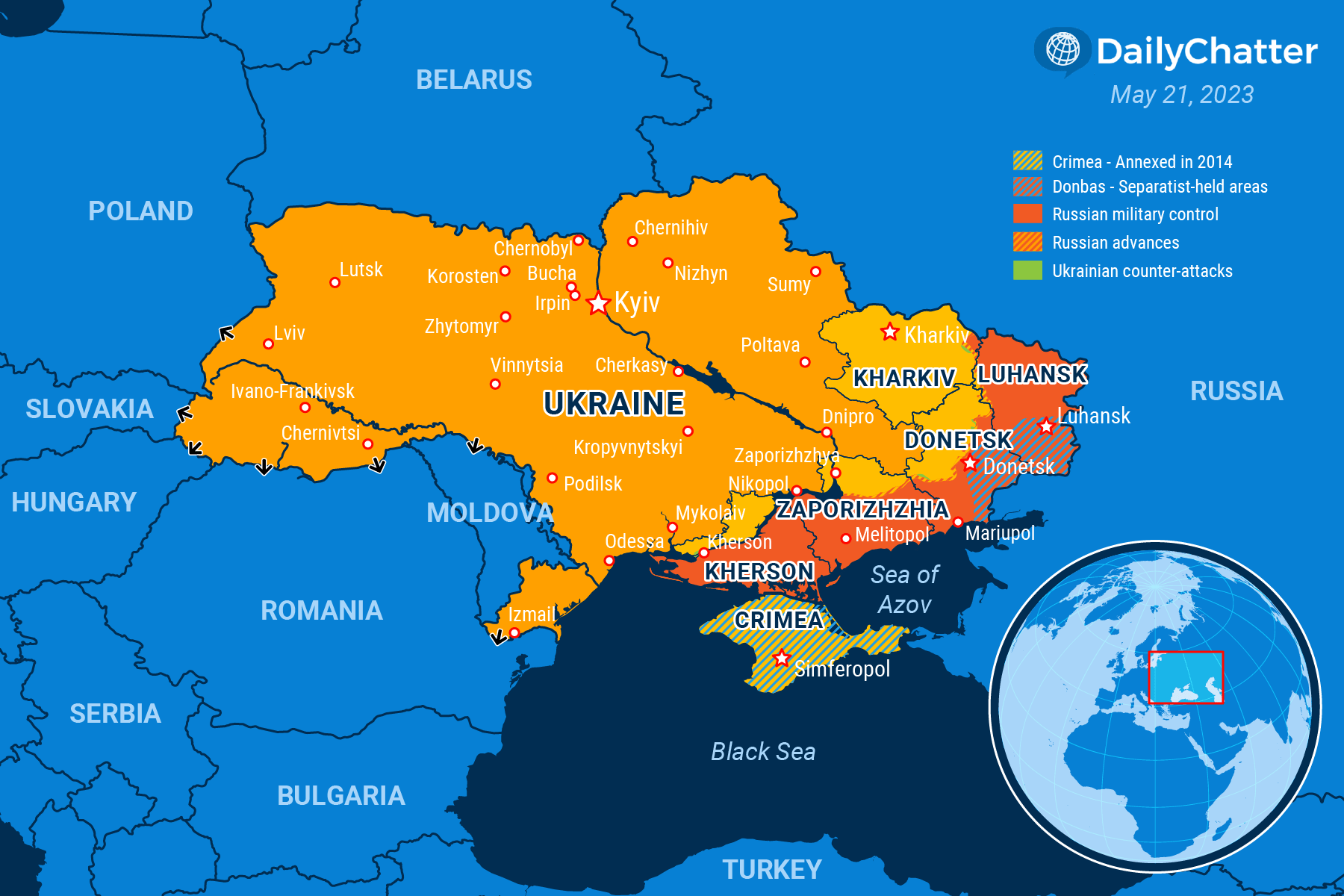 The World Today for September 11, 2023
Listen to Today's Edition
NEED TO KNOW
Looking for Endings
UKRAINE
NATO Secretary-General Jens Stoltenberg recently praised Ukraine's counteroffensive against Russian forces that invaded its territory last year.
"The Ukrainians are gradually gaining ground," Stoltenberg told lawmakers of the European Parliament, according to Reuters. "They have been able to breach the defensive lines of the Russian forces, and they are moving forward."
Stoltenberg's comments came after Ukrainian soldiers broke through the Russian lines along the southern front near the city of Zaporizhzhia, Deutsche Welle explained. This success stood in stark contrast to the situation on the ground earlier this summer when Ukraine's campaign appeared stuck in the mud.
While visiting the Ukrainian capital of Kyiv to announce a new $1 billion aid package to the country, US Secretary of State Antony Blinken similarly told NBC News that the Ukrainians were making "tangible progress." This was even though, as the New York Times reported, American military experts were worried that Ukrainian President Volodymyr Zelenskyy was misallocating his forces and suffering heavy losses to retake territory with too little strategic value.
Despite the setbacks, the consensus is that Ukrainian soldiers have meted out more punishment than they have received.
The chief of the British defense staff, Adm. Sir Tony Radakin, said Ukraine has regained around half of the land that Russia had occupied since the fighting started in February 2022, wrote the US Naval Institute, an independent, non-profit forum. The combat effectiveness of Russia's land forces, meanwhile, has fallen by half, too, said Radakin.
Remarkably, these advances come as the Ukrainian defense establishment has been highly unstable. Zelenskyy recently sacked his defense minister, Oleksii Reznikov, due to corruption allegations, replacing him with Rustem Umerov, the Hindu reported.
Many observers are now asking whether Ukraine can ever truly vanquish Russia, a much larger foe that is determined to persist in fighting despite its failures and setbacks.
If the West keeps supporting Ukraine with funding and weaponry with an eye toward total victory – the exit of all Russian forces from occupied Ukraine – then the country has a chance to overcome its enemies, argued Jonathan Sweet, a retired military intelligence officer, and economist and entrepreneur Mark Toth in the Hill. The West should probably develop a strategy to expedite that conclusion, however, added Foreign Affairs.
Russian President Vladimir Putin has friends, too, of course. He's seeking to purchase weapons and ammunition from North Korea, for example, though Robert Kelly, a professor of international relations at Pusan National University, quipped in CNA (formerly Channel NewsAsia) that Putin had problems if he needed help from the Hermit Kingdom.
The beginning of the end of the war in Ukraine could be unfolding. But the verdict is still out.
THE WORLD, BRIEFLY
Rare and Deadly
MOROCCO
More than 2,100 people died following a 6.8 magnitude earthquake that rocked Morocco over the weekend, a death toll authorities believe will rise as they scramble to find survivors and reach rural areas that suffered the worst from the natural disaster, the Wall Street Journal reported.
The tremor began in the areas south of Marrakesh on Friday night and was felt in other coastal cities, such as Casablanca, and as far away as Portugal – a distance of more than 400 miles.
Officials described the situation as "catastrophic," with more than 2,400 people injured and widespread power and telephone blackouts. They added that unreinforced buildings in rural areas were flattened and that authorities are trying to create paths to access remote villages.
The World Health Organization estimated that at least 300,000 people were affected by the quake.
Moroccan King Mohamed VI ordered the government to quickly provide shelter, rebuild houses, and deliver supplies to people impacted by the disaster. His announcement, however, came 18 hours after the earthquake occurred, which analysts said stirred "a lot of social anger" among Moroccans.
Meanwhile, the international community offered help to the North African country.
Marrakesh, with its ancient medina, is a popular tourist destination and was mostly spared. A few buildings collapsed and one of the city's historic mosques was damaged, according to Moroccan officials.
Large quakes are rare in Morocco, according to the United States Geological Survey, with none of this magnitude in the region for more than a century.
But the country's High Atlas Mountains have fault zones that make them prone to tremors. The recent quake took place within the African Plate, about 340 miles south of the boundary between the Africa and Eurasia plates.
Local Only
CHINA
China ordered government workers and state-owned companies not to use iPhones and other Apple products for work, a ban that comes amid ongoing geopolitical and trade tensions with the United States, the Guardian reported.
A number of state agencies last week instructed their employees not to bring iPhones to work, with at least one state-owned firm prohibiting iPhones, Apple Watches and AirPods starting next month.
Following the ban, Apple shares fell more than six percent, although they regained some ground Friday and Monday.
Since 2018, the Chinese government has imposed a series of restrictions on the use of foreign-made tech among state officials. At the same time, the US and China have been engaged in a series of trade and geopolitical disputes that have impacted tech companies from both nations.
China is one of Apple's biggest markets and generates nearly a fifth of the company's revenue. Around 90 percent of Apple products are made in China, but the US tech giant has begun plans to move production elsewhere, including Vietnam and India.
Apple shifted the production of the iPhone 14 smartphone to India, marking the first time it has assembled an iPhone model outside China in the same year of release.
Some analysts believe that the new ban is part of Beijing's efforts to decrease its reliance on US tech. Others have also described it as a tit-for-tat move after the US and other nations banned Chinese tech giant Huawei from national 5G networks.
Meanwhile, the US is limiting China's access to crucial equipment, including in the chip industry, citing national security concerns.
This includes bans on telecom equipment from Chinese firms Huawei and ZTE, restrictions on TikTok usage on government phones, and controlled exports of advanced computer chips to China.
In response, China is reducing reliance on US chipmakers and striving for self-sufficiency in semiconductor production.
On the Rise
WORLD
The Group of 20 (G20) nations reached a consensus on a number of issues to advance development in the Global South, by failing to condemn Russia's invasion of Ukraine, CNBC reported.
Under the Delhi declaration, G20 countries will seek to address a range of crucial global issues, such as the need for debt resolution frameworks, country-specific climate financing solutions, and equitable growth.
In a joint declaration following a two-day summit, officials said these commitments are important for developing nations striving to overcome economic challenges and climate-related problems.
To ensure these goals, India also facilitated the inclusion of the African Union as the second regional bloc to attain full membership in the G20, following the European Union.
One of the most notable points of the declaration is the G20's departure from explicitly condemning Russia's aggression against Ukraine. Instead of direct condemnation, the declaration highlighted the humanitarian suffering caused by the conflict and its negative impacts.
Observers explained that this shift in language indicates a diplomatic approach aimed at finding common ground among the G20 members. Even so, Ukrainian officials criticized the declaration as "nothing to be proud of."
Apart from addressing global challenges, the summit also saw bilateral meetings between world leaders.
Indian Prime Minister Narendra Modi and US President Joe Biden emphasized the deepening partnership between their countries, including plans to develop an extensive transport network connecting India, Europe, and Middle Eastern countries.
This initiative not only aims to counter China's influence but also aligns with efforts to expand regional connectivity and trade.
Analysts noted that one key takeaway from the summit and declaration is India's role in facilitating this consensus.
India has positioned itself as a key global player advocating for the interests of the Global South. Despite challenges posed by objections from Russia and China regarding references to the Ukraine conflict, India's diplomatic efforts succeeded in fostering a unified stance among the G20 members, the news outlet wrote.
DISCOVERIES
A Close Call
Less than a million years ago, human ancestors nearly met the same fate as dinosaurs, CNN reported.
A new study found evidence that our early ancestors were nearly wiped out at one point in history and took more than 100,000 years to recover.
An international research team used a new computer model to analyze genetic information from 3,154 present-day human genomes. The data also included genetic sequences from 10 African and 40 non-African populations.
Their analysis showed that nearly 99 percent of human ancestors around the globe disappeared around 900,000 years ago, with only around 1,280 individuals surviving.
This period, known as a "population bottleneck," persisted for approximately 117,000 years before our ancestors recovered and multiplied.
The researchers linked this population crash with significant changes in climate during the mid-Pleistocene transition. This era witnessed longer and more intense glacial periods, resulting in a drop in temperature and extremely dry climatic conditions.
The team theorized that the use of fire and the ability to control fire, as well as a changing climate that became more favorable for human habitation, contributed to the rapid increase in population which reached its height around 813,000 years ago.
They noted that this population crash also correlates with a gap in fossil records, which might have eventually led to the emergence of a new hominin species as a common ancestor of modern humans, or Homo sapiens, and Neanderthals.
But there are still many questions about how these people survived, including where they lived and how they endured the harsh climate conditions.
Other scientists have described the findings as "provocative" and recommended more investigation into this proposed population bottleneck.
Thank you for reading or listening to DailyChatter. If you're not already a subscriber, you can become one by going to dailychatter.com/subscribe.
Not already a subscriber?
If you would like to receive DailyChatter directly to your inbox each morning, subscribe below with a free two-week trial.
Support journalism that's independent, non-partisan, and fair.
If you are a student or faculty with a valid school email, you can sign up for a FREE student subscription or faculty subscription.
Questions? Write to us at hello@dailychatter.com.