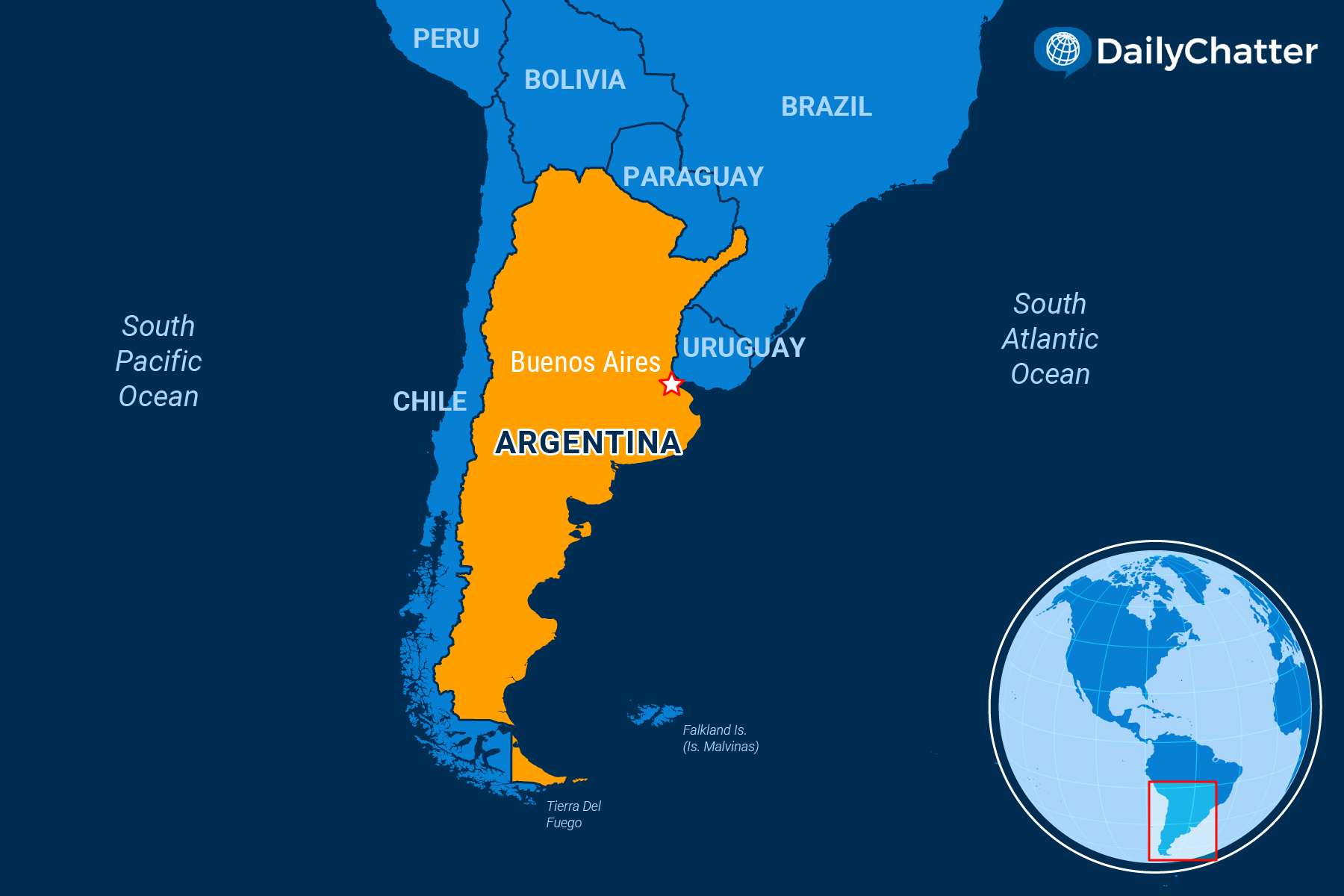 The World Today for September 07, 2023
Listen to Today's Edition
NEED TO KNOW
The Dismantling
ARGENTINA
For generations, Argentina's economy has struggled with debt, inflation, and other economic challenges. Today, the South American country is printing money to pay its bills while also withdrawing $7.5 billion from an International Monetary Fund (IMF) bailout program, adding to the $40 billion already owed to the organization, according to the Economist.
Meanwhile, officials recently hiked payments to government employees, retirees, and poor families to mitigate these folks' economic hardships – 40 percent of the country lives in poverty – while also defiantly expanding their balance sheet, despite the IMF's appeals for austerity, added Bloomberg.
These problems aren't new. But Javier Milei, who won the largest share in the Aug. 13 primary election that is viewed as a dress rehearsal for the presidential election on Oct. 22, has novel approaches to solving them.
Sporting wild hair, Milei, often called a 'Donald Trump-like populist,' is described as an ultraconservative, libertarian economist and congressman who claims that he once worked as a tantric sex coach. He has proposed shuttering Argentina's central bank and adopting the American dollar while slashing government spending, boosting free-market policies, and dismantling the political elites whom he claims are destroying the resource-rich country, the Washington Post reported.
These moves would counter inflation – but would also surrender Argentina's monetary policy to bankers in Washington, DC.
Leftists are in dismay. Even Pope Francis, an Argentinian, had choice words for Milei's platform. "The extreme right always reconstructs itself," said the pontiff in March when a television reporter asked him about his homeland's politics, according to the Guardian. "It is the triumph of selfishness over communitarianism."
Many Argentines don't agree. It showed in the primary results: Milei won more than 30 percent of the primary vote. The conservative opposition won 28 percent, while the ruling Peronist party of outgoing President Alberto Fernández, who is not running for reelection, came in third with 27 percent, noted Reuters.
Meanwhile, tensions are running high. Argentine police recently arrested almost 100 people on looting charges, the Associated Press wrote. In a country where citizens routinely buy in bulk in anticipation of higher prices, looting is a key indicator of public sentiment. Security officials blamed Milei and his followers for stirring discontent, while Milei suggested that the government was behind the unrest.
Milei, meanwhile, is barnstorming Argentina, offending mainstream pundits while blasting the incompetence of the country's leaders. He's leveraged social media, too, in a manner that has bypassed traditional party structures, reported the Buenos Aires Times, a local English-language newspaper.
If Argentinians want real change, they have a chance to get it. Whether they like it or not is another question.
______________________
Looking for thoughtful, impartial coverage of US political news?
DailyChatter only reports news from around the globe, so we look to our colleagues at Tangle to help us understand what's happening in the complex world of US politics. Tangle is a daily newsletter that covers political news in this country with the same kind of balance and neutrality we strive for in covering the rest of the world. It's a rare breed today – news that's read by a wide range of people across the political spectrum and trusted by all. Tangle's rational, reasoned, and nuanced coverage earns media bias ratings that are always in the center which makes the Tangle newsletter a highly valued resource for many, including us. Try it for free here.
THE WORLD, BRIEFLY
Passing the Hot Potato
EUROPEAN UNION
A European Union court rejected a landmark case brought by a Syrian family who alleged it was unlawfully deported by the bloc's Frontex border agency, a ruling that deals a major blow to asylum seekers and their advocates, the Washington Post reported Wednesday.
The case centers on a Syrian family who arrived in Greece in 2016 during the bloc's refugee crisis when more than a million people crossed the EU's borders, many of them from Syria and Iraq. The family filed for asylum and received confirmation that its claim was registered.
But days after the confirmation, they were all deported to Turkey without explanation and then detained. The family later fled to Iraq.
The Syrian family filed suit, arguing that Frontex has a duty to monitor compliance with human rights laws while carrying out its duties.
But in its verdict Wednesday, the General Court of the European Union sided with Frontex, ruling that the agency is not responsible for screening people being forcibly removed from the EU. It added that EU nations alone are responsible for assessing "the merits of return decisions and to examine applications for international protection."
The decision marks a setback for asylum seekers, their lawyers and migration advocates, who hoped that the case would raise awareness about unlawful deportations and hold EU agencies accountable.
It also comes amid concern about human rights violations at Europe's borders, as well as an increasingly hostile climate for migrants and asylum seekers around the world.
Meanwhile, Frontex welcomed the decision, adding that details of the case will allow it "to continuously improve our return procedures, ensuring that all individuals affected are treated with utmost respect."
Tearing Down the Wall
CHINA
Chinese authorities arrested two people this week accused of severely damaging a section of China's Great Wall in order to create a shortcut for work near the world heritage site, NBC News reported.
Police said the suspects, a 38-year-old man and a 55-year-old woman, had widened an existing cavity in the wall to create a "large gap" for their excavator to pass through. Officials added that the individuals had caused "irreversible damage" to the integrity and safety of the landmark.
The first part of the Great Wall was built in 220 BCE by China's first emperor Qin Shi Huang and later rebuilt and extended at various periods. It served as a defensive line against invasions from nomadic nations and groups in the north.
In 1987, the United Nations Educational, Scientific and Cultural Organization (UNESCO) added the monument – of which all sections total more than 13,000 miles in length – to its World Heritage Site list.
The damaged section belongs to the 32nd Great Wall established by the Ming Dynasty, which ruled from 1368 to 1644. That part had been one of the remaining complete sections of border walls and beacon towers, with important research value and protections in place, police said.
The wall is a major tourist attraction in China even as sections of it have been demolished in recent years: Local media reported in 2016 that around 30 percent of the Ming Great Wall – the section seen by most tourists – has disappeared.
Meanwhile, the Chinese government has increased its efforts to protect the historic landmark from unruly tourists.
In April 2020, the Badaling Great Wall tourism site near Beijing implemented regulations allowing the blacklisting of tourists displaying "disciplinary behaviors" and subjecting them to administrative penalties.
In May 2021, authorities banned two foreign tourists from the Great Wall for ignoring a "no crossing" sign and venturing onto a dilapidated section of the wall in need of restoration.
The Name Game
FRANCE
France is drafting a law that would impose restrictions on naming plant-based meat alternatives, the first European country to do so, Sky News reported.
Under the draft legislation, the government will outlaw 21 names of meat from describing protein-based products, including "steak," "spare ribs," "ham" or "butcher."
However, more than 120 meat-associated names – such as "cooked ham," "bacon" and "burger" – can be used to describe meat alternatives as long as they do not exceed a certain amount of plant proteins.
The proposal comes after complaints from farmers and meat producers, who lamented that customers get confused by terms such as "vegan sausage" or "plant-based burgers."
French Agriculture Minister Marc Fesneau explained that the proposed bill "reflects our desire to put an end to misleading claims … by using names relating to meat products for foodstuffs that do not contain them."
The bill will only impact products made in France.
France attempted to pass a similar law last year, but the country's highest administrative court suspended the bill, finding it to be too vague and the period for implementing the new rules as too short.
DISCOVERIES
Double Whammy
Scientists have been debating whether climate change or increased human activity led to the extinction of many large animal species more than 10,000 years ago.
Now, a detailed analysis of animal remains and sediment cores in Southern California is suggesting that it was neither just climate change, nor only early humans that led to the extinction – it was both, according to Smithsonian Magazine.
A research team studied fossils collected from the naturally occurring La Brea tar pits, which have been collecting the well-preserved bones of many mammal and bird species for millennia.
The team dated 172 samples from eight different animal species, including saber-tooth cats and dire wolves, in order to trace the timeline of these extinctions. What stood out was that around 13,000 years ago, a range of species suddenly disappeared: With the exception of still-living coyotes, animals such as camels and sloths vanished from parts of the Earth.
The researchers then compared these findings with sediment cores from Lake Elsinore to determine how vegetation was impacted by fires and the changing climate over time.
They noticed an increase in charcoal residue in these cores, which indicates a rise in fire activity – most probably human-caused – nearly 13,200 years ago. At the same time, the climate during this period was also undergoing significant changes, with temperatures increasing and drought conditions prevailing in the area.
This resulted in drastic changes in local plant life: Trees such as oak and juniper disappeared and were replaced by vegetation better suited to fire-prone environments, such as pines and chaparral plants.
The study highlights that species extinctions rarely have a single, isolated cause, but result from a combination of factors.
The findings have broader implications, particularly for the present-day world, which scientists say is experiencing rapid climate change and the far-reaching consequences of human activity.
Thank you for reading or listening to DailyChatter. If you're not already a subscriber, you can become one by going to dailychatter.com/subscribe.
Not already a subscriber?
If you would like to receive DailyChatter directly to your inbox each morning, subscribe below with a free two-week trial.
Support journalism that's independent, non-partisan, and fair.
If you are a student or faculty with a valid school email, you can sign up for a FREE student subscription or faculty subscription.
Questions? Write to us at hello@dailychatter.com.