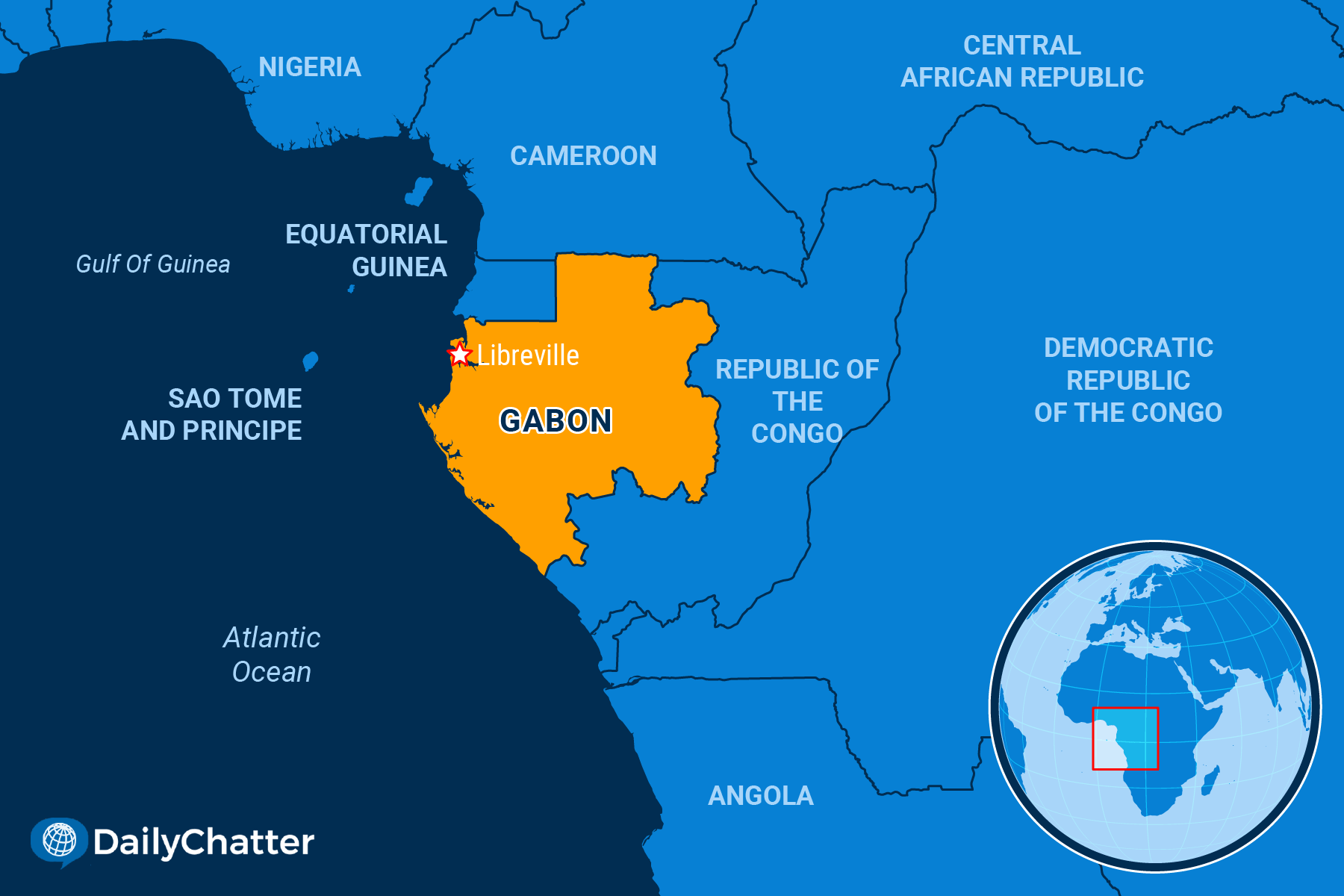 The World Today for August 25, 2023
Listen to Today's Edition
NEED TO KNOW
All the Spoils
GABON
Gabon and the Bank of America recently finalized a "debt-for-nature swap," the first on the African continent, to reduce its debt payments in exchange for promises to invest in conservation measures. Specifically, Gabon will expand a marine park and reform its fishing rules to protect wildlife, especially endangered humpback dolphins, the Financial Times reported.
The deal was ironic for two reasons. Gabon's green credentials are otherwise thin. It is an oil-producing state known as the "Kuwait of Africa," as Bonds & Loans wrote.
Second, the deal was announced less than two weeks before Gabonese voters were scheduled to cast ballots for a new president. But President Ali Bongo Ondimba doesn't necessarily need the positive news to help sway voters on Aug. 26, however. There is little chance that he will lose.
As Agence France-Presse explained, Bongo, 64, has run the former French colony in West Africa since 2009 when his father, Omar Bongo Ondimba, died. The elder Bongo ruled the country for 41 years. Bongo's Gabonese Democratic Party controls both houses of parliament.
In 2016, when Bongo ran for reelection, he won narrowly over his rival, Jean Ping. Riots broke out after Ping claimed victory, claiming vote rigging, the Centre for African Journalists wrote. Police arrested more than 1,000 people during the civil unrest. That's why the United Nations made a point to call for free and fair elections shortly before this election.
Few observers believe such a close outcome will occur again, however. After his reelection, Bongo and his Gabonese Democratic Party's allies in parliament enacted laws that critics say will keep the president in power until he decides to go.
Today, for instance, Ping is one of almost 20 candidates in a fragmented field of opponents, according to Africanews. That arrangement suits Bongo fine. One of the changes to elections allowed a plurality, rather than a majority, of voters to elect the new president.
Bongo has benefitted from his family's monopoly on power. Today he is considered the richest man in the country, with more than $1 billion in assets overseas, noted American Graduate School in Paris political scientist Douglas Yates.
Most ordinary Gabonese citizens, meanwhile, have suffered. Per capita income in oil-rich Gabon is almost $14,000 – far more than neighboring Cameroon, where people make less than $4,000 on average. Yet a third of the citizenry lives below the poverty line. Thirty-seven percent of the population is unemployed.
At least the humpback dolphins are going to be taken care of.
THE WORLD, BRIEFLY
New Blood
WORLD
The BRICS group of Brazil, Russia, India, China, and South Africa will add six more countries into its ranks, as key members Russia and China seek to expand the influence of the loose economic bloc to counteract Western global dominance, the Washington Post reported.
After a three-day summit in South Africa, host President Cyril Ramaphosa announced Thursday that the new members – Saudi Arabia, Iran, and Argentina – will join the group in January.
The addition marks the first expansion of the group since South Africa joined in 2010 by invitation from China.
It also comes amid long-running efforts by Russia and China to transform a largely symbolic coalition into a mechanism for reshaping global trade and financial systems. This transformation aims to safeguard their interests from potential future sanctions imposed by the United States and its allies.
Both Chinese President Xi Jinping and his Russian counterpart, Vladimir Putin, called for BRICS to fight the decoupling of and disruptions to supply chains, while also making thinly veiled swipes at the US for "hegemonic" behavior.
Putin did not participate in person and made his statements via a video link. Had he attended the summit in person, South African authorities would have been obligated to arrest him because of war crimes charges the Russian leader faces at the International Criminal Court.
Analysts explained that the recent BRICS expansion marks a significant push from Xi to turn it into an "anti-hegemonic" force and establish alternative, non-Western frameworks for trade and development among developing nations.
While India and Brazil have concerns regarding the escalating anti-US stance, analysts added China and Russia have found some developing nations sympathetic to their concerns about American influence, propelling them to expand the group.
The sanctions imposed on Russia over its invasion of Ukraine and the post-pandemic push to diversify supply chains have intensified China's drive to establish alternative worldwide financial systems and supply chains that can withstand disruptions from Western actions.
Cunning and Condemned
FINLAND
Finland began culling 120,000 foxes and mink this week, as Europe's largest fox fur producer is attempting to prevent an outbreak of avian flu on its farms, Euronews reported.
Health officials said Wednesday the cull has already been carried out on 10 farms and an order has been issued to cover another 13 farms. The country has around 400 fur farms with around 1.3 million animals, mainly mink and foxes.
The decision comes after authorities recently identified a number of H5N1 avian influenza cases among larids – a family that includes seagulls and terns – in Finland. The first cases in fur farms were spotted last month.
For nearly two years, Europe has been handling its worst outbreak of avian flu. North and South America have also seen a spike in cases.
The World Health Organization warned last month that the increase of H5N1 among mammals could make it easier for the virus to spread to humans.
Still, Finnish officials noted that the epidemic appears to be "calming down" as gulls and seagulls begin their migration southwards.
Even so, the situation has revived calls from animal rights groups to ban the fur industry in Finland, which produces nearly a million pelts annually.
In a similar situation, Denmark descended into a political crisis after the government controversially ordered the slaughter of around 17 million mink to prevent mutations of the coronavirus during the height of the pandemic.
A Danish parliamentary commission called the cull order illegal and accused government officials of acting "reprehensibly," the New York Times noted.
Going Bigger
NICARAGUA
Nicaragua banned a Jesuit religious order from operating in the country, the latest move by President Daniel Ortega against the Catholic Church and opposition figures, the Associated Press reported.
On Wednesday, officials said the Catholic order, known as the Society of Jesus, had failed to comply with tax reporting regulations, and ordered the confiscation of all its property.
The order condemned the measures, which came a week after the government confiscated the Jesuit-run University of Central America in Nicaragua, saying it was a "center of terrorism."
The educational institution was a hub for the 2018 mass protests against the Ortega administration.
The government's actions highlight the ongoing conflict between Ortega and the Catholic Church over the latter's involvement in the 2018 demonstrations: The Catholic Church gave shelter to protesters and later tried to act as a mediator between the government and the political opposition.
But the president said those protests were an attempted coup with foreign backing. Nicaraguan authorities have since launched a crackdown against Church-affiliated groups and other non-governmental organizations.
Last year, Nicaragua expelled two congregations of nuns, one of which was part of the Missionaries of Charity order established by Mother Teresa.
In April, the Vatican shuttered its embassy in Nicaragua after the government suggested suspending diplomatic ties.
Two months later, the Nicaraguan government seized properties owned by 222 opposition figures. The individuals had already been imprisoned by Ortega's regime and were then forced into exile.
UKRAINE, BRIEFLY
This week, Yevgeny Prigozhin, chief of the Russian mercenary Wagner Group more recently known for a rebellion against Russia's military, reportedly died in a plane that crashed near Moscow, CNN reported Thursday. Russian authorities investigating the incident confirmed that Prigozhin's name was on the passenger list of the plane that crashed, killing all seven passengers and three crew members aboard, including some of the mercenary leader's associates. The incident comes two months after Wagner's aborted rebellion that posed a challenge to the regime of President Vladimir Putin. Now, many in and outside of Russia are speculating that the Kremlin might have been involved in the incident, especially as some witnesses said they had heard two bangs before seeing the plane freefall. Observers, meanwhile, have noted that there are also doubts about his death because of Prigozhin's past use of aliases and body doubles, the Guardian added. Speculations about the crash's cause, including missile strikes and onboard explosions, add to that uncertainty.
Also this week:
DISCOVERIES
Of Predators and Parents
Scientists discovered that crocodiles are able to detect distress calls from the infants of other species, including humans and bonobo apes, the New York Times reported.
In a new paper, the giant reptiles appeared to be attracted to the wailing cries of young animals, even though they were not always intending to help them.
A research team placed speakers near dozens of Nile crocodiles at a Moroccan zoo and observed how the animals would react to recordings of crying humans, bonobos and chimpanzee babies.
The team noticed that the huge predator – which can reach up to 18 feet in length – would look or move toward the speaker when the sounds were played. Some would even bite the equipment thinking it's edible.
The findings also showed that the crocs were primarily attracted to shrieks that sound more distressed, which the researchers believe that the big reptile interprets as easy prey.
They explained that the results "speak to what could drive survival," which suggests that crocodiles evolved to listen to scared baby animals to feed.
But despite their fearsome reputation, Nile crocodiles are also attentive and caring parents: In one instance, a croc placed itself in front of the speaker and tried to keep others away.
The authors believe that maybe it was trying to protect the source of the sound.
Even so, other scientists noted that the research team did not use non-distressed sounds for the paper and did not discern which animal was male or female.
These details could have helped solve the main question of whether the crocs approached the cries as predators or concerned parents.
Thank you for reading or listening to DailyChatter. If you're not already a subscriber, you can become one by going to dailychatter.com/subscribe.
Not already a subscriber?
If you would like to receive DailyChatter directly to your inbox each morning, subscribe below with a free two-week trial.
Support journalism that's independent, non-partisan, and fair.
If you are a student or faculty with a valid school email, you can sign up for a FREE student subscription or faculty subscription.
Questions? Write to us at hello@dailychatter.com.