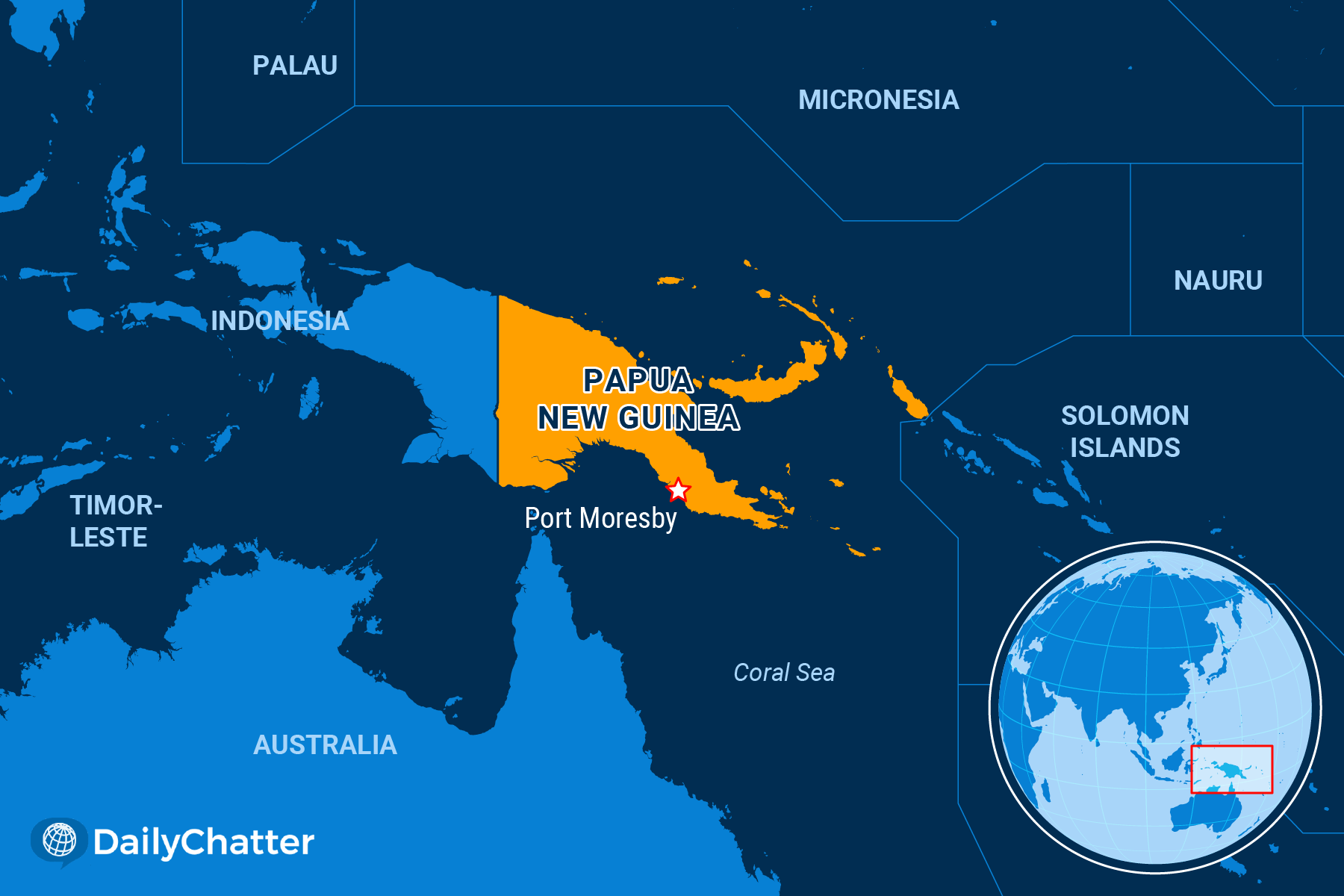 The World Today for August 22, 2023
Listen to Today's Edition
NEED TO KNOW
A Playing Field
PAPUA NEW GUINEA
The world is wooing Papua New Guinea, a poor country to the north of Australia that shares an island with Indonesia.
As the Economist wrote, French President Emmanuel Macron, Indian Prime Minister Narendra Modi, Indonesian President Joko Widodo, American Secretary of State Antony Blinken, and American Defense Secretary Lloyd Austin have visited the capital of Port Moresby in recent months for meetings with James Marape, the country's prime minister.
These events were intended, without question, to counter China's growing influence in the region, the Associated Press reported. Austin, for example, visited to cement closer security ties at a time when many fear that China might take a page from Russia's geopolitical playbook and seek to invade its own neighbor, Taiwan.
Papua New Guinea is one of many examples of this tension. While visiting the region, Macron, for instance, issued grim warnings about predatory behavior by big powers that he pledged to help counter. He didn't mention China by name, but it was clear whom he was talking about, according to Reuters.
"There is in the Indo-Pacific, especially in Oceania, new imperialism appearing and a power logic which is threatening the sovereignty of many states, the smallest and often the most fragile ones," he said in Vanuatu. "The modern world is shaking up the Indo-Pacific's sovereignty and independence. First, because of the predation of big powers … foreign ships fish illegally here. In the region, many loans with Leonine conditions strangle up development."
Macron's remarks were ironic. A growing minority of residents of the French territory of New Caledonia in the South Pacific would like to secede from the mother country. Analysts told Radio France Internationale that China would certainly dominate New Caledonia if it became independent.
China has also been extending its influence in the region through two means. First, the country has been converting disputed islands in the South China Sea into airstrips, the Messenger wrote. Such moves have triggered a race to establish military bases, supply routes, and other logistical points for potential conflicts, the Brookings Institution argued.
Second, China has also been financing major infrastructure projects throughout the Pacific. These projects help China's export-oriented economy, but also create debtor nations that owe China. A Chinese bank, for example, is Vanuatu's biggest lender. During a visit to Tonga, Blinken called this financial support "predatory," according to Al Jazeera.
The US, furthermore, is late to the party. After the end of the Cold War – when the West countered Soviet diplomacy in the Pacific – the Americans closed many of their embassies in the region, the Washington Post reported.
This neglect has had consequences. Leaders in the Solomon Islands have signed defense and security agreements with China despite the objections of politicians in Washington, DC.
It's a race for hearts, minds, and wallets.
THE WORLD, BRIEFLY
The Little Engine That Could
GUATEMALA
Anti-corruption candidate Bernardo Arévalo won Guatemala's presidential election Sunday, a landslide victory following a race that was marred with allegations of fraud and government interference, NPR reported Monday.
Election officials said the center-left politician won slightly more than 59 percent of the vote, while his opponent, former First Lady Sandra Torres, secured 36.1 percent of the vote.
It was a surprising win for Arévalo and his Seed Movement party, who were not well-known even just a few months ahead of the presidential elections. The dark horse contender surprised pollsters following the first round of voting in June, when he came in second place after Torres.
But questions emerged about the elections' legitimacy after Torres and other establishment candidates challenged the first round's results. Meanwhile, a court suspended Arévalo's party over alleged irregularities in the gathering of signatures to create the Seed Movement.
On Friday, Guatemala's Supreme Court granted a permanent injunction to Arévalo's party and blocked the lower court's suspension of the Seed Movement, according to the Associated Press.
Arévalo's victory underscores the growing discontent among Guatemalans over corruption and the weakening rule of law that have worsened inequality in the Central American country, CNN noted.
Guatemala has witnessed a rise in emigration to the United States due to these challenges, exacerbated by the dissolution of the United Nations-backed anti-corruption commission (CICIG) in 2019. Guatemalan authorities have begun investigations into judges and prosecutors linked to the commission, prompting many of them to flee the country.
Still, questions linger as to whether the new leader will be allowed to govern in a country where the military and the elite dominate national affairs. For example, Rafael Curruchiche, a top prosecutor, told broadcaster Canal Antigua that mass arrests could occur after the voting ended over the voting irregularities in the first round, the Washington Post reported.
The future leader could also face challenges in the legislature, as the country's congress is dominated by establishment parties, including Torres' Unidad Nacional de la Esperanza.
Running the Gauntlet
SAUDI ARABIA
Saudi Arabian border guards have killed hundreds of African migrants attempting to cross the Yemeni-Saudi border, shooting at men, women and children at close range and also targeting explosives at them, according to a new report about conditions along one of the world's most dangerous smuggling routes, the New York Times reported Monday.
The new report by Human Rights Watch (HRW) focused on the plight of Ethiopian migrants attempting to flee their conflict-ridden country to wealthy Saudi Arabia while traversing war-ravaged Yemen. The report examined a 15-month period and is based on dozens of interviews with migrants who attempted to cross the border, as well as the analysis of hundreds of photos and videos shot by migrants.
The report alleges that guards have opened fire with rifles and explosive munitions – believed to be mortars or rockets – on migrants attempting to cross the border. HRW estimates that hundreds of people were killed between March 2022 and June 2023, but the death toll could be higher.
The findings also show that Saudi security forces would often beat detained migrants, including shooting them in the limbs, leading to permanent injuries and amputations. In one instance, guards forced male migrants to rape a woman while they watched.
HRW wrote that if the killing of migrants was part of the Saudi kingdom's policy, it would constitute a crime against humanity.
The Saudi government denied the accusations, saying they were "unfounded and not based on reliable sources.
The report also accuses Yemen's Iran-backed Houthis that control the border regions of the widespread abuse of migrants, such as facilitating smuggling, extortion and detention.
The civil conflict in Yemen has led to widespread human rights abuses and a lack of accountability for war crimes.
HRW also said that the violence at the border is not new and there have been limited international efforts to address it, leaving migrants in a vulnerable and dangerous situation.
A Draw
ECUADOR
Ecuador's presidential elections will head to a runoff in October after Sunday's first round yielded no clear winner, a vote overshadowed by the rising violence in the country and the assassination of a main contender, the Financial Times reported Monday.
Preliminary results showed leftist candidate Luisa González leading the race with 33 percent of the vote, while her centrist rival Daniel Noboa came in second with 24 percent.
González is backed by the party of former president Rafael Correa, who is currently living in Belgium following a 2020 corruption conviction in Ecuador. She has vowed to return the country to the peace and prosperity that existed during Correa's administration, with lower homicide rates and reduced poverty, according to Quartz.
Noboa, a 35-year-old businessman from one of Latin America's wealthiest families, presents himself as the "employment president" and said he would create jobs, lower taxes and expand international free trade agreements.
Both will compete in a second round of voting on Oct. 15.
Sunday's vote followed the dissolution of parliament by President Guillermo Lasso which triggered early elections. At the time, the former banker was facing impeachment charges by the opposition-controlled legislature over alleged embezzlement related to contracts signed before his tenure.
But the elections have been marred by ongoing violence and insecurity in the South American nation, which has seen narco-trafficking groups fighting for control of drug routes in recent years. Weeks before the vote, Ecuadorians witnessed the assassinations of three politicians, including the center-right candidate and journalist Fernando Villavicencio, who was known for his fight against state corruption.
While the country's security situation will be the main issue of the October runoff, analysts told the FT that it will also bring up the political legacy of former President Correa.
Correa's presidency was marked by a notable departure from Ecuador's strong ties with the United States. His administration also secured nearly $18 billion in loans from Chinese banks and engaged in outspoken criticism of political opponents, journalists, and dissenting voices. At the same time, his policies lifted millions out of poverty.
DISCOVERIES
Oldest Floaters
An international archaeological team recently discovered the earliest stilt village in Europe, after four years of excavation at one of the world's oldest lakes, CBS News reported.
Located near the Albanian village of Lin, the 8,000-year-old settlement stood above the surface of Lake Ohrid, which straddles North Macedonia and Albania.
Radiocarbon dating from the site puts it between 6000 and 5800 BCE, making it hundreds of years older than other such villages found elsewhere in Mediterranean and Alpine regions.
"To our knowledge, it is the oldest in Europe," Albert Hafner, a professor of archaeology from Switzerland's University of Bern, told Agence France-Presse.
Hafner and his team believe the settlement was once occupied by up to 500 people, adding that the village's construction was an arduous task for the Neolithic inhabitants.
"Building their village on stilts was a complex task, very complicated, very difficult, and it's important to understand why these people made this choice," according to Albanian archaeologist Adrian Anastasi.
But what perplexed researchers the most was the presence of around 100,000 spikes found at the bottom of the lake. They believe these spikes were used as a form of fortification, but it's a mystery why the ancient villagers built such extensive defenses.
The archeologists suggested that the prehistoric people relied on agriculture and domesticated livestock for food, but noted that more research is needed to learn more about the site.
"These are key prehistoric sites that are of interest not only to the region but to the whole of southwest Europe," said Hafner.
Thank you for reading or listening to DailyChatter. If you're not already a subscriber, you can become one by going to dailychatter.com/subscribe.
Not already a subscriber?
If you would like to receive DailyChatter directly to your inbox each morning, subscribe below with a free two-week trial.
Support journalism that's independent, non-partisan, and fair.
If you are a student or faculty with a valid school email, you can sign up for a FREE student subscription or faculty subscription.
Questions? Write to us at hello@dailychatter.com.