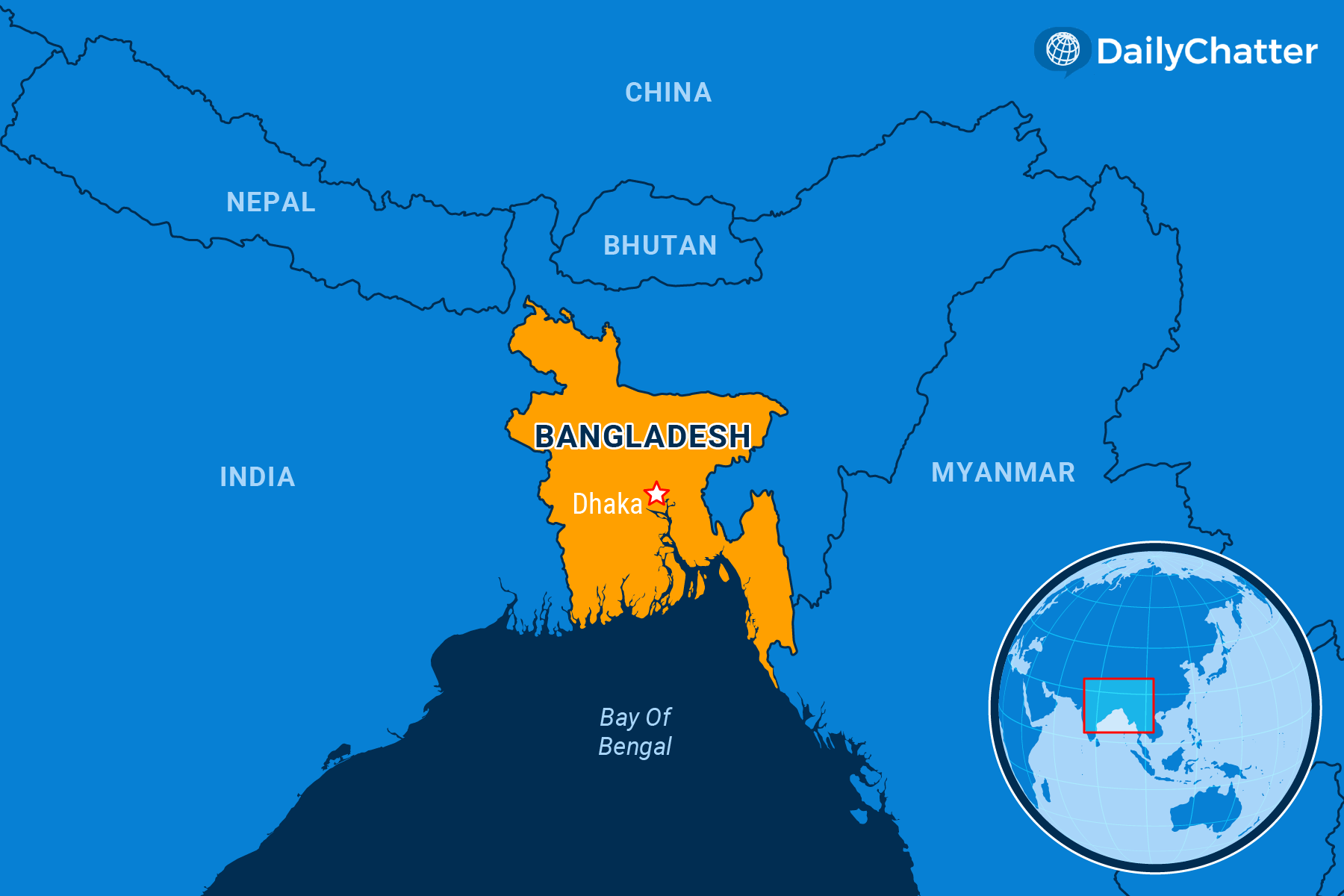 The World Today for August 03, 2023
Listen to Today's Edition
NEED TO KNOW
Dimming Star
BANGLADESH
The foreign minister of Bangladesh recently called ambassadors from the United States, Britain, France, and 10 other Western countries together in Dhaka to complain about their condemnation of an attack on a political candidate running against the country's ruling Awami League (AL) party's candidate.
However, it wasn't the first time Western officials have raised concerns about the state of democracy in Bangladesh under the government of Prime Minister Sheikh Hasina, reported Al Jazeera. Hasina and the AL have dominated the South Asian nation's politics since 2009.
Their complaints comport with United Nations officials who investigated political curbs on free speech and participation in the electoral system and found that disappearances and extrajudicial killings of human rights activists and others had become common government practice.
These issues have become more pressing in the wake of mass street protests this month against Hasina's administration, the latest having been on Saturday and which turned violent, reported Reuters. The demonstrations resulted in the deaths of two opposition activists and hundreds of injuries, wrote Deutsche Welle.
The protesters, calling for Hasina to resign, also said they didn't trust her to oversee parliamentary elections in January 2024 and want a neutral caretaker government to oversee the vote. Officials with the opposition Bangladesh Nationalist Party said police had arrested more than 500 of their members, added Agence France-Presse. Their leader Khaleda Zia has been detained since 2018 on graft charges.
The civil unrest is occurring as impoverished Bangladesh's economy is growing weaker.
Once held as a "byword for poverty, famine, and natural disasters," and previously seen as n economic basket case, Bangladesh made great strides socio-economically since its independence from Pakistan in 1971 after a devastating war, the Economist explained. Its growth rate in the decade before the Covid pandemic was only slightly lower than China's and the country was expected to exit its designation of Least Developed Country by 2026. It was regarded as a development star.
Now, the world's eighth most populous country of 170 million is being tested because of an economic crisis caused in part by the pandemic and the war in Ukraine, wrote NPR. Its garment industry, the second largest in the world, and remittances from Bangladeshis abroad are both faltering.
As Reuters explained, rating agencies recently shared their negative views of the country's credit rating due to its dependence on foreign oil. The country already needed to secure a $4.7 billion loan from the International Monetary Fund to cover food and fuel costs this year.
Hasani has been working with officials in the United Arab Emirates to secure investments in new energy generation and capacity to address the energy crisis, Arab News wrote. But, even if the Arab tycoons from the Gulf state open their wallets, those investments won't solve any problems immediately.
One stumbling block to investment and loans is corruption, which exists at every level of officialdom in the country, and which also promotes capital flight and has diverted funds. Hasina has said she is trying to tackle it, but as some noted, "the state is rotting from the head."
The daughter of Sheikh Mujibur Rahman, the country's independence hero and former leader, who tried to make the country a one-party state before being assassinated in 1975, Hasina has succeeded where he failed, mainly by making sure people are beholden to her party to get an education, a job or pretty much anything else.
Given that concentration of power, Hasina isn't likely to go anywhere soon voluntarily.
Looking for thoughtful, independent coverage of US political news? Try Tangle.
DailyChatter only reports news from around the globe, so we look to our colleagues at Tangle to help us discern what's happening in the complex world of US politics. Tangle is a daily newsletter that covers political news in the United States with the same kind of balance and neutrality we strive for in covering the rest of the world. It's a rare breed – news that's read and trusted by a wide range of people from across the political spectrum. Tangle's rational, reasoned, and nuanced coverage earns media bias ratings that are always in the center which makes the Tangle newsletter a highly valued resource for many, including us.
Try it for free. Plus, get 20% off your Tangle membership with the Black Friday deal they are running this week.
THE WORLD, BRIEFLY
Shades of Gray
ISRAEL
Israel's parliament passed a law that will designate terrorist, nationalist or racist motivations as aggravating factors in crimes of sexual harassment and sexual assault, prompting condemnation from victims' associations and opposition lawmakers, the Times of Israel reported.
Under the new bill, fines for sexual harassment motivated by racism or hostility toward certain groups will be doubled.
The legislation was approved by a majority vote with rare bipartisan support.
Supporters of the legislation said it addresses a "growing phenomenon of nationalist terrorism" in Israel and the occupied West Bank. However, women's rights defenders and activists dispute the existence of such a phenomenon.
Critics, including an Arab lawmaker and the organization overseeing Israel's rape crisis centers, cautioned that the bill improperly creates a hierarchy of severity for such crimes.
Others warned that it exploits victims of sexual violence while disproportionately impacting Palestinians, the Middle East Eye noted.
The law comes in response to specific high-profile cases: Last year, an Arab teen received a lenient sentence after raping a 10-year-old Israeli child, enraging the local community.
The case was not deemed a terror attack.
Lost Winner
THAILAND
The Move Forward party will not be part of Thailand's future coalition government, according to a former ally, the latest blow for the progressive party that won the most seats in the country's general election in May, the Associated Press reported.
On Wednesday, coalition partner Pheu Thai said Move Forward will be excluded from the coalition because of the party's proposed repeal of a law banning criticism of Thailand's royal family.
Pheu Thai leader, Chonlanan Srikaew, added that Move Forward's stance was a major obstacle for the coalition to secure enough votes to confirm a new prime minister.
Following the May elections, Move Forward formed an eight-party alliance including the populist Pheu Thai party, securing a total of 312 seats in the 500-member lower house.
But Thailand's military-enacted constitution requires the elected lower house and the 250-member upper house – appointed by a previous military government – to hold a majority vote to confirm a new prime minister.
Last month, Move Forward's leader Pita Limjaroenrat failed to gain enough votes to become prime minister and his second attempt was blocked by a procedural vote in the legislature, which said his name could not be nominated again.
The progressive group campaigned on a platform to reduce the influence of the country's military, which has staged more than a dozen coups since Thailand became a constitutional monarchy in 1932. It also vowed to amend the lèse-majesté laws that prohibit defamation of the monarchy, which critics say have been abused as a political weapon.
Thailand's military and conservative lawmakers oppose Move Forward's proposals.
The political deadlock has prompted criticism from Move Forward supporters.
It is also causing delay after delay in confirming a new government and prime minister to replace Prayuth Chan-ocha, an army commander who seized power in a 2014 coup and returned as prime minister following the election in 2019.
A Little Help
ITALY
The United Nations Educational, Scientific and Cultural Organization (UNESCO), is planning to add Venice to its list of endangered World Heritage sites, saying that the Italian city is deeply threatened by climate change, mass tourism, and urban development, the Washington Post reported.
The designation will put the picturesque island city on a list aimed at encouraging remedial actions and mobilizing international support for World Heritage sites that are "threatened by serious and specific dangers," such as armed conflict or natural disasters.
The proposed label comes ahead of UNESCO's World Heritage Committee meeting in September, which will decide whether Venice will be added to the list.
Designated as a World Heritage site since 1987, Venice is built across 118 small islands and is renowned for its architectural splendor and history.
But the city has been grappling with an increasing influx of tourists for years, while recently facing other threats from climate change, including floods and heatwaves. Climate scientists have warned that Venice could be entirely underwater by the year 2100.
Officials have worked to curb the number of tourists and pollution in the city, including banning cruise ships. Authorities have also been planning to implement a day-trip tourist fee.
Even so, UNESCO warns that measures taken by Italian authorities are "still insufficient and need to be further developed."
This is the second time in recent years that UNESCO has considered putting Venice on the endangered list, a deferral that has received criticism from environmental groups.
The UN agency believes that adding Venice will encourage national and international efforts to find solutions before the situation gets worse.
It cited the example of Belize's barrier reefs, which were added to the list in 2009: Following the designation, the Belize government implemented a plan that halted oil exploration and drilling, mitigating a significant threat to the reefs.
DISCOVERIES
Happy Hour
It's not as uncommon as one might think to see animals and birds getting drunk after eating too much fruit.
After all, ethanol occurs naturally in fruit as a product of fermentation by wild yeast.
Few studies, however, have explored how alcohol influences the relationship between plants and animals. Now, a new paper suggested it plays a big role in seed dispersal, New Scientist reported.
Researcher Julia Casorso and her team collected more than 70 plant species in a Costa Rican tropical dry forest and measured the alcohol concentration produced by each fruit.
They sorted the fruit based on what animals eat: They labeled small, brightly colored fruit as bird-dispersed, heavier, duller fruit as mammal-dispersed, and soft, succulent fruit as mixed-dispersal. They analyzed 37 species after removing fruit with small sample sizes.
Their analysis showed noticeable alcohol levels in 78 percent of the fruit species and that those with higher ethanol content were more likely to be dispersed by mammals.
The team explained that mammals are enticed by the alcohol because it alludes to a ripe and sugary snack that provides more nutrition.
"Mammals in particular use their sense of smell to find food," said Casorso. "Ethanol is one odor amongst the many aromas that fruit produces and the fruit might be using alcohol to attract dispersers."
Meanwhile, the yeast benefit: this animal-plant interaction causes the fauna to disperse wild yeast spores.
Thank you for reading or listening to DailyChatter. If you're not already a subscriber, you can become one by going to dailychatter.com/subscribe.
Not already a subscriber?
If you would like to receive DailyChatter directly to your inbox each morning, subscribe below with a free two-week trial.
Support journalism that's independent, non-partisan, and fair.
If you are a student or faculty with a valid school email, you can sign up for a FREE student subscription or faculty subscription.
Questions? Write to us at hello@dailychatter.com.