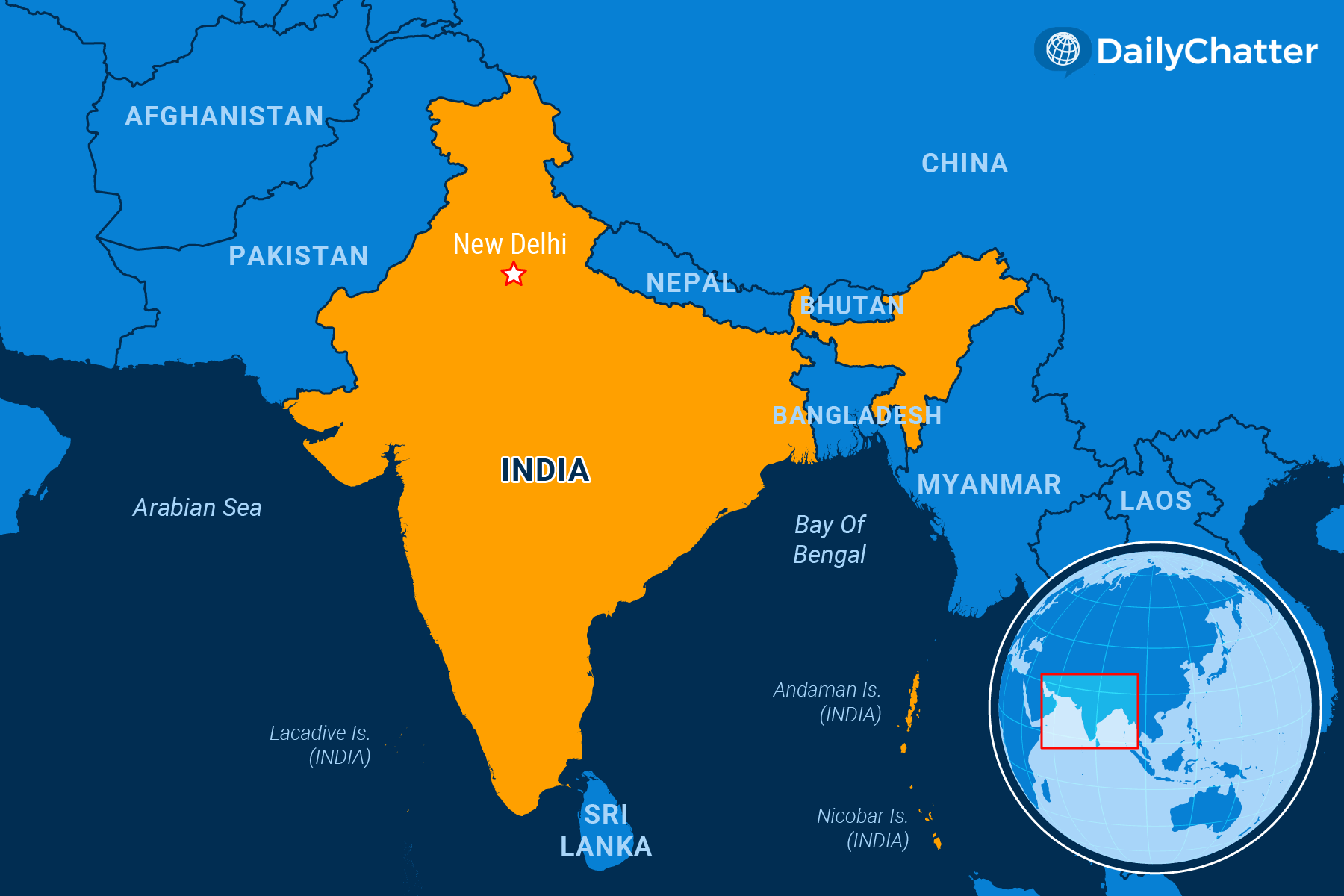 The World Today for February 27, 2023
Listen to Today's Edition
NEED TO KNOW
Man and Country
INDIA
Indian billionaire Gautam Adani used to claim that the success of his energy and port facilities conglomerate, the Adani Group, reflected the rising power of his massive country's economy.
Then, in January, the New York-based Hindenburg Research investment firm accused Adani of fraud and stock manipulation, and announced they were short-selling the company's stock by employing complicated financial machinations as detailed by this Financial Times story. The Adani Group has since lost more than $135 billion in value, unseating Adani as Asia's richest person and raising troubling questions about the foundations of the Indian economy.
Adani has denied Hindenburg's allegations, saying that the firm is making "a calculated attack on India" and "the independence, integrity and quality of Indian institutions," as well as on the regulators who should have detected the alleged wrongdoings that Hindenburg Research has claimed to have identified, reported the New York Times.
Indian regulators are now investigating Hindenburg's claims, noted CNN, adding that the Adani Group is reportedly postponing spending and is cutting its revenue growth estimates by 50 percent.
Importantly, the scandal has cast doubt on the economic policies of Prime Minister Narendra Modi, a pro-business conservative who has increased the influence of the majority religion of Hinduism in the technically secular country.
As CNBC reported, billionaire investor George Soros, saying that Modi was "no democrat" hoped Adani's fall would trigger a "democratic revival" in India. Modi's defenders, in turn, quickly blasted those sentiments, saying they reflected a "Euro-Atlantic" (read: Western-centric, imperialistic) perspective.
But others reiterated Soros' point. Comparing the scandal to failed companies in the US like Enron and Lehman Brothers, Japan's Yamaichi Securities, and the Evergrande Group in China, Forbes argued that the scandal could actually exert a positive effect on the Indian economy – if Modi uses the crisis as an opportunity to weed out corruption and reform poor business practices in his country.
Modi and Adani's close ties might make it hard for the prime minister to distance himself from the tycoon's alleged misdeeds, however.
As Indian novelist and activist Arundhati Roy explained in the Guardian, Adani came to Modi's defense in 2002 after Hindus massacred Muslims in Gujurat when Modi was governor of the Indian state. The episode has long dogged Modi and undermined his image.
It's also the center of a battle by Indian authorities against the BBC, which aired a documentary on Modi and focused on the massacre, and which was banned by the government of India. Afterward, Indian tax regulators raided the offices of the broadcaster, which cried foul, noted CNN.
Adani, meanwhile, established a business association that attacked Modi's enemies and helped him launch his bid for the premiership as "Hindu Hriday Samrat, the Emperor of Hindu Hearts, or, more accurately, the consolidator of the Hindu vote-bank," wrote Roy.
If the Indian economy under Modi is built on sand, Adani is just the first of many casualties.
THE WORLD, BRIEFLY
The Voice
AUSTRALIA
Australians will decide whether to give Indigenous people a voice in parliament in a landmark referendum that observers believe will face a number of hurdles before the vote later this year, the Guardian reported.
The October plebiscite will see voters choose whether they support the enshrinement of an advisory group on issues related to Indigenous people into the constitution.
Known as "the voice," it would consist of a group of elected Indigenous representatives who will advise Australian lawmakers and government on matters relating to Aboriginal and Torres Strait Islander people. The issues would likely include jobs, health and housing.
The council would function at the local, regional, and national levels, with the goal of improving policies and life outcomes for Indigenous people.
The upcoming referendum follows years of campaigning by Indigenous groups for recognition in the country's constitution. Supporters explained that the voice is part of a series of reforms aimed at resolving Australia's "unfinished business" with its First Nations.
It would be followed by treaty-making and truth-telling – the three elements key to the 2017 Uluru Statement from the Heart, a document written and endorsed by hundreds of Aboriginal leaders to amend the constitution to improve the representation of Australia's Indigenous people.
While previous conservative leaders opposed a constitutional amendment, the new Labor government of Prime Minister Anthony Albanese vowed to implement all three following last year's parliamentary win.
Still, political analysts noted that there is opposition to "the voice" across the political spectrum: Right-wing politicians called the voice discriminatory because it provides "special rights" to Indigenous people, adding that it will not deliver practical outcomes.
Meanwhile, left-wing groups and some Indigenous people want the treaty first and a guarantee that any constitutional change will not erode their sovereignty.
Recent polls show that 80 percent of Indigenous people and 60 percent of all Australians support the voice as well as religious leaders and every state and territory leader.
However, questions remain about how successful the referendum will be in a country where only eight out of 44 referendums have delivered change since 1901 when Australia became a federation.
Indigenous people represent around three percent of the population and defeat could potentially set the struggle for Aboriginal rights back decades, analysts noted.
Less For More
UNITED KINGDOM
The trial of a four-day workweek in Britain found that employees working shorter hours were more productive and less stressed, while a company's revenue remained largely unchanged, the Associated Press reported this week.
Billed as the largest experiment of its kind in the world, the pilot program sought to understand how employees in the United Kingdom working in various industries – including non-profits, marketing and finance –would respond to a reduced work week while receiving the same pay.
Around 2,900 workers at 61 British-based firms from various sectors participated in the trial between June and December 2022.
For the study, companies were required to implement shortened workweeks, which would consist of either one fewer workday or longer hours during certain times of the week to create an average 32-hour week.
The findings showed major benefits to the employees' well-being: More than 70 percent reported feeling less burned out and 39 percent felt less stressed. Meanwhile, 48 percent appeared more satisfied with their job than before the trial.
Fatigue among employees dropped with workers reporting better sleep and work-life balance. The results also showed that the likelihood of employees quitting went down 57 percent compared with the same period a year earlier.
The benefits also extended to the companies, which showed their revenue was unaffected and, in certain instances, grew by up to 1.4 percent over the course of the pilot. The researchers noted that measuring a company's profitability was not part of their analysis.
The authors added that the positive outcome of the trial has encouraged 92 percent of the participating firms to continue the four-day workweek, with 30 percent saying it's a permanent change.
They added that the shortened workweek might apply to every worker – such as nurses and first responders – but explained that the "resounding success" of the UK pilot program mirrors earlier efforts in Ireland and the United States.
The coronavirus pandemic has upended the way the world works, with countries and companies taking initiatives amid demands for more flexibility to improve the work-life balance, the newswire wrote.
Recognizing Children
JAPAN
Japan is planning to raise the country's age of consent from 13 years old to 16, as part of a major overhaul of sex crime legislation, Agence France-Presse reported.
The country has currently the lowest age of consent among the Group of Seven industrialized nations, which has stayed unchanged since its enactment in 1907.
The proposed changes follow a string of rape acquittals that sparked outrage in Japan.
Under current laws, children aged at least 13 years old are considered capable of giving consent, which means that sexual activity involving them is not considered statutory rape.
However, critics said that teen survivors face the same high bars to prosecuting perpetrators that adults do. Many regions have local laws banning "lewd" acts with people up to the age of 18, but perpetrators in these cases usually face much lighter penalties than those charged with rape and the present legislation allows them to "shift blame to the victims, and argue that sex was initiated or enjoyed by the children," they added.
One contentious requirement in the current law is that prosecutors must prove those accused of rape used "violence and intimidation" to incapacitate victims. Human rights groups countered that such a requirement effectively blames the victim for not resisting enough, adding that survivors can also freeze or submit during assaults to avoid injury.
The changes would raise the age of consent but would not alter the "violence and intimidation" wording. Instead, officials said that other factors would be added, including drugging, catching victims off-guard, and psychologically controlling them.
The new legal package also plans to lengthen the statute of limitations for sexual violence against minors, to allow them more time to come forward.
Human rights advocates welcomed the proposed reform but cautioned that it "still fails to meet international rape legislation standards."
DISCOVERIES
The Begging Question
It's not such a bad idea to give puppies some of the leftovers. In fact, a new research paper suggested it could be good for them.
Scientists found that young canines that ate table scraps, meal leftovers and raw foods experienced fewer gastrointestinal issues later in life compared with those that primarily ate dry foods, the Smithsonian Magazine reported.
For their study, a research team looked into why the animals develop gastrointestinal issues in their adulthood and whether commercial dog food has any impact on their health.
They analyzed survey data from more than 7,000 dog owners in Finland between 2009 and 2019. The survey asked owners what they fed to their pooches and if they observed any stomach ailments.
The results showed that 22 percent of puppy owners and 18 percent of owners of adolescent dogs reported gastrointestinal issues in their pets.
But the team also found that young dogs eating non-processed foods – such as bones, cartilage, red meat and berries – were 22 percent less likely to develop tummy issues as adults, compared with those that ate dry kibble.
Meanwhile, they also noticed that puppies chewing on rawhide – dog chews made from dried animal skins – had a very high chance of developing stomach ailments in adulthood.
Still, the authors cautioned that more studies are needed to properly establish the relationship between processed dog food and stomach problems.
Covid-19 Global Update
Editor's Note: Exactly three years ago, we began publishing the COVID-19 Global Update with the goal of tracking the impact of the pandemic. Today, we are pausing the Update given that the week-to-week changes in the pandemic are no longer statistically significant. We assure our readers that the Update will return if the coronavirus surges again, something we all hope will not happen.
Your DailyChatter Team
Total Cases Worldwide: 682,546,389 (+0.88%)
Total Deaths Worldwide: 6,819,835 (-0.90%)
Total Vaccinations Worldwide: 13,232,904,667 (-0.79%)*
Countries with the highest number of confirmed cases worldwide as of 4 a.m. ET
US: 105,972,038 (+2.09%)
India: 44,696,388 (+0.01%)
France: 39,703,279 (-0.41%)***
Germany: 38,297,037 (+0.13%)
Brazil: 37,145,514 (+0.16%)
Japan: 33,374,303 (+0.13%)
South Korea: 30,702,960 (+0.29%)
Italy: 25,651,205 (+0.19%)
UK: 24,423,396 (-0.95%)***
Russia: 22,506,199 (+1.90%)
*Numbers were taken from the World Health Organization as of March 14th, 2023.
**Johns Hopkins University stopped publishing the Covid-19 update on March 10th, 2023.
***Numbers have been adjusted by affected country.
Thank you for reading or listening to DailyChatter. If you're not already a subscriber, you can become one by going to dailychatter.com/subscribe.
Not already a subscriber?
If you would like to receive DailyChatter directly to your inbox each morning, subscribe below with a free two-week trial.
Support journalism that's independent, non-partisan, and fair.
If you are a student or faculty with a valid school email, you can sign up for a FREE student subscription or faculty subscription.
Questions? Write to us at hello@dailychatter.com.