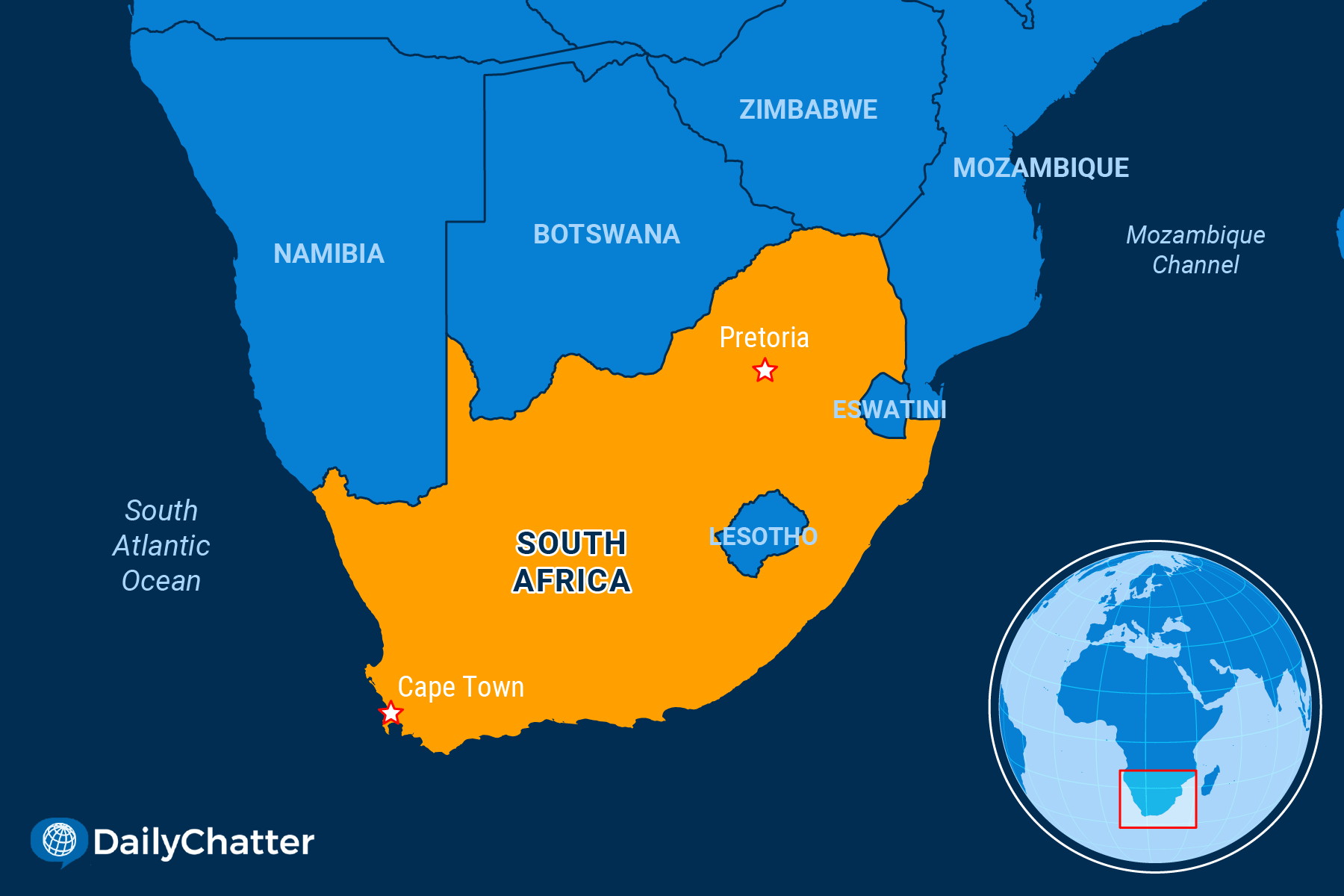 The World Today for February 10, 2023
Listen to Today's Edition
Start the morning with our Weekly World Quiz. Scroll down!
NEED TO KNOW
Lights Out
SOUTH AFRICA
André de Ruyter launched investigations into corruption and organized crime at South Africa's state-owned energy company, Eskom, where he was CEO. Soon after he tendered his resignation in December, he says someone slipped cyanide into his coffee, Quartz reported. He survived the alleged attempt on his life but the episode illustrates how energy, politics, and lawbreaking are intertwined in the troubled country.
De Ruyter resigned after Minerals and Energy Minister Gwede Mantashe criticized him for failing to prevent the rolling blackouts that have become commonplace in South Africa, instigating deep cynicism and unrest among the citizenry. "Eskom by not attending to load-shedding is actively agitating for the overthrow of the state," said Mantashe, according to Voice of America. South Africans refer to blackouts as "load-shedding."
Due to years of neglect and lack of maintenance, South Africans experienced a total of four months without electricity, the Wall Street Journal wrote. Analysts forecast that the problem will cut 2 percent off the country's gross domestic product this year.
The impact goes far beyond the economy.
People are dying in hospitals, CNN reported. Livestock is perishing in barns when ventilation systems stop. Crime, traditionally high in South Africa, is skyrocketing as home alarm systems shut down. South African President Cyril Ramaphosa now might declare a national disaster like the one he instituted in 2020 during the coronavirus pandemic. Water shortages are also becoming more frequent, making it even harder to simply live, added the Maverick.
It's not clear if South Africans have any confidence in Ramaphosa or his administration to solve the problem, however.
Last year, a judicial commission found that Ramaphosa was mishandling allegations of misconduct in government, noted Transparency International. At the same time, the president is combatting allegations that he covered up a theft of at least $580,000 from his farm in 2020 in order to conceal how he acquired so much cash in the first place. The scandal has become known as "Farmgate."
While he hinted that he might resign, Ramaphosa managed to avoid impeachment and won reelection as leader of the African National Congress, the country's most important political party, late last year, the Guardian wrote. His problems, incidentally, are arguably small compared with the corruption allegations that his predecessor, former President Jacob Zuma, is still facing, the Associated Press added.
Commenting in Forbes, Diana Furchtgott-Roth of the conservative Heritage Foundation argued that the South African government should privatize power plants to attract investors and inject competition into energy markets. She noted that nobody in South African politics would support that idea, however.
The people certainly wouldn't trust the government to handle such reforms.
THE WORLD, BRIEFLY
The Forsaken
TURKEY/ SYRIA
Foreign relief and rescue workers have poured into Turkey and Syria this week following the devastating earthquakes and aftershocks that have killed more than 21,000 people, even as locals are furious over the lack of help, the Washington Post reported.
Around 70 countries and 14 international organizations have sent teams of rescuers, donations and aid to southeastern Turkey, following the government's appeal for international help after Monday's quake.
Turkish President Recep Tayyip Erdogan visited the Hatay province Wednesday, a focal point of the disaster, and pledged to reconstruct cities and find homes for individuals who had been displaced.
Even so, many locals expressed frustration over the government's slow rescue efforts and wondered why officials were not searching for survivors in some areas. Residents of Adiyaman complained to the provincial governor that the city had been "forsaken."
Criticism also poured forth across social media, prompting authorities to shut down Twitter on major Turkish mobile providers. Officials have not commented on the outage, even as opposition politicians and celebrities warned that the shutdown could disrupt rescue efforts and humanitarian relief work, according to Agence France-Presse.
Since Monday's earthquake, Turkish police have arrested 18 people for "provocative" social media remarks criticizing the government's response.
Authorities had previously issued numerous warnings about disseminating disinformation ahead of a crucial May 14 election that most expect to give Erdogan an extension on his two-decade rule as prime minister and then president.
Meanwhile, in neighboring Syria, a United Nations convoy entered the country's northwest for the first time Thursday, amid a push to deliver foreign aid into an area wracked by years of civil conflict, CNN added.
Until Thursday, no supplies had traveled from Turkey via the Bab al-Hawa border crossing to rebel-held parts of northern Syria – and which is the only humanitarian aid corridor between the two countries.
Some Syrians had gathered at the crossing to protest why only corpses are being allowed through: Around 300 bodies belonging to Syrian refugees who sought safety in Turkey are being sent back to Syria to be buried in their home country.
Just like its neighbor, the Syrian government also called for more international aid and urged Western nations to lift sanctions imposed on the regime of President Bashar Assad.
Still, critics of the Syrian president condemned the government's attempt to use the natural disaster "as a ticket to remove sanctions."
The Puppetmaster
RUSSIA
Russian President Vladimir Putin likely approved the transfer of the missile system to Russian-backed separatists who shot down the Malaysia Airlines aircraft over Ukraine in 2014, according to the investigators probing the downing of the jet that killed all 298 passengers and crew, the Wall Street Journal reported.
The Joint Investigation Team this week announced the conclusion of their years-long investigation into Flight MH17 flying from the Netherlands to Malaysia on July 17, 2014. The international team said they had exhausted all leads, adding that "the high bar of complete and conclusive evidence is not reached."
In their report, investigators explained that there were "strong indications" that Putin personally approved the delivery of the Buk anti-aircraft missile system, although they noted there was inconclusive evidence to tie him to the incident.
They said, however, that the Russian leader – in power alternately as prime minister and president since 1999 – is immune from prosecution under international law and cannot be tried as long as he remains head of state.
The Kremlin has vehemently denied any involvement in the downing of the aircraft. It has also attempted to discredit evidence brought forward by Western officials and investigators.
Dutch Prime Minister Mark Rutte said the probe's conclusion will be disappointing to the victims' relatives.
The downing of MH17 followed only a few months after Russia instigated an uprising against the Ukrainian government that year, following the bringing down of Ukraine's pro-Russian president, Viktor Yanukovych. The Donetsk People's Republic, a self-proclaimed separatist government controlled by Moscow, was formed soon afterward.
The new report comes months after a Dutch court in November found three men – two Russians and one Ukrainian – guilty of involvement in the shooting down of the aircraft.
Down It Goes
BRAZIL
Brazil's navy sunk a decommissioned aircraft carrier this month, prompting intense criticism from officials and environmental groups around the world who said the vessel was packed with toxic materials, including asbestos, Radio France Internationale reported.
Navy officials conducted the "planned and controlled sinking" of the 35,000-ton "Sao Paulo" last week after the aircraft carrier had been floating more than 210 miles off the Brazilian coast in the Atlantic Ocean.
Built in France in the 1950s, the large vessel – first named the "Foch" – took part in the country's first nuclear tests in the Pacific in the 1960s. The French Navy also deployed it off Africa, the Middle East, and Yugoslavia from the 1970s to the 1990s.
It was eventually sold to Brazil in 2000 for $12 million, even though it needed an $80 million refit that was never done.
Last year, Brazil authorized a Turkish firm to dismantle the aging vessel for scrap metal. But in August, Turkish environmental officials blocked the plan as the ship was being towed in the Mediterranean.
The ship returned to Brazil but authorities did not allow it to dock at any port, citing the "high risk" to the environment.
Environmental advocates and Brazilian prosecutors warned that the ship carried more than 10 tons of asbestos and other toxic material, adding that its sinking could impact marine life and the livelihoods of coastal communities.
But a federal court denied the request, noting that an unplanned sinking could be even worse for the environment or pose a danger to crews.
Non-governmental groups criticized the sinking and accused the Brazilian government of having violated "three international treaties" on the environment. Others called the move "state-sponsored environmental crime."
The Sao Paulo's sinking comes a month after leftist President Luiz Inácio Lula da Silva took office with pledges to undo the environmental degradation carried out under his predecessor.
UKRAINE, BRIEFLY
This week, Russia looked to achieve modest territorial gains in Ukraine's eastern regions ahead of the anniversary of the war's commencement, as it sent recruits into the front lines to probe defenses with widely distributed strikes, often with horrific fatalities for its forces, Al Jazeera reported. The advancements come as Ukrainian President Volodymyr Zelenskyy made a rare trip abroad, first to the United Kingdom, where he met with British leaders including Prime Minister Rishi Sunak, in a bid for more advanced weapons, the Associated Press noted. Zelenskyy also attended a summit in Belgium, where he addressed all 27 leaders of the European Union to express his "gratitude" for their support, Euronews added. He also called for more weapons and urged leaders for faster accession to the EU.
Also this week:
DISCOVERIES
A Tree's Bounty
A new study found that bears employ a natural insect-repellent to prevent ticks from feasting on them, the New York Times reported.
Bear biologist Agnieszka Sergiel observed that the large predators have a tendency to rub their fur on tree bark for a variety of reasons, including marking scent and scratching an itch.
She noted that this shimmying leads to tree resin and sap leaking out of the trees and sticking to the animal's fur. These substances are water-resistant and attach to fur and skin, making them a great contender as an efficient tick repellant.
Sergiel and her team tested this theory by monitoring how ticks reacted to beech tar, a sticky material that attracts bears and serves as a proxy for substances leaked by trees.
In their study, they placed Dermacentor reticulatus ticks – known to feed on bears – in horizontal tubes and observed whether the insects would approach the side with beech tar or the one with distilled water.
All ticks would move as far as possible from the tar and hide under the water.
"It was really obvious they hated the beech tar," said co-author Agnes Blaise.
The team saw that ticks had the same reaction when turpentine, which also attracts bears, was used.
The findings provide the first experimental evidence supporting the longstanding idea that tree resins can act as a bug repellent.
The researchers hope that further studies, including on wild bears and ticks, can help in better understanding these natural repellents.
Thank you for reading or listening to DailyChatter. If you're not already a subscriber, you can become one by going to dailychatter.com/subscribe.
Not already a subscriber?
If you would like to receive DailyChatter directly to your inbox each morning, subscribe below with a free two-week trial.
Support journalism that's independent, non-partisan, and fair.
If you are a student or faculty with a valid school email, you can sign up for a FREE student subscription or faculty subscription.
Questions? Write to us at hello@dailychatter.com.