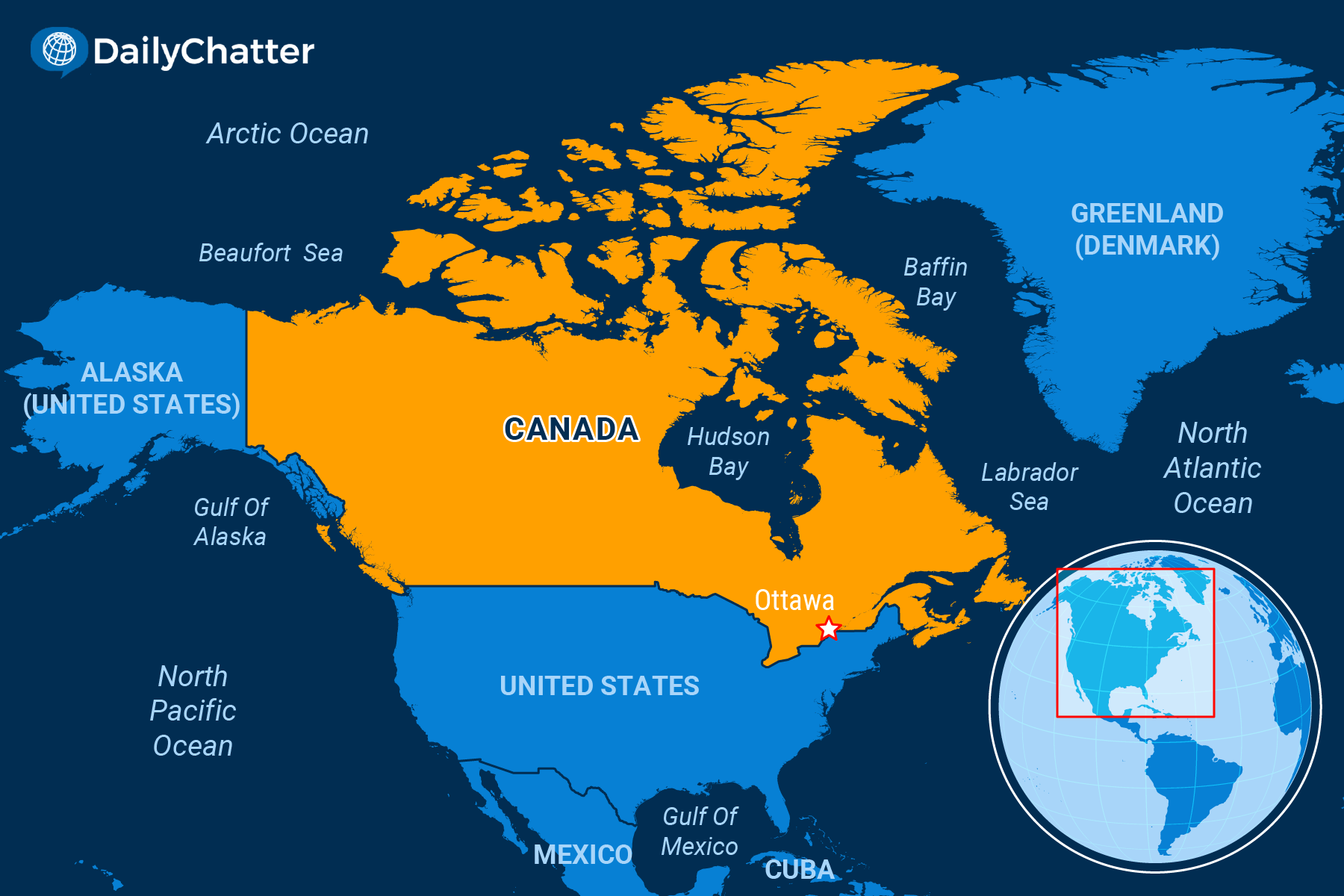 The World Today for February 09, 2023
Listen to Today's Edition
NEED TO KNOW
Rumbles in the Household
CANADA
French-speaking Canadians concentrated in the province of Quebec have long sought more autonomy from the central government in Ottawa and the rest of the mainly English-speaking North American country – to the point of wanting to secede from the union and create a new, independent nation.
But few people outside of Canada might know that conservative populist movements that flirt with independence are also strong in Canada's central-western provinces of Alberta and Saskatchewan, wrote Queens University law professor Bruce Pardy in a Financial Post op-ed.
Now Canada's liberal Prime Minister Justin Trudeau is facing legal fights with these rivals that could determine the future of the country.
Quebec's Premier François Legault, for example, is now evoking the infamous "notwithstanding clause" of the Canadian constitution in order to enact a law, called Bill 21, that would prohibit some public servants from wearing religious garments or symbols – like a hijab or a crucifix – at work. Critics include the Catholic Church. Others say the proposal erases the province's heritage, or even call it xenophobic, citing Islamophobia in particular, the Montreal Gazette noted.
As the Canadian Press explained, the notwithstanding clause allows federal and provincial lawmakers to overrule parts of the constitution. It's not used often. The framers saw the clause as a way for elected officials to annul overactive judges, explained University of New Brunswick law professor Kerri Anne Froc and University of Ottawa professor of law Carissima Mathen in the Conversation.
But when officials cite it, they tend to stir controversy. Last year, for example, Ontarian Premier Doug Ford used the clause to overrule provincial teachers' rights under the constitution to collective bargaining, preventing them from going on strike, for instance, the Economist wrote.
Trudeau is expected to argue against the use of the notwithstanding clause when the country's Supreme Court hears arguments over Bill 21. Legault has blasted Trudeau, saying the prime minister is trying to undermine the fundamental rights of "Quebec's democracy and people," the Canadian Broadcasting Corporation reported.
Meanwhile, Albertan Premier Danielle Smith is pursuing the Alberta Sovereignty Within a United Canada Act. Its proponents claim they wrote the act so it wouldn't flout the Canadian constitution even though it appears designed to cause a constitutional crisis in the country, argued Globe and Mail columnist Andrew Coyne. The act would allow the province to cherry-pick which federal rules apply there.
Even one of the act's designers, University of Calgary political scientist Barry Cooper has written that "the whole point" of the act is to force a revision of the Canadian Constitution.
Similarly, lawmakers in Saskatchewan are drafting the Saskatchewan First Act with the goal of making sure that they, and not federal officials, have the final say on their province's oil and other natural resources, reported Global News.
Trudeau looks like he might have his work cut out for him getting the members of his household to stay together and play nice.
THE WORLD, BRIEFLY
Thanks, But No Thanks
UGANDA
Ugandan officials said they wouldn't renew the mandate of the United Nations human rights office in the country, claiming the East African nation has made progress in developing a domestic capacity to monitor such issues, Al Jazeera reported Wednesday.
The Ugandan Ministry of Foreign Affairs said the government has committed to the promotion and protection of human rights, adding that there was "peace throughout the country." It maintained the country had developed "strong national human rights institutions and a vibrant civil society."
Representatives of the Office of the UN High Commissioner for Human Rights did not comment on the move, which has sparked concerns over potential violations by the administration of President Yoweri Museveni, who has ruled Uganda since 1986.
Human rights groups, opposition politicians and Western nations have accused Museveni's government of a number of violations, including torture, illegal detentions and extrajudicial killings of opponents and critics.
Ugandan officials denied the allegations, adding that authorities accused of rights abuses have been punished.
Analysts believe that a political patronage culture, involving a statewide network of district commissioners loyal to the president, has been critical to his continued dominance over the country.
The UN office was established in 2006 and was initially only allowed to focus on human rights issues in the conflict-ridden areas in the country's north and northeast.
It was only later allowed to cover the rest of the country.
The Long Road Back
HAITI
Haitian Prime Minister Ariel Henry formally installed a transition council this week that is to help usher the crisis-plagued Caribbean country toward long-overdue elections, Reuters reported.
Henry said the creation of the High Transition Council marks the "beginning of the end of dysfunction in our democratic institutions."
The council is made up of three members representing Haiti's political, business and civil sectors. It is expected to create a road map for the upcoming elections and select members of a provisional electoral council, as well as a committee to revise the country's constitution.
Since early January, there have been no elected representatives in Haiti after the last lawmakers saw their terms expire. The country's last presidential elections occurred in 2016.
The Caribbean nation has been mired in a political and humanitarian crisis following the assassination of President Jovenel Moïse in July 2021. Henry took power shortly after Moïse's murder.
The prime minister has pledged to leave office by Feb. 7, 2024, after postponing elections indefinitely in the wake of a devastating earthquake that affected the Southern Peninsula.
Haiti is also grappling with a severe security situation driven by violence from armed gangs. Hundreds of people have been killed and tens of thousands displaced because of gang violence that has skyrocketed following Moïse's death.
In October, Henry pleaded for an international force to assist Haitian police in restoring order.
Even so, the request is currently being debated at the United Nations, where no country has pledged to command such a force.
Monetizing Rejection
SINGAPORE
A Singaporean man is suing a woman for more than $2 million in damages after she rebuffed his romantic advances and told him she saw him as a friend, in a case observers say underscores issues of sexism and misogyny faced by women in Singapore, the Washington Post reported.
The case began when the plaintiff, identified as drone-racing executive K. Kawshigan, initially filed two lawsuits against the woman, Nora Tan.
The first is a defamation lawsuit filed at Singapore's High Court for $2.3 million, alleging that Tan's rejection has caused him "sustained trauma" and "reductions in his earning capacity."
The other was filed at the Magistrate Court for $17,000 for allegedly breaching an agreement to improve their relationship, the Straits Times noted.
While the High Court suit is expected to be heard this week, the Magistrate Court struck down Kawshigan's claim last month for abuse of process.
Court documents showed that the two individuals met in 2016 and developed a friendship over time. But problems began in September 2020 when "they became misaligned about how they saw their relationship."
Tan claimed she saw Kawshigan as a friend, while the plaintiff "considered her to be his 'closest friend.'" She initially asked him to reduce their interactions, which Kawshigan countered would mark a step back in their relationship. She added they needed to set boundaries and urged Kawshigan to be "self-reliant."
But in October 2020, Kawshigan threatened the woman with legal action for damages stemming from "emotional distress and possible defamation."
Tan agreed to take part in counseling sessions with Kawshigan but stopped after more than a year of therapy because she felt they had become futile.
The plaintiff then proceeded with the lawsuits.
The case has prompted criticism from women's rights groups in Singapore, while legal analysts explained that Kawshigan's suits "probably had no merits."
DISCOVERIES
Shape-Shifter
The movie "Terminator 2: Judgement Day" introduced audiences to the T-1000, a killer android that could easily change its shape.
While the character played by Robert Patrick is fictional, a group of scientists recently developed a similar miniature – and non-violent – version of the terminator, the Washington Post reported.
In their study, the research team explained that the tiny robot can melt, turn into a solid, and complete tasks through the use of magnetic fields. They created it using a composite of metals with a low melting point.
The team conducted a series of experiments, including a cage escape – slightly similar to the movie. They applied magnetic fields at alternating currents to increase the robot's temperature to 95 Fahrenheit and caused it to morph from a solid into a liquid state in less than two minutes.
In liquid form, the automaton could then be steered through gaps in the locked cage by more magnets.
In another instance, researchers showed how the robot could be used to successfully remove foreign objects from a model of the human stomach.
The findings mark the first time a material capable of shapeshifting and carrying heavy loads has been identified for use in microbots.
The authors suggested that the new robot could be used in clinical and mechanical settings by reaching hard-to-reach spaces. They added that there are still limitations to the prototype as it still needs human input to make it work – unlike the T-1000 which is fully autonomous.
Even so, the science team is confident that future research will not result in killer bots.
Thank you for reading or listening to DailyChatter. If you're not already a subscriber, you can become one by going to dailychatter.com/subscribe.
Not already a subscriber?
If you would like to receive DailyChatter directly to your inbox each morning, subscribe below with a free two-week trial.
Support journalism that's independent, non-partisan, and fair.
If you are a student or faculty with a valid school email, you can sign up for a FREE student subscription or faculty subscription.
Questions? Write to us at hello@dailychatter.com.