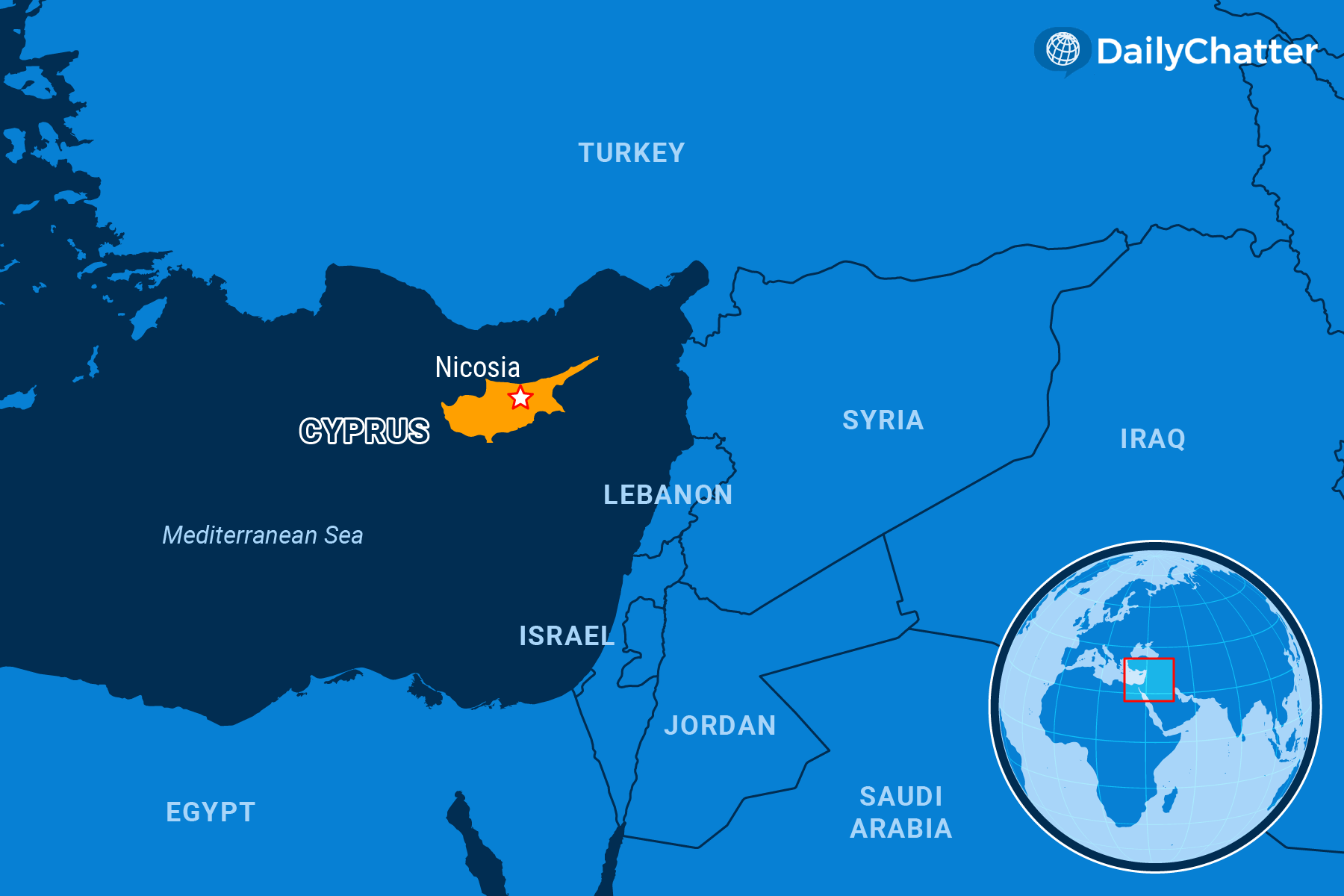 The World Today for February 03, 2023
Listen to Today's Edition
NEED TO KNOW
Held Hostage
CYPRUS
Workers in Cyprus went on a three-hour strike recently. The demonstration was a warning to the government and business elites on the Mediterranean island that public sector workers, educators, and construction workers could bring the Cypriot economy to a halt unless the bosses fulfill their promises of cost-of-living wage increases.
Hundreds gathered before the Labor Ministry in the capital, Nicosia, the Associated Press reported. The action delayed 22 flights carrying 4,000 passengers, including, presumably, tourists who are vital to the economy of Cyprus.
The workers took action just ahead of a vote to select the next president on Feb. 5, or a week later if a runoff vote must be held, Reuters explained. Fourteen candidates are running, with former Foreign Minister Nikos Christodoulides expected to garner the most votes, but not necessarily more than the 50 percent needed to avoid a Feb. 12 runoff.
Economic issues are important in Cyprus, where the pandemic hit tourism and other commercial activity hard. The discovery of natural gas deposits offshore, however, could fuel an economic boom, Euractiv wrote. The gas deposits also highlight Cyprus's real challenge: its relations with nearby Turkey, whose leaders have disputed the Greek Cypriots' rights to drill.
Every candidate, including Christodoulides, wants to resume talks with Turkey on the political divisions separating the southern, ethnic-Greek part of Cyprus, a member of the European Union, and the northern, ethnic-Turkish part whose government only Turkey recognizes. The two have been split off from each other since a Turkish invasion in 1974 that was in response to a Greek-supported coup.
Greek Cypriot leaders might be eager to resume talks because they fear that Turkish President Recep Tayyip Erdogan could seek to annex the Turkish side of the island to boost his standing in the polls as he runs for reelection, as economist Theodoros Panayotou argued in the Cyprus Mail, a local English-language newspaper.
Such a move might distract voters who might want change in the top echelons of Turkey's government amid sky-high inflation and other problems that have arisen under Erdogan's more than 20 years in power. Having also served as prime minister from 2003 to 2014, Erdogan is now seeking a second term as president, reported the New York Times.
As a result, as Ekathimerini newspaper columnist Nikos Konstandaras argued, Greek leaders and Greek Cypriot leaders are in the position of needing to wait and see what Erdogan will do before they can react. "Cyprus will remain hostage to Erdogan's actions," Konstandaras wrote.
Talking more could set them free.
THE WORLD, BRIEFLY
Kiss and Make Up
PHILIPPINES
The United States reached an agreement with the Philippines on Thursday to receive access to additional military bases in the Southeast Asian country, the latest move by Washington to encircle China and counter its growing influence in the region, the Wall Street Journal reported.
The agreement, remarkable because it reinvigorates an alliance that was in danger of falling apart just a few years ago, follows a meeting between US Defense Secretary Lloyd Austin and his Philippine counterpart Carlito Galvez Jr., and falls under the countries' 2014 Enhanced Defense Cooperation Agreement (EDCA): This allows the US military to build facilities at agreed-upon Philippine bases, refuel and maintain vessels, as well as rotate troops through the bases.
The two allies initially designated five Philippine bases for use under the EDCA in 2016. Thursday's deal adds four more sites. Officials said the additional sites could be set on the northern island of Luzon – near Taiwan – and in the southwestern province of Palawan, which sits on the edge of the South China Sea.
They added that troop rotations allow the US military to respond to threats of rising tensions in the South China Sea or Taiwan – a self-governing island that China claims as its territory.
Analysts added that the new agreement also marks a strengthening of ties between the US and the Philippines – considered Washington's oldest ally in Asia.
Such relations had strained under the Philippines' former President Rodrigo Duterte, who steered his country closer to China and threatened to scrap other military agreements with the US.
Incumbent Ferdinand Marcos Jr. – who took office last year – said he seeks to balance Manila's ties with Washington, its security guarantor, and those with Beijing, its top economic partner.
Do Not Disturb
KENYA
Kenyan legislators are considering a new bill to stop employers from contacting their staff after hours, the first African country to create legislation protecting people's work-life balance, Quartz reported.
The bill, to be debated later this month, would forbid employers from calling, texting or emailing employees after work, on holidays or weekends, giving employees "the right to disconnect."
It's the latest effort by countries to promote a work-life balance and stop employers from demanding extra work without pay.
The measure would apply to companies with more than 10 employees. Employers violating the rules would be subject to a $400 fine.
Countries, mainly in Europe, have been experimenting with such measures, the Washington Post noted. France created the first such law in 2017, followed by Spain, Belgium, Italy, Ireland and Portugal. Provinces in Canada and Australia have also created versions of these laws.
While most European laws on the right to disconnect forbid such contact, the Kenyan bill mandates that workers are to be paid for the extra time and protected from retribution if they choose not to work the extra time.
Kenya will face more challenges in implementing such a law than France or other European countries, Quartz noted.
The country's economic situation is deteriorating, marked by high inflation and sky-high youth unemployment. That means desperate would-be workers would be willing to ignore any right to disconnect.
And unlike France and many other European countries, Kenya is not a heavily unionized country with labor leaders willing to fight on behalf of employees whose rights are violated.
Meanwhile, employers criticized the bill, saying it would hurt the country's economy, the ability to create jobs, and promote "indiscipline" among employees.
Symbolic Absence
AUSTRALIA
Australia will remove depictions of British monarchs from its banknotes, a move that has sparked a fierce debate in the country where the monarch remains its head of state, the Associated Press reported Thursday.
The central bank said the new Australian $5 bill will feature an Indigenous design rather than the image of the new British king, Charles III. The current banknotes feature a portrait of Queen Elizabeth II – and is the only bill to still bear the image of the late royal.
Officials noted that the king's portrait will appear on coins that currently bear the image of Elizabeth II. They added that the decision followed consultations with the center-left government of Prime Minister Anthony Albanese.
The bank explained that the change would honor "the culture and history of the First Australians." Opposition politicians, however, said the move was politically motivated.
Like many other former British colonies, Australia has been debating whether to cut constitutional ties with the United Kingdom and replace the monarch with an Australian citizen as its head of state.
Albanese began laying the groundwork for an Australian republic after assuming office last year by creating a new position, the assistant minister for the republic.
However, calling a referendum to dissolve constitutional links with the UK has not been a top priority for the new government.
When the queen died last year, the government had already planned to hold a referendum to acknowledge Indigenous people in the constitution. It rejected a suggestion to put the question of a republic to a plebiscite as an unwanted distraction.
Australians voted in a referendum proposed by a Labor government in 1999 to keep the British monarch as the country's head of state.
UKRAINE, BRIEFLY
This week, an air attack on Ukraine's northeastern city of Kharkiv killed at least one person, while three others were killed in the southern city of Kherson amid an increase in Russian shelling, Reuters reported. The strikes came as Russia warned Western nations that sending more weapons to Ukraine will lead "to significant escalation" of the conflict, the Guardian added. Even so, the UK's former Prime Minister Boris Johnson said Russian President Vladimir Putin had every intention of promoting conflict in the days before Russia invaded Ukraine in February 2022, according to the Associated Press. The British ex-leader added that Putin told him it would "only take a minute" to hit him (Johnson) with a missile, a statement that the Kremlin denied.
Also this week:
A group of pro-Russian activists in Germany donated funds to a Russian army division fighting in Ukraine that were used to purchase communication equipment, according to an officer in the division and messages from the group's organizers seen by Reuters, despite European Union sanctions against such purchases. The report comes shortly after German Chancellor Olaf Scholz said he wants to continue direct talks with Putin to end the war, in spite of finally relenting on shipments of tanks to Ukraine, Anadolu Agency reported.
Meanwhile, Croatian President Zoran Milanovic broke with his NATO allies by suggesting that Crimea, which Russia annexed in 2014, was forever lost to Ukraine, Insider wrote. He also criticized the flow of Western weapons to Ukraine, saying it "prolongs the war." Ukraine condemned his comments, prompting the Ukrainian internet database "Mirtvorec" (Peacemaker), which publishes the names and addresses of persons it considers enemies of Ukraine, to place him on its "black list," Balkan Insight noted. Still, Pentagon officials told a congressional committee in a secret briefing that Ukrainian forces are unlikely to be able to recapture Crimea from Russian troops in the near future, according to Politico.
Human Rights Watch released a report this week, saying it has documented "numerous cases" of Ukrainian forces scattering mines on territory that was controlled at the time by Russia, NPR added. The findings allege that Ukrainian troops placed so-called "petal mines" in and around the eastern Ukrainian city of Izium. Petal mines are outlawed by the 1997 Anti-Personnel Mine Ban Treaty, to which Ukraine is a signatory, because of their ability to maim and kill indiscriminately.
At the same time, a former Russian military officer told the BBC that Russian troops are responsible for brutal interrogations during the Ukraine war, including shooting Ukrainian men and threatening them with rape. The military officer, Konstantin Yefremov, attempted to resign from the army many times but was eventually discharged for refusing to return to Ukraine. He has now fled Russia.
DISCOVERIES
Written in Stone
Archaeologists recently discovered a stone scribbled with runic script dating back 2,000 years, a find they called "the oldest datable runestone in the world," Smithsonian Magazine reported.
Researchers uncovered the runestone at a cremation pit in eastern Norway in 2021. The site is located near the lake of Tyrifjorden, in a region known for "monumental" archaeological finds like the famed Gjermundbu Viking helmet.
Radiocarbon dating of the site showed that the grave and the runestone dated between 1 and 250 CE.
While past discoveries have uncovered older artifacts, this was the oldest find with runic writing – previously found artifacts with such writing date to around 300 CE.
Runic script was an ancient system of writing used by Germanic people in northern Europe. Scholars note, however, that there were at least three varieties of runic script that evolved over time and in different geographic regions.
Still, how the writing system came to be remains a source of debate among historians.
Researcher Kristel Zilmer, who studied the new runestone, noted that the inscription on the artifact remains elusive: Eight runes on the front of the stone spell "idiberug" when converted into Roman letters.
They could refer to a woman named Idibera or to the kin name Idiberung, she explained.
Even so, she noted that the inscription might not have any linguistic meaning, suggesting that the ancient individual scribbling on the stone "was learning how to carve runes."
But the find sheds new light onto the origin and early history of runic writing.
Thank you for reading or listening to DailyChatter. If you're not already a subscriber, you can become one by going to dailychatter.com/subscribe.
Not already a subscriber?
If you would like to receive DailyChatter directly to your inbox each morning, subscribe below with a free two-week trial.
Support journalism that's independent, non-partisan, and fair.
If you are a student or faculty with a valid school email, you can sign up for a FREE student subscription or faculty subscription.
Questions? Write to us at hello@dailychatter.com.