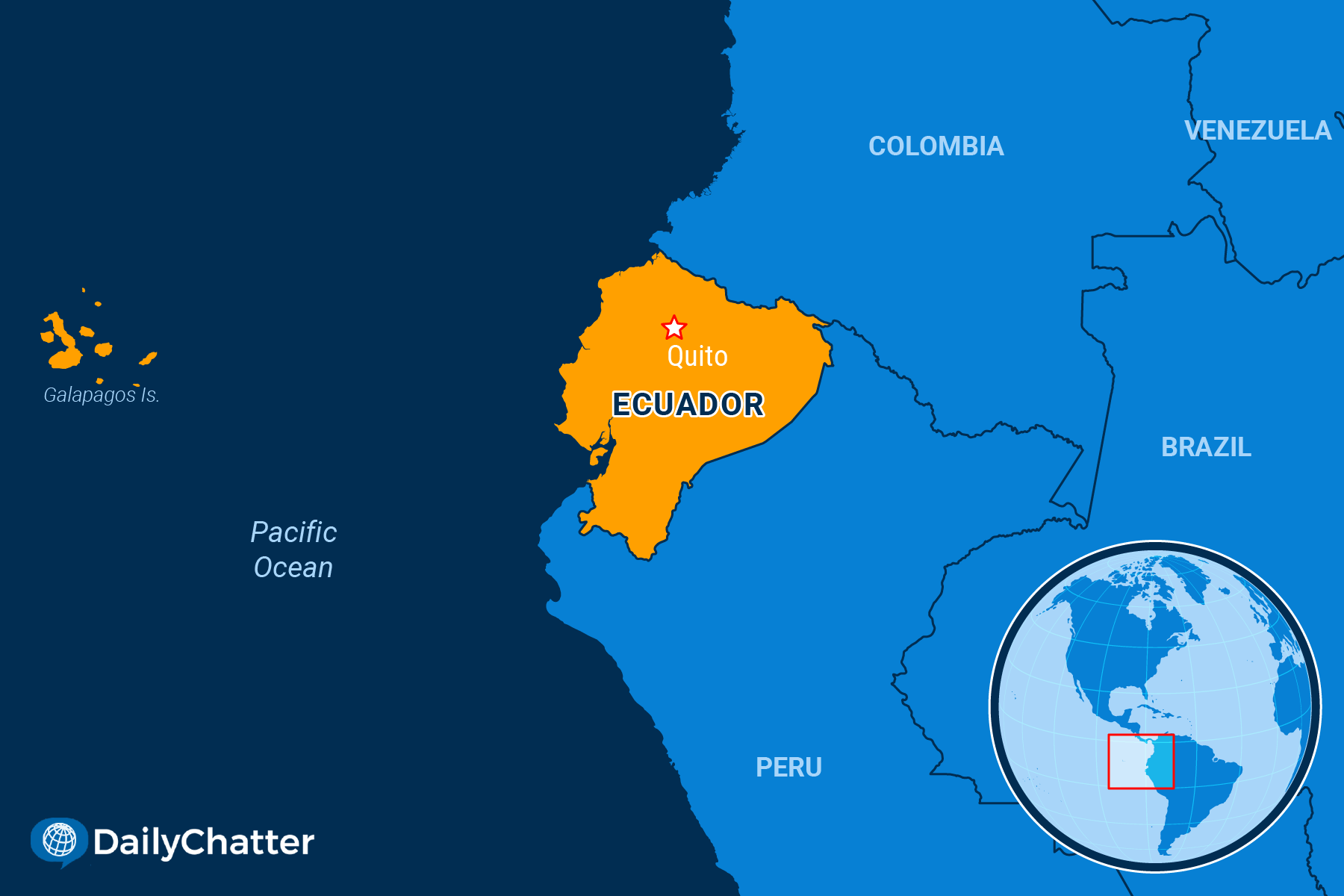 The World Today for February 02, 2023
Listen to Today's Edition
NEED TO KNOW
Murder, and Other Disasters
ECUADOR
Under the conservative government of President Guillermo Lasso, Ecuador's economy grew 3.2 percent last year, inflation today is relatively low compared with the region, employers have hired 500,000 people and 750,000 fewer Ecuadorians now live in poverty.
In an interview with the Washington Post, Lasso said massive investments in "health, education, housing, employment and money transfers" to poor families helped drive that success. He admitted, however, that his crackdown on organized crime and drug trafficking has fueled a spike in violence as criminals fight back.
Murders in the South American country with its population of about 18 million increased from less than six per 100,000 people in 2016 to almost 20 last year, a record toll.
Crime is hurting the country's waxing economic fortunes, too. Organized criminals murdered at least 63 people and injured 1,500 others last year in businesses exporting bananas, shrimp, and cacao, the basic ingredient for chocolate, Reuters reported, citing the Corporation of Ecuadorean Exporter Associations.
In an effort to defeat the criminals and keep the economy humming, Lasso is supporting a series of referendum questions that includes giving the military permission to work with police hunting down drug lords and extraditing Ecuadoran citizens accused of drug running to foreign countries (like the United States), reported the Courthouse News Service. The ballot is scheduled for Feb. 5.
Many Ecuadorans, including those leery about deploying soldiers on city streets as well as "Indigenous people, teachers and students" who have run afoul of the law during anti-government and other protests, have come out against Lasso's referendum proposals, wrote Prensa Latina, a Cuban state-owned media outlet.
But Lasso, who is also seeking to boost Ecuador's oil drilling to improve the economy, appears to have at least sought to satisfy some of his critics. The referendum questions offer environmentalists a new water protection system as well as conservation incentives, for example.
The eastern Amazonian regions where oil drillers are active also happen to be among the most biodiverse in the world, explained Mongabay. Locals there have long fought against oil and mining companies they say pollute land that is among the most untouched by modern society in the world.
Two Indigenous communities in Yasuní National Park, on the border with Peru, "reject contact with Western society, and live in what's called voluntary isolation," wrote the New York Times. These Tagaeri and Taromenane Indigenous groups survive in the jungle using spears, blow darts and knowledge that's been passed down for generations.
Ecuador has long sought to balance the economic needs of its cities with the environmental protection of its remote east, Amazon Watch noted.
Lasso has to figure out how to solve his crime problem without triggering a worse disaster.
THE WORLD, BRIEFLY
'Amnesty of the Heart'
DEMOCRATIC REPUBLIC OF THE CONGO
Pope Francis kicked off a visit to Africa this week, telling crowds of more than a million people in the Congo to forgive those who have harmed them, while admonishing world powers to "stop choking" Africa, the Associated Press reported.
On his first stop in the Congolese capital of Kinshasa, crowds stretched for miles, singing and dancing, with the Congolese traveling from across the country to see the pontiff because his visits to other regions were canceled due to insecurity. Congo has seen a resurgence of long-simmering violence as rebel groups continue to seize control of more eastern territory, forcing millions to flee.
He said the world must pay attention.
"We cannot grow accustomed to the bloodshed that has marked this country for decades, causing millions of deaths that remain mostly unknown elsewhere," the Pope told high-level officials just after arriving. "What is happening here needs to be known."
The Pope also gave a nod to the issues many African countries continue to grapple with, including ethnic tensions, forced migration, and hunger and conflict, laying the blame for some of these issues on the centuries of plundering of Africa's mineral and natural wealth by foreign powers, the Guardian reported.
And he noted that despite its natural wealth, Congo is one of the poorest countries in the world due to the exploitation of its natural resources, especially cobalt in Congo's case, used in smartphone batteries.
"Hands off the Democratic Republic of the Congo! Hands off Africa!" Francis said. "Stop choking Africa. It is not a mine to be stripped or a terrain to be plundered."
On Thursday, the Pope was set to address thousands of youngsters in a stadium for 80,000, Agence France Presse reported. That followed an open-air Mass Wednesday that drew a million people.
On Friday, the Pope will fly to South Sudan, where he has previously tried to broker peace between the rival rebel factions. A 2018 peace accord continues to hold even as fighting goes on, contributing to one of the world's biggest refugee crises.
Walking Out
UNITED KINGDOM
More than half a million British workers went on strike across the country Wednesday over pay disputes and working conditions, the biggest walkout in the United Kingdom in more than a decade, CNBC reported.
The strikes included hundreds of thousands of teachers, along with civil servants, university workers and train drivers that led to the closure of tens of thousands of schools and disrupted transportation and other public services.
It's the latest labor action since summer in spite of the UK having the toughest striking rules in Europe, the Washington Post noted.
Demands varied by union but included inflation-beating pay rises to make up for prior real-term pay decreases, pension reform, and a promise to forego layoffs in the future. In the case of teachers in England, the National Education Union said educators have seen their wages decline in real terms by 23 percent since 2010.
In the public sector, the average salary excluding bonuses increased by 2.7 percent between August and October, despite inflation exceeding 10 percent. According to national statistics, the private sector saw a 6.9 percent pay boost.
The demonstrations also targeted a bill voted on by the lower house of Parliament this week that attempted to impose minimum service levels on some sectors during strikes, with certain workers facing dismissal if they refuse to work when necessary.
Observers said the strike will take a toll on already slowing economic growth: The International Monetary Fund predicted that the UK is likely to be the only major economy to fall into recession this year, even though it recorded one of the strongest growth rates among advanced economies in 2022, CNN added.
Meanwhile, a report released by Bloomberg this week said that Brexit is costing the UK economy over $120 billion dollars a year.
Subversive Sashays
IRAN
An Iranian court sentenced a couple to more than 10 years in prison after a video of them dancing in front of a monument in the capital was posted on social media, part of a crackdown by Iran's authorities against flouting rules amid ongoing mass protests, the Washington Post reported.
Authorities detained the Iranian couple, Astiaj Haghighi and Amir Mohammad Ahmadi, in November. The two individuals are believed to be in their 20s and are both Instagram influencers, according to news agency HRANA.
The video of the couple showed them dancing in front of Tehran's Azadi Tower, which became a symbol of freedom during the 1979 Islamic revolution. It also showed that the young woman, Haghighi, was not wearing a headscarf, which is mandatory in Iran.
The court sentenced each of them to 10 and a half years in prison for the "promotion of impurity and indecency, assembly and collusion against national security, and propaganda against the regime."
The verdict comes as Iranian authorities continue to crack down on large anti-government protests that have gripped the country following the death of Mahsa Amini in September.
Amini, 22, was detained by Iran's morality police for allegedly failing to abide by the Islamic dress code.
She later died in their custody.
Since then, thousands of protesters – many of them women – have demonstrated against the country's ruling clerics.
According to the United Nations, at least 14,000 people, including children, have been arrested throughout the protests, and a "conservative" estimate shows that more than 300 people have been killed during the demonstrations.
Iranian courts have also sentenced more than a dozen individuals to death, including teenagers, for their participation in the protests, the New York Times noted.
DISCOVERIES
The Claws Appear
The "Jurassic Park" movie franchise possibly took some liberties when depicting the velociraptors, according to a new study.
Scientists discovered that the extinct predatory creature did not use its scary, sharp claws for slashing but instead for capturing its prey, the Independent reported.
Without an actual raptor to study, researchers closely observed the modern-day red-legged seriema.
Standing around three feet tall and weighing about four pounds, the South American predatory bird is known for its unique "recurved sickle claws" that resemble the ones in "raptor" groups, including the velociraptor and deinonychosaurs.
In their paper, the team wrote how the seriema used its claws to pounce on a rubber snake and whack it against a rock in an attempt to kill it. The bird then used the claw to pin the snake to the ground while tearing it with its beak.
The predatory avian also showed this same pinning-and-grasping skills on dead mice.
Researchers said the dino-like curved claws also had no serrations – or cutting surface – to slash through flesh.
They suggest that birds are among the "best proxies" for the claw usage of raptor dinosaurs because of the great degree of similarity between the claws of seriemas and those of deinonychosaurs, as well as their common lineage and predatory habits.
Still, they cautioned that there could be other anatomical differences between the two that may change the way claws function.
Thank you for reading or listening to DailyChatter. If you're not already a subscriber, you can become one by going to dailychatter.com/subscribe.
Clarification: In a news item last week in THE WORLD, BRIEFLY section, we said in our "The Scab" item that around 150,000 Indigenous children were forcibly placed in Canada's residential school system from the 19th century to the 1970s. To clarify, the government's partnership with the schools underlying the policy to remove children from their parents ended in the 1970s but the last school didn't close its doors until the 1990s.
Not already a subscriber?
If you would like to receive DailyChatter directly to your inbox each morning, subscribe below with a free two-week trial.
Support journalism that's independent, non-partisan, and fair.
If you are a student or faculty with a valid school email, you can sign up for a FREE student subscription or faculty subscription.
Questions? Write to us at hello@dailychatter.com.