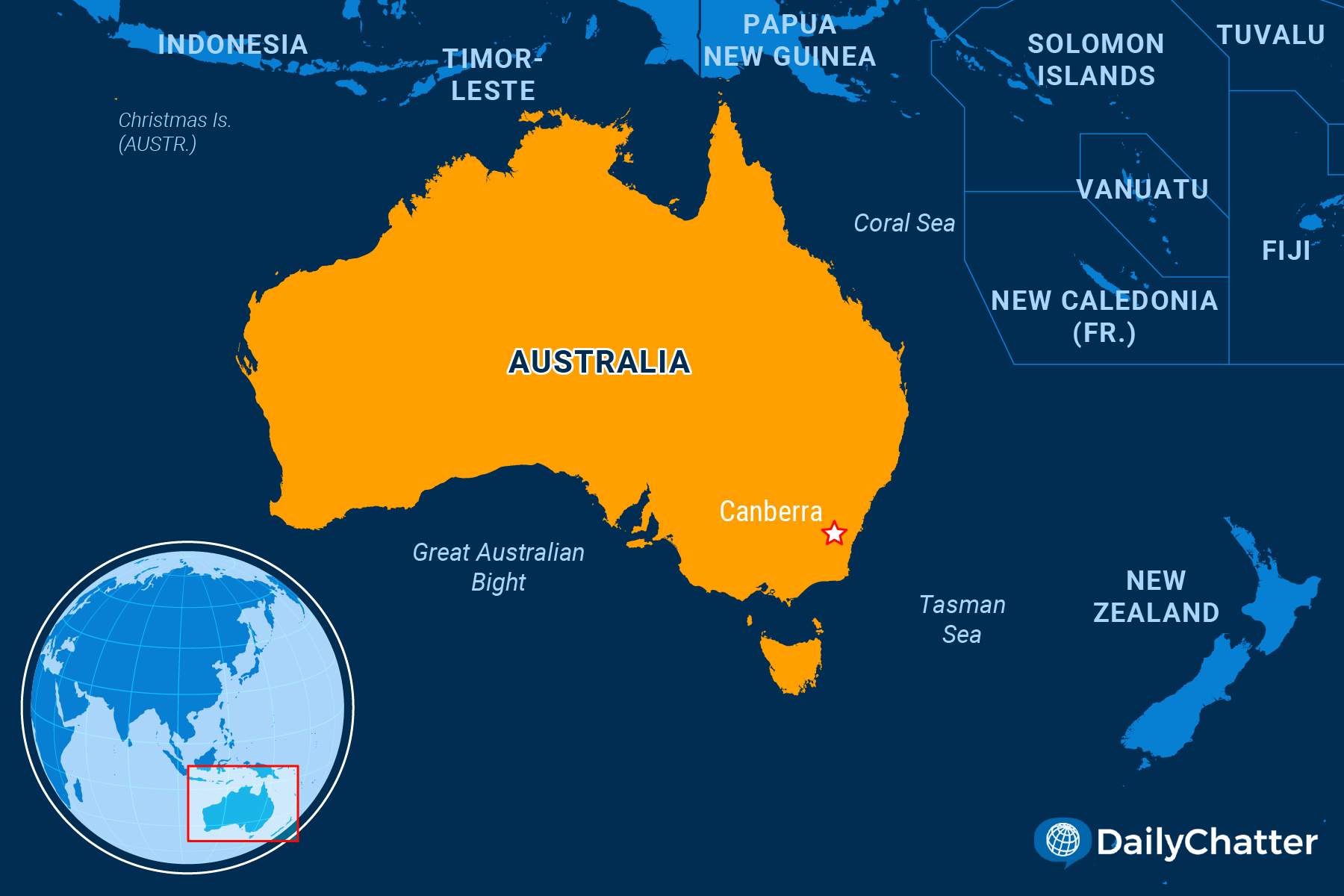 The World Today for January 27, 2023
Listen to Today's Edition
NEED TO KNOW
Interior Thoughts
AUSTRALIA
Almost everyone ranks the Amazon, the Sahara and Siberia as among the world's greatest, most gigantic and most remote wildernesses. Many might forget to add one of the planet's vastest untouched regions, though – the Australian Outback.
The Outback covers nearly two million square miles of deserts, shrublands, grasslands and forests that represent 75 percent of the island continent, reported the Australian Broadcasting Corporation. It's considered the "oldest" continent in geological terms as well as the driest alongside Antarctica. Much of the flora and fauna there survive according to boom and bust cycles, featuring long periods of arid conditions punctuated by short, massive rainfalls and flooding.
Efforts to halt unregulated water drilling in the Outback's Great Artesian Basin have paid dividends recently, too. Natural springs have returned to the region, fostering conditions that have been absent for years and enabling the discovery of new species that thrive under them.
These days, fewer than five percent of Australians now live in the Outback, where the collapse in the price of wool 30 years ago destroyed communities. Efforts to build more transportation connections in the region have mostly stayed just plans, some locals complain.
But rising prices on copper and other natural resources as well as efforts to pave roadways to stitch the region more closely into the Australian and global economies have worried many experts, however. "The Outback is one of the last large and largely natural places on Earth," Charles Darwin University conservation biologist John Woinarski told the Washington Post. "As transport and infrastructure hubs become more developed, there is a severe risk of losing that wildness, that intactness, that integrity."
The Outback Way, for example, is a famous road that traverses almost 1,700 miles of the area, passing through "countless indigenous homelands … isolated national parks and … life-saving outback roadhouses," wrote the BBC. Around 750 miles of the road is not paved, however. Authorities recommend only four-wheel drive vehicles use those portions of the road. Efforts to pave the rough patches have led to nostalgic grief over a lost, romantic past of terra incognita.
The region could have a bright and important future, however. Writing in the Conversation, Woinarski argued that the sheer size of the threat that climate change and mass extinction pose to humans necessitates preserving land on a scale that only the Outback could provide. The descendants of Europeans who colonized the country have often treated the Outback as a neglected backyard, he added, while the Indigenous Aborigines whose ancestors have lived there for millennia consider it as the wellspring of their culture.
No matter how one looks at it, the Outback deserves our respect – and protection.
THE WORLD, BRIEFLY
Screen Freedoms
INDIA
Indian authorities in the capital this week arrested dozens of students, who were planning to screen a banned BBC documentary about the 2002 riots in Gujarat state and Prime Minister Narendra Modi's role in the violence, Bloomberg reported.
Police arrested around 70 students of the Jamia Milia Islamia University in New Delhi, according to students' union representatives. Although the majority were released, 13 others remain in detention.
The arrests are related to the screening of the controversial documentary, "India: The Modi Question." Days before the arrests, the government ordered a ban on the documentary, and asked social media platforms to remove videos and posts about the film.
Any attempt to screen the film will constitute a breach of intellectual property rights, according to Arindam Bagchi, a spokesperson for the Ministry of External Affairs.
The documentary focuses on the sectarian violence in Gujarat when Modi was the state's chief minister. More than 1,000 people – mostly Muslims – were killed across the state after a train carrying Hindu pilgrims was allegedly burned by a Muslim mob.
Human rights organizations accused Modi of doing little to halt the violence, allegations he has disputed, and were eventually rejected by India's Supreme Court.
The government dismissed the documentary as propaganda.
Even so, students from other universities across the country are planning their own screening of the film. Opposition politicians, meanwhile, have criticized the government's censorship.
The arrests came days before a major holiday celebrating India's constitution, indicating the Modi government's increased sensitivity to criticism amid declining media freedoms, the newswire wrote.
According to the 2022 edition of Reporters Without Borders' Press Freedom Index, India has dropped to 150th place – its lowest ever – out of 180 nations in the rankings.
Impeachment Roulette
PERU
A group of left-wing lawmakers submitted a motion to impeach Peruvian President Dina Boluarte over her handling of the mass demonstrations that have gripped the Andean nation following the removal of her predecessor last month, Al Jazeera reported Thursday.
The legislators – allies of ousted President Pedro Castillo – filed the motion on the grounds of Boluarte's alleged "permanent moral incapacity" in dealing with the weeks-long protests that have led to the deaths of more than 50 people.
Peru has been grappling with violent unrest since last month after Congress voted to remove Castillo, who had attempted to dissolve the legislature and rule by decree.
Authorities arrested Castillo shortly after his ousting and charged him with rebellion. Boluarte, his vice president, was sworn in soon afterward.
At the same time, Castillo's supporters protested across the country, demanding Boluarte's resignation, new elections and the dissolution of Congress.
Boluarte, meanwhile, has called for a "truce."
Observers said that the left-wing legislators will need to secure the necessary votes to bring their motion up for debate. They added, however, that conservative politicians supporting Boluarte control the legislature.
Wanted: A President
LEBANON
A group of Lebanese lawmakers staged a sit-in at the country's parliament this month in an effort to protest Lebanon's long-running political deadlock and urge other legislators to act amid the country's deep economic woes, the Washington Post reported Thursday.
Since last week, legislators Najat Saliba and Melhem Khalaf have been camping out in the parliamentary building in the capital of Beirut. The lawmakers have been beseeching their fellow parliamentarians to join them and elect a new president.
The sit-in comes after parliament failed to elect a new president following the exit of President Michel Aoun, whose term expired at the end of October. Many Lebanese fear that the post could remain vacant indefinitely, further worsening the crisis in the Middle Eastern country.
Lebanon has been grappling with power cuts, a spiraling financial crisis and protests since 2019 when tens of thousands of Lebanese took to the streets to protest economic problems and endemic corruption in the country.
The Lebanese pound is in freefall, reaching a new record low on Wednesday of 57,000 pounds to the US dollar, down 35 percent since Jan. 1. Before the crisis, it was exchanged at 1,507 pounds to the dollar.
Meanwhile, the World Food Programme estimates that 46 percent of Lebanese households are struggling to fulfill their basic food needs.
Saliba said that 31 of their colleagues have visited her and Khalaf to show their support, but cautioned that they need more lawmakers to start voting for a president.
The parliamentarian said that the constitution allows lawmakers to gather at any moment to vote, without waiting for a call by the speaker of the parliament.
UKRAINE, BRIEFLY
This week, Russia launched a new round of missile attacks on Ukraine, killing at least 11 people, just after the United States and Germany announced plans to send combat tanks to help Ukraine's beleaguered military, Axios reported. Explosions rocked Kyiv Thursday morning, with the missile strikes leaving one dead and two wounded in the city, according to Ukrainian officials. The strikes followed the decision to send tanks to Kyiv after pressure from NATO allies and Ukraine to supply the advanced armored vehicles as Ukrainian troops prepare for a possible new Russian offensive. Ukrainian President Volodymyr Zelenskyy welcomed the announcement but said he had asked NATO Secretary General Jens Stoltenberg for more assistance, CNBC added. The additional help includes the delivery of F-16 fighter jets.
The tank delivery comes as a number of senior Ukrainian officials have resigned as Zelenskyy begins a shake-up of personnel across his government, according to the BBC. The president has already banned state officials from leaving the country unless on authorized business. Some of the officials resigned because they were involved in bribery claims or were found to be buying food at inflated prices, and one individual was accused of living a lavish lifestyle.
Also this week:
DISCOVERIES
Eat Up
A new study found that skipping meals can be detrimental to a person's health, Science Alert reported.
Researchers analyzed data about more than 24,000 US adults above the age of 40 to examine the correlations of meal frequency, skipping, and intervals with all-cause and cardiovascular disease (CVD) mortality.
They also adjusted their findings to account for differences in diet and lifestyles, such as smoking, alcohol consumption, physical activity levels, and food quality.
Their analysis showed that skipping breakfast was associated with a greater risk of dying from CVD, while not eating lunch or dinner was associated with a greater risk of all-cause mortality, including a rise in CVD risk.
The results were not any better for individuals that ate all three meals but had them too close together: Eating two adjacent meals within 4.5 hours of each other has also been associated with an elevated risk of all-cause death.
The team noted that meal-skipping was more common among smokers, individuals who drank more alcohol, ate less nutritious food, and had more snacks.
However, they emphasized that their findings "do not imply causality," explaining that other factors might be at play and further research is necessary to determine if meal-skipping actually causes earlier death.
"Based on these findings, we recommend eating at least two to three meals spread throughout the day," said lead author Yangbo Sun.
Thank you for reading or listening to DailyChatter. If you're not already a subscriber, you can become one by going to dailychatter.com/subscribe.
Not already a subscriber?
If you would like to receive DailyChatter directly to your inbox each morning, subscribe below with a free two-week trial.
Support journalism that's independent, non-partisan, and fair.
If you are a student or faculty with a valid school email, you can sign up for a FREE student subscription or faculty subscription.
Questions? Write to us at hello@dailychatter.com.