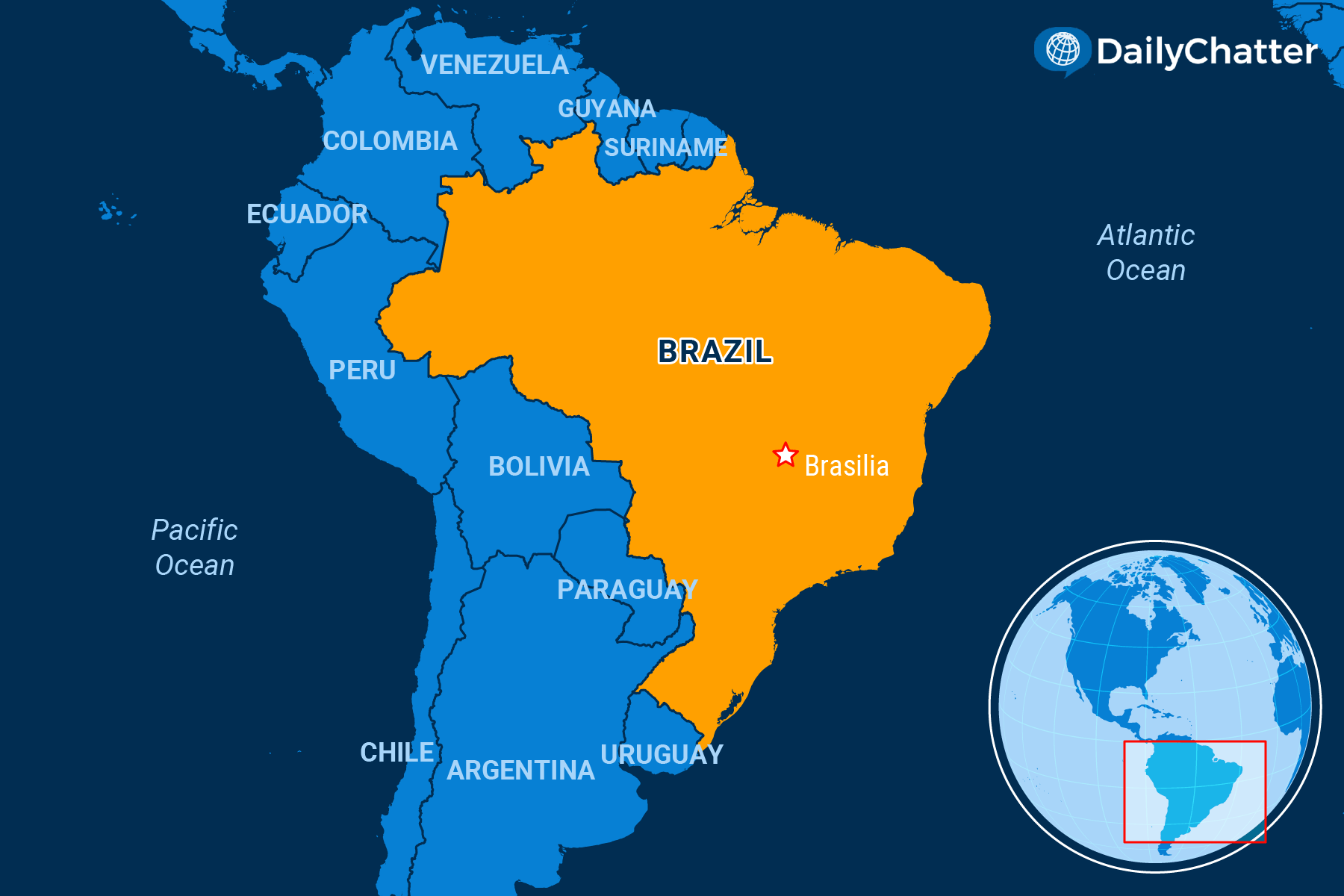 The World Today for January 17, 2023
Listen to Today's Edition
NEED TO KNOW
The Exile and the Mob
BRAZIL
The former president of Brazil, Jair Bolsonaro, might finally be planning to return to his native country after decamping for Florida in late December, shortly before his successor, the now incumbent Brazilian President Luiz Inácio Lula da Silva, took the oath of office.
Bolsonaro's time in the Sunshine State was not stress-free. As the Associated Press reported, he claimed he was also undergoing treatment for problems associated with injuries sustained when he was stabbed nearly five years ago. But the conservative, populist politician also happened to be out of the country when thousands of his supporters stormed Brazil's Congress, Supreme Court and presidential palace on Jan. 8, an incident he described as a "sad episode."
Analysts have warned for months that his supporters in Brazil were planning a riot in the capital Brasília that resembled the unrest at the US Capitol in Washington, DC on Jan. 6, 2021, wrote Wired magazine. Others like the Council on Foreign Relations have drawn similar parallels, but wrote that occurring after Lula's inauguration, it was unclear what the purpose of the protests was.
The cause of the unrest stems from anger and also conspiracy theories related to Lula's victory over Bolsonaro that have emerged since last year's October presidential election, the New York Times added. Many of the rioters claim left-wing agents within their ranks caused the destruction, for example, not the right-wing folks who marched on the capital.
Meanwhile, they say they are patriots who remain true to their cause, the Washington Post wrote.
"The media treats them as terrorists," said the Rev. Geraldo Gama, a Catholic priest, in an interview with the newspaper. "They're not. They're heroes."
Regardless, it seems as if Brazil's democracy has passed this stress test, wrote the Wall Street Journal. Tens of thousands of Brazilians recently took to the streets to celebrate and show their support for a peaceful democratic transition of power, the BBC reported. But now the fallout is also occurring as police process around 1,500 protesters who were detained during the earlier riots as well as those who might have organized or financed them, CNN explained.
Last week, authorities requested the freezing of $1.3 million in assets belonging to 52 people and seven companies alleged to have helped fund the buses that brought protesters to the capital.
Meanwhile, a judge recently ordered the arrest of Anderson Torres, the police chief of Brasília, the capital, for allegedly hampering law enforcement's response to the demonstration in order to foment a coup against Lula's democratically elected government, according to Reuters. Torres happens to be Bolsonaro's former justice minister. Lula bypassed Torres and deployed federal forces to put down the riots, a move his allies said demonstrated his "decisive" leadership, the Guardian noted.
Even so, authorities are examining the role of police and military in hindering the arrest of protesters. Meanwhile, prosecutors are investigating Bolsonaro's role in the riots. They are also seeking to audit and seize Bolsonaro's assets as they investigate whether or not he had a hand in the events, the Financial Times wrote.
The former president presumably would need to appear in court to keep his belongings, a risky move considering that he also might lose everything if he submits to the law.
Regardless, the protests were over quickly, in less than a day. The aftermath, however, promises to last much longer.
THE WORLD, BRIEFLY
The Killing
AFGHANISTAN
Unknown assailants killed a female former lawmaker and her bodyguard this week, the first assassination of a politician of the ousted Western-backed Afghani government since the Taliban takeover in 2021, Voice of America reported.
Authorities said gunmen shot and killed Mursal Nabizada at her home in the capital, Kabul. No one has claimed responsibility for the murder and police officials said they are conducting a "serious" investigation into the incident.
Nabizada, 32, became a member of parliament before the Taliban took control of Afghanistan in August 2021 following the withdrawal of US-led troops after nearly two decades of conflict.
She was one of the few female politicians and civil society leaders who remained in Afghanistan when the Islamist group retook power.
Many former Afghan and Western lawmakers condemned the killing and called for punitive action against the Taliban.
Following their takeover, the armed Islamist group announced a general amnesty for all Afghans associated with the former government. The Taliban has also set up a special commission to encourage those who have fled the country to return.
Afghan women made significant strides across the male-dominated society in the years following the US invasion of Afghanistan in 2001, which ousted the then-Taliban government for harboring the al Qaeda terrorist network.
Although the Taliban initially vowed to respect women's rights, Afghan women have been excluded from nearly all aspects of public life with bans on females attending secondary and higher education, engaging in public sector work and even visiting public parks.
Mass Vulnerabilities
BURKINA FASO
Islamist militants kidnapped around 50 women in northern Burkina Faso, the government confirmed Monday, marking the first mass kidnapping in the West African nation as it continues to fight a years-long jihadist insurgency, Reuters reported.
Officials said armed men kidnapped the women in two different locations in the northern province of Soum. Relatives said the missing women were foraging for food just outside their villages.
While Westerners and locals are occasionally kidnapped, women have never been abducted in such large numbers – unlike in Nigeria, where mass abductions by the Boko Haram insurgents are not uncommon.
The kidnappings come as Burkina Faso and other West African countries try to hold back Islamist insurgents linked to al Qaeda and Islamic State. According to the United Nations, over the past few years, thousands of people have been killed and more than 2.7 million have been displaced across the Sahel, where insecurity has hampered agriculture and contributed to growing hunger levels.
Insurgents have blockaded areas of the arid north in recent months, causing major food shortages and making it difficult to deliver supplies to trapped citizens.
Frustration with the government's inability to restore security and protect citizens fueled two military coups in Burkina Faso last year.
Dancing Queens
SWEDEN
The Swedish government plans to abolish a decades-old requirement for restaurants and other venues to obtain permits to allow dancing on their premises, removing a law that observers have called outdated and overly moralistic, the Associated Press reported.
The ruling center-right coalition said venues would no longer need to get a license to organize dances. Instead, they would only have to register with the police, which they can do verbally and free of charge.
Under the current rules, nightclubs and other establishments need to pay a fee of at least $67 to allow their patrons to dance. Failure to do so can result in owners losing their liquor and business licenses.
The law in question has been a topic of debate for many years following its implementation in 1956.
At the time, politicians wanted to regulate gatherings attended by young people, where they consumed alcohol and engaged in activities perceived as immoral, such as listening to certain types of music and dancing, according to Agence France-Presse.
Justice Minister Gunnar Strömmer said the new move aims to "reduce bureaucracy and costs for entrepreneurs and others who organize dances."
The government suggested that the adjustment take effect on July 1. Legislative approval, however, is required.
DISCOVERIES
Made to Last
The Pantheon in Rome has survived nearly intact for almost 2,000 years.
How is that possible, scientists have long wondered.
Recently, researchers at the Massachusetts Institute of Technology have figured out a few of the ancient tricks the Romans deployed to create structures that last for millennia, Smithsonian Magazine reported.
For their study, researchers took mortar samples from the walls of the ancient city of Privernum, near Rome. The samples had a similar composition to other Roman concrete structures from the same period.
They discovered that the mortar contained small chunks of calcium deposits known as lime clasts.
These deposits formed because Roman engineers used the most reactive form of limestone, called quicklime – instead of or in addition to slaked lime – which is combined with water first. This mixture causes a chemical reaction that results in hot temperatures – known as "hot mixing" – and forms the calcium deposits.
The team suggested that this method was ingenious: When water entered the cracks in concrete, the calcium would dissolve and then recrystallize – or react with other materials – to fill the fissures and strengthen the structure.
They tested this theory by creating concrete using a Roman recipe and a modern recipe. They then broke the concrete and let water pass through for 30 days.
Only the Roman concrete blocked the water flow.
Besides illustrating Rome's advanced engineering, researchers said, the study could help engineers create more durable modern concrete.
Thank you for reading or listening to DailyChatter. If you're not already a subscriber, you can become one by going to dailychatter.com/subscribe.
Not already a subscriber?
If you would like to receive DailyChatter directly to your inbox each morning, subscribe below with a free two-week trial.
Support journalism that's independent, non-partisan, and fair.
If you are a student or faculty with a valid school email, you can sign up for a FREE student subscription or faculty subscription.
Questions? Write to us at hello@dailychatter.com.