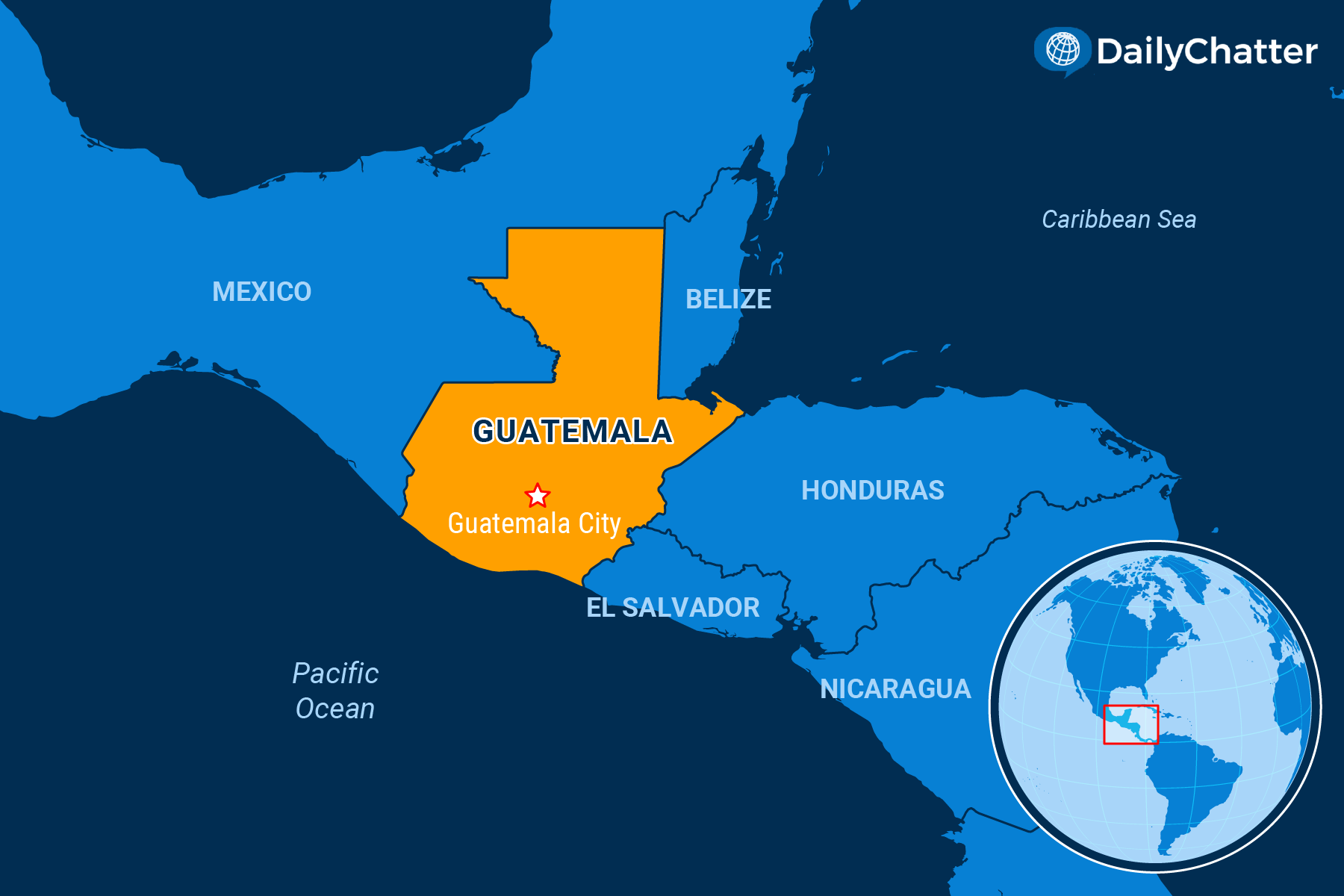 The World Today for December 01, 2022
Listen to Today's Edition
NEED TO KNOW
Inviting Locusts
GUATEMALA
Guatemalan authorities recently detained two Americans for attempting to steal scores of Mayan artifacts – "stone spheres, mortars, sphinxes, yokes, anthropomorphic figures – loaded on a truck," according to the Organized Crime and Corruption Reporting Project. The arrests were an unfortunately rare example of Guatemalan officials succeeding in their struggle to protect their Central American nation's heritage, deal with foreign influences and uphold the rule of law.
As social anthropologist Giovanni Batz explained in a North American Congress on Latin America blog post earlier this year, Guatemalan officials have been dismantling laws and measures to curb corruption and prevent state violence against citizens. The upshot is that the country has been sliding into authoritarianism. The tragedy, argued Batz, is that Guatemalans hoped for better when peace accords ended the Guatemalan civil war almost 26 years ago.
Fighting claimed the lives of more than 200,000 people in the civil war, which ran from 1960 to 1996, according to PBS NewsHour. More than 80 percent of those killed were Mayan. Today, Mayan communities still fight against extractive industries like mining and hydroelectric power that allegedly circumvent rules, to protect their human rights and the environment.
Similarly, anti-corruption probes between 2015 and 2018 promised to end, or at least reduce, the culture of corruption in Guatemala. But former President Jimmy Morales shuttered the UN-backed International Commission against Impunity in Guatemala that was conducting the probes.
Morales' successor, President Alejandro Giammattei has continued in this vein, analysts say. He has taken over the country's judicial system, ensuring that prosecutors only go after the president's enemies rather than act independently. The arrest this summer of renowned journalist José Rubén Zamora symbolized how Guatemalan authorities now act with impunity, Americas Quarterly claimed.
The Washington Office on Latin America, a think tank, concluded that Guatemala was in a "downward spiral."
These changes are occurring as activists are warning about Giammattei's plan to reform the country's environmental regulators, news site Mongabay wrote. The activists are worried that the changes would give officials too much power, allow them to give foreign companies unfettered access to Guatemala's resources, and cut out public participation in environmental policy. Investors' new interest in environmental, social and environmental projects has exacerbated this dynamic, left-leaning Democracy Now! added.
In the meantime, foreign powers are circling Guatemala. For example, Chinese and American companies are competing aggressively in the region, found GIS, a Liechtenstein-based think tank. The US recently initiated sanctions targeting Russian involvement in mining, Reuters reported.
One would hope that such natural riches and demand set the stage for a more inclusive, healthier democracy. But in this case, say analysts, the locusts are swarming – with an invitation.
Investors earn 325% annualized return here (really)!
While the ultra-rich have been banking off this under-the-radar asset for centuries, a group of everyday investors just used it to rake in a whopping 325% annualized gain. The asset was a sculpture offered by the fractional art investment platform Masterworks. After just 36 days, investors were able to profit for a 15.4% net gain, a triple-digit return on an annualized basis. While it's not common for Masterworks to get a profitable exit that fast, every one of Masterworks' 12 exits has returned a profit to investors, totaling more than $30 million in payouts.
*See important Reg A disclosures at masterworks.com/cd.
THE WORLD, BRIEFLY
Little Pieces of Justice
IVORY COAST
Eighteen people went on trial in Ivory Coast on Wednesday for their alleged involvement in the 2016 attack on a beach resort, considered one of West Africa's bloodiest terrorist acts, Agence France-Presse reported.
Six years ago, three gunmen wielding assault rifles stormed the Grand-Bassam tourist complex, a popular site with foreigners, 25 miles from Abidjan, the country's economic hub.
The 45-minute attack killed 19 people, including foreign nationals, and wounded 33 others. Ivorian security forces killed all the attackers.
Al Qaeda's North African affiliate, al Qaeda in the Islamic Maghreb (AQIM), claimed responsibility for the act, saying it was in response to anti-jihadist operations in the Sahel region by France and its allies. The jihadist group added that it targeted the West African nation for having handed over AQIM militants to Mali.
Authorities have indicted the 18 individuals on a slew of charges, including terrorism, murder and attempted murder. Even so, only four of the defendants will appear in the long-awaited trial.
Aude Rimailho, a lawyer for civilian plaintiffs, said the others – including those who planned the attacks – are either on the run or being held in Mali.
The odds of them being tried there are obscured by "the chill between France and Mali," she said, referring to a collapse in relations between Paris and the Malian ruling junta.
Mali is the epicenter of a decade-long jihadist insurgency that has shaken the Sahel region, killing thousands and causing hundreds of thousands to flee their homes.
The attack on Grand-Bassam was the first and bloodiest of a series of attacks on countries along the Gulf of Guinea's southern coast.
L'état, C'est Moi
AUSTRALIA
Australian lawmakers passed a motion this week to censure former Prime Minister Scott Morrison for appointing himself to five ministerial roles without the knowledge of other ministers, the Independent reported Wednesday.
The move marks the first time Australia's parliament has censured a former prime minister.
The center-left Labor Party government introduced the motion just months after Prime Minister Anthony Albanese said he would consult Australia's attorney general following reports that Morrison had given himself additional portfolios during his tenure.
Morrison stepped down following his defeat in Australia's federal elections in May.
The motion held that Morrison appointed himself to the portfolios – including health and finance – between March 2020 and May 2021 during the coronavirus pandemic.
He only used those powers once, rejecting former Resources Minister Keith Pitt's decision to authorize a contentious gas drilling project off the north Sydney coast, ostensibly to avoid jeopardizing his party's reelection chances.
The motion added that Morrison had eroded the public trust in the country's democracy by failing to inform the government, parliament and voters of his additional powers.
Morrison apologized Wednesday for causing "unintentional offense" but maintained that the additional powers were necessary because Australia was dealing with "extreme uncertainty and unpredictability."
Apart from the pandemic, Morrison's government was also involved in diplomatic disputes with China over trade and influence in the Pacific region.
A censure is the parliament's formal way of expressing disapproval of a lawmaker. Such motions are uncommon and mostly symbolic, although they can have political ramifications, the BBC added.
Him, Too
CHINA
A Beijing court sentenced Chinese-Canadian pop star Kris Wu to 13 years in prison on charges of multiple sexual offenses, a verdict that was welcomed by women's rights advocates in what's considered to be one of China's most prominent #MeToo cases, the Washington Post reported.
The court charged Wu with rape and for organizing "lewd activities" with two women. It added that the celebrity will be deported.
Born in China and later raised in Canada, Wu began his career as part of the South Korean-Chinese boy band Exo and later went solo.
Chinese authorities detained him in 2021 following a series of allegations against the pop star. The accusations prompted many luxury brands, including French fashion label Louis Vuitton, to cut ties with him.
Wu denies any wrongdoing. Following the verdict, his lawyers said he may appeal.
The verdict is seen as a major win for women's rights, despite China's growing intolerance for dissent and grass-roots activism under Chinese leader, Xi Jinping. Currently, Xi is facing mass demonstrations with protestors calling for an end to the country's strict coronavirus restrictions and even for him to step down.
Yaqiu Wang of Human Rights Watch welcomed the sentencing but said that censorship of women's rights advocates continues in China. She noted that the prosecution against Wu was "shrouded in secrecy," and that "some criticism of authorities' handling of his case was scrubbed from the Chinese Internet."
DISCOVERIES
The Stubborn Reptile
Conservationists have labeled the Tárcoles River flowing through Costa Rica's capital as one of the most polluted waterways in Central America, with garbage and wastewater from San José flowing into the river every day.
But the crocodiles in the river don't seem to care – scientists have noticed they are thriving, according to Agence France-Presse.
"It is a super-contaminated area but this has not affected the crocodile population," said Ivan Sandoval, a biologist with the National University of Costa Rica. ​"The Tárcoles River is the most polluted river in Costa Rica, and one of the most contaminated in Central America."
The International Union for Conservation of Nature lists the crocodile species – known as Crocodylus acutus – as "vulnerable." Their population numbers around 5,000 crocodiles across 18 countries.
The crocodiles are some of the largest in the world: Males can reach up to 20 feet in length and weigh hundreds of pounds.
Sandoval explained that the Costa Rican reptiles are "healthy and robust" and appear to be doing well despite swimming in waters contaminated with 150 types of bacteria.
He describes the carnivores as "living fossils" because of their ability to survive very tough conditions while not changing "anything in millions of years."
Still, Costa Ricans worry that the pollution might affect other species.
The Central American country has impressive environmental credentials, with a third of its territory and 53 percent of its forest cover under protection, according to the UN's environmental agency.
​Still, unequal application of the law means the Tárcoles River remains dirty.
Correction: In Wednesday's NEED TO KNOW section, we said in our "The Scramble" item that Cyprus' Turkish side is in the island's south. It is in fact in the northern part of Cyprus. We apologize for the error. 
Thank you for reading or listening to DailyChatter. If you're not already a subscriber, you can become one by going to dailychatter.com/subscribe.
Not already a subscriber?
If you would like to receive DailyChatter directly to your inbox each morning, subscribe below with a free two-week trial.
Support journalism that's independent, non-partisan, and fair.
If you are a student or faculty with a valid school email, you can sign up for a FREE student subscription or faculty subscription.
Questions? Write to us at hello@dailychatter.com.