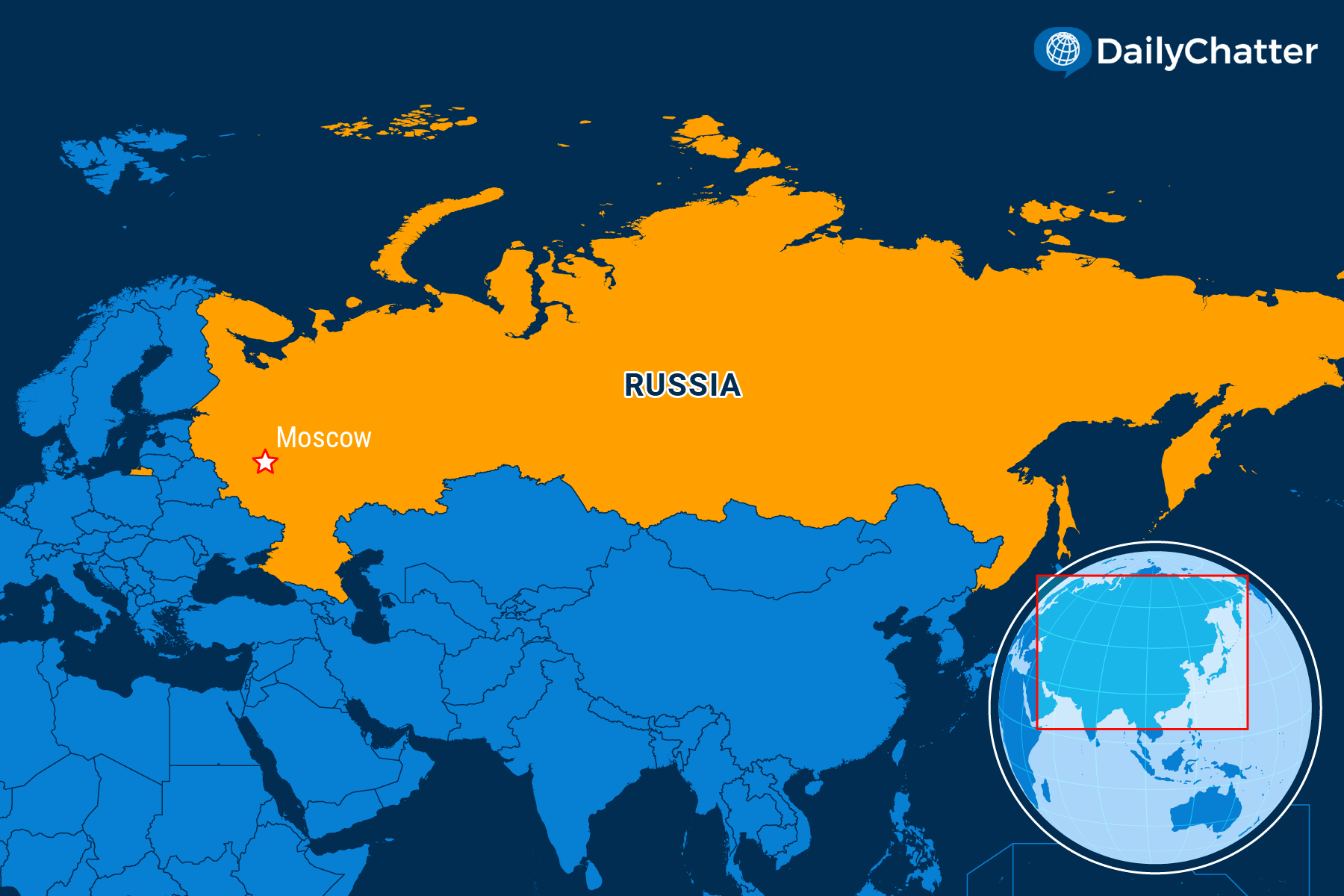 The World Today for November 22, 2022
Listen to Today's Edition
NEED TO KNOW
The Wizard of Oz
RUSSIA
More than 100,000 Russian troops have died since Russian President Vladimir Putin ordered the invasion of Ukraine, according to American estimates that Agence France-Presse cited. The same experts estimated that Ukraine likely has suffered a similar number of losses.
Ukraine has disputed those estimates, ABC News reported. Putin has never released realistic numbers for Russia's war dead. But more Russian civilians are voicing their displeasure about high mortality rates in Ukraine, wrote the Washington Post. Their anger reflects stories from soldiers at the front who describe equipment shortages, unorganized leadership, and incompetence.
"A Ukrainian drone first flew over us, and after that their artillery started to pound us for hours and hours, nonstop," Russian conscript Aleksei Agafonov told the Guardian, adding that his unit was ordered to dig trenches but didn't have enough shovels. "I saw men being ripped apart in front of me, most of our unit is gone, destroyed. It was hell."
Putin is showing no signs of relenting. He recently sent 50,000 more soldiers to the war zone and has another 250,000 in training as part of a massive call-up of troops dating from September. But sending more drafted men into the meatgrinder won't help Russia's cause, argued Center for American Progress senior fellow Larry Korb on Military.com.
With the help of Western weaponry, including new experimental weapons, as the New York Times explained, Ukrainians have gained the momentum in the war, recently retaking the city of Kherson, a major prize. (As CNN reported, survivors are now sharing stories of the brutality, including torture chambers, under Russian occupation.) Meanwhile, Russia's new draftees were preparing to fight 60 km back from the frontline in Ukraine, suggesting they expect more Ukrainian advancements, the Independent noted.
At the same time, Putin's hawkish allies appear to be fragmenting. Radio Free Europe referred to Putin's close ally and pro-war advocate, Yevgeny Prigozhin, as Grigory Rasputin, the Svengali-like monk who controlled Russia's last tsar in the early 20th century before the Soviet revolution. An oligarch whose wealth comes from lucrative Kremlin catering contracts, Prigozhin owns the private mercenary company, the Wagner Group. To show how demented Russian militarists like Prigozhin have become, the Bulwark related a gruesome story about a hapless Wagner fighter who made the mistake of admitting to switching sides and joining Ukraine, before being murdered on video with a sledgehammer.
Prigozhin might accumulate more wealth as the war drags on. Other oligarchs might not be so optimistic. As the Russian army loses on the battlefield, the Russian economy is on its knees, too. Amid harsh Western sanctions and partial economic isolation, skyrocketing expenses related to the war and exacerbated supply-chain worries and other post-pandemic concerns, the Russian economy shrunk by 4 percent in the third quarter of the year, reported Reuters, officially tipping into recession.
Perhaps hundreds of thousands of ill-trained, ill-supplied recruits will win the day for Russia. Maybe the cold winter will force the West to buy more Russian energy, throwing Putin a lifeline. China could run to Putin's rescue, too. Or Russia might continue to lose, lose, lose.
THE WORLD, BRIEFLY
Wanting a Say
NEW ZEALAND
New Zealand's government will draft a bill to lower the voting age to 16 after the country's supreme court ruled Monday that the existing age of 18 was discriminatory and breached the human rights of young people, the Guardian reported.
Prime Minister Jacinda Ardern said that she supported changing the voting age but added that the issue is best left to parliament.
Her statement came following the conclusion of a two-year case brought by the Make It 16 campaign group, which followed the mobilization of tens of thousands of teenagers throughout the country for climate strikes. The climate issue has loomed large in the background of the campaign.
Many campaigners said younger people should vote on issues such as the climate crisis, which will affect them and their futures.
The supreme court's ruling, however, will not automatically guarantee the right to vote. Instead, it notifies parliament that the human rights of younger individuals are being violated and that legislators must change the law.
Even so, observers noted that the proposed reform will face difficulties because changes to electoral law need 75 percent support in the legislature. This means it would need the support of the ruling Labour party and the opposition National party – the latter has said it sees "no compelling case to lower the age."
Currently, only a small number of countries allow 16-year-olds to vote, including Cuba and Austria.
International campaigns to reduce the voting age have grown in recent years, with many saying that young people should have a vote in decisions with long-term impacts because they will have to live with the repercussions.
The Standoff
MALAYSIA
Malaysia's king will pick the country's next prime minister after Saturday's general elections produced a hung parliament, Reuters reported Tuesday.
The monarch, Sultan Abdullah Sultan Ahmad Shah, said the decision came after the two main contenders did not secure a majority in parliament. He added that politicians also failed to create a coalition needed for a majority.
The final tally of the weekend's election showed that neither of the large political alliances had secured a majority in parliament, Bloomberg added.
The reformist, multi-ethnic Pakatan Harapan (PH) coalition of opposition leader Anwar Ibrahim took 82 seats in the 220-seat legislature. Meanwhile, former Prime Minister Muhyiddin Yassin's pro-Malay, Islamist alliance, Perikatan Nasional (PN), secured 73 seats.
The former ruling coalition Barisan Nasional (BN) emerged as the kingmaker with its chief Zahid Hamidi saying it had yet to decide which alliance to back. BN officials said that they would not support either of the candidates.
It is now up to the constitutional monarch, who serves primarily as a ceremonial figure but has the authority to appoint whomever he believes will command a majority.
The delay is likely to prolong Malaysia's years of political instability. Since the last general election in 2018, no prime minister has remained in power for more than 22 months.
As politicians scramble to form a new government and appoint a prime minister, questions remain about the makeup of the upcoming administration.
Muhyiddin's alliance includes an Islamist party that previously called for the implementation of Shariah law in Malaysia. Its electoral gains have spooked some investors, as well as pushed stocks related to gaming and alcohol to slump on Monday.
But apart from the hung legislature, the elections also saw the defeat of the 97-year-old former Prime Minister Mahathir Mohamad, Al Jazeera wrote.
It was the first electoral defeat in more than 50 years for the aging politician, who governed Malaysia from 1981 to 2003 and again from 2018 to 2020.
Observers noted that Mahathir's defeat will likely end the career of one of Asia's most enduring politicians.
Make-Believe
KAZAKHSTAN
President Kassym-Jomart Tokayev won Kazakhstan's early presidential elections over the weekend by a landslide, a victory that many international observers said lacked "competitiveness," Radio Free Europe reported Monday.
Preliminary results showed that the incumbent secured more than 81 percent of the vote, easily defeating his five little-known opponents who were not seen as real contenders.
The Organization for Security and Cooperation in Europe (OSCE) observer mission noted that political competition was absent during the elections, while highlighting the need for reforms in the resource-rich Central Asian nation.
Sunday's vote came nearly three months after Kazakhstan changed its presidential term limits from two consecutive five-year terms to a single seven-year term.
It also follows a June referendum that stripped the powers of former President Nursultan Nazarbayev, who stepped down in 2019 after nearly 30 years in power.
Presidential elections were originally scheduled for 2024 followed by parliamentary ones a year later. But Tokayev called for early polls, saying a new mandate was needed to "maintain the momentum of reforms" following the referendum.
The president explained that the changes were important to move Kazakhstan from a "super-presidential form of government to a presidential republic with a strong parliament."
Meanwhile, critics noted that the changes did not affect the nature of the authoritarian system and did not remove any meaningful power from the president's office.
DISCOVERIES
Rewriting History
Italian archaeologists discovered a number of 2,000-year-old bronze statues in a thermal spring in Italy's Tuscany region, a finding that could unveil new insights about the relationship between the ancient Romans and the Etruscan civilization, CBS News reported.
Researchers came across the artifacts while excavating a sacred basin in San Casciano dei Bagni near Siena.
They said the statues were in very good condition, allowing archaeologists to closely inspect details such as facial features and engraved inscriptions with the names of powerful Etruscan families.
The Italian Ministry of Culture said some of the artifacts depict deities, while others represent body parts and organs, which were used as offerings to the gods for medical cures.
The discovery is very significant because previous statues from the Etruscan and Roman ages were made of terracotta instead of bronze, which damages more easily.
Scholars noted the discovery "will rewrite history" because it highlights the transition period from Etruscan rule to Roman, which happened between the second and first centuries BCE.
The statues show that individuals from both sides worshiped together at the thermal spring where the new findings were unearthed.
These rituals occurred amid enormous instability and violence that plagued the era between the end of the Etruscan civilization and the start of Roman rule.
Thank you for reading or listening to DailyChatter. If you're not already a subscriber, you can become one by going to dailychatter.com/subscribe.
Not already a subscriber?
If you would like to receive DailyChatter directly to your inbox each morning, subscribe below with a free two-week trial.
Support journalism that's independent, non-partisan, and fair.
If you are a student or faculty with a valid school email, you can sign up for a FREE student subscription or faculty subscription.
Questions? Write to us at hello@dailychatter.com.