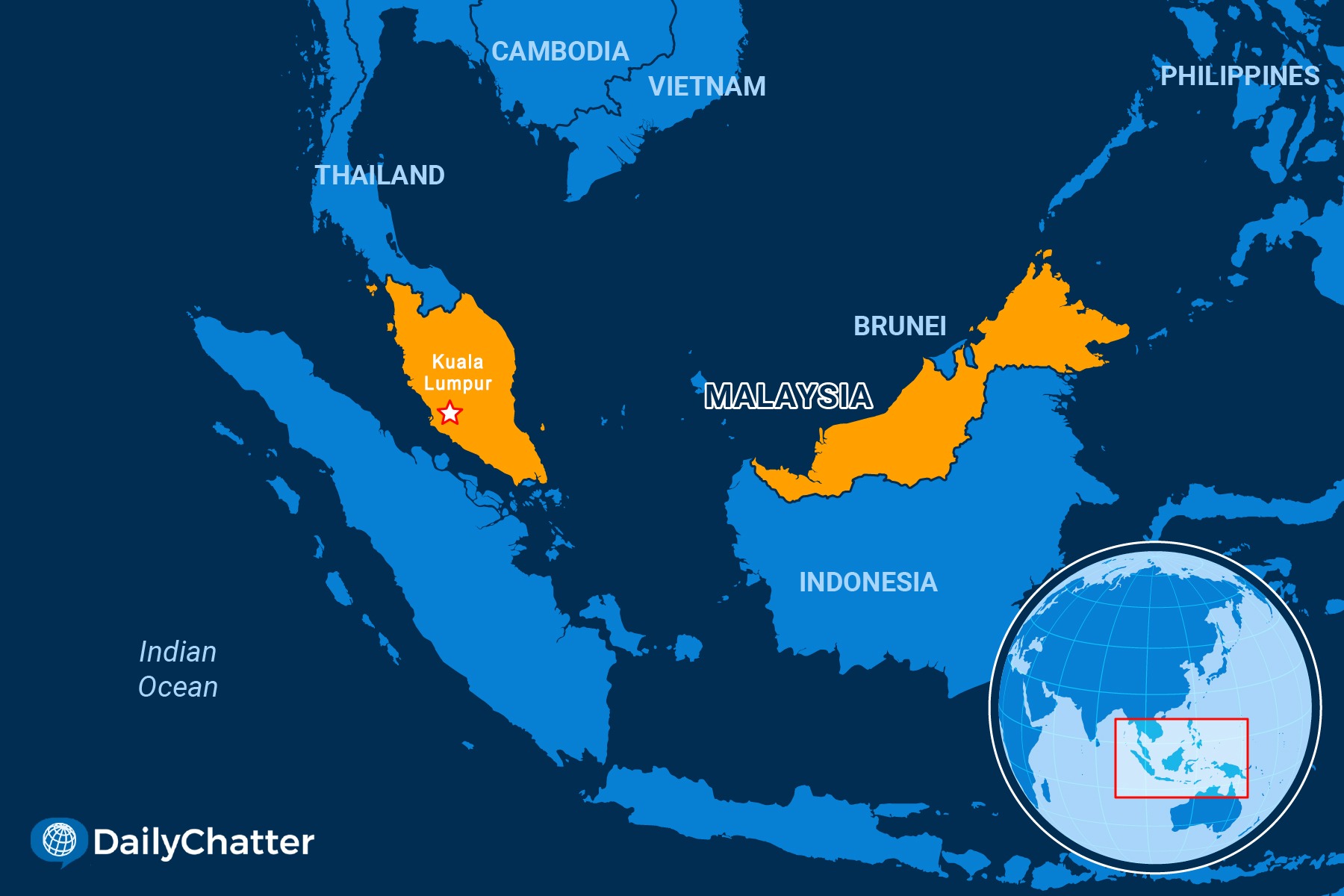 The World Today for November 14, 2022
Listen to Today's Edition
NEED TO KNOW
No Country for Old Men
MALAYSIA
Will the biggest group of young voters in Malaysian history decide whether or not a nonagenarian will become the Southeast Asian country's prime minister?
That's the lingering question in Malaysia these days following a recent announcement by the country's 97-year-old former prime minister, Mahathir Mohamad, that he would be running for reelection for his seat in parliament. The announcement essentially opened up the possibility that he could also win a third term as the country's leader. As Deutsche Welle reported, Mahathir served from 1981 to 2003 and from 2018 to 2020. The Guinness Book of World Records named him the "world's oldest current prime minister" in 2018.
His name will be on the ballot on Nov. 19, a ballot that follows constitutional amendments that lowered the voting age to 18 and inaugurated automatic registration, increasing the number of eligible voters by 6 million, wrote the Guardian. Citizens under 40 are now the largest voting bloc.
Mahathir will likely keep his seat but he is not a shoo-in for the premiership. His political group is last in the polls, according to Reuters. He is also running against opposition leader Anwar Ibrahim, another former prime minister Muhyiddin Yassin, and current Prime Minister Ismail Sabri Yaakob, who assumed office amid a political crisis in 2021 stemming from the coronavirus pandemic and subsequent economic turmoil, as Chinese newswire Xinhua explained.
Anwar and Ismail's political parties are now expected to garner around a quarter of the vote each. Barisan Nasional is the most important group in the United Malays National Organization, which has ruled the country for all but two years since independence from Britain in 1957.
Hanging over the vote is the fate of ex-Prime Minister Najib Razak, who was in charge as corrupt officials and others embezzled billions from the 1Malaysia Development Berhad state fund, the Diplomat noted. Najib is now serving a 12-year jail sentence. Mahathir has argued that Sabri and his allies will pardon Najib if they win.
Endemic corruption is a major issue, CNBC reported. Combined with high inflation and unemployment, many voters are desperate for change. Additionally, Malaysia's government routinely cracks down on Western movies like "Thor: Love and Thunder" and other offerings of pop culture that they deem offensive to orthodox Muslim values, the South China Morning Post added, as about 61 percent of the country's 33 million people are Muslim. Critics have also said that Ismail scheduled the election during the monsoon season in order to suppress the vote and walk away with the prime minister's job, CNN reported.
Such concerns are why the youth vote is expected to become so important. The young in Malaysia want change. They have the numbers to force it now.
THE WORLD, BRIEFLY
Deja Vu
TURKEY
An explosion in one of Turkey's busiest shopping districts killed at least six people and injured at least 81 others Sunday, a blast authorities described as deliberate, the Washington Post reported.
The blast took place on Istanbul's Istiklal Street, a busy thoroughfare known for its tourist attractions and shops. Interior Minister Suleyman Soylu said Monday that the person who left the bomb that caused the explosion has been arrested. He added that more than 20 other suspects were detained for questioning, according to the Associated Press.
Although no one claimed responsibility, Soylu noted that evidence suggested that the militant Kurdistan Workers' Party – which has fought a long insurgency against Turkey's government – was responsible for the attack.
President Recep Tayyip Erdogan condemned the explosion as a "treacherous attack" and vowed the perpetrators "will be punished as they deserve," the Telegraph wrote.
Sunday's explosion evoked the memories of another bombing in 2016 on Istiklal Street that was associated with the Islamic State (IS) militant group. That blast killed at least five people, including two US citizens, and injured 36 others.
Over the past decade, Turkey has been a frequent target of attacks carried out by members of IS, Kurdish militants and others. In 2015 and 2016, Istanbul in particular was the target of a wave of terrorist attacks attributed to the jihadist group.
Since then, security measures in the city that attracts millions of tourists each year have increased. Metal detectors are installed in all Istanbul shopping malls.
Negative Advertising
MEXICO
The Mexican government raised eyebrows this week after officials released a national anti-drug ad campaign focused on the city of Philadelphia, the Associated Press reported.
The videos did not specifically identify the city or any neighborhood but the places portrayed in the ads showed scenes of homeless people and drug users around Kensington Avenue. The narrated clips warned about the dangers of methamphetamine and fentanyl drugs.
Meanwhile, another ad showed a Mexican street while warning about glue-sniffing.
The ad campaign aims to scare young people away from drugs but critics pointed out that the initiative uses the same aggressive tactics deployed by the United States in the 1980s.
They added that the ads offered no public health message, nor provided any hotlines, advice or treatment options – which are almost non-existent in Mexico.
Others also questioned the focus on fentanyl because the drug's use is relatively low in Mexico – most is exported to the US.
Following the ads' broadcast, Philadelphia officials acknowledged the city's drug problem but lamented that "it is always hard to see our city's people and neighborhoods portrayed in a limited and negative light."
The Red Line
UGANDA
A Ugandan university came under fire this week after it ordered its female nursing and midwifery students to take pregnancy tests before their exams, sparking a backlash from women's rights advocates and politicians, CNN reported.
Earlier in the week, Kampala International University issued a now-withdrawn notice requiring female students to get tested or be disqualified from attending the nurses and midwifery examinations.
The notice also said that students had to pay for the tests that cost 5,000 Ugandan shillings – around $1.30.
The move received swift criticism from health professionals and women's rights groups, who labeled the requirement "discriminatory and unacceptable." They said the notice went against Uganda's constitution.
The controversy also reached the country's National Assembly, with Speaker Anita Among calling the directive "very unfortunate," according to Africanews. Other politicians also called for a probe to examine whether other universities had issued such an order.
Following the intense backlash, the school rescinded its order – but did not specify why it had issued it in the first place.
DISCOVERIES
Haunted Jungles
Deep within the uninhabited forests of Príncipe island off the west coast of Africa, strange and haunting sounds have been emerging at night for decades.
First heard a century ago on this island belonging to Sao Tome and Príncipe, the noise can sound like the rasp of an insect or the call of a monkey.
No locals, nor anyone else for that matter, have ever dared to venture into the dense canopy to investigate – until recently, National Geographic reported.
After a long search, they found the culprit – a tiny, yellow-eyed owl that is also an undiscovered species.
Researcher Bárbara Freitas and her team published a series of studies detailing how they came across the owl, one of the 59 species of scops-owl. The birds are small, brownish, perch-and-pounce predators found all over the world. The new species was named Otus bikegila in honor of the local guide Ceciliano do Bom Jesus – nicknamed Bikegila – who helped the team find the well-hidden owl.
Freitas explained that one of the methods used to find the avian was through passive acoustic monitoring: This technique allows scientists to record animal sounds created in darkness and sift through them until they identify the particular creature.
In the case of O. bikegila, the raptor's signature call was a short, repeated "tuu" which was often performed in a duet.
But there is still more to learn about the species and questions also remain about its conservation status.
Meanwhile, Freitas' colleagues found that the owl's entire range encompasses only about five square miles within Príncipe Obô Natural Park, which means that it is "completely dependent on that native forest."
She recommends that the owl be protected with "critically endangered status" by the International Union for Conservation of Nature.
COVID-19 Global Update
Total Cases Worldwide: 635,166,425 (+0.40%)
Total Deaths Worldwide: 6,610,136 (+0.14%)
Total Vaccinations Worldwide: 12,856,500,298 (+0.06%)
Countries with the highest number of confirmed cases worldwide as of 4 a.m. ET*
US: 97,997,389 (+0.26%)
India: 44,666,924 (+0.01%)
France: 37,288,432 (+0.40%)
Germany: 36,033,395 (+0.59%)
Brazil: 34,908,198 (+0.17%)
South Korea: 26,217,994 (+1.40%)
UK: 24,179,656 (+0.10%)
Italy: 23,823,192 (+0.77%)
Japan: 23,203,855 (+2.21%)
Russia: 21,194,442 (+0.17%)
Source: Johns Hopkins University
*Numbers change over seven days
Thank you for reading or listening to DailyChatter. If you're not already a subscriber, you can become one by going to dailychatter.com/subscribe.
Not already a subscriber?
If you would like to receive DailyChatter directly to your inbox each morning, subscribe below with a free two-week trial.
Support journalism that's independent, non-partisan, and fair.
If you are a student or faculty with a valid school email, you can sign up for a FREE student subscription or faculty subscription.
Questions? Write to us at hello@dailychatter.com.