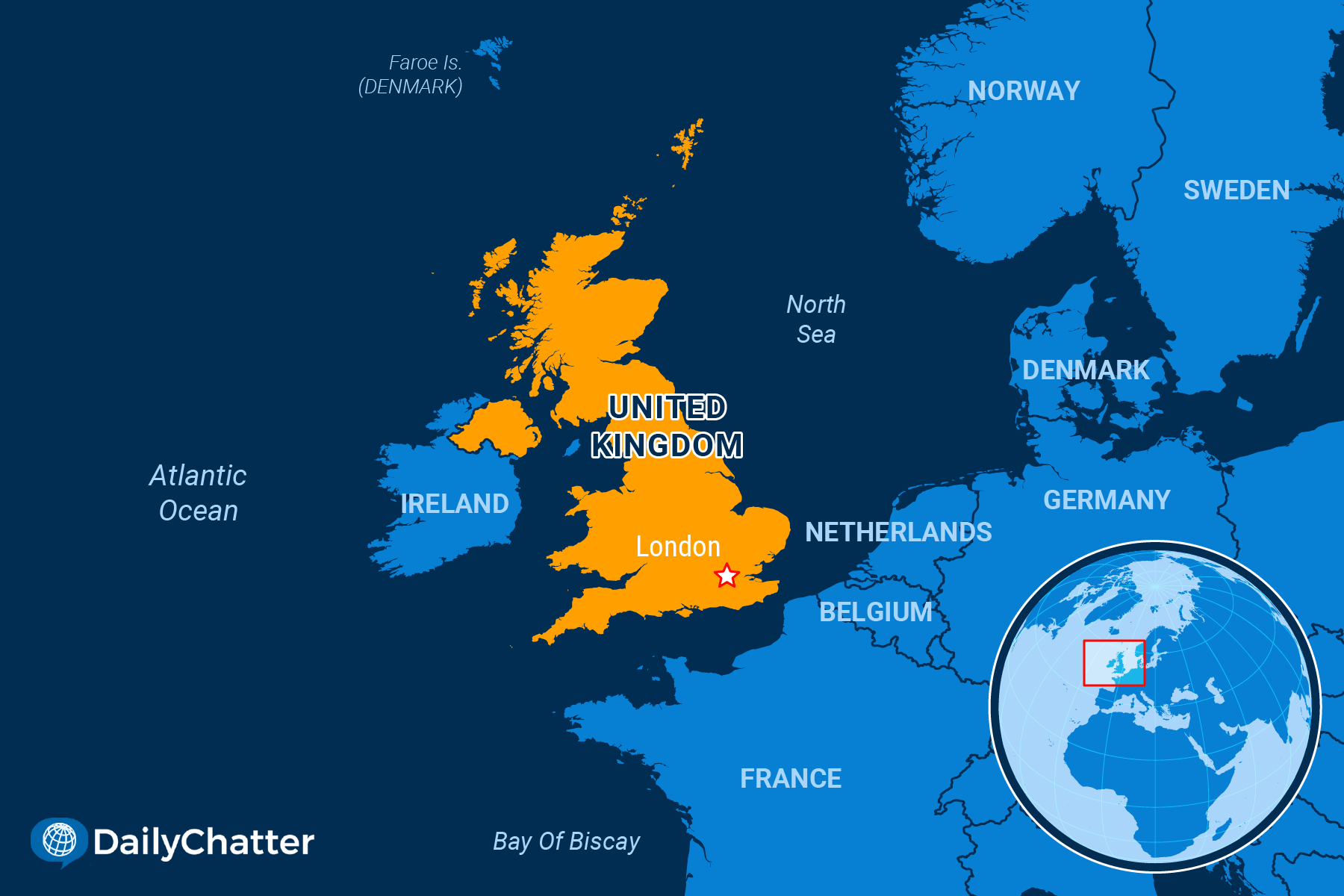 The World Today for November 04, 2022
Listen to Today's Edition
NEED TO KNOW
The Empire Strikes Back
UNITED KINGDOM
Until 1947, the UK lorded over the Indian subcontinent, stealing its wealth and subjugating its people as the oh-so-superior colonial master.
No one even a decade ago would have ever thought that a man whose ancestors were part of that all-but-enslaved history would one day hold the top job of the former colonial power. Yet Rishi Sunak, 42, the country's former finance minister, last week became the first person of color – and the first Hindu – to become prime minister.
Indians in India, Great Britain and elsewhere rejoiced.
"Indian son rises over the Empire," went a headline on NDTV, an Indian broadcaster. "History comes full circle in Britain."
"It's our Obama moment," said some in the Indian community in the UK.
The United Kingdom is not the United States, however. Race and racism have been defining factors of the American experience since the country's founding, while class divisions have attracted less attention in American life, at least since the end of World War II. In the constitutional monarchy of Britain, however, the class hierarchy has been central to the nation's essence for at least 1,200 years, while race today is mostly intertwined with the legacies of the country's relatively more recent imperial past.
Looking for thoughtful, independent coverage of US political news? Try Tangle.
DailyChatter only reports news from around the globe, so we look to our colleagues at Tangle to help us discern what's happening in the complex world of US politics. Tangle is a daily newsletter that covers political news in the United States with the same kind of balance and neutrality we strive for in covering the rest of the world. It's a rare breed – news that's read and trusted by a wide range of people from across the political spectrum. Tangle's rational, reasoned, and nuanced coverage earns media bias ratings that are always in the center which makes the Tangle newsletter a highly valued resource for many, including us.
Try it for free. Plus, get 20% off your Tangle membership with the Black Friday deal they are running this week.
The New York Times attempted to grasp this tricky subject with a headline that celebrated Sunak's rise after the short, disastrous tenure of Liz Truss, with a caveat: "Sunak's Ascent Is a Breakthrough for Diversity, With Privilege Attached."
As the Encyclopedia Britannica explained, Sunak was born in Southampton. His grandparents hailed from Punjab in northwestern India. His parents, a doctor and a pharmacist, were born in Tanzania and Kenya. He grew to admire the conservative principles of former Prime Minister Margaret Thatcher, a fervid free marketeer and anti-communist, while keeping the books for his mother's pharmacy – even though his father worked for the state-owned National Health Service. Between his work at hedge funds and his wife's wealth – she's the daughter of the cofounder of Infosys, an Indian tech giant – he's worth around $1 billion.
The irony that a man of Indian descent is now running the country that once colonized the Indian subcontinent understandably makes some people emotional, wrote Washington Post columnist Ishaan Tharoor, who was born in Singapore to Indian parents. Tharoor described Sunak's rise to the British premiership as an example of the "curious arc of history."
That a billion Hindus around the globe were celebrating Diwali, the Indian festival of lights, when Conservative Party lawmakers picked Sunak made the event more momentous, added NBC News. The Indian media declared the beginning of the "Sunak era," though Indian business news outlet Mint also listed five controversies where Sunak appeared aloof and out of touch with the lives of working- and middle-class Britons.
Marcus Ryder, the host of the podcast Black British Lives Matter, was less forgiving. Writing in the Guardian, he argued that "trickle-down diversity" wouldn't allay the frustrations and indignations that people of color experience in the UK. The Atlantic magazine also contended that Sunak's riches were more important to understanding his character than his race.
Still, those issues are for another day. Today, what matters to many goes beyond Sunak as an individual. Instead, it's about the delicious turn of history that allowed the grandson of a man ruled ruthlessly by Great Britain to become the leader of that power.
THE WORLD, BRIEFLY
Back In The Saddle
ISRAEL
Former Prime Minister Benjamin Netanyahu made a political comeback Thursday after winning a decisive victory in Israel's fifth election since 2019, the Wall Street Journal reported.
Results of the Nov. 1 elections showed that Netanyahu's right-wing nationalist bloc secured 64 seats in the 120-seat parliament. The party of centrist caretaker Prime Minister Yair Lapid and his political partners won 51 seats.
Lapid conceded Thursday night and wished his opponent success.
Netanyahu rode a wave of ultranationalist fervor a little more than a year after violence erupted in Israeli cities between Arabs and Jews, analysts said. They noted that his success was influenced by the rising popularity of ultranationalist religious lawmaker Itamar Ben-Gvir.
Ben-Gvir campaigned on the promise of stronger measures against Palestinians in the West Bank and Arab-Israeli residents who participate in violence against Jews. Ben-Gvir and Netanyahu also heavily criticized the previous ruling coalition for allowing an Islamist party to join the government – the first time an Arab party had done so in Israel's history.
Some Israelis welcomed Netanyahu's return, who remains Israel's longest-serving prime minister – and has been dubbed "King of Israel." However, others say that he has remained in power for too long and don't believe he should become prime minister while facing trial on corruption charges.
Netanyahu has denied the charges.
Concerns also remain about Ben-Gvir, who has pledged to weaken the country's judicial branch in favor of giving more power to elected officials.
Primary Target
PAKISTAN
A gunman shot and wounded former Prime Minister Imran Khan during a protest march in eastern Pakistan on Thursday, an attack that comes as the opposition leader has been building popular support across the country and calling for early elections, the Washington Post reported.
Officials in Khan's Pakistan Tehreek-e-Insaf (PTI) party said he was shot in the foot and was slightly injured. They added that six other party leaders were also wounded, with one of them in a serious condition.
The attack took place while Khan was taking part in a protest convoy in the eastern city of Wazirabad. Pakistan's current leader, Prime Minister Shehbaz Sharif, condemned the shooting and ordered an investigation.
It comes as the former cricket star-turned-politician has been holding demonstrations across the country following his ousting in a no-confidence vote earlier this year. Khan has accused government officials of corruption and being part of a foreign plot to remove him.
Last week, Khan launched a large march toward the country's capital to demand early elections. He pledged that the march would climax in Pakistan's largest demonstration in history.
Even so, the former prime minister is facing increasing pressure from the Pakistani government, which has launched a number of legal cases against him, including one under the country's terrorism law.
Pakistani spy chief, Lt. Gen. Nadeem Anjum, also accused Khan of asking the country's powerful military for "illegal and unconstitutional" support while he was prime minister.
Khan's party has denied any wrongdoing.
Peace, Please
ETHIOPIA/ TIGRAY
The Ethiopian government and rebels in the northern region of Tigray agreed to permanently end hostilities this week, two years after both parties commenced a civil war that would displace millions and threatened to destabilize east Africa, the Guardian reported.
The two warring sides reached the agreement Wednesday following 10 days of negotiations mediated in South Africa by the African Union (AU). Envoys from the AU said the two parties had agreed on an "orderly, smooth, and coordinated disarmament."
Under the terms of the deal, the two parties agreed to restore law and order in Tigray, as well as restore services and access to humanitarian supplies, which have been hindered since the conflict began in November 2020.
Observers said the removal of all blockades would be seen as a breakthrough, noting that Tigray's six million inhabitants have been suffering shortages of food and medicine since the war began.
The civil conflict started amid disputes between the government of Prime Minister Abiy Ahmed and the region's governing Tigray People's Liberation Front (TPLF).
Abiy has accused the group, which played a leading role in Ethiopia's ruling coalition until 2018, of trying to reassert Tigrayan dominance in the country. The TPLF, meanwhile, accused the Ethiopian leader of repression and discrimination.
The new deal follows the collapse of an earlier truce in August, which prompted both sides to secure battlefield victories to strengthen their negotiating position.
Abiy called the agreement "monumental," while Tigrayan negotiators said that "painful concessions" had been made.
Despite the potential for peace, questions linger over the aftermath of the deal, including how soon aid can return to Tigray.
The conflict's exact death toll remains unknown because of scarce reliable data: Some observers noted that the number of deaths could reach tens or hundreds of thousands.
Another chief concern is Eritrea, which had been aiding Ethiopian troops during the conflict and did not participate in the peace process. Analysts worry that Eritrea's absence from the negotiations could undermine the prospects for a permanent end to hostilities.
The Eritrean government has not yet commented on the agreement.
UKRAINE, BRIEFLY
Russia has prepared the groundwork for withdrawing its troops from Kherson, the largest Ukrainian city its forces have occupied since the February invasion, one Western official told Politico. The official added that the Ukrainian army has achieved "spectacular" advances in its fight to reclaim land taken by the Russians, who have been forced to take a more defensive posture and have become "critically short on munitions," in recent weeks. Even so, other officials warned that Iran is preparing to send nearly 1,000 additional weapons to Russia, including surface-to-surface short-range ballistic missiles, according to CNN.
Russia has re-joined an agreement that allows the shipment of Ukrainian grain across the Black Sea this week, one of the few areas of cooperation during the Ukraine conflict, reducing uncertainty about the fate of a treaty viewed as critical to preventing starvation in other parts of the world, the New York Times reported. Over the weekend, Moscow suspended its participation in the agreement following an attack on Russian warships in the Black Sea port of Sevastopol that it blamed on Ukraine. It was unclear why the Kremlin abruptly altered course, but Russian President Vladimir Putin said in televised remarks that the deal was contingent on Ukraine securing the safety of Russian warships.
The UN nuclear watchdog said it found no evidence of "undeclared nuclear activities" at three locations investigated in Ukraine at Kyiv's request following Russian suspicions of a "dirty bomb," Al Jazeera noted. Russia had previously named all three sites in conjunction with allegations that Ukraine was intending to use a dirty bomb, which is a conventional explosive device contaminated with radioactive, biological, or chemical ingredients.
The Polish government ordered the construction of a new border barrier along Poland's 130-mile border with the Russian exclave of Kaliningrad, Euronews wrote. The move come amid fears that Moscow is preparing to encourage unlawful border crossings by Asian and African migrants.
DISCOVERIES
Keeping It Real
When a college professor in the Philippines challenged her students to create cheat-proof headgear for their mechanical engineering test last month, she had little idea how far they would take it, the Washington Post reported.
One student at the Bicol University College of Engineering walled himself off with egg cartons, while another took the term "tunnel vision" literally and put tubes over his eyes. Others dressed up with wigs as Japanese cartoon characters, while one student wore a simple motorcycle helmet.
Their professor, Mary Joy Mandane Ortiz, had previously seen such "anti-cheating hats" at a school in Thailand, where students sat through exams with sheets of paper hanging off the sides of their heads like dog ears.
Although she didn't have a cheating problem, she urged her students to wear similar headgear "just for fun."
"I was surprised because I simply requested (they make) a very simple one but they made very creative ones," said the professor.
Mandane Ortiz noted that the students wanted a memorable test because they were excited to return for their first in-person exam after being confined to their homes during the coronavirus pandemic.
"I'm very happy because they're very talented students," she added. "It's supposed to be that the exam is stressful and fearful, but they made it more funny and wonderful."
Thank you for reading or listening to DailyChatter. If you're not already a subscriber, you can become one by going to dailychatter.com/subscribe.
Not already a subscriber?
If you would like to receive DailyChatter directly to your inbox each morning, subscribe below with a free two-week trial.
Support journalism that's independent, non-partisan, and fair.
If you are a student or faculty with a valid school email, you can sign up for a FREE student subscription or faculty subscription.
Questions? Write to us at hello@dailychatter.com.