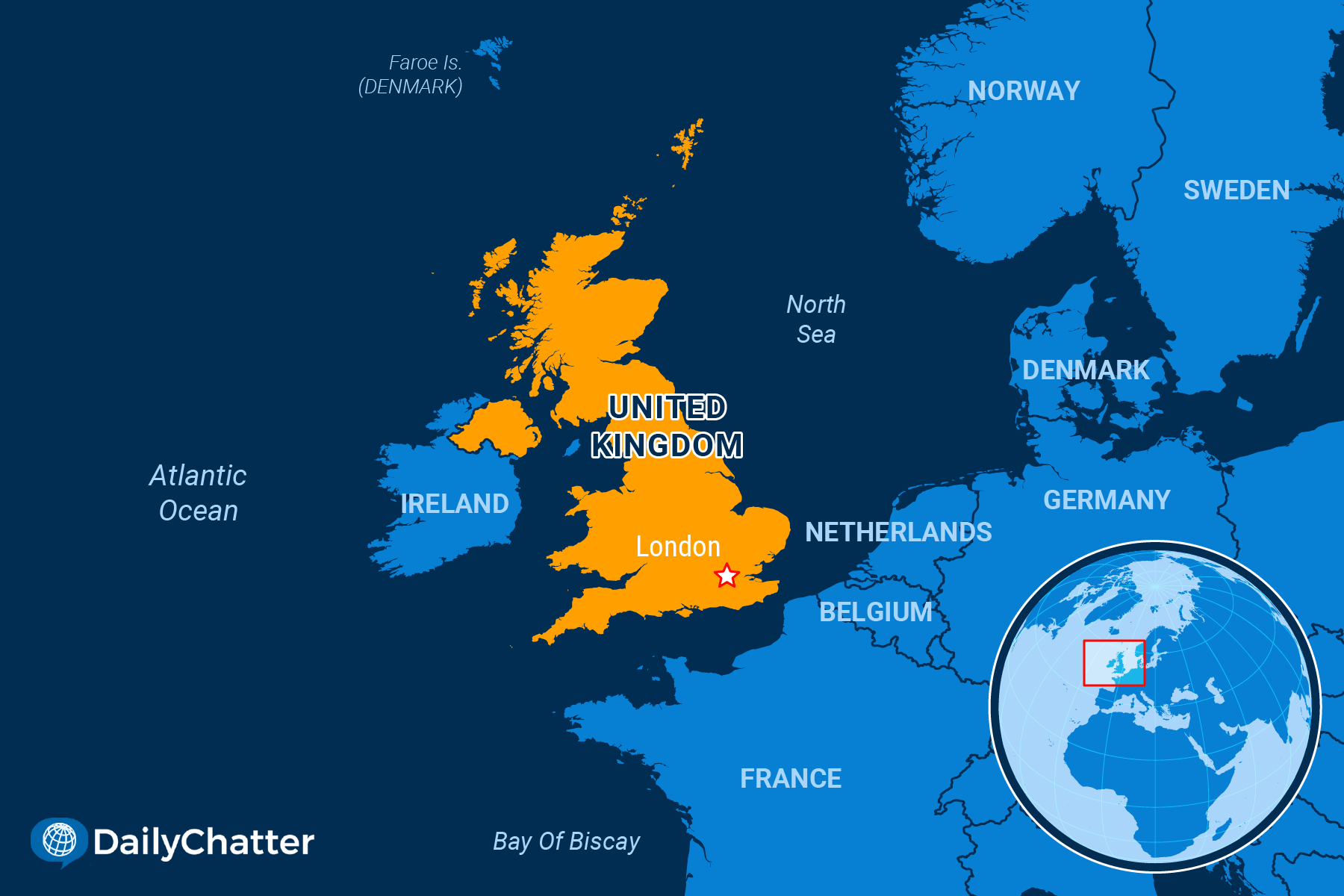 The World Today for October 25, 2022
Listen to Today's Edition
NEED TO KNOW
Soft Upper Lip
UNITED KINGDOM
On Wednesday, British Prime Minister Liz Truss declared that she was not a quitter. The next day, she quit.
And four days later, a new prime minister was announced.
Truss is leaving after only 45 days in office, the shortest tenure of any British leader in history. Her time in office was shorter than the period it takes for a head of lettuce to spoil, a British newspaper gleefully noted as it live-streamed a contest: "Lettuce Wins," it declared Thursday.
The good news for her is that for her trouble, Truss will receive a pension and an annual $130,000 expense account, the Washington Post reported. The irony is that her premiership ended largely because her botched plan to cut taxes on the wealthiest individuals and corporations and hike spending on energy subsidies and other programs ballooned public debt and threatened to destroy the country's pension system, as the Associated Press explained.
Truss's plan caused the value of the British pound to plunge to its lowest level ever and interest rates to spike, rattling the funds that make sure British retirees can keep the lights on, turn on the heat and live in dignity. As the Financial Times wrote, the funds have their problems but Truss pushed them over the edge as chaos broke out in one of the world's largest and usually most stable economies.
"She and her first chancellor of the exchequer, Kwasi Kwarteng, gambled their futures — and the well-being of the country — on their blind faith in the wisdom of free markets," wrote Eugene Robinson in the Washington Post. "Those markets immediately decided Truss and her cabinet were nuts."
Now, opposition leader Keir Starmer of the Labour Party as well as Ed Davey, the leader of the country's third-largest party by votes, the Liberal Democrats, are urging Truss to decline the pension and the perks, the Guardian reported.
Truss would be ideologically consistent if she opted to forgo them. Her economic plans were concocted in secretive think tanks whose analysts seek to implement free-market, libertarian reforms that label the public sector and regulations as the source of all problems in modern Britain, argued openDemocracy. Writing in an op-ed column in the New York Times, British journalist Peter Oborne described these ideas as "detached from reality."
Meanwhile, members of Truss's Conservative Party are now preparing to install their new leader Tuesday. Rishi Sunak, the former chancellor of the exchequer – or finance minister – who lost to Truss in part due to scandals involving his wife's taxes and for being fined for breaking Covid-19 lockdown rules, is set to take the helm.
That's a relief for some who believed that Boris Johnson, the former prime minister who preceded Truss and resigned in disgrace, was set to return. He left office following many scandals that made his premiership untenable, CNN explained. But on Sunday, he announced he wouldn't run for the position after failing to get enough support.
Meanwhile, Sunak, 42, a former investment banker and one of the country's richest people, will become the UK's first prime minister of color – he has South Asian roots. The new leader will face enormous challenges – from stabilizing and also shoring up an economy headed toward recession, to attempting to unite a divided party that has fallen far in public opinion polls, the Associated Press noted.
He admitted as much on Monday, speaking for the first time as the prime minister-designate: "The United Kingdom is a great country but there is no doubt we face a profound economic challenge. We now need stability and unity,"
At the very least, he might be able to rein in the chaos, for a little while.
THE WORLD, BRIEFLY
Trials and Tribulations
PAKISTAN
A Pakistani court rejected a request by former Prime Minister Imran Khan to suspend a ruling by the country's Election Commission that banned him from running for office for five years, the National reported Monday.
Last week, the five-member panel of the commission disqualified Khan as a lawmaker, saying that the cricketer-turned-politician had committed "corrupt practices" by failing to disclose money he had earned from selling gifts from various foreign dignitaries.
Although Pakistani law does not prohibit lawmakers from selling such items, concealing these transactions is prohibited, Bloomberg noted.
The embattled former leader challenged the decision but Islamabad's High Court gave Khan three days to refile his appeal and then seek suspension of the order.
The court also said that there was no need to immediately suspend the commission's ruling because his disqualification only applies to his current term in parliament and does not bar him from running in future elections.
Officials in Khan's Pakistan Tehreek-e-Insaf (PTI) party said the Election Commission has yet to publicly release its full decision, which has caused confusion on the terms of the disqualification. The recent rulings come as Khan faces a series of legal challenges after authorities accused him of trying to stir up dissent against the government.
Khan stepped down following a parliamentary no-confidence vote in April, which he said was part of a US-backed conspiracy to remove him. The US denied those allegations.
Since then, he and his PTI supporters have been holding demonstrations around the country – some of which have turned violent – and called for new elections.
The government, meanwhile, said it might file criminal charges against Khan for giving a false statement to the Election Commission. If convicted, Khan could face a jail sentence and be barred from participating in politics or holding any public office permanently.
The rising legal challenges against Khan add to Pakistan's political and economic turmoil: The country has been grappling with low foreign exchange reserves, devastating floods and soaring inflation.
Spiraling Fires
SUDAN
Tribal clashes in southern Sudan killed hundreds of people this week, as the African country continues to deal with a political crisis and civil conflict, the Associated Press reported Monday.
Fighting erupted earlier this month in the Blue Nile province over a land dispute, pitting the Hausa tribe against the Berta people. The violence escalated last week in the town of Wad el-Mahi on the border with Ethiopia, which resulted in the death of at least 220 people, including women and children.
That fueled protesters in the region to take to the streets of the provincial capital.
On Monday, Sudan's military government said it had replaced the province's commander and launched a fact-finding mission to investigate the clashes.
The unrest comes ahead of the first anniversary of Sudan's military coup that ended the nation's short-lived transition to democracy.
Following the ousting of long-time autocrat Omar al-Bashir in 2019, Sudan had been ruled by a transitional government comprised of civilian and military leaders.
However, that government came to an end last October after the army removed the civilian leaders in a coup. The military's takeover prompted mass protests demanding the return of a civilian government.
Pro-democracy groups criticized the junta's response to recent tribal clashes, saying the military government has failed to protect ethnic groups in the province. They also called for anti-coup demonstrations on Tuesday across Sudan to mark the coup's anniversary.
Even so, the military and Sudan's pro-democracy movement have made progress in internationally backed talks in recent weeks. The two sides are working on efforts toward setting up a civilian-led government to be in charge through elections, which are to be held within 24 months.
Locked Out
AUSTRALIA
The United Nations Subcommittee on the Prevention of Torture (SPT) suspended its tour of Australian prisons this week, citing a lack of cooperation from officials and a lack of access to some detention facilities, CNN reported Monday.
SPT representatives arrived in Australia on Oct. 16 for a 12-day tour to inspect the country's prisons to ensure compliance with an international protocol that aims to protect the human rights of detained individuals – namely the Optional Protocol to the Convention against Torture and other Cruel, Inhuman or Degrading Treatment or Punishment (OPCAT).
The trip was originally scheduled for 2020 but was delayed because of the coronavirus pandemic.
However, the UN subcommittee said its staff members were prevented from entering some sites in the states of Queensland and New South Wales, adding that in some cases they were not given "all the relevant information and documentation" they requested.
SPT officials lamented that Australia has done little "to ensure consistent implementation of OPCAT obligations across the country."
In 2017, Australia became one of 91 signatories to OPCAT but the country has delayed the implementation of crucial requirements of the agreement. One of these includes the creation of an independent torture prevention monitoring body, officially known as the National Mechanism for Prevention of Torture.
The agreement has also come under some scrutiny in Australia as state and federal officials are disputing who should pay for improvements made to Australian facilities as the result of any recommendations made by the UN.
Even so, Australian Attorney General Mark Dreyfus said the UN decision was "disappointing" and reiterated that Canberra remained committed to the protocol.
Meanwhile, the Australian Human Rights Law Center has urged the state governments of New South Wales and Queensland to fully comply with the country's international commitments to prohibit torture.
DISCOVERIES
The Grass Is Greener
Conservationists strive to create protected zones to protect populations of endangered animals but not all animals are happy in them, according to a new study.
For example, an international research team recently discovered that Asian elephants prefer to live outside – but not too far – from these protected areas, Cosmos Magazine reported.
Researchers tracked the movement of 102 Asian elephants across Peninsular Malaysia and Borneo using more than 600,000 GPS locations taken over a decade. The findings showed that the large mammals preferred to spend half of their time in areas within nearly two miles of the boundaries of the protected zones.
Specifically, the animals would wander in habitats that had disturbed forests and areas of regrowth outside their conservation zones. The team explained that this risky behavior is related to the elephants' dietary preferences, such as grass, bamboo and fast-growing trees that are more common in disturbed areas.
They noted that the study underscores the need to rethink conservation efforts for elephants even as it does not challenge the effectiveness of protected areas.
"We believe protected areas are the most effective tool for biodiversity conservation in general," said lead author Benoit Goossens.
Goossens and his colleagues pointed out that the main threat to Asian elephants is conflict with humans, which happens when their habitats overlap with those of people.
They recommended that future conservation efforts should also promote human-elephant coexistence and mitigate conflict between the two species.
Thank you for reading or listening to DailyChatter. If you're not already a subscriber, you can become one by going to dailychatter.com/subscribe.
Not already a subscriber?
If you would like to receive DailyChatter directly to your inbox each morning, subscribe below with a free two-week trial.
Support journalism that's independent, non-partisan, and fair.
If you are a student or faculty with a valid school email, you can sign up for a FREE student subscription or faculty subscription.
Questions? Write to us at hello@dailychatter.com.