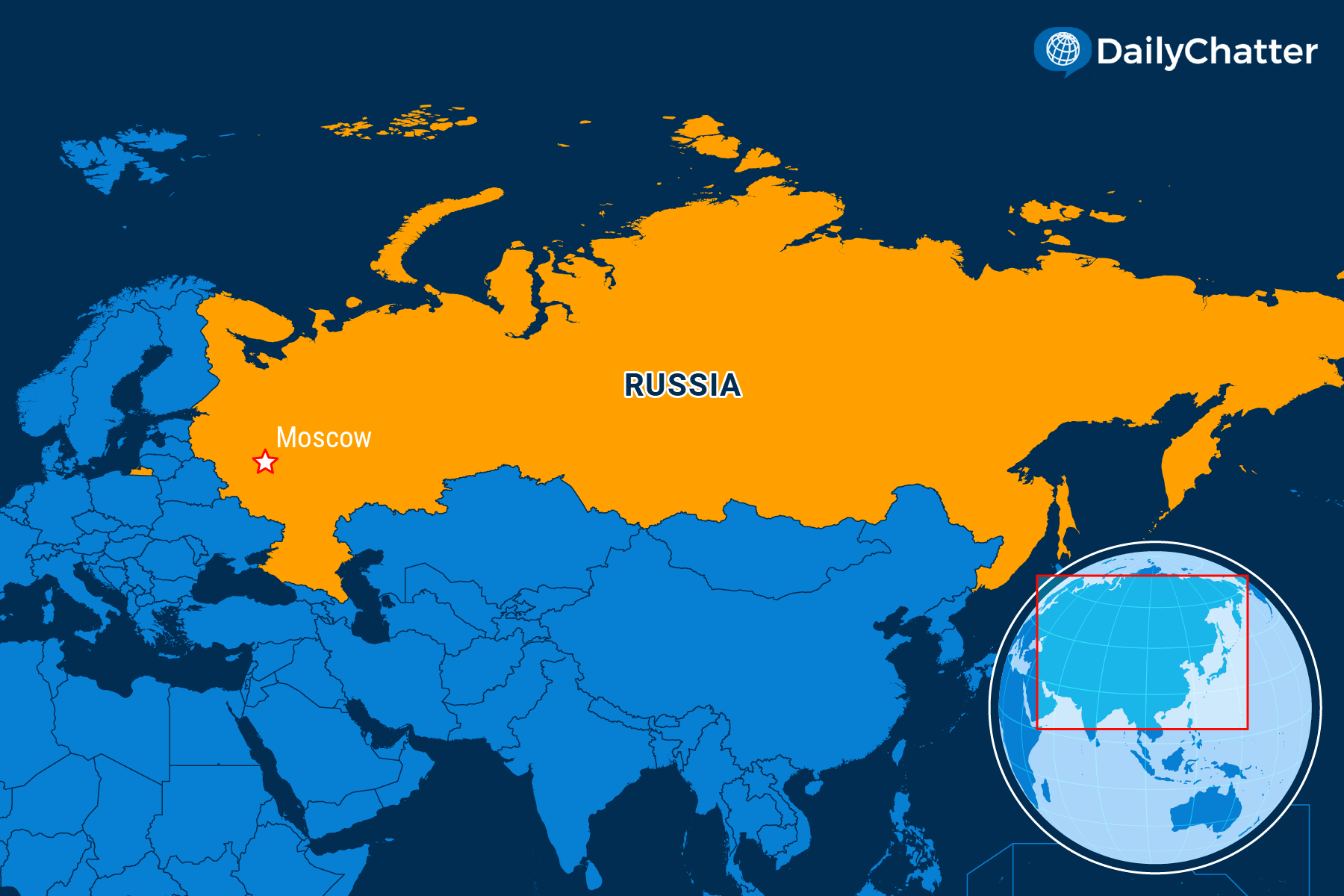 The World Today for October 03, 2022
Listen to Today's Edition
NEED TO KNOW
The Bear's Market
RUSSIA
Global economic growth will reach only three percent this year due to the lingering effects of Covid-19 and the economic ructions of the Russo-Ukraine War – think higher energy, food prices and other goods. Next year, for the same reasons, growth is expected to slow to 2.2 percent and inflation is likely to continue to climb, according to the Organization for Economic Cooperation and Development (OECD).
"The war, the burden of high energy and food prices, as well as zero Covid-19 policies from China, mean that growth will be lower, and inflation will be higher and more persistent," OECD Secretary-General Mathias Cormann told the Associated Press recently.
These trends will likely be a blessing and a curse for Russia. Western sanctions imposed to punish Russia for invading Ukraine in late February have devastated Russian industries like automobiles and information technology.
To make matters worse for Russian President Vladimir Putin, a top Russian economist recently warned that the country's economy will collapse in the next few months because of Putin's mobilization of 300,000 troops to bolster Russia's war effort in Ukraine. Security forces have arrested more than 2,300 people for protesting against the mobilization. Tens of thousands of men have fled the country to avoid serving.
Those who do answer the call see the deficits of the Russian army first-hand, potentially further undermining the war's popularity at home, added Bloomberg columnist Leonid Bershidsky. Russian stocks recently fell to their lowest values since the invasion because of concerns about the mobilization.
Still, other Russian sectors are flourishing. Increased oil exports to China, India and other countries that are ignoring Western sanctions, as well as generally rising energy prices will boost Russia's revenues from energy exports this year to almost $340 billion, a nearly 40 percent rise compared with last year, reported Reuters.
The US and other countries are looking to undercut some of Russia's gains, however. For example, Western officials want to identify Russian diamonds as "blood diamonds," the Moscow Times wrote. Russia produces around a third of the world's diamonds, a business that in 2021 was worth $4.5 billion to the country.
Ultimately, the market might decide. As Foreign Affairs noted, Russia might have cut off energy supplies to Europe, triggering economic hardships for important NATO members like Germany, but its energy embargo can only work once. The Germans and others are even now working hard to diversify their energy portfolio so that they won't need so much Russian gas in the future.
The costs of the war, in other words, keep mounting.
THE WORLD, BRIEFLY
Reaping and Sowing
BURKINA FASO
Burkinabe army officers launched a coup against the country's military junta over the weekend, a move that could further destabilize the security situation in the West African country amid an ongoing jihadist insurgency, the Associated Press reported.
On Friday, a group of soldiers appeared on state television announcing that interim President Lt. Col. Paul Henri Sandaogo Damiba had been overthrown and Captain Ibrahim Traore was installed as the new leader of the country.
Damiba came to power in January when he launched a coup against President Roch Marc Christian Kaboré.
A statement from a Facebook page attributed to Damiba called on Traore and his soldiers to "come to their senses to avoid a fratricidal war that Burkina Faso does not need."
Damiba's whereabouts are unknown.
Still, Traore has accused France of harboring Damiba, prompting angry protesters to gather around the French embassy in the capital Ouagadougou and vandalize a French cultural center in another city. Videos on social media showed a fire at the embassy's compound.
France condemned the attack and denied any involvement in harboring Damiba or the weekend coup.
The military coup comes as Burkina Faso grapples with a years-long Islamist insurgency: Damiba had promised that he would tackle the country's jihadists, but some members of the military saw him as too cozy with the country's former colonial master, France, which continues to maintain a military presence in the Sahel region.
Some supporters of the new coup leader have urged Burkina Faso's government to seek Russian assistance instead.
Analysts noted that it's unclear how the new junta will fare against jihadist groups but raised concerns that the recent instability could further distract the military and allow the jihadists to strengthen their grip on the country.
The Peace Dividend
VENEZUELA
Venezuela freed seven US citizens imprisoned in the country over the weekend, a move that underscores recent efforts by the Biden administration to mend ties with the oil-rich South American nation, CBS News reported.
The release was part of a prisoner swap that saw two nephews of Venezuelan President Nicolás Maduro's wife who had been sentenced to jail in the US on drug trafficking charges, being released.
The released Americans also included five oil executives of Houston-based Citgo, who were lured to Venezuela in 2017 to attend a meeting at the headquarters of the company's parent, state-run oil giant Petróleos de Venezuela, S.A. They were then detained by masked police and later sentenced to between eight to 13 years in prison on charges of embezzlement.
Saturday's swap is considered the largest trade of detained citizens ever carried out by the Biden administration. It also underscores a rare gesture of goodwill by Maduro's government as he seeks rapprochement with the US.
Maduro's government said it "welcomes the outcome of these talks and hopes for the preservation of peace and harmony with all the nations of our region and the world."
The release follows months of back-channel diplomacy and comes amid a global energy-price crisis exacerbated by Russia's invasion of Ukraine.
In March, Venezuela released two US citizens following a meeting between Maduro and senior US officials. The meeting came just days after Moscow's invasion. Analysts described it as an effort by Washington to sway Venezuela – a Russian ally – away from the Kremlin.
Holding the Line
LATVIA
Latvian Prime Minister Krisjanis Karins' ruling party secured a decisive victory in Latvia's weekend elections, even as voters punished a party favored by ethnic Russians, Bloomberg reported.
Preliminary results showed that Karins' New Unity party won nearly 19 percent of the vote, while the opposition Union of Greens and Farmers received 12.8 percent of the vote. The newly formed United List party, which had hinted at a potential coalition with New Unity, received 11 percent.
What stood out in the weekend polls was the declining support for Harmony, which with the support of many ethnic Russians in the Baltic country had been the largest opposition party in the parliament. Now the party is projected to receive less than five percent, failing to meet the threshold required to enter Latvia's parliament.
Karins – a staunch critic of Russian President Vladimir Putin – welcomed the results, saying that Latvian voters "care about our country's democracy, its existence."
The election highlights a deepening schism between European Union and NATO countries.
Anger over Russia's war on Ukraine is increasing support for trans-Atlantic unity in Latvia and other countries that were freed from Moscow's rule following the collapse of the Soviet Union more than 30 years ago.
Following the start of the war in Ukraine in February, Karins' government has been pushing for stronger sanctions against the Kremlin and called on NATO to boost Latvia's 132-mile border with Russia.
Latvia also recently demolished a 262-foot Soviet monument in the capital Riga, infuriating Moscow, and pledged to remove more such monuments.
DISCOVERIES
Target Acquired
NASA successfully crashed a spacecraft into a 520-foot-long asteroid last week, marking a big step forward in the agency's quest to protect civilization from cataclysmic space rocks, USA Today reported.
The 1,260-pound Double Asteroid Redirection Test spacecraft – or DART for short– collided with the 11-billion-pound asteroid Dimorphos at 14,000 mph about seven million miles from Earth.
A week before impact, DART's companion and camera, LICIACube, took pictures of the mission. On Tuesday, NASA posted on Twitter the final images of the spacecraft before its fateful crash.
DART was launched less than a year ago after scientists decided to test Earth's planetary defenses in case of a destructive asteroid impact.
NASA scientists picked Dimorphos, an asteroid that orbits a larger one named Didymos. Both space rocks were chosen because they don't pose any threat to our planet.
The mission's goal was not to destroy Dimorphos but rather to shift its orbit around Didymos so that it changes both their trajectories.
The space agency won't know for weeks – or months – what happens after the collision, but researchers said that even a small orbital change of one percent could be enough to spare humanity the same fate as the dinosaurs.
"Our first planetary defense test was a success," rejoiced mission systems engineer Elena Adams said. "Earthlings should sleep better."
COVID-19 Global Update
Total Cases Worldwide: 618,050,569 (+0.48%)
Total Deaths Worldwide: 6,546,862 (+0.15%)
Total Vaccinations Worldwide: 12,677,499,928 (+3.46%)**
Countries with the highest number of confirmed cases worldwide as of 4 a.m. ET*
US: 96,397,885 (+0.34%)
India: 44,597,498 (+0.06%)
France: 35,608,285 (+0.86%)
Brazil: 34,672,524 (+0.14%)
Germany: 33,386,229 (+1.32%)
South Korea: 24,831,761 (+0.80%)
UK: 23,893,496 (+0.22%)
Italy: 22,529,252 (+1.01%)
Japan: 21,147,468 (+0.41%)
Russia: 20,747,599 (+1.24%)
Source: Johns Hopkins University
*Numbers change over seven days
**Data taken from the World Health Organization as of Sept. 28. 2022.
Not already a subscriber?
If you would like to receive DailyChatter directly to your inbox each morning, subscribe below with a free two-week trial.
Support journalism that's independent, non-partisan, and fair.
If you are a student or faculty with a valid school email, you can sign up for a FREE student subscription or faculty subscription.
Questions? Write to us at hello@dailychatter.com.