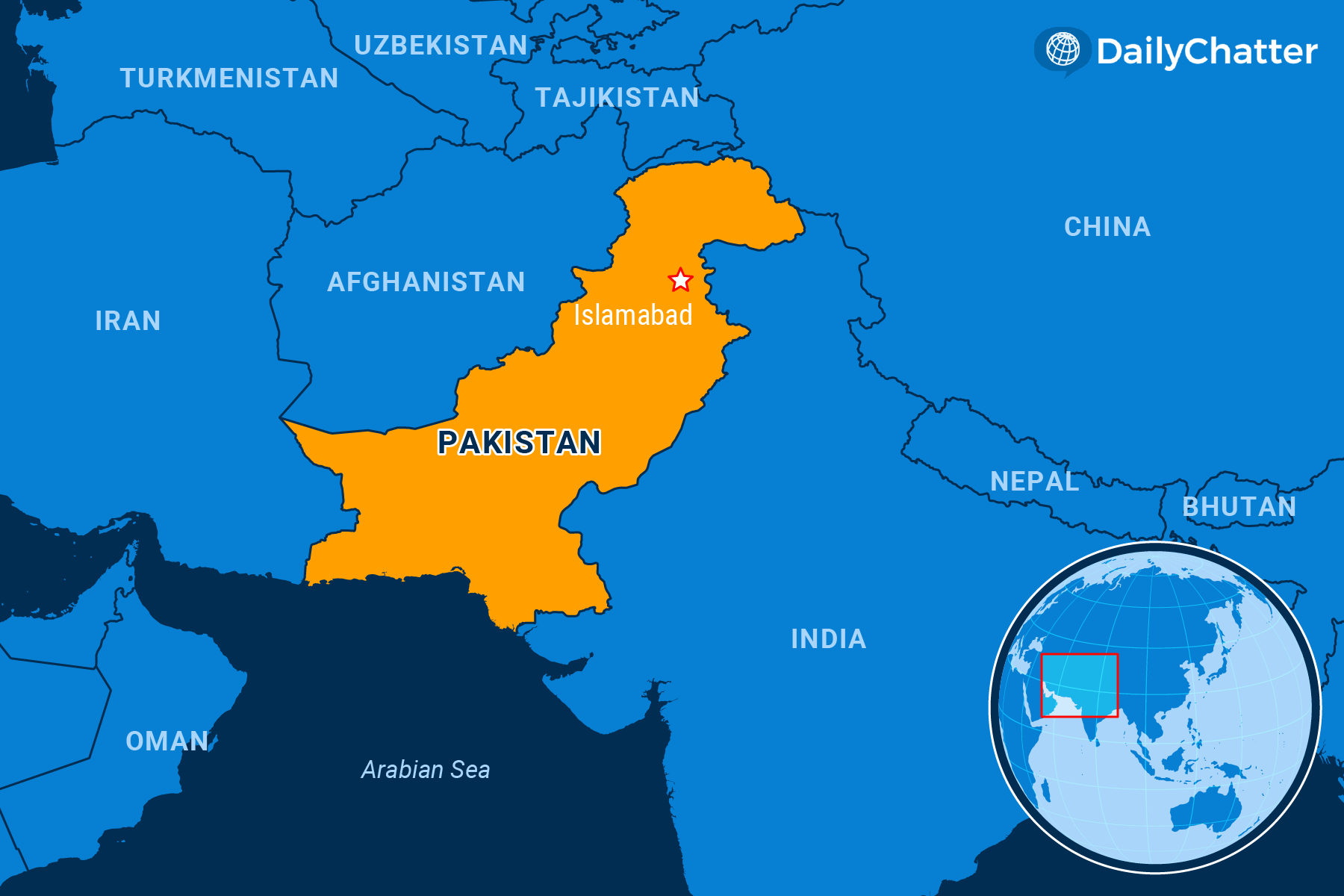 The World Today for September 22, 2022
Listen to Today's Edition
NEED TO KNOW
Treading Water
PAKISTAN
Record floods have turned lowland farms in Pakistan into lakes, highlighting the fragility of an unstable developing nation in the era of climate change. "We are living on an island now," farmer Muhammad Jaffar said in an interview with the New York Times. Jaffar's cotton fields were now under "putrid water," ruining his crop and raising questions about how he would feed his family in the months to come.
A third of Pakistan is underwater. The deluge has kicked off a gargantuan humanitarian crisis affecting 33 million people, reported Al Jazeera. Around 1,500 have died, half of them children, and some of these are because of a lack of access to clean water or food. More deaths are expected. The South Asian country's public health system was already under strain. Now waterborne diseases are expected to flourish. Cases of dengue have soared as pools of stagnant water have proliferated, for example, added the BBC. Food shortages are also likely. Meanwhile, poisonous snakes flourish, Newsweek noted.
UN Secretary-General António Guterres called the deluge a "monsoon on steroids," saying he'd never seen climate-related destruction on such a scale. The floods started in June amid a heatwave that caused glaciers in the mountainous country to melt. Heavy monsoon rains added more water. Now scientists are warning that the waters might not recede for as long as six months, CNN reported.
Pakistan could present the world with the kind of life-changing crisis that climate change experts have been issuing warnings about for years. Those experts have said that greenhouse gas emissions will make rainfall heavier in South Asia. Pakistani journalist Hamid Mir saw injustice in the situation. Pakistan generates less than one percent of global carbon emissions but now is paying the price for all mankind's effect on the environment, he argued in a column for the Washington Post.
Looking for thoughtful, independent coverage of US political news? Try Tangle.
DailyChatter only reports news from around the globe, so we look to our colleagues at Tangle to help us discern what's happening in the complex world of US politics. Tangle is a daily newsletter that covers political news in the United States with the same kind of balance and neutrality we strive for in covering the rest of the world. It's a rare breed – news that's read and trusted by a wide range of people from across the political spectrum. Tangle's rational, reasoned, and nuanced coverage earns media bias ratings that are always in the center which makes the Tangle newsletter a highly valued resource for many, including us.
Try it for free. Plus, get 20% off your Tangle membership with the Black Friday deal they are running this week.
In July and August, the country received almost 190 percent more rain than the 30-year average, Reuters noted. In some areas, the increase in precipitation was almost 470 percent.
But Mir also admitted that Pakistanis were disappointed with their corrupt and incompetent government's mismanagement of the disaster. In 2010, flooding in Kalam washed away hotels on the popular Swat River. Developers were allowed to build in the exact same place after bribing officials. The new hotels recently collapsed. Economic losses associated with the floods are now forecast at $30 billion.
Omer Aijazi, a visiting researcher at the University of Victoria, explained in the Conversation how Pakistan's poorest, most unstable and most politically oppressed areas have been hit hardest. "Uneven development and inequality" have also been a common characteristic of districts that have suffered the most.
If they can't reclaim a third of their land, the richest Pakistanis are going to become much more familiar with people from those districts as they find new places to live.
Still, some villagers caught in the deluge are hanging on, refusing to leave. They say the little they have left is better than the nothing that awaits them.
THE WORLD, BRIEFLY
A Call For Sacrifice
RUSSIA/ UKRAINE
Russian President Vladimir Putin ordered a partial military draft Wednesday, a move that would put the nation's people and economy on a wartime footing amid the ongoing invasion of Ukraine, CNBC reported.
Putin announced that "mobilization events" would begin, adding that he had previously ordered a boost to the country's weapons production – the supply of which has been strained by the conflict, which began on Feb. 24.
Officials later explained that the partial mobilization would see 300,000 additional personnel called up to serve in the military campaign against Ukraine. Meanwhile, there has been no declaration of any wider conscription of Russian men of fighting age.
During his announcement, the Russian president also accused Western nations of trying to destroy Russia and turn "Ukraine's people into cannon fodder."
A partial mobilization would mean that businesses and citizens will have to provide more contributions to the war effort. The move comes despite Russia not having declared war on Ukraine – it labels its invasion as a "special military operation."
The decision came after Ukrainian forces reclaimed large swathes of territory in northeastern Ukraine following a lightning counteroffensive.
Observers suggested that the partial mobilization follows plans by Kremlin-backed officials in occupied areas of Ukraine to stage immediate referendums on joining Russia. Such referendums would allow Moscow to claim – falsely – that it was "defending" its own territory and citizens.
Following Putin's announcement, China's Foreign Ministry called on all parties to engage in dialogue to resolve their security concerns. But British officials cautioned that Putin's comments should be taken "very seriously."
Meanwhile, analysts suggest that morale in the Russian army is low, prompting lawmakers in Russia to tighten up the criminal code around military service, including increasing the punishment for desertion.
No Respite
ERITREA/ ETHIOPIA
Eritrea launched a full-scale offensive in Ethiopia's northern region of Tigray this week, an escalation from last month's resumption of fighting against Tigrayan forces, Euronews reported.
Tigrayan officials called on residents to prepare for war, saying the region was facing an "existential challenge." They added that Eritrean forces are fighting alongside Ethiopian government troops and allied militia.
The Eritrean and Ethiopian governments did not comment on the fighting, according to the BBC.
Ethiopian troops and Tigrayan rebels have been fighting since November 2020. The war has left tens of thousands dead, displaced millions and resulted in atrocities against civilians on both sides.
At one point, Eritrea entered the conflict to support Ethiopian forces, but reportedly withdrew most of its troops last year.
A full-fledged Eritrean intervention in the Tigray war might derail peace talks between Tigrayan leaders and Ethiopian Prime Minister Abiy Ahmed.
The situation in Tigray remains dire. Meanwhile, the region's communications have been cut off, as have all banking services.
Ponying Up
DENMARK
Denmark will direct about $13 million to vulnerable nations that have suffered "loss and damage" from climate change, becoming the first country in the United Nations to do so, the Washington Post reported.
Danish Development Minister Flemming Møller Mortensen made the announcement Tuesday as world leaders gathered at the UN General Assembly in New York this week.
Mortensen said the move was inspired by a visit to flood-stricken areas of Bangladesh in the spring. He noted that it was "grossly unfair" that poorer nations were facing the brunt of the effects of climate change, adding that they had contributed "the least" to the problem.
Environmental advocates and leaders of vulnerable countries have been calling for loss and damage funding for years. Many wealthy nations, including the US, have rejected those demands over concerns that any financial commitment would imply legal culpability for the growing toll of climate change.
Calls for loss and damage funding have recently increased amid a drought-fueled famine in East Africa and Pakistan's recent catastrophic floods. About 400 activist groups issued a letter this month demanding financing for loss and damage be added to the agenda for this November's UN climate negotiations in Egypt.
So far, only Scotland and the Belgian region of Wallonia have pledged to contribute to the fund. The pledges were made during the 2021 UN climate summit in Scotland.
Climate justice activists welcomed Denmark's move, but said that the amount pales in comparison to the damage wrought by climate change.
Harjeet Singh of the non-profit Climate Action Network cautioned that one-third of the funds will go to the InsuResilience Global Partnership, a UN-organized program that involves private companies providing disaster insurance to communities most vulnerable to climate change.
He warned that the setup "will create business for European corporations in developing countries, eventually making vulnerable people pay for the premium(s) toward losses and damages from climate disasters."
DISCOVERIES
Lending a Hand
Lunar samples collected by China's Chang'e-5 probe are unveiling some new details about the Moon and how its resources can help Earth, the South China Morning Post reported.
In 2020, the Chang'e-5 lunar probe – named after China's Moon goddess Chang'e – returned to Earth carrying nearly four pounds of lunar dust and rocks, the first samples to be retrieved in more than 40 years.
Since then, Chinese researchers have been carefully studying the samples and came across a new mineral. They reported that the particle – named Changesite-(Y) – was a phosphate found in lunar basalts and had a diameter of about one-tenth of a human hair.
Changesite-(Y) – also named after the goddess – is the sixth new mineral discovered on the Moon and its discovery makes China the third country to have discovered a novel lunar particle, after the US and Russia.
Scientists and officials explained that Changesite-(Y) could provide insights into the history and evolution of the Moon, as well as new details for deep space exploration.
But Changesite-(Y) is just one of the unique discoveries that astronomers made.
The collected samples were also found to contain Helium-3, a stable isotope of helium that many scientists say could be integral to developing new energy sources on Earth, Newsweek noted.
Helium-3 can be used to fuel future nuclear fusion reactors, an ambitious – but still nascent – technology that would provide greener energy for the planet.
Unlike existing nuclear fission plants, fusion reactors don't produce dangerous and radioactive waste products.
Scientists have speculated that Helium-3 is abundant on the Moon and could be integral to Earth's energy needs, although it would take many years until nuclear engineers could develop a reliable energy-producing fusion reactor.
Not already a subscriber?
If you would like to receive DailyChatter directly to your inbox each morning, subscribe below with a free two-week trial.
Support journalism that's independent, non-partisan, and fair.
If you are a student or faculty with a valid school email, you can sign up for a FREE student subscription or faculty subscription.
Questions? Write to us at hello@dailychatter.com.