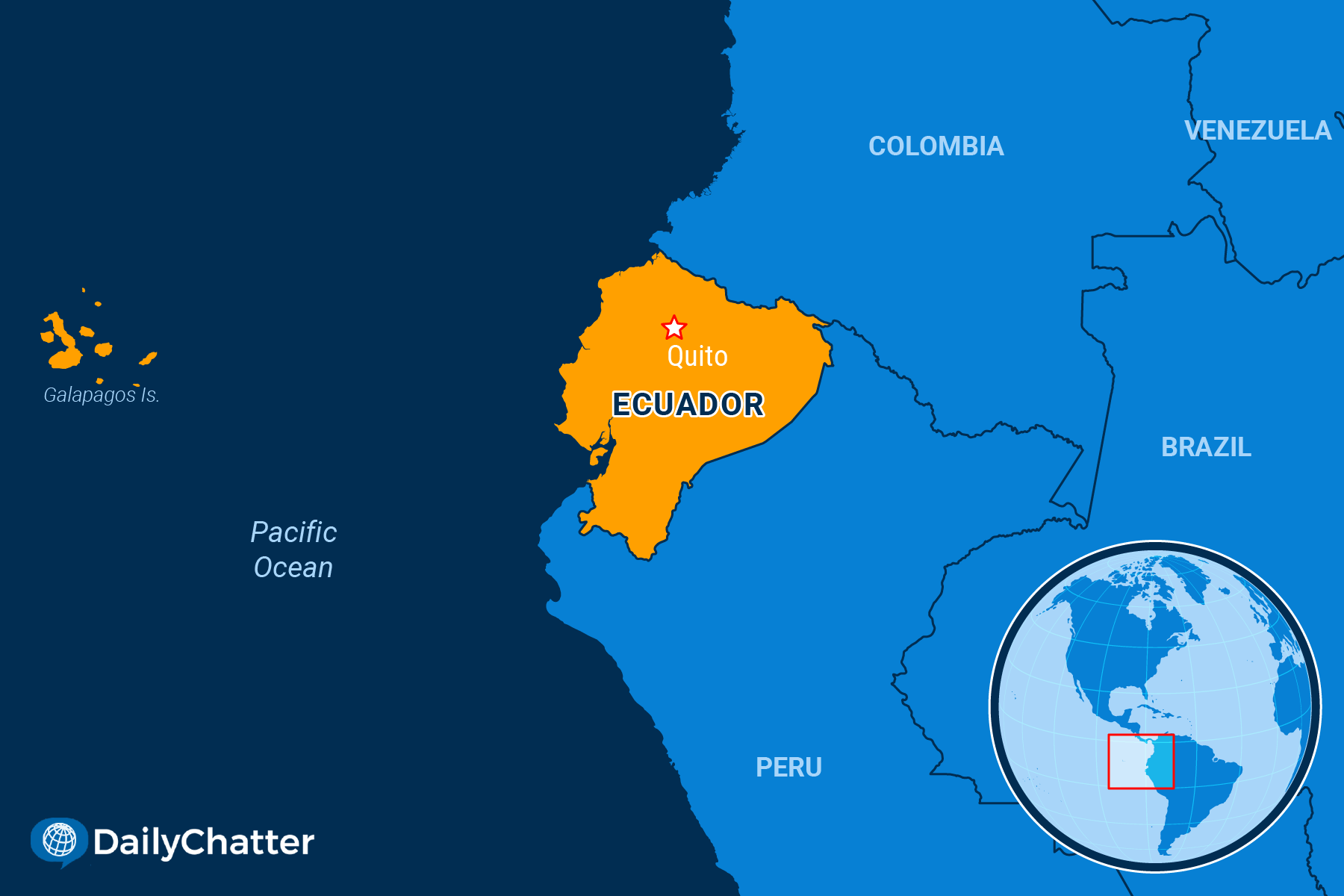 The World Today for September 06, 2022
Listen to Today's Edition
NEED TO KNOW
Pinned Down
ECUADOR
Ecuador's president, Guillermo Lasso, managed to drag his country out of the coronavirus pandemic. Now, however, he might be too embattled on two fronts to solve the other major problems facing his South American country.
On the one hand, he is trying to put a lid on a rash of crime and violence that has swept through Ecuador. On the other, he is trying to quell an uprising by Indigenous leaders who believe his government has sold out to foreign energy companies.
Lasso declared a state of emergency in Guayaquil, the country's largest city and financial center, after a bomb killed at least five people and injured 17 last month, the Washington Post reported. Blaming the explosion on organized criminals who have been classified as terrorists, Interior Minister Patricio Carrillo called the attack a "declaration of war against the state."
Ecuador is a transit point for drugs traveling north and south, explained InSight Crime. The bomb attack could have been a skirmish resulting from two gangs fighting over serving Mexican drug cartels and overseeing narcotics shipments out of the city's ports.
Crime as well as inflation and soaring living costs, meanwhile, added fuel to protests over the government's treatment of Indigenous communities, wrote International Banker. While Lasso reached an agreement in June with leaders in the Confederation of Indigenous Nationalities of Ecuador (CONAIE), many of the rank and file are still restive.
Lasso's government has cut fuel prices, hiked spending on intercultural education, purchased more medicines for Indigenous communities and committed to protecting Indigenous territories from mining and oil drilling, Human Rights Watch noted.
But he has also cracked down on protesters, filed charges against Indigenous leaders and repressed mass mobilization and political dissent in general, added the North American Congress on Latin America.
Ecuador's economic dependence on oil is one reason why Lasso can't easily give in to Indigenous protesters' demands, argued Ecuadoran activist Lina María Espinosa, who spoke to Mongabay, an environmental news outlet. No matter what concessions he makes, he will continue to incentivize foreign energy companies to conduct operations that often pollute the land, she argued.
That said, Lasso and Indigenous leaders have made progress in protecting some of the country's lush Amazon rainforest, Euronews reported. One 11-million-acre protected section of the country's jungle captures almost a billion tons of carbon annually, or the total amount of Canada's carbon emissions for a year.
Battling criminals and environmentalists has made Lasso unpopular and politically weak, contended the Economist. Because opposition parties hold Congress, he probably won't be able to turn any big proposals into reality, either.
Unable to satisfy his critics, Lasso faces a long three years in office.
THE WORLD, BRIEFLY
New Targets
AFGHANISTAN
A suicide bomber killed at least six people outside the Russian embassy in the Afghan capital Kabul Monday, the first attack to target a foreign diplomatic mission in Afghanistan following the Taliban's takeover last year, the Associated Press reported.
The explosion went off outside the embassy's consular section, where Afghans were waiting for updates on their visa applications. The blast killed two members of the diplomatic mission and four Afghan civilians.
Police said security forces shot at the suicide bomber, although it's unclear if the explosion happened before the attacker was shot or if gunfire detonated the explosives.
The Islamic State affiliate in Afghanistan claimed responsibility for the attack, although it's not clear why the embassy was targeted, the New York Times noted.
The Russian government swiftly condemned it as "a terrorist act." The Investigative Committee of Russia said it would open a criminal case into the attack.
The suicide bombing is the latest in a series of attacks since the Taliban took control of Afghanistan in August 2021 following the withdrawal of foreign troops. Past attacks largely focused on Taliban positions or mosques attended by minority groups, with authorities blaming the Islamic State group's affiliate in Afghanistan.
Even throughout the two-decade battle between the Taliban and the Western-backed government, attacks on embassies were unusual.
Following the Taliban takeover, most nations, including the US and its European allies, closed their embassies in Afghanistan. Russia is one of a few diplomatic missions that still operate in the country – and the only European one.
No country recognizes the Taliban government.
Even so, Russian President Vladimir Putin said in June that Moscow is trying to build relations with the group and wants to see all the ethnic groups in Afghanistan take part in running the country.
Making It Official
KENYA
Kenya's Supreme Court upheld last month's presidential election result that declared Deputy President William Ruto as the winner, a verdict that came days after opposition candidate Raila Odinga filed a petition over alleged electoral fraud, CNN reported Monday.
In early August, the country's electoral commission declared Ruto as the winner of the elections, winning slightly more than 50 percent of the vote, while Odinga had secured nearly 49 percent.
But the announcement was met with controversy after four commission members rejected the results and declared the tallying as "opaque."
Odinga and his supporters petitioned the top court to assess the matter, alleging a number of irregularities, including claims that hackers had accessed the electoral body's website, deducted his votes and added them to Ruto's.
But the court rejected his claims, saying it found no evidence of tampering and that the election commission "carried out the verification, tallying, and declaration of results in accordance with the provided constitutional law."
Ruto welcomed the decision even as Odinga said he "vehemently disagreed" with the verdict.
This was the fifth time Odinga ran for president and the third time he challenged his loss at the Supreme Court. He previously contested the results in the 2013 and 2017 votes.
The Supreme Court made history in 2017 when it ordered the election annulled and required a do-over election. But Odinga boycotted the second vote having already lost to incumbent President Uhuru Kenyatta in the first election.
Changing of the Guard
UNITED KINGDOM
Foreign Secretary Liz Truss will become the UK's new prime minister after winning the leadership race within the ruling Conservative Party, CNBC reported Monday.
From an 82 percent turnout of party members voting in the leadership ballot, Truss secured about 57 percent of the total vote, defeating her rival, former Chancellor of the Exchequer, Rishi Sunak, who received 42 percent.
Truss is set to replace outgoing Prime Minister Boris Johnson, who stepped down in July following a series of political controversies and scandals that resulted in multiple resignations within his cabinet – including Sunak.
Truss was one of the few high-level officials who remained loyal to Johnson.
The foreign minister will take the new post once Johnson tenders his resignation to Queen Elizabeth II, who will then officially appoint Truss.
Truss campaigned on promises to cut taxes and deal with long-term issues regarding the country's energy supply. She has also vowed to deliver a victory for the Conservatives at the 2024 general election.
Even so, the new prime minister – and party leader – faces arduous tasks ahead, including governing a very fractious Conservative party.
Truss' major responsibility will be to lead a country facing the worst cost-of-living crisis in decades, while maintaining support for Ukraine amid its ongoing war with Russia.
She plans to unveil a series of measures within a week of taking office to help struggling Brits, but many economists stressed that the package must be extraordinarily large in order to help the country through a winter of crisis.
DISCOVERIES
Tears of Joy
It can be a tearing-up moment to see an owner reunited with their dog after a long period of time.
But it's not just the humans who are crying, NPR reported.
A new study found that dogs can shed tears when reunited with their owners or with other familiar humans.
For their paper, researchers placed small pieces of filter paper inside the pooches' lower eyelids to measure the volume of tears dogs shed before and after reunions – better known as the Schirmer tear test.
The tear volume was assessed in the dog's home environment with their owners present and again shortly after the pets and their owners were reunited after being separated for five to seven hours.
The team also conducted the same experiment with humans familiar to the dogs that weren't their owners.
Unsurprisingly, the findings showed that the canines would "cry" more when reunited with their owners than with familiar people.
The study provides evidence that humans are not the only creatures capable of shedding tears because of an emotional response.
Still, Jessica Meekins, a researcher at Kansas State University, questioned the results, noting that tear production varies between animals and species.
She added that future studies should look into the composition of the tears to determine an emotional trigger, such as hormones, electrolytes and proteins.
"It would be interesting to know … whether those tears contain similar molecules to what's been identified in people in certain studies and in trying to investigate why we cry," Meekins said.
Not already a subscriber?
If you would like to receive DailyChatter directly to your inbox each morning, subscribe below with a free two-week trial.
Support journalism that's independent, non-partisan, and fair.
If you are a student or faculty with a valid school email, you can sign up for a FREE student subscription or faculty subscription.
Questions? Write to us at hello@dailychatter.com.