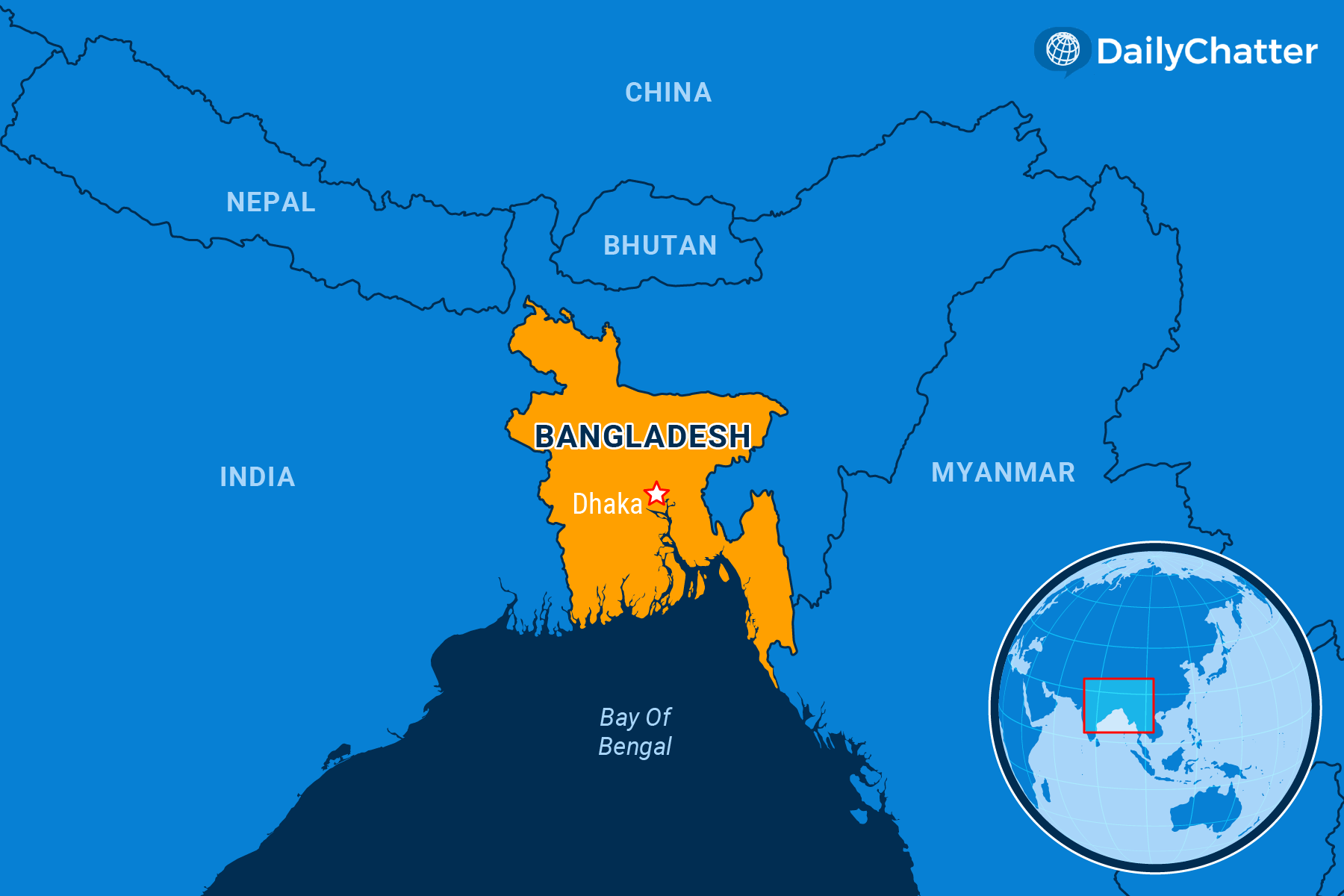 The World Today for August 11, 2022
Listen to Today's Edition
NEED TO KNOW
The Girls Next Door
BANGLADESH
Indian investigators recently busted an alleged human trafficking ring that was smuggling ethnic Rohingya girls into India from refugee camps in Bangladesh.
It's just the latest misfortune to befall members of this ethnic group who have been forced from their homes and put into limbo.
Six years ago, almost one million ethnic Rohingya fled from Myanmar to Cox's Bazar in Bangladesh, reported the Irrawaddy, an independent English-language newspaper that covers Myanmar. The Rohingya have been fighting for their rights and more autonomy since the country formerly known as Burma won its independence from Britain in 1948, according to the Conversation.
More recently, however, the military junta that runs Myanmar is facing charges of genocide for brutal crackdowns in 2016 and 2017 that allegedly included mass killings and the displacement of the Rohingya community into neighboring countries like Bangladesh, the Guardian wrote. New evidence recently surfaced that appears to incontrovertibly prove that Myanmar's generals meticulously planned their purge, added Reuters.
After seemingly relinquishing power and allowing Nobel Peace Laureate Aung San Suu Kyi to assume more power in government, the junta staged a coup early last year, retaking control. They are likely continuing the atrocities not only against the Muslim Rohingyas but also against all political opponents, United Nations officials warned recently.
Meanwhile, in Bangladesh, as the suspected human trafficking ring demonstrates, the Rohingya suffer. Entire families live in small shacks in 34 squalid camps with poor sanitation they cannot leave without a permit. Young women in refugee camps are forced to accept polygamy often with men three times their age – or older – or risk abuse at the hands of predators, reported the Daily Star, a local English-language newspaper.
There is little work – refugees are restricted from setting up businesses within the camps – and even fewer educational opportunities. In December, the government banned home-schooling and private education. More recently, they bulldozed 30 schools in the camps, where half of the residents are children like Noor, 13, who wants to become a doctor but now has nowhere to study or anything to do all day. "My dream ended in Class 6," he told the Economist.
While the Bangladesh government fears extremism developing in the schools and crime syndicates from Rohingya-run businesses, essentially it doesn't want these refugees getting too comfortable, the Economist added.
Still, Bangladeshis in Cox's Bazar have raised questions about Rohingya terrorists operating within the camps and orchestrating killings, kidnappings and other criminal activities that tend to occur alongside hate and violence, Radio Free Asia wrote. Bangladeshi police have also arrested members of the Arakan Rohingya Salvation Army, the rebel group fighting against Myanmar's central government, on charges of murder and other misdeeds.
For Bangladesh, one of the poorest countries in the world, the instability of a massive refugee population is yet another challenge to overcome alongside rising fuel prices and other supply shocks exerting a toll on the country's economy, Bloomberg noted.
Meanwhile, the refugees want to go home. Last month, tens of thousands of Rohingya refugees in Bangladesh staged demonstrations to demand repatriation to Myanmar.
"We don't want to stay in the camps," said Rohingya community leader Sayed Ullah said in a speech at one rally, as Al Jazeera reported. "Being refugees is not easy. It's hell."
Recently, Bangladesh asked China for help returning the refugees to Myanmar, the AP reported. But previous repatriation attempts have failed with Rohingya refusing to go home until Myanmar gives the largely Muslim minority guarantees of rights and security.
With the perpetrators of their persecution now in power, that's likely a long way off.
THE WORLD, BRIEFLY
I, Spy
GREECE
Greek authorities are investigating the wiretapping of a political leader's phone by the country's intelligence service, a burgeoning scandal that opposition parties have called the prime minister's "Watergate," Reuters reported.
Last week, Nikos Androulakis, the leader of Greece's socialist PASOK party and a member of the European Parliament, said that he had discovered that the National Security Services (EYP) had been listening in on his conversations from the previous year.
Government officials countered that the surveillance was legal and that Prime Minister Kyriakos Mitsotakis was told about it last week.
Mitsotakis, however, denies any knowledge of the wiretap. In a public address earlier this week, Mitsotakis said, "everything was done following the letter of the law but it was wrong." He added that if he had known about it, he "obviously would have never allowed it."
The prime minister, who leads a conservative government, also said his government will overhaul the EYP to make it more transparent even as the opposition remains unconvinced, Politico wrote.
Meanwhile, the scandal has already led to the resignation of the intelligence chief and a close aide of the prime minister.
Androulakis and other parties accused Mitsotakis of trying to "buy time," while demanding a reason for the surveillance.
President Katerina Sakellaropoulou and European Union officials also called for an investigation of the case.
Earlier this year, two Greek journalists filed similar complaints of being monitored by the EYP, the Washington Post noted.
The European Parliament in March decided to investigate the use of spyware such as Pegasus and Predator, including against citizens, officials and journalists in European Union member states.
Forgiveness, Divine
IVORY COAST
Ivory Coast President Alassane Ouattara pardoned former president Laurent Gbagbo, who faced a 20-year jail term after refusing to recognize his opponent's 2010 electoral victory and igniting a civil war, in an effort to promote reconciliation in the country, France24 reported
Ouattara said Saturday the decision is in "the interests of strengthening social cohesion," as he also ordered the release of two close associates of Gbagbo, former navy chief Vagba Faussignaux and a police commander, Jean-Noel Abehi, both imprisoned for their role in the post-election unrest.
The president also unfroze Gbagbo's bank accounts and restored his presidential pension.
One of the most controversial leaders in Ivory Coast's modern history, Gbagbo led the country from 2000 until 2010 when both he and Ouattara claimed victory in the 2010 presidential election, leading to a brief but brutal civil war that killed an estimated 3,000 people, VOA reported.
In early 2011, Gbagbo was arrested by pro-Ouattara troops, who extradited him to the International Criminal Court in The Hague to face charges of crimes against humanity. After an eight-year proceeding, Gbagbo was acquitted. He was, however, convicted in absentia of embezzling funds from the Ivorian central bank during the 2010-2011 unrest.
He returned to Ivory Coast in 2021 at Ouattara's invitation and launched a new political party.
Meanwhile, even though Ivory Coast has largely remained stable in the past decade, violence erupted in late 2020 after Ouattara said that he would run for a third term as president, a move that critics said violated term limits in the Ivorian constitution. The opposition boycotted the election, in 2020, and Ouattara was officially re-elected with ninety-five percent of the vote.
All Hands On Deck
AUSTRALIA
Australia's national carrier is asking its CEOs and other company leaders to help handle passengers' baggage in an effort to alleviate the pain from a severe labor shortage caused by the pandemic that has afflicted airlines worldwide and led to travel chaos around the globe, the Washington Post reported Tuesday.
Qantas released a memo this week asking executives and managers to volunteer over the next three months for baggage duty. Their new responsibilities would include sorting and scanning bags, transferring them from belt loaders onto the aircraft and even driving baggage-loading vehicles.
The volunteers will be asked to commit to "at least 12 to 18 hours over three shifts per week."
Qantas representatives explained that the decision comes over the airline's failure to meet "customers' expectations or the standards that we expect of ourselves."
For months, airlines and airports around the world have struggled from the aftershocks of the Covid-19 pandemic. The chaotic situation has led to tens of thousands of canceled flights and delays, a steep increase in lost luggage, and passenger caps on airports.
Observers said the issue stems from an industry-wide labor shortage caused by the airlines having underestimated the time it would take to scale up to meet travel demand after the pandemic shutdowns.
In 2020, Qantas laid off around 1,700 ground handlers and outsourced the work to cut costs. But Australia's labor watchdog ruled that the change was illegal. Qantas is appealing the decision.
UKRAINE, BRIEFLY
DISCOVERIES
Having a Ball
Ancient Egypt mummified its pharaohs to preserve their bodies for use in the afterlife.
The Maya civilization, meanwhile, turned the ashes of their rulers into rubber balls and used them to play sports, the Telegraph reported.
That was the conclusion of an archaeological team after discovering 400 urns containing ashes, coal, rubber and roots at the Sun Temple at the Toniná archaeological site in southern Mexico. Built between the seventh and eighth centuries CE, they believe the temple was used for cremations.
The team also came across a number of stone carvings depicting three Mayan rulers who died between 722 and 776 CE being taken to the "cave of the dead" for "transmutation."
This transmutation actually meant the ancient rulers' ashes were mixed with plant roots and rubber to make heavy balls used for pelota, a game that served as a sacred ritual in Mesoamerica for thousands of years.
Archaeologist Juan Yadeun Angulo also noted that the Toniná site has a well-preserved sunken ball court where the ancient Maya played the ritualistic sport.
"We have evidence they were incorporated into balls," he said.
Pelota has been around for about 3,000 years and was considered a focal point of ancient Maya cities, symbolizing wealth and power. The rules of the game are still unknown but essentially, the goal was to keep a roughly nine-pound rubber ball in play using the hips.
Some scholars suggested that the sport would end in human sacrifice.
Still, a modern version of the game – called ulama – is still played by some indigenous communities. It doesn't involve sacrifices.
Not already a subscriber?
If you would like to receive DailyChatter directly to your inbox each morning, subscribe below with a free two-week trial.
Support journalism that's independent, non-partisan, and fair.
If you are a student or faculty with a valid school email, you can sign up for a FREE student subscription or faculty subscription.
Questions? Write to us at hello@dailychatter.com.