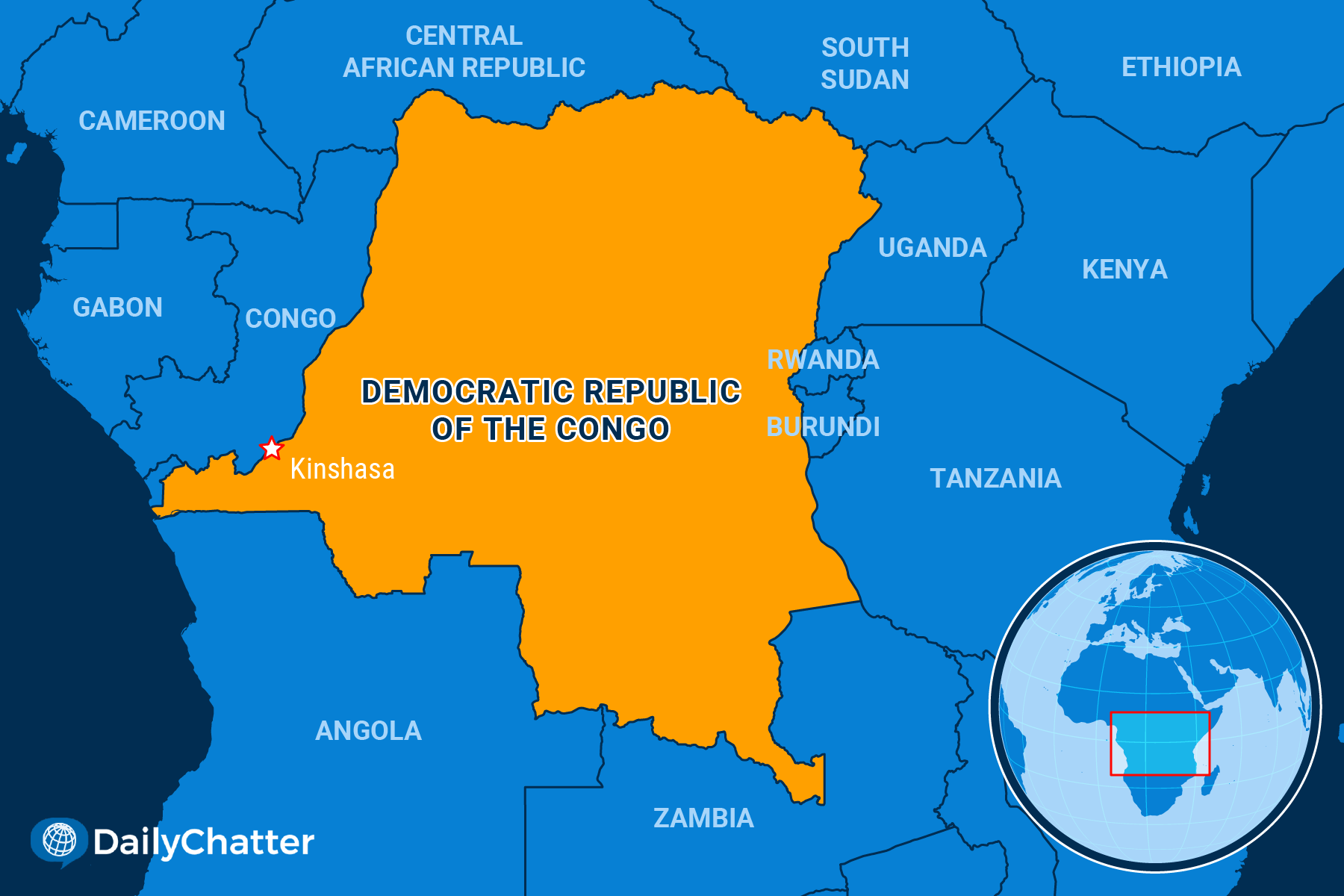 The World Today for July 28, 2022
Listen to Today's Edition
NEED TO KNOW
The Great War, Redux
DEMOCRATIC REPUBLIC OF THE CONGO
The Great African War, or the African World War, took place in what is now the Democratic Republic of the Congo from the late 1990s to the early 2000s. As many as six million people died from violence, disease and malnutrition, the BBC explained. The Rwandan Genocide, which resulted in the deaths of around 800,000 people, and Rwanda's intervention in Zaire, as Congo was then known, as well as a host of other countries, rebel forces, government factions and international troops participated in the fighting, as French historian Gerard Prunier has recounted.
The fighting never really fully stopped in Congo, however. Lately, it appears to be surging once again. As the New York Times explained, Congolese leaders claim that Rwanda is supporting M23, a rebel group that has been rampaging around the Congo, displacing more than 25,000 people. The rebels have left a humanitarian disaster in their wake.
M23 has controlled "swathes of territory" in Congo's eastern regions for the past decade. The group recently claimed that they had downed an army helicopter amid a new campaign against the central government in Kinshasa. "The army fled and the helicopter started to bomb us. So we fired on it and we got it," M23 spokesman Willy Ngoma told Reuters.
Named after peace accords signed on March 23, 2009, M23 was nearly eliminated by the Congolese army in 2013, the Guardian wrote. Now people like Joseph Semaska, who was 15 when M23 fighters kicked him and his parents out of their home in 2012, are running for their lives as the group again threatens them with violence.
Meanwhile, protests have broken out in Goma and other cities this week against the UN peacekeepers in the region, with demonstrators accusing peacekeepers of failing to protect them, or worse, Reuters reported. At least a dozen people including three members of the UN's forces have died in the violence.
Congo's neighbor to the east, Rwanda, denies that it is supporting M23 but Stratfor noted that Rwandan leaders are clearly behind militant groups in Congo to retain influence in the massive, resource-rich country. Tensions have almost bubbled over between the two countries more than once, too. In June, after a Rwandan police officer killed a Congolese soldier, for example, Congo closed its border. Rwanda claimed the soldier had injured Rwandan security forces.
Congolese President Felix Tshisekedi and Rwandan President Paul Kagame recently met in Angola and agreed to a ceasefire with M23. However, the group has escalated its campaigns, suggesting Rwanda is either dissembling or doesn't have as much control over the rebels as Kagame might think, Al Jazeera added.
Such unknowns are what death and destruction are made of.
THE WORLD, BRIEFLY
The Cover Up
IRAN
Iranian authorities began covering graves showing images of women without the mandatory headscarf (hijab), as the government intensifies its crackdown on how Iranian women can dress, Radio Free Europe reported.
Cemetery officials in the capital said that nearly 100 tombstones with photos of women without a hijab had been "corrected," as part of its efforts to enforce the so-called hijab law and an updated dress code in the wake of an executive order on July 5.
The new rules bar women from government offices, banks and public transportation if they are violating the new requirements. Iranian netizens have also posted on social media instances of Iran's infamous Guidance Patrols – or morality police – violently enforcing the rules, including detaining women.
Even so, women's rights advocates have launched the #no2hijab social media campaign to urge people to boycott companies enforcing tougher restrictions.
On July 12, activists posted videos of themselves publicly removing their scarves during Iran's National Day of Hijab and Chastity.
After the 1979 Islamic Revolution, the hijab became mandatory for Iranian women in public.
Over the years, many Iranian women have disobeyed the ban.
Not Innocent
LESOTHO
Lesotho prosecutors dropped all charges against former Prime Minister Thomas Thabane and his wife for their involvement in the 2017 murder of his estranged ex-wife in a case that shook the tiny, politically-unstable African nation, Agence France-Presse reported.
Officials said they dropped the case after they could no longer locate a key witness.
Police had accused Thabane and his current wife, Maesaiah, of paying hitmen to kill his previous wife, Lipolelo, in June 2017 – just two days before he was inaugurated as prime minister.
At the time, Thabane and Lipolelo were engaged in bitter divorce proceedings. Two months after her murder, he married Maesaiah.
The couple denied any involvement in the murder but the case caused a furor in the small kingdom. Thabane eventually resigned in May 2020 amid an ongoing investigation and internal pressure within his administration to step down.
Workers, Please
SPAIN
The Spanish government passed a bill this week that will relax requirements for undocumented migrant laborers in an effort to bring thousands of workers into the labor force and shore up understaffed sectors such as hospitality and farming, the Associated Press reported.
The new measure aims to reform the existing immigration law which officials had criticized as "often slow and inadequate," with high social and economic costs.
Under the new provisions, Spanish employers will face fewer difficulties in hiring workers, officials said.
For workers currently residing in Spain, the bill also eases the work permit requirements: Foreign workers residing in the country for at least two years can apply for temporary residence by participating in training programs for positions in high-demand industries.
Meanwhile, individuals who have worked without permission for at least six months and have resided in the country for more than two years can apply for work permits.
The government said that the changes will provide authorities with "better tools to tackle the challenges posed by migration." It is estimated that roughly 500,000 people work in Spain's underground economy.
UKRAINE, BRIEFLY
Ukraine said work has begun at three ports to create "green corridors" for grain exports, the BBC wrote. Officials announced that "caravans" of ships headed by Ukrainian Navy boats will cruise through the Black Sea after the routes are established.
Ukrainian forces destroyed a strategically important bridge Russia needed to supply its troops occupying the country's south, Euronews reported. The bridge is the principal crossing across the Dnieper River in the Kherson area. The only other alternative is a dam at the Kakhovka hydropower facility, which was targeted by Ukrainian troops last week but has remained open to traffic.
Ukrainian refugees in Poland will cost more than $5.3 billion, or close to one percent of the nation's gross domestic product, according to Bloomberg. Meanwhile, the United Nations Refugee Agency estimated that nearly 10 million people have fled Ukraine since Russia invaded its neighbor in late February.
DISCOVERIES
What Lies Beneath
Scottish art conservators have discovered a self-portrait of renowned artist Vincent van Gogh hidden under one of his paintings for more than a century, CNN reported.
The National Galleries of Scotland (NGS) said conservators came across the secret work after taking an X-ray of the artist's 1885 "Head of a Peasant Woman" work ahead of an upcoming exhibition.
"Moments like this are incredibly rare," said Frances Fowle, a senior curator at the NGS, in a statement. "We have discovered an unknown work by Vincent van Gogh, one of the most important and popular artists in the world."
NGS representatives said the concealed artwork was hidden at the back of the canvas, shielded by a sheet of cardboard. The discovery wasn't a complete surprise – Van Gogh was known to reuse canvases to save money.
The curators suggested that the self-portrait was created during a pivotal moment in the Dutch artist's career when he was exposed to the work of the French impressionists after moving to Paris.
They are unsure about the current condition of the self-portrait: To study it would require a very delicate extraction to avoid damaging the original painting.
If uncovered, however, it could shed new light on the tormented painter, who shot himself on July 27, 1890, and died two days later due to struggles with mental illness and financial difficulties.
The X-ray of the newly discovered portrait will go on display for the first time through a specially designed lightbox at the Royal Scottish Academy's "A Taste for Impressionism" exhibition, which runs from July 30 to Nov. 13 in Edinburgh.
Not already a subscriber?
If you would like to receive DailyChatter directly to your inbox each morning, subscribe below with a free two-week trial.
Support journalism that's independent, non-partisan, and fair.
If you are a student or faculty with a valid school email, you can sign up for a FREE student subscription or faculty subscription.
Questions? Write to us at hello@dailychatter.com.