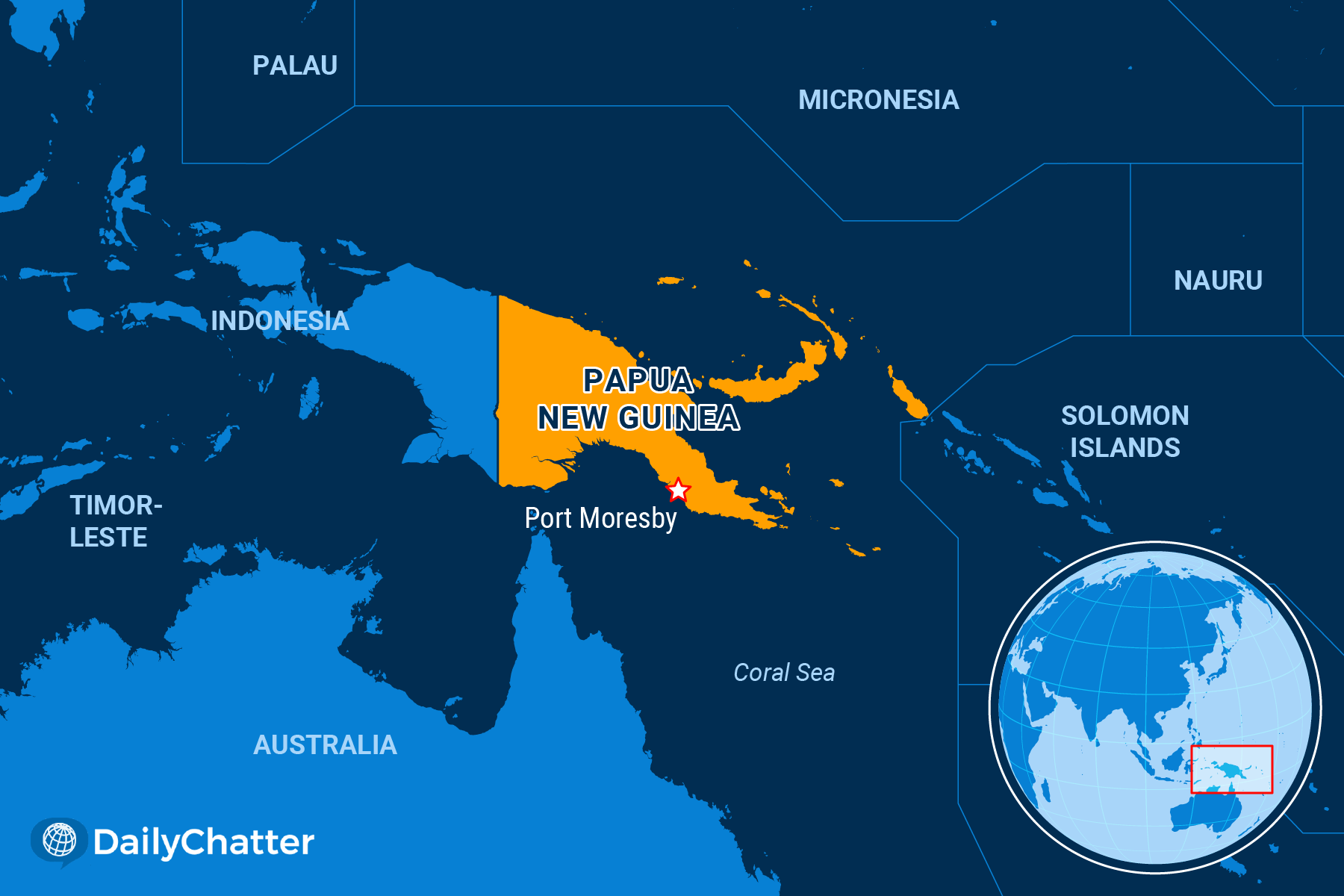 The World Today for July 15, 2022
Listen to Today's Edition
NEED TO KNOW
Crimes, Public and Domestic
PAPUA NEW GUINEA
Police in Papua New Guinea recently detained the son of the country's prime minister and some construction company executives as they were traveling to a province where parliamentary elections were about to start. The executives were carrying around $440,000 in cash in a suitcase. All were later released without being charged.
Authorities appear to have suspected the men of intending to use the cash to pay off voters. The executives denied those allegations. Meanwhile, Prime Minister James Marape denied that the money was connected to his son.
"He was not part of the team that was carrying the money," Marape told the Guardian. "It was a complete isolated matter from another person who was transporting the money who happened to be director of the company. Nothing to do with me. My son had no input in the transportation of the money. He was in the vicinity."
The incident highlighted the tensions surrounding elections in the southwestern Pacific nation. As the Associated Press explained, bribery, fraud and violence, are common in the country's elections. In the ballot being held this year from July 4 to July 22, Marape is facing his predecessor, Peter O'Neill, whose government fell in 2019.
Meanwhile, importantly, women might return to parliament after an absence of five years. Only seven women have served as parliamentarians since the country's independence from Britain in 1975. That political history coincides with the high rates of domestic violence.
More than two-thirds of women in Papua New Guinea have experienced physical, sexual or emotional violence from their spouses, reported the SBS, an Australian state-supported news service. Seventy percent of men and women believed men could justifiably beat their wives for burning food, arguing or similar supposed transgressions.
Women are understandably happy to have a good chance of increasing their numbers in the country's legislature.  Among the almost 3,500 candidates running for office, 142 are women. "A lot of us really feel like we stand a great chance," parliamentary candidate Sylvia Pascoe said in an interview with Agence France-Presse. "Not just because the timing is right but because we've spent our lives building up to this moment."
Many female candidates are running on platforms that promise to clean up government and invest in infrastructure, noting that healthcare and education are crumbling in the country alongside its dilapidated roads and bridges, Radio New Zealand wrote.
There's nothing wrong with cleaning house and focusing on domestic concerns sometimes.
THE WORLD, BRIEFLY
Old Friends
ISRAEL
Israel and the United States signed a joint pledge Thursday to deny Iran nuclear weapons, a move that comes as President Joe Biden visits the Middle East in an effort to boost ties with allies in the region, Reuters reported.
The "Jerusalem Declaration" – signed by Biden and Israeli Prime Minister Yair Lapid – is a show of unity among the two allies who have long been divided over diplomacy with Iran.
The two leaders proclaimed that Iran will never get nuclear weapons, adding that the US is ready "to use all elements of its national power to ensure that outcome." The declaration also further committed the traditional allies to cooperate on defense projects, such as laser interceptors.
During the visit, Biden also reiterated the US' "iron-clad commitment" to Israel's security.
Iran did not comment on the declaration.
The recent pledge comes as both Iran, the US and world powers are working to revive the 2015 nuclear deal that put a cap on Tehran's nuclear projects with bomb-making potential in return for ending international sanctions.
The Trump administration withdrew from the deal in 2018, saying the pact was insufficient. It reimposed sanctions. Since then, Iran has increased some of its nuclear capabilities and has rejected proposals for a new deal with tougher provisions.
Observers noted that the declaration in Israel could provide a boost for Biden as he visits Saudi Arabia on Friday, a trip that has been condemned by many in the US and elsewhere because of Saudi Arabia's record on human rights and its involvement in the killing of Washington Post columnist Jamal Khashoggi. Still, the kingdom has its own concerns about Iran, which Biden aims to channel into a Saudi-Israeli rapprochement under US auspices.
Even so, some Israeli and Gulf Arab officials believe that sanctions relief from the nuclear deal will give Iran significantly more money to sustain proxy troops in Lebanon, Syria, Yemen and Iraq. They are also wary of the Biden administration's ability to confront Iran's regional actions.
Spiraling
SRI LANKA
President Gotabaya Rajapaksa resigned Thursday after being forced to flee the island because of a civilian uproar over the collapsing economy, Nikkei Asia reported.
Earlier this week, Rajapaksa announced he would resign Wednesday after thousands of protesters breached his residence over the weekend in protests against the country's ailing economy. But he kept the country waiting until Thursday from exile in Singapore.
Rajapaksa had initially fled to the Maldives and appointed Prime Minister Ranil Wickremesinghe – who also had vowed to step down – as acting president.
Meanwhile, Wickremesinghe issued emergency regulations that give him sweeping powers, including calling in troops to "handle" protesters. He has also ordered a curfew and authorized soldiers to use "necessary force" to prevent the destruction of property.
Analysts fear that his reaction will plunge the country into anarchy, 13 years after the country ended its devastating civil war.
Sri Lanka has been plagued by demonstrations, sometimes violent, for months, as the result of an economic meltdown: In May, the island nation defaulted on its foreign debt for the first time in its history. With dwindling foreign reserves, the country is unable to import fuel, food and other essentials.
Protesters have accused Rajapaksa of mishandling the country's economy. They are demanding the resignation of both Rajapaksa and Wickremesinghe and the creation of an interim all-party government.
Observers noted that Rajapaksa's delay could be a ploy to avoid accountability and secure a "guarantee of non-prosecution" before he gives up his immunity as head of state.
Meanwhile, Sri Lankan officials said that Wickremesinghe will be sworn in as interim president and hold the role until parliament holds a vote next week – a process that can take seven days, according to the Guardian.
Parliament will now reconvene Saturday to begin the process of forming a new all-party "unity" government.
The Few Polluters
WORLD
A new study found that greenhouse emissions from the United States and China have each caused global economic losses of more than $1.8 trillion from 1990 to 2014, a report that links specific countries' emissions to the economic impacts of climate change in other nations, CNBC reported.
The Dartmouth College report said a few top emitter countries are causing significant economic losses for poorer nations that are more vulnerable to global warming. The findings showed that only five nations were responsible for $6 trillion in global economic losses through warming during the 24-year period.
Apart from China and the US, Russia, India and Brazil individually caused losses beyond $500 billion each during the same period.
Researchers noted that climate change has cost countries money by diminishing agricultural yields, lowering worker productivity and cutting industrial production.
Specifically, the study showed that countries that experience economic losses from US emissions have warmer temperatures and are poorer than the global average. Many of them are in the global South and the tropics.
For example, Mexico saw economic losses of nearly $80 billion between 1990 and 2014 because of emissions generated by the US.
On the other hand, nations in the North or middle latitudes – generally wealthy and with cooler temperatures – have benefited from these emissions.
The impact of climate change is also unequally distributed, with the top 10 emitting nations accounting for more than two-thirds of worldwide losses.
The authors explained that the results confirm "there is a scientific basis for climate liability claims," noting that they have "quantified each nation's culpability for historical temperature-driven income changes in every other country."
Although most climate-related lawsuits have targeted oil and gas companies, a number of countries have been demanding compensation from wealthier nations for the "loss and damage" caused by climate-changing emissions.
UKRAINE, BRIEFLY
DISCOVERIES
A Genetic Tragedy
English bulldogs are considered an icon in the United Kingdom.
Known for their wrinkly, gruff face and short stature, the BBC has described the animal as a symbol of "pluck and determination."
But despite their importance to British culture, the canine species are an unhealthy bunch and more prone to developing a myriad of health problems than other breeds, according to Gizmodo.
A research team recently analyzed medical data from more than 2,600 English bulldogs and compared them with the records of 22,000 non-bulldogs.
For their study, the team looked for the presence of more than 40 common disorders and found that overall, English bulldogs were twice as likely to be diagnosed with at least one of these disorders annually than non-bulldogs.
For example, bulldogs were about 38 times more likely to develop skin fold dermatitis, which is the inflammation in the pockets of a dog's wrinkles that often leads to infection.
Researchers added that these conditions were shortening the lifespan of the dog species.
Previous findings have also highlighted the creature's poor health, while other studies have also discovered a greater prevalence of problems for brachycephalic breeds, which include English and French bulldogs, pugs and Boston terriers.
The authors noted that their study aims to raise more awareness about changing the breeding practices of brachycephalic dogs and breed them more responsibly.
"The power to ensure in the future that we can have dogs that we call English Bulldogs while these dogs still have good welfare lies heavily in the hands of the public," said lead author Dan O'Neill.
Not already a subscriber?
If you would like to receive DailyChatter directly to your inbox each morning, subscribe below with a free two-week trial.
Support journalism that's independent, non-partisan, and fair.
If you are a student or faculty with a valid school email, you can sign up for a FREE student subscription or faculty subscription.
Questions? Write to us at hello@dailychatter.com.