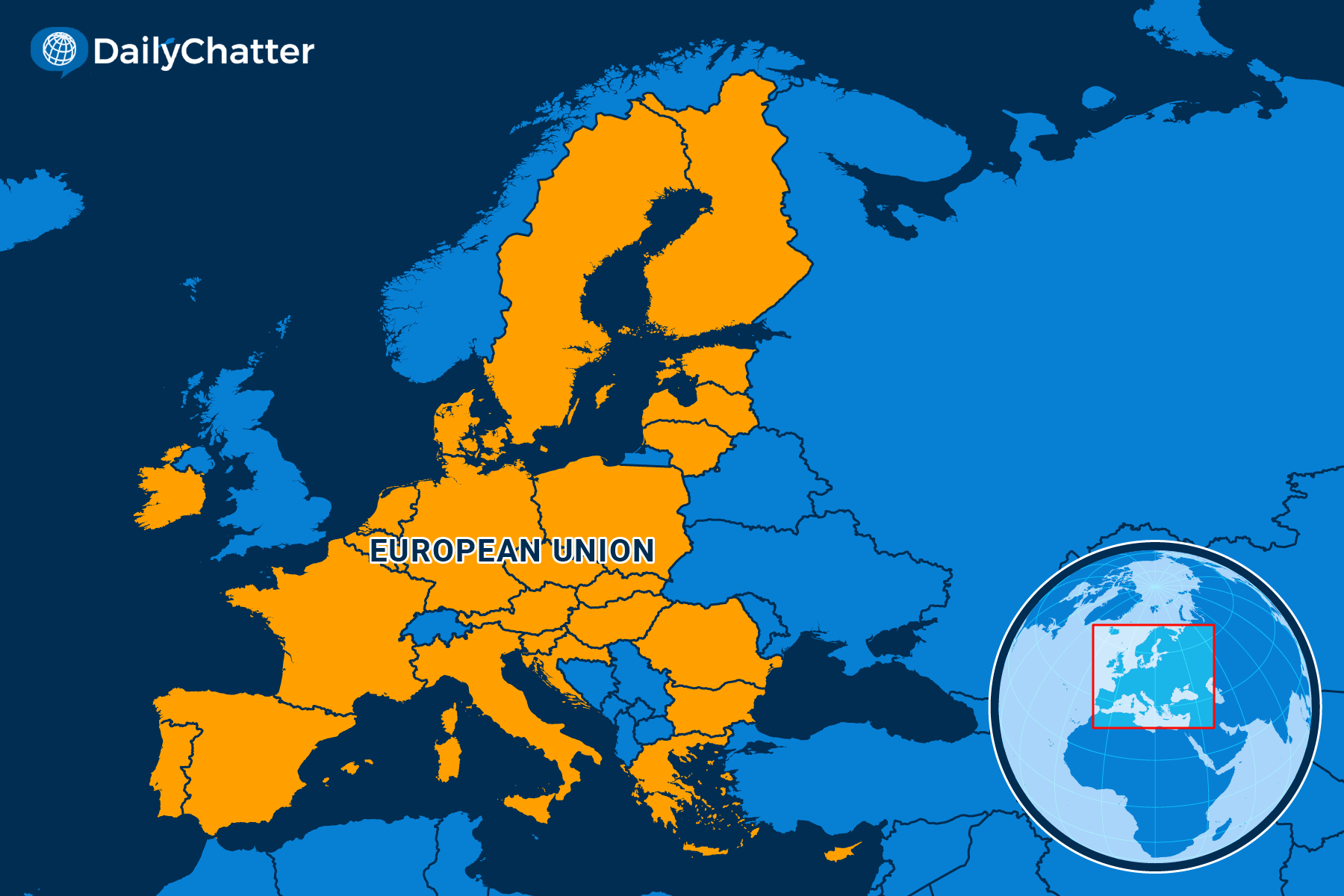 The World Today for July 08, 2022
Listen to Today's Edition
NEED TO KNOW
RSVP, Please
EUROPEAN UNION
Russia's invasion of Ukraine has already resulted in proposals to expand NATO. Now, in a move to counter Russian threats, the European Union might also add Ukraine, Moldova and, eventually, Georgia, three former Soviet republics where Russian President Vladimir Putin has long sought to increase his political and military influence.
The European Commission's press release on the invitations included a litany of Russian war crimes and human rights violations, from imprisoning civilians to weaponizing food exports.
"There can be no better sign of hope for the citizens of Ukraine, Moldova and Georgia in these troubled times," European Commission President Ursula von der Leyen told Radio Free Europe and other news outlets after announcing the invitations. "I am deeply convinced that our decision …strengthens us all. It strengthens Ukraine, Moldova, and Georgia in the face of Russian aggression."
The development is a success for Ukrainian President Volodymyr Zelenskyy, who put European leaders in a geopolitical pickle when he applied for EU membership, forcing them to either accept or reject the pleas of a war-torn nation to join the world's largest bloc of industrialized democracies, Foreign Policy magazine reported.
Speaking on Ukrainian television after the announcement, Zelenskyy triumphantly said the invitation was an example of Ukrainians winning their struggle for freedom and self-determination, Voice of America added.
Looking for thoughtful, independent coverage of US political news? Try Tangle.
DailyChatter only reports news from around the globe, so we look to our colleagues at Tangle to help us discern what's happening in the complex world of US politics. Tangle is a daily newsletter that covers political news in the United States with the same kind of balance and neutrality we strive for in covering the rest of the world. It's a rare breed – news that's read and trusted by a wide range of people from across the political spectrum. Tangle's rational, reasoned, and nuanced coverage earns media bias ratings that are always in the center which makes the Tangle newsletter a highly valued resource for many, including us.
Try it for free. Plus, get 20% off your Tangle membership with the Black Friday deal they are running this week.
Writing in the National Interest, Atlantic Council Nonresident Fellow Mark Temnycky also noted that the move illustrates how Western European leaders have a more diverse notion of what Europe represents as the bloc expands into more former Communist, Orthodox Christian countries.
Russian officials said the EU's move reflects how the bloc is hostile to Russia's interests, Reuters reported. They predicted more, not less, geopolitical instability in Eastern Europe as the EU bumps up against Russia's borders.
Ascension into the EU can take years, however, highlighting how the Russians might be exaggerating their opposition and how Ukraine, Moldova and especially Georgia's politics and economies are vastly different than those in Western Europe, Deutsche Welle wrote. EU leaders told Georgia, for example, that they would have to curb corruption before they could be formally invited. Oligarchs control much of the country's political system, overseeing "fraud, intimidation, vote-buying, cronyism and police harassment," according to Euronews.
Frederick Kempe, president of the Atlantic Council, warned in a CNBC editorial that fast-changing conditions could also short-circuit Ukraine and Moldova's applications.
For now, however, people are celebrating. Hopefully, their joy is not misplaced.
THE WORLD, BRIEFLY
Party's Over
UNITED KINGDOM
British Prime Minister Boris Johnson stepped down as leader of the Conservative Party on Thursday but will remain in office until his successor is chosen, a move underscoring the tremendous pressure on Johnson to resign amid a series of scandals and resignations in his cabinet, the Washington Post reported.
Johnson's announcement came a day after two of his key cabinet members, Health Secretary Sajid Javid and Chancellor Rishi Sunak, resigned over scandals that have gripped the government.
Soon after their resignation, at least 59 other officials followed suit, while urging Johnson to resign, Axios wrote.
Johnson has been facing calls to step down since a scandal broke over lockdown-breaching parties held in government offices, including his office and residence, during the coronavirus pandemic in 2020. The prime minister had apologized but refused to step down.
The last straw was the discovery that Johnson had appointed Conservative lawmaker Chris Pincher to his cabinet despite being aware of past sexual misconduct allegations against him. Pincher stepped down last week after additional claims were made against him.
Following the wave of resignations, the embattled leader said he appointed new cabinet members that would temporarily serve until a new prime minister is appointed. There will be no general election.
He also spoke briefly to the people of Ukraine, where he is extremely popular because of his backing for arms transfers, and pledged that support would continue under his successor.
Despite his announcement to leave, some former allies and opposition politicians said Johnson was stalling for time and called on him to step down immediately.
The process to pick a new prime minister will take weeks. According to a YouGov poll released on Thursday, Defense Secretary Ben Wallace is the Conservative Party's favorite. Others mentioned included Sunak and Foreign Secretary Liz Truss.
Church Versus State
NICARAGUA
Nicaragua expelled nuns from the order founded by Mother Teresa this week after stripping the organization of its legal status, the latest group to be shut down by the government of authoritarian President Daniel Ortega, the BBC reported Thursday.
Authorities escorted the 18 nuns from the Missionaries of Charity to the border with neighboring Costa Rica. The nuns later crossed the border on foot.
Since 1988, the Missionaries of Charity had been helping the poor in the country and ran a number of homes, including one for abused and abandoned girls.
But last month, the Nicaraguan legislature – primarily controlled by Ortega's Sandinista party – stripped the organization of its legal status for "not meeting its obligations" to declare the origins of its funds.
Since 2018, Ortega's government has shut down more than 200 organizations in the country for allegedly violating strict new funding laws. Among those affected is the renowned Nicaraguan Academy of Language, as well as a medical organization that performs cleft palate surgery on children.
But the closure of the order also underscores an ongoing spat between Ortega and the Catholic Church: In 2018, the Catholic clergy sheltered students against Ortega's regime during mass anti-government protests.
A year later, Silvio Báez, the outspoken auxiliary bishop of Managua, fled the country after receiving death threats. In March, Nicaragua expelled the Apostolic Nuncio – the Church's equivalent to an ambassador – in a move the Vatican called an "unjustified unilateral measure".
Ortega has accused the Catholic clergy of being "coup mongers" and "devils in cassocks."
'God's Clock'
MEXICO
Mexican President Andrés Manuel López Obrador submitted a bill this week that would end daylight savings time in Mexico, a move that some economists warned could cause market disruptions, the Associated Press reported.
The bill would put an end to the practice of changing clocks twice a year: This year, Mexicans set their clocks ahead on April 3 and will set them back by the end of October. If the bill is approved, the changes would occur next year.
Officials said that Mexico should return to "God's clock," or standard time, explaining that the time shifts damage people's health.
The shift would imply that central Mexican time, which covers the majority of the country, could be two hours behind the east coast of the United States permanently – it is currently one hour behind for most of the year.
Still, López Obrador said that he is considering keeping daylight savings time for some northern border states.
Analysts said the energy-saving impact of the law will be minimal but cautioned that going back to standard time could cause trouble for Mexican financial markets by putting American east coast markets so far ahead.
UKRAINE, BRIEFLY
DISCOVERIES
Crisscrossing the Catwalk
Scientists in Australia recently discovered a strange "fluffy" crab that wears sea sponges as hats, the Guardian reported.
Named after the HMS Beagle ship that carried Charles Darwin around the world, the Lamarckdromia beagle was initially found by a family off the coast of Western Australia.
A research team closely inspected the crustacean and compared it to other species in Western Australia Museum's collection. They determined that L. beagle was a completely new species that is part of the Dromiidae family, commonly known as sponge crabs.
The team explained that Dromiidae uses sea sponges and ascidians – animals including sea squirts – for protection. The crabs use their claws to trim the sea creatures and wear them as hats.
"The sponge or ascidian just keeps growing and will mold to the shape of the crab's back," said co-author Andrew Hosie. "It will never attach … it forms a nice cap that fits quite snugly to the top of the crab."
The special cap camouflages the crabs and can also produce "very noxious" chemicals to deter predators.
In the case of the L. beagle, researchers noted that the creature already had some hair – fluff – on its legs that provides extra camouflage.
However, they couldn't determine why the crabs were fluffy and the purpose of the follicles.
The fluffy crab, along with other new species, was reported in a study published in the journal Zootaxa, which identified 31 species of sponge crab known to be found in Western Australian seas. Check out this creature here.
Not already a subscriber?
If you would like to receive DailyChatter directly to your inbox each morning, subscribe below with a free two-week trial.
Support journalism that's independent, non-partisan, and fair.
If you are a student or faculty with a valid school email, you can sign up for a FREE student subscription or faculty subscription.
Questions? Write to us at hello@dailychatter.com.