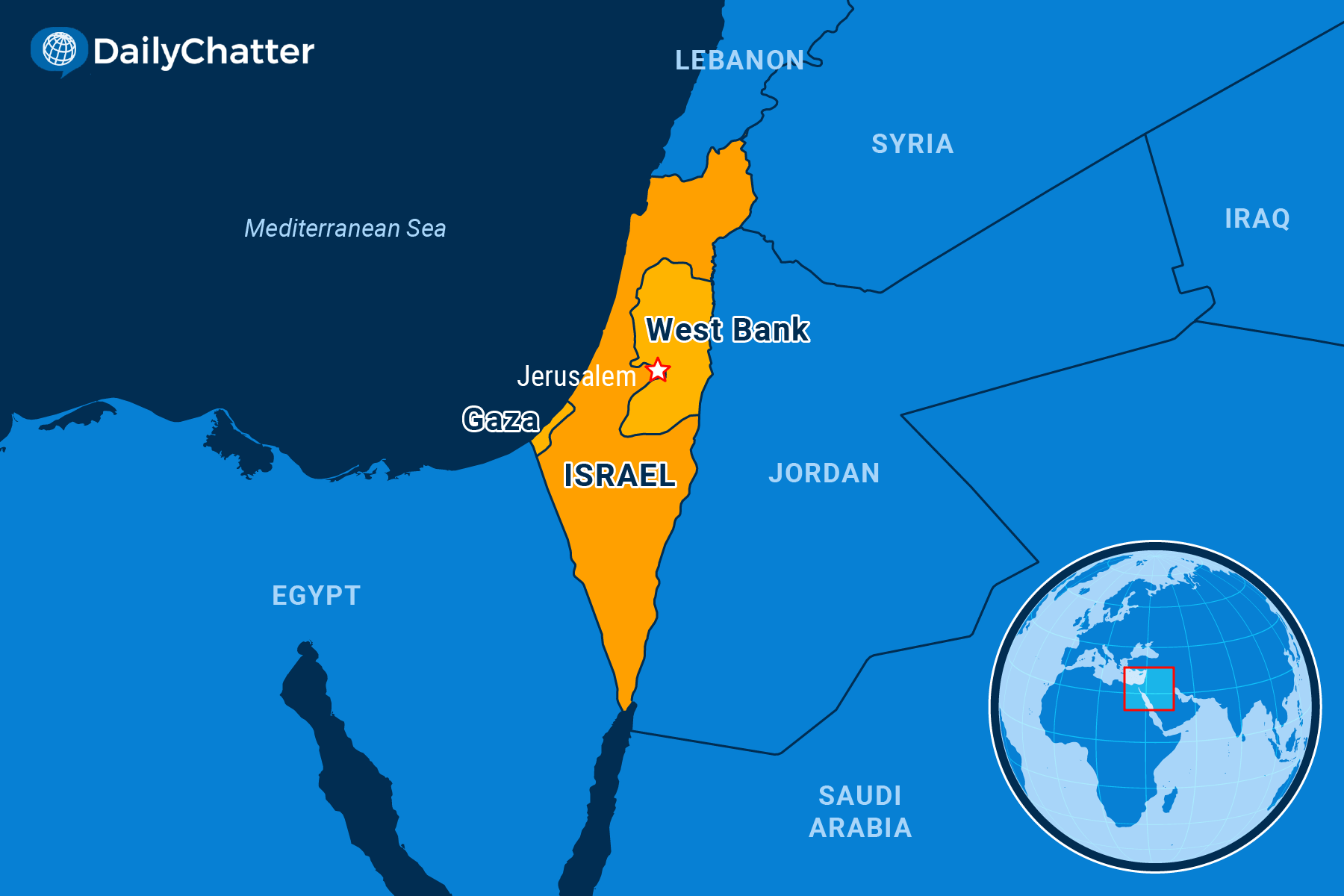 The World Today for July 05, 2022
Listen to Today's Edition
NEED TO KNOW
Pride and Politics
ISRAEL
Israel is set to hold its fifth election in less than four years, a surfeit of democracy that is not likely to result in much change unless you are former Prime Minister Benjamin Netanyahu.
Netanyahu was Israel's longest-serving leader, the BBC explained. He won four elections and held the premiership a total of five times between 2009 and last year on pledges to protect Israel from hostile Palestinians, Arab neighbors, Islamic terrorists, Iran and others. Liberal opposition groups unseated him only after he was charged with corruption. He is on trial. Litigation is expected to take years.
But he has been preparing to run again for the past year.
"A government that depended on terror supporters, which abandoned the personal security of the citizens of Israel, that raised the cost of living to unheard-of heights, that imposed unnecessary taxes, that endangered our Jewish entity. This government is going home," Netanyahu said in a video posted on Twitter, reported the Washington Post.
The coalition of Prime Minister Naftali Bennett includes so-called "dovish" politicians who support a two-state solution with the Palestinians and an Arab political party that was the first to join an Israeli government, the Associated Press wrote. Bennett dissolved parliament because of fractures in that coalition over Israel's occupation of Palestine and related issues, Deutsch Welle added.
Netanyahu, meanwhile, has promised to "return national pride to the citizens of Israel."
Polls indicate that the lion's share of Israeli voters will cast the same ballots as they have in previous elections, leading to another deadlocked parliament where coalitions will jockey for power, wrote Foreign Policy magazine. Netanyahu hopes to capitalize on the chaos and political wheeling and dealing to come out on top. He still ran the government, after all, when he couldn't assemble a majority of seats between 2019 and 2021.
Israeli Foreign Minister Yair Lapid has been tapped to replace Bennett. He has been working on his national security bona fides. Recently, Politico wrote, he chastised European diplomats who met with Iranian officials in Tehran to revive talks over a nuclear deal, for example.
Bennett and Lapid's coalition has seen numerous defections in recent months, argued journalist Chris Mitchell in a Christian Broadcast Network op-ed. Netanyahu can surely pick up a few of them to become allies, especially if he plays up his opposition to Iran and other enemies. Journalist Daniel Williams added that Bennett and Lapid have failed to come up with a new plan to bring peace to Palestine, either. They can offer no alternative to Netanyahu's hardline stance against a Palestinian state.
A sixth election might already be a done deal.
THE WORLD, BRIEFLY
The Straw and the Camel
UZBEKISTAN
At least 18 people died and more than 240 others were injured during clashes between protesters and security forces in the northwestern Uzbek province of Karakalpakstan, a rare outbreak of unrest in the repressive Central Asian nation over autonomy, Al Jazeera reported Monday.
Officials said they detained more than 500 people and declared a state of emergency in the autonomous province.
The unrest began over proposed constitutional changes that would have altered the status of Karakalpakstan, a region home to the ethnic Karakalpaks, a minority group whose language is closer to Kazakh than Uzbek.
The changes would have stripped the province of its autonomy and right to secede from Uzbekistan.
President Shavkat Mirziyoyev dropped the proposed amendments Saturday, a day after demonstrators tried to seize local government buildings in the region.
The clashes mark the worst bout of violence in Uzbekistan in nearly 20 years. Analysts noted that protests are very rare in the tightly-controlled former Soviet republic.
Opposition parties condemned the use of lethal force against demonstrators and warned that the situation could escalate into an ethnic conflict between Uzbeks and Karakalpaks.
The Carrots and the Sticks
WEST AFRICA
West Africa's powerful regional bloc agreed to lift sanctions against Mali's military junta and accept Burkina Faso's proposal to transition back to civilian rule in two years, a turnaround that means significant progress in a region plagued by coups and insurgencies, Agence France-Presse reported.
Mali, Guinea and Burkina Faso saw coups between August 2020 and January 2022. Fearing the potential spread of takeovers and instability, the regional bloc Economic Community of West African States (ECOWAS) imposed a series of trade and other economic sanctions against the three countries.
But ECOWAS leaders agreed this week to lift the sanctions against Mali, saying the country had made "enormous progress" in its preparations for a transition to democratic rule. Last week, Mali's military government said it would hold a constitutional referendum and legislative election next year, followed by presidential polls in February 2024.
Earlier this year, the junta had proposed a plan to rule for five years but switched course after the bloc levied tough sanctions that exacerbated Mali's ailing economy.
Meanwhile, ECOWAS representatives approved Burkina Faso's two-year transition timeline. The Sahel country, currently handling a jihadist insurgency, experienced a military takeover in January.
Still, bloc officials noted that the situation remains more complex in Guinea, whose junta has refused an ECOWAS mediator and announced a 36-month transition, which African Union chairman and Senegalese President Macky Sall has described as "unthinkable."
Mea Culpa
THE NETHERLANDS
The Netherlands' central bank apologized for its role in the 19th-century slave trade, the latest show of regret in the country over its previous role in the trade of enslaved people, the Associated Press reported.
De Nederlandsche Bank acknowledged that it was involved in the transatlantic slave trade between 1814 and 1863. It added that it had compensated plantation owners and members of the bank's board when the Netherlands abolished slavery in 1863.
Bank President Klaas Knot expressed his apology "for these reprehensible facts" on July 1, the national day marking the Netherland's abolishment of slavery.
Following the apology, the central bank announced a number of measures, including increasing diversity and inclusivity in its ranks, as well as establishing a $5.2-million fund for programs aimed at minimizing "contemporary negative effects of nineteenth-century slavery."
Knot's announcement marks the latest apology by Dutch authorities and institutions over their role in the slave trade.
Last year, Amsterdam Mayor Femke Halsema issued a similar apology. In April, another Dutch bank, ABN AMRO, also apologized for its historic links to slavery in the 18th and 19th centuries.
UKRAINE, BRIEFLY
After taking control of nearby Luhansk, the region's governor warned that Russian soldiers are attempting to advance deeper into eastern Ukraine and take control of the entire Donetsk area, the Guardian reported. On Sunday evening, Ukraine's military leadership acknowledged that its soldiers had been forced to withdraw from Lysychansk, the final stronghold of Ukrainian resistance in Luhansk, and one of the two districts that make up the country's eastern industrial heartland of Donbas.
Australian Prime Minister Anthony Albanese announced a new aid package to Ukraine during a visit to the capital, Kyiv, according to the Washington Post. The Australian leader went to the surrounding towns of Bucha, Hostomel and Irpin, the sites of significant combat and also alleged atrocities against civilians committed by Russian forces in the early days of the conflict.
Leaders from dozens of countries and international organizations met Monday in the Swiss town of Lugano, where they aim to hash out a roadmap for Ukraine's reconstruction as Russia's war intensifies in the east of Ukraine, Radio Free Europe noted.
DISCOVERIES
A new study found that the brain automatically tries to acquire new knowledge irrespective of whether an individual is actively trying to learn, BBC's Science Focus reported.
In a new study, a research team designed a series of computer game experiments to test the latent learning abilities of participants.
In one experiment, participants played a game involving colorful imaginary creatures belonging to two categories, "flurps" and "jalets." Scientists, however, did not tell the volunteers that the creatures belonged to one of the categories based on features, such as hand or tail color.
The experiment then moved to the "explicit learning" phase, which saw researchers teaching participants how to identify the creatures and their categories. The results were then compared to those of a control group that had previously been instructed to play a game using a different set of fictitious creatures.
Lead author Layla Unger said the findings showed that volunteers who had early exposure to the categories could learn faster than those in the control group.
"Then when the explicit learning came, it was easier to attach a label to those distributions and form the categories," she noted.
The study is one of the few to provide experimental evidence that people can learn about things they have never encountered before – and are not actively trying to understand – by simply being exposed to them.
"It has been very difficult to diagnose when latent learning is occurring," said co-author Vladimir Sloutsky. "But this research was able to differentiate between latent learning and what people learn during explicit teaching."
Correction: In Monday's THE WORLD, BRIEFLY section, we said in "The Craters in a Country" item that Libya is plagued by "plunging poverty rates." We meant to say that it is suffering from "spiking poverty rates." We apologize for the error.
Not already a subscriber?
If you would like to receive DailyChatter directly to your inbox each morning, subscribe below with a free two-week trial.
Support journalism that's independent, non-partisan, and fair.
If you are a student or faculty with a valid school email, you can sign up for a FREE student subscription or faculty subscription.
Questions? Write to us at hello@dailychatter.com.