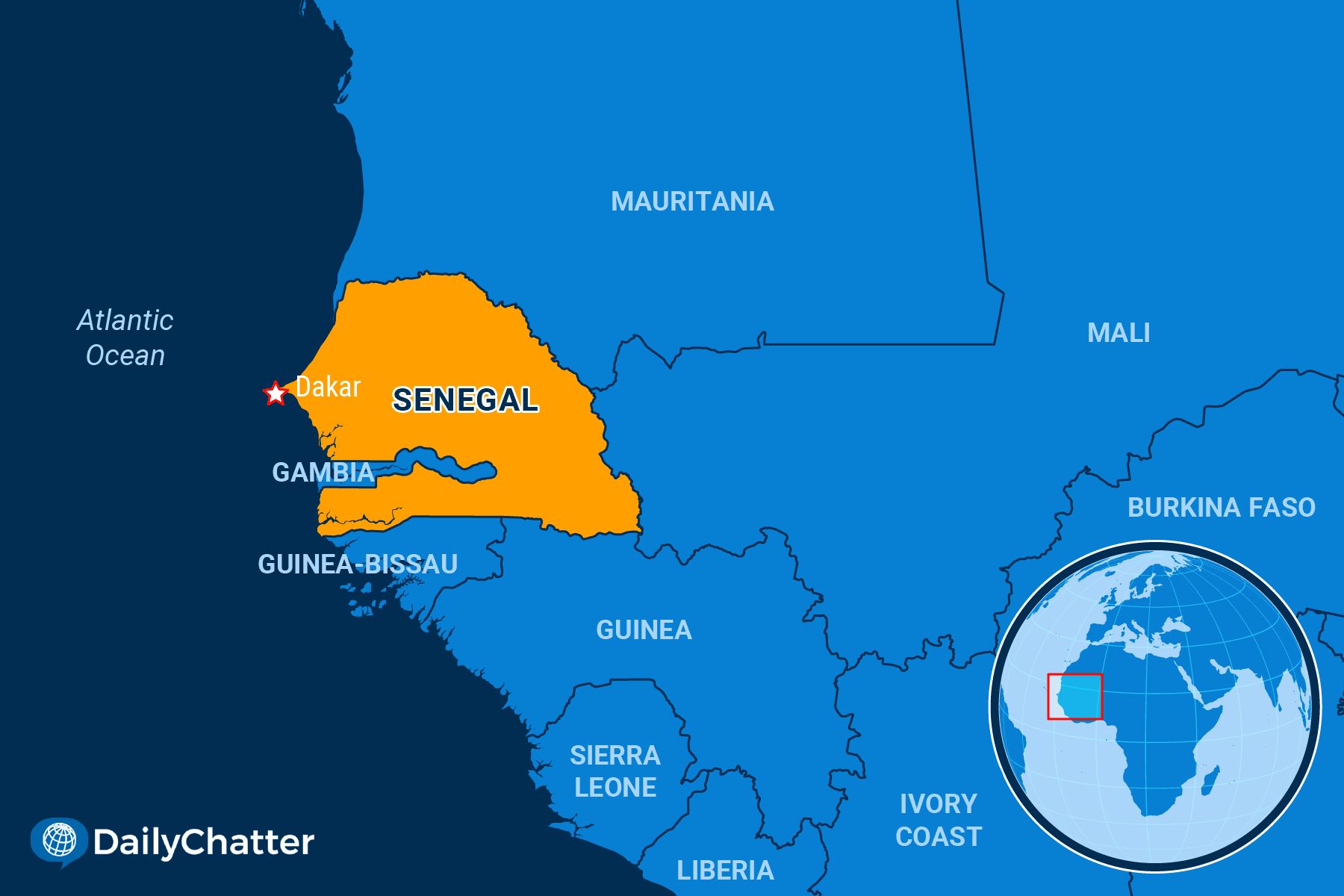 The World Today for July 04, 2022
Listen to Today's Edition
NEED TO KNOW
Make Some Noise
SENEGAL
The leader of Senegal's opposition, Yewwi Askan Wi, asked his fellow citizens to bang pots and pans in the streets to show their displeasure with the regime of President Macky Sall. The result was a lot of banging.
"I'm here to protest for justice," Ibrahima Soumare told Reuters during a demonstration as he struck two pot lids together. On one lid, he had written, "No to dictatorship." The other read, "Protesting is a constitutional right."
Since Sall banned the protests in the French-speaking West African country, as Agence France-Presse reported, police have cracked down on the demonstrators, using tear gas and water cannons on the crowds in Dakar, the capital. Three people were killed in the most recent round of protests.
Tensions in Senegal have been high since last year when the police arrested opposition leader Ousmane Sonko on rape charges that he has denied. But the tipping point, as Voice of America explained, came recently when Sall's administration disqualified opposition candidates from participating in the July 31 legislative elections. Critics say the moves were in line with corruption charges derailing the prospects of his political rivals in prior elections.
The saddest aspect of the state of affairs is that historically, Senegal has been an island of stability in Africa. The country's startup scene is growing, for example, wrote Quartz Africa.
That history has made bigger questions about the country's political future more urgent. Sall faces term limits that would require him to leave office in two years. He has not opted out of changing the law and remaining in power, a stance that many African leaders and others around the world have adopted in recent years. As the Brookings Institute noted, Sall assumed office in 2014 but was technically only supposed to serve one five-year term.
Voters are getting fed up with Sall's reluctance to leave and the chaos his choices are causing. For example, his political party, Benno Bokk Yaakaar, lost ground in recent municipal elections that were seen as a referendum on Sall's rule, as the Georgetown Journal of International Affairs wrote.
Sonko, meanwhile, has called for more protests. "Let the whole of Senegal rumble and let Macky Sall understand that the Senegalese people do not agree with his dictatorial designs or his ill-fated plan for a third term," he told Africanews.
The world will see whether or not Sall hears the banging on the wall.
THE WORLD, BRIEFLY
The Craters in a Country
LIBYA
Libyan protesters torched the parliament building in the eastern city of Tobruk over the weekend, vowing to continue the violence until all of the country's ruling elites resign from power, the Middle East Eye reported.
On Friday, thousands of people took to the streets across the country to protest the chronic power cuts, which have lengthened to 18 hours a day. But Friday's demonstrations soon evolved into a broad call to remove Libya's political leaders and call for new elections. The protest movement comes after months of political deadlock between Libya's eastern and western factions over the control of the government.
Stephanie Williams, head of the United Nations mission in Libya, said the demonstrations served as a rallying cry for the political elites to set aside their differences and organize elections.
The oil-rich nation has been plagued by spiking poverty rates, fuel shortages and instability since the violent ouster of autocrat Muammar Gaddafi in 2011.
Libya's warring sides ended their almost decade-long conflict in 2020 following an UN-led peace process that was to usher in new parliamentary and presidential elections in the country.
The long-awaited elections were scheduled for December 2021 but they never took place due to contentious candidacies and major disputes about the polls' legality.
The eastern-based parliament declared that Prime Minister Abdul Hamid Dbeibah's interim government in Tripoli was no longer valid and appointed Fathi Bashagha as his replacement. But Dbeibah has refused to relinquish power and has called on Libya's political leaders to quit and hold new elections following the protests.
Last week, UN-mediated negotiations in Geneva tried to resolve the impasse between opposing Libyan factions but failed to make a breakthrough.
When the Waste Blows
INDIA
India imposed a ban on single-use plastics over the weekend to combat worsening pollution in the world's second-most populous nation, Al Jazeera reported.
The government announced that the ban will include a variety of items, such as straws, cutlery, packaging film and cigarette packets.
In the first stage, officials labeled 19 plastic products as wasteful without being very useful. Under the new ban, these items will become illegal to produce, import or sell.
Still, thousands of other plastic products – including plastic bottles – are not covered by the ban. Even so, officials are urging manufacturers to recycle or dispose of those items properly.
Meanwhile, a number of Indian regions have imposed such regulations with varying degrees of success.
While environmental groups welcomed the decision, many plastic manufacturers warned that the ban did not give them enough time to prepare for the restrictions. Producers also feared that the timing of the restriction comes during a period of high inflation that could lead to unemployment.
The government responded that the nationwide ban has been in the works for a year.
Even so, questions remain about how and even if the ban will be enforced in India, which uses about 14 million tons of plastic annually and lacks an organized waste management system.
Plastic garbage has reached epidemic proportions in the oceans, according to the United Nations, with an estimated 100 million tons deposited there. Microplastics have been discovered in enormous quantities in the intestines of deep-sea creatures such as whales.
Waa
UNITED KINGDOM
British lawmakers should not bring their babies to parliamentary debates, according to a new report on the legislative body's rules amid calls by some legislators to change them, the Washington Post reported.
In the report, the procedure committee said the "long-standing practice" of keeping babies out during debates in the Parliament's lower house should remain in effect for lawmakers to "observe, initiate, speak or intervene in proceedings."
But the report acknowledged that legislators had brought babies into debates "without disruptions" in a number of instances since 2018. It added that the rules had not been fully clear, noting "a lack of awareness of the guidance."
The review of the rules comes a year after Labour lawmaker Stella Creasy was reprimanded for bringing her three-month-old son to a session. Creasy and her supporters called for a change in the regulations, which prompted the speaker of the lower house to request a review of the rules.
Following the review, Creasy criticized the conclusions, saying that the ban challenges efforts to permit "politics and parenting to mix."
Debates about amending parliamentary rules and conventions in regard to children have also taken place in other countries, as politicians grapple with how to make their workplaces friendlier to mothers, especially as politics have long been dominated by men.
In 2019, a Danish lawmaker was told she was "not welcome" after attempting to bring her baby into the parliamentary chamber. A year before, a German legislator was kicked out of a state parliament for bringing along her 6-week-old son.
Meanwhile, New Zealand Prime Minister Jacinda Ardern drew attention in 2018 when she brought her baby to the United Nations General Assembly.
UKRAINE, BRIEFLY
Russian assaults on civilian targets escalated rapidly in the second half of June, according to Ukrainian officials, with strikes involving older and less accurate weaponry from the Soviet times that result in more deaths, the New York Times wrote.
Russia took control of Ukraine's Luhansk area, one of two eastern regions targeted by Moscow's invasion of Ukraine, according to NPR. The announcement follows the withdrawal of Ukrainian forces from Lysychansk, an industrial city that had been the region's last major Ukrainian-controlled bastion. Meanwhile, Ukrainian President Volodymyr Zelenskyy said that more than 2,600 cities and towns remain under Russian occupation, the Hill added.
Belarusian President Alexander Lukashenko accused Ukraine of launching missiles against military installations on his country's territory, CNN reported. Lukashenko, a close supporter of Russian President Vladimir Putin, labeled the purported incident a "provocation" without providing any proof.
DISCOVERIES
Being a GOAT
Climate change has been causing strange weather phenomena around the globe, including severe heatwaves and catastrophic wildfires.
Firefighters can only do so much.
Enter goats: These sure-footed creatures have increasingly moved in, in various regions, to help prevent wildfires from getting out of control, the Washington Post reported.
Last month, a 10-acre wildfire slowed and fizzled out in the city of West Sacramento, California after 400 hungry goats had eaten the hard-to-reach underbrush surrounding a neighborhood of more than 250 homes.
Since 2014, the city has hired the animals to munch on flammable vegetation and create a firebreak to prevent the wildfires from spreading.
"They can get into places where mowers can't go, they eat all day without complaining and the fertilizer is free of charge," said city spokesman Paul Hosley.
West Sacramento is just one of the many municipalities and jurisdictions that have used the ruminants to clear the land of vegetation. The age-old practice, however, is seeing a surge elsewhere around the world in recent years, too, as wildfires are becoming more commonplace, National Geographic noted.
Many officials praise the mammals for their ability to eat anything, including toxic plants, and access difficult terrain. Others pointed out that their use makes sense in a period when water resources are shrinking – even as firefighters need these resources to fight the blazes.
But apart from their firefighting skills, the mammals are also helping the local ecosystem by munching through invasive plants and protecting the native vegetation.
It's official, goats are the GOAT – the Greatest of All Time.
COVID-19 Global Update
Total Cases Worldwide: 549,183,742
Total Deaths Worldwide: 6,339,114
Total Vaccinations Worldwide: 11,752,435,903
Countries with the highest number of confirmed cases worldwide as of 4 a.m. ET*
US: 87,843,561 (+1.25%)
India: 43,518,564 (+0.36%)
Brazil: 32,490,422 (+1.65%)
France: 31,410,383 (+2.53%)
Germany: 28,394,995 (+2.58%)
UK: 22,941,362 (+0.75%)
Italy: 18,768,871 (+3.86%)
South Korea: 18,395,864 (+0.45%)
Russia: 18,170,656 (+0.16%)
Turkey: 15,123,331 (+0.25%)
Source: Johns Hopkins University
*Numbers change over seven days
Not already a subscriber?
If you would like to receive DailyChatter directly to your inbox each morning, subscribe below with a free two-week trial.
Support journalism that's independent, non-partisan, and fair.
If you are a student or faculty with a valid school email, you can sign up for a FREE student subscription or faculty subscription.
Questions? Write to us at hello@dailychatter.com.