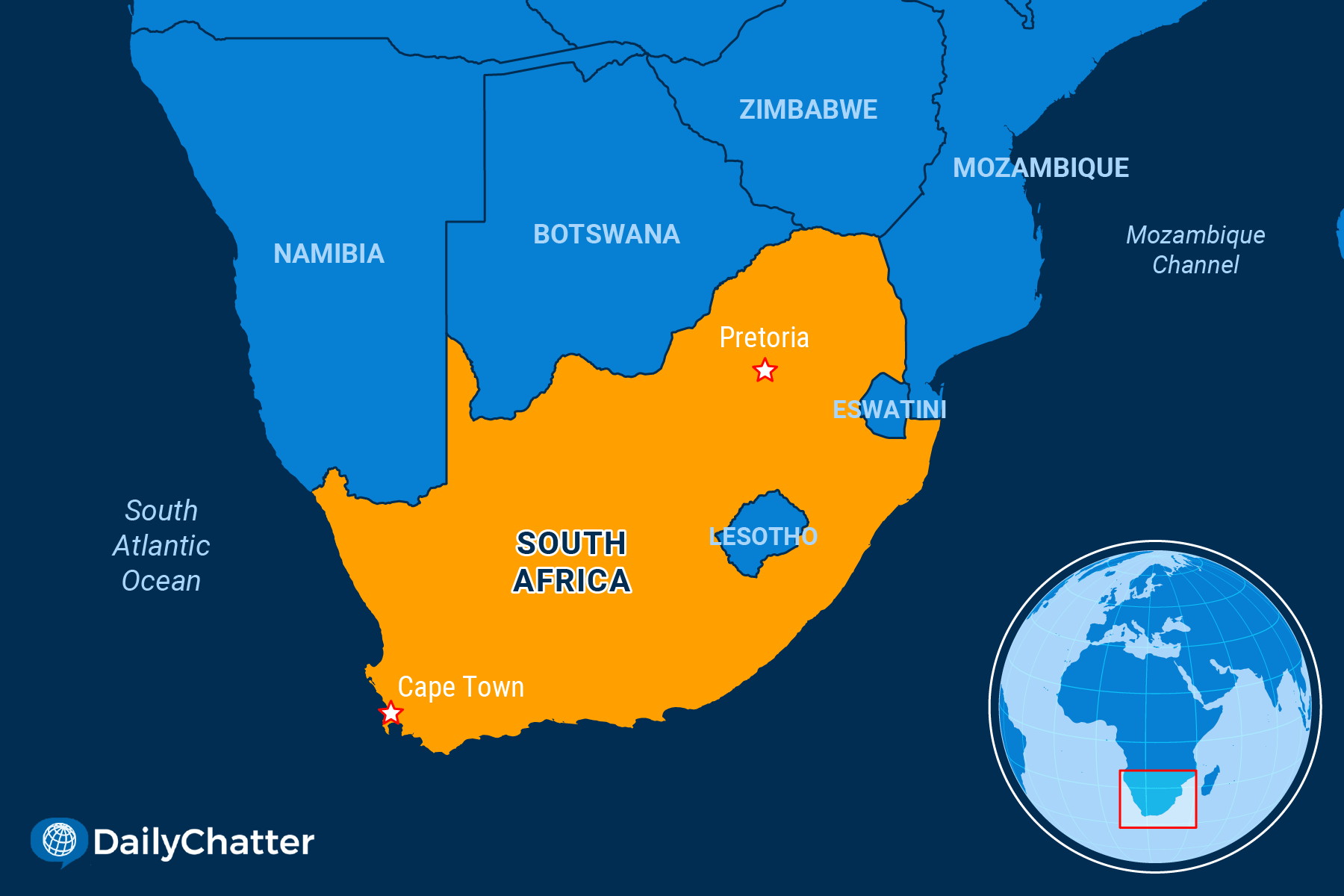 The World Today for June 21, 2022
Listen to Today's Edition
NEED TO KNOW
Country First
SOUTH AFRICA
At a recent demonstration against foreigners in South Africa, Mary Lowe said she was marching because an undocumented immigrant killed her nephew. "We are basically fighting against all the crime committed by foreigners who are illegally in the country," Lowe, a member of the anti-immigrant group Operation Dudula, which means "force out" in the Zulu language, told National Public Radio. "We've got our own criminals here. Our hands are already full."
Operation members conduct "blitzes" in neighborhoods where they suspect illegal immigrants might be residing or working, noted the Witness, a South Africa-based outlet. Grilling potential undocumented folks on the street, they apprehend them before bringing them to the police.
Immigrants don't necessarily commit more crimes than native-born South Africans, say critics. But violent crime, already historically high in South Africa relative to other countries, has spiked recently, Africanews wrote. In the first three months of 2022, murders rose by more than 20 percent, including a nearly 40 percent surge in child deaths, compared to last year. Kidnappings more than doubled. Sexual crimes increased by almost 14 percent.
Economic conditions aren't helping. As the South African publication BusinessTech explained, the country's gross domestic product had recouped what had been lost during the worst of the coronavirus pandemic. Ordinary South Africans, however, are nonetheless poorer. Recent growth hasn't trickled down.
Writing in the Conversation, University of the Western Cape Economist Johannes P S Sheefeni noted that "lackluster economic growth, growing inflation and very high unemployment" typify the South African economy.  Civil unrest and violence, unsurprisingly, are the result. He fears more trouble is on the way as Russia's invasion of Ukraine drives food and energy prices higher.
Xenophobia is not a new phenomenon in South Africa, the Washington Post added. In 2008, for example, attackers killed 62 suspected illegal residents in Johannesburg. At the foundation of these troubles, however, are South Africans' perceptions of their lot since the end of Apartheid in the early 1990s. Rather than inaugurating peace and prosperity, the end of White minority rule has undercut public safety and created economic precariousness.
Zimbabwe-born writer Ndaba Sibanda went further. In an opinion column in South Africa's Mail & Guardian, he argued that views originating in the colonial era when Britain and the Dutch ruled the region, are behind Operation Dudula. Why else would Black South Africans be condemning other Black Africans with whom they share cultural ties? The divisions sown in the 19th century when Europeans drew the region's borders on a map are still influencing people's minds today, he said.
Some South Africans have embraced this perspective, as the Christian Science Monitor showed.
Others still believe they'd be better off without some of their neighbors.
THE WORLD, BRIEFLY
Turning Left
COLOMBIA
Leftist Senator Gustavo Petro won Colombia's presidential elections Sunday, making him the first leftwing candidate and first former insurgent to be elected as president of the US' key ally in Latin America, the Wall Street Journal reported.
Petro secured slightly more than 50 percent of the vote against his rival, real estate mogul Rodolfo Hernández, who won about 47 percent of the vote. Meanwhile, Petro's running mate, human rights activist Francia Márquez, will become vice president, the first Black politician and the second woman to hold that post.
The president-elect had campaigned on a platform of battling inequality and poverty in the country, as it faces one of the world's highest levels of inequality, with poverty hovering around 40 percent from 35 percent in 2019.
He also vowed to end Colombia's reliance on oil and coal in favor of renewable energy sources. He also pledged to end the way the US-backed war on drugs has been carried out, saying that he will negotiate with drug cartels and rebel groups.
His victory underscores a significant leftist shift in the region: A number of major Latin American countries are currently led by anti-establishment leftwing leaders – some of whom have frosty relations with the United States.
While many voters expressed hope for their new leader, others – including business owners – raised concerns about the future of the country.
Analysts noted that Petro's energy policies could spook investors and lead to a rapid decline in oil production over the next five years.  At the same time, landholders remain skeptical of Petro's pledges not to expropriate any property.
Meanwhile, analysts said the president-elect will face an uphill battle in Congress, where his coalition of left-wing parties holds just 25 of the 188 seats of the lower house.
The Speed Bumps
FRANCE
French President Emmanuel Macron's centrist coalition lost its parliamentary majority following Sunday's legislative elections, a vote that could result in a difficult five-year term for the incumbent, Politico reported Monday.
The results showed that Macron's Ensemble alliance won 245 seats in the 577-seat lower house of parliament. Ensemble remains the largest bloc but the results are a far cry from the 345-seat majority it previously held – and short of the 285-seat threshold for an absolute majority.
Meanwhile, the leftwing coalition NUPES of far-left firebrand Jean-Luc Mélenchon received 131 seats to become the largest opposition party in parliament.
Meanwhile, the far-right National Rally took home 89 seats after it saw a surge of support even though the party's leader, Marine Le Pen, lost the April presidential elections to Macron – her third failed presidential bid.
The fragmented outcome has raised questions about whether Macron – despite being reelected – remained popular among voters. Analysts pointed out that such a result means that the young leader will face parliamentary deadlock when he tries to pass legislation, including a controversial bill to reform France's costly pensions system.
Mélenchon, a vocal opponent of Macron, called the results a sign of "a drubbing of the presidential party." He vowed NUPES would become a "combat tool" against the Macron coalition.
Political observers suggested that Macron might find allies in the conservative Les Républicains, which won 61 seats. Still, they noted that divisions within the conservative camp could result in unstable agreements and lengthy negotiations.
Some analysts speculated that the president would likely call snap polls within a year if he is unable to push through his reforms.
Suffer the Many
ETHIOPIA
Gunmen killed more than 200 people in Ethiopia's Oromia region this week as the country continues to grapple with rising ethnic tensions, the Associated Press reported.
Witnesses counted about 230 bodies, saying most of them were members of the ethnic Amhara community that moved to the region about three decades ago as the result of a resettlement program
Following the attack, the community is now trying to relocate "before another round of mass killings happen," according to witnesses.
Officials and witnesses blamed the Oromo Liberation Army for the slaughter but the rebel group denied the allegations. It countered that Ethiopian soldiers and local militias conducted the attacks on the local population "as retaliation for their perceived support for the OLA."
The recent massacre comes as Africa's second-most populous country faces rising ethnic tensions mainly fueled by historical grudges and political tensions. The Amhara people, Ethiopia's second-largest ethnic group, have been targeted frequently in regions like Oromia.
On Sunday, the government-appointed Ethiopian Human Rights Commission urged the federal government to find a "lasting solution" to the killing of civilians and to safeguard them from such attacks.
UKRAINE, BRIEFLY
A number of European Union nations are pressing to begin work on a fresh sanction package against Russia and Belarus for the invasion of Ukraine, as well as to provide more military help to Kyiv, according to Reuters. At the same time, EU Foreign Policy Chief Josep Borrell called Russia's blockade of millions of tons of Ukrainian grain a "real war crime," the BBC noted.
Russia has urged Lithuania to quickly lift new restrictions on transportation of Russian commodities subject to EU sanctions to the Russian exclave of Kaliningrad via Lithuanian territory, Radio Free Europe wrote. Lithuanian officials implemented the restrictions on June 20 in an effort to enforce punitive sanctions enacted in response to Russia's ongoing invasion of Ukraine.
China's imports of Russian crude oil reached a new high in May, as Chinese purchasers took advantage of lower prices after Beijing promised to maintain regular commercial relations with Moscow despite warnings from Western countries, the Washington Post added.
In order to keep the public focused on the crisis, Ukraine plans to send an exhibition of wrecked Russian military equipment on tour around Europe, Bloomberg reported. Since the invasion began in February, Ukraine claims Russia has lost 1,477 tanks and 3,588 armored vehicles. Some of the missiles, burned Russian tanks, and other military vehicles are presently on exhibit in Kyiv.
DISCOVERIES
Rocks of Life
Asteroids and comets around the galaxy could be holding the building blocks of life.
At least that seems the case with the Ryugu asteroid, located more than 200 million miles from the Earth, Live Science reported.
In a first-of-its-kind study, Japanese scientists discovered more than 20 amino acids on the diamond-shaped space rock, after studying samples taken from it.
In 2018, Japan's Hayabusa2 spacecraft landed on Ryugu and a year later collected about 0.2 ounces from the asteroid's surface and subsurface. The samples were stored in an airtight container and then sent back to Earth.
Researchers noted that the celestial body is a carbonaceous asteroid, which means that it contains a large amount of carbon-rich organic matter. This matter could have originated from the same nebula that gave birth to the sun and the planets of the solar system roughly 4.6 billion years ago.
The team described the samples as "the most primitive material in the solar system we have ever studied."
They added that amino acids are the fundamental building blocks of all proteins and integral for the existence of life on our planet.
Their presence in Ryugu and other primordial space rocks has scientists wondering whether some comets and asteroids – possibly all of them – could be carrying these life-building molecules.
Some suggested that the findings offer a clue that "life could have been born in more places in the universe than previously thought."
Meanwhile, NASA's OSIRIS-REx spacecraft collected a rock sample from the Bennu asteroid and are hoping to find more clues about the evolution of our solar system once they return to Earth next year.
COVID-19 Global Update
Total Cases Worldwide: 539,713,539
Total Deaths Worldwide: 6,320,329
Total Vaccinations Worldwide: 11,607,024,098
Countries with the highest number of confirmed cases worldwide as of 4 a.m. ET*
US: 86,297,081 (+0.06%)
India: 43,319,396 (+0.02%)
Brazil: 31,754,465 (+0.45%)
France: 30,381,221 (+0.34%)
Germany: 27,334,993 (+0.45%)
UK: 22,701,557 (+0.16%)
South Korea: 18,289,373 (+0.05%)
Russia: 18,132,261 (+0.01%)
Italy: 17,896,065 (+0.09%)
Turkey: 15,085,742 (+0.00%)**
Source: Johns Hopkins University
*Numbers change over 24 hours
**Numbers have been adjusted by affected country
Not already a subscriber?
If you would like to receive DailyChatter directly to your inbox each morning, subscribe below with a free two-week trial.
Support journalism that's independent, non-partisan, and fair.
If you are a student or faculty with a valid school email, you can sign up for a FREE student subscription or faculty subscription.
Questions? Write to us at hello@dailychatter.com.