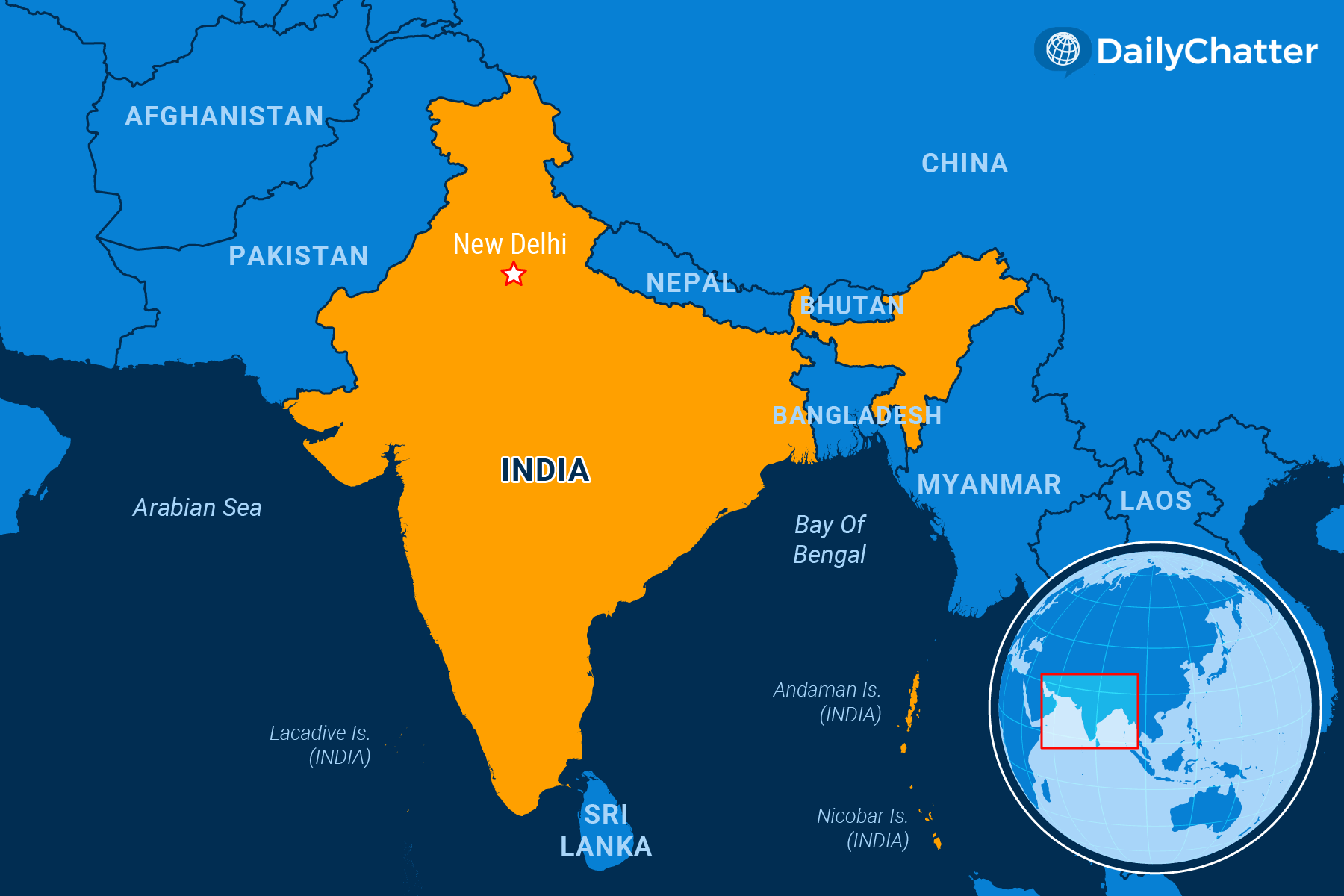 The World Today for June 13, 2022
Listen to Today's Edition
NEED TO KNOW
The War on Grain
INDIA
India and other nations are banning exports of wheat as the price of the vital commodity skyrockets due to supply chain shocks from Russia's invasion of Ukraine.
"As the war continues, there is a growing likelihood that food shortages, particularly of grains and vegetable oils, will become acute, leading more countries to turn to restrictions on trade," the International Food Policy Research Institute concluded in a report cited by CNBC.
The Institute noted that supply chains had already been disrupted due to the Covid-19 pandemic and terrible droughts. "Russia's invasion came at a bad time for global food markets."
Actually, wheat is another front of the war, Russia's war on grain, wrote the Washington Post's editorial board recently: "(Russian President Vladimir) Putin is ruthlessly employing hunger and food insecurity as a war tactic, a perverse and brutal attempt to crush Ukraine's spirit and blackmail the rest of the world."
Ironically, in the past year, Indian Prime Minister Narendra Modi, whose country produces the second-most wheat in the world after China, had permitted India to export a record seven million metric tons of grain, taking advantage of high prices, CNN explained. Now he's capping sugar exports, too, amid fears of shortages, wrote Quartz India.
Modi's turnabout came as the leaders of the G7 group of industrialized nations issued a dire warning about a looming global hunger crisis that made it necessary to help Ukraine to export grain through its Black Sea ports, now under Russian blockade, the Financial Times reported. Other Western leaders like the prime minister of Slovakia, Eduard Heger, said on Euronews that grain needed to flow or famine would result.
The diplomatic war over the problem is heating up, the Washington Post wrote.
As the Atlantic Council called the Russian blockade a "war on global food security," US officials warned of Russians selling stolen Ukrainian grain as prices spiked, ABC News reported. Ukraine is now working on shipping grain out by train, a slower and more cumbersome process, Radio Free Europe wrote. Turkey and Russia met to hammer out a deal to allow Ukraine to export grain, but Bloomberg reported that Ukrainian leaders were suspicious. Regardless, no deal was agreed to, the Wall Street Journal noted.
Meanwhile, 40 percent of the World Food Program's wheat supplies come from Ukraine.
The first impoverished and unstable country to face a serious food crisis due to the European conflict could be Somalia, where rainy seasons have failed to deliver enough water for agriculture for four consecutive years. The United Nations has raised only a third of the $250 million they need to satisfy the war-torn country's food demand. Almost 400,000 Somali children now face malnutrition. More than 213,000 Somalis are at risk of starvation.
"If the world does not widen its gaze from the war in Ukraine and act immediately, an explosion of child death is about to happen in the Horn of Africa," UNICEF Deputy Regional Director Rania Dagash told Reuters.
In the most developed countries, shortages in baby formula and other essentials are versions of these crises, noted the Nation.
Humanity appears poised to let a tyrant's anger kill more people than anyone imagined in late February.
THE WORLD, BRIEFLY
Bowing In
LATIN AMERICA
The United States, Canada and a number of Latin American nations signed a migration agreement this week that would mark a shift in the approach countries take to refugees and migrants following a weeklong regional summit that was boycotted by a number of key countries, the Wall Street Journal reported.
Leaders of 20 nations reached the deal on the final day of the Summit of the Americas in Los Angeles, a gathering among Western Hemisphere leaders to foster stronger ties and address regional issues, including the economy, climate and migration.
Formally known as the "Los Angeles Declaration on Migration and Protection," the non-binding agreement will require Western Hemisphere countries to accept migrants either temporarily or permanently to help share the burden. It calls on countries to build their own asylum systems, step up border enforcement and offer pathways for migrants to live legally.
The deal comes at a time of unprecedented migration and displacement across the Western Hemisphere, with people fleeing brutal dictatorships, violence and extreme poverty across Central America and especially Venezuela, Cuba, and Haiti.
Analysts said its implementation would require long-term coordination in a region that has become increasingly fragmented. Still, they added that it would serve as the basis for bilateral migration deals the Biden administration hopes to sign with more countries across the region.
Observers posited that the pact was the most significant outcome of a summit that was overshadowed by boycotts from important members, Axios wrote.
For example, Mexican President Andrés Manuel López Obrador and fellow leftist leaders from Bolivia and Honduras refused to attend the summit after the authoritarian-led states of Cuba, Nicaragua and Venezuela were not invited. Meanwhile, Guatemala and El Salvador skipped the meeting amid disputes with the Biden administration over corruption and human rights violations.
The boycott has been seen as an overt challenge to the US, which is considered the hegemon in the region. South American politics have also seen a shift to the left, with some leaders condemning "neoliberalism" – a byword for US ideological influence in the region, the newspaper wrote.
While there are a number of leaders who want deeper relations with Washington, not everyone feels they are getting it and are looking elsewhere – including China.
What Goes Around…
BOLIVIA
A Bolivian court sentenced former President Jeanine Añez to 10 years in prison following allegations that she illegally took over the presidency in 2019 in a coup, in a case that has raised concerns about the country's judicial independence, the New York Times reported.
The court convicted Añez on charges of breaching her duties and enacting resolutions against Bolivia's Constitution. She denied the allegations and said she was a victim of "political persecution." Her lawyers also reiterated that the trial was politically motivated and said they would appeal the verdict.
The former conservative senator came to the forefront in November 2019 when former socialist President Evo Morales fled the country amid mass protests. At the time, Morales was attempting to secure his fourth term in an election many observers said was marred by fraud, the Washington Post noted.
Añez initially said she would only act as interim president and hold new polls in which she would not run. But soon after, she reshaped Bolivia's foreign policy and charged Morales with sedition and terrorism. Many human rights advocates questioned whether the charges were politically motivated, a charge she denied.
She lost popularity, meanwhile, amid accusations of human rights violations, mishandling the coronavirus pandemic and its accompanying economic disruption.
Añez dropped her bid for the presidency about a month before the October 2020 election, when voters picked Morales-backed socialist Luis Arce.
Observers said her sentencing underscores a victory for Arce's government and the long-held narrative that Añez's rise to power was a coup.
Still, they cautioned that her conviction puts into question the independence of Bolivia's justice system. They added that similar to Añez, Morales had manipulated the judicial system for political ends.
Rethinking Death
MALAYSIA
Malaysia will abolish the mandatory death penalty, a move that many human rights groups applauded as bucking a trend in a region where capital punishment is rising, CNN reported.
The government said over the weekend that mandatory death sentences for serious crimes would be replaced by "alternative punishments" and left to the court's discretion.
Officials emphasized that this does not mean the abolishment of the death penalty but, rather, allowing judges the discretion to impose an alternative penalty, according to Channel News Asia.
The government also plans to revise certain laws impacting judicial punishment and also carry out research on alternative sentencing for a variety of crimes that carry the death penalty, including drug charges.
The decision comes three years after human rights campaigners admonished the government for reversing a previous pledge to abolish capital punishment entirely.
Amnesty International said no executions were carried out in Malaysia throughout 2021 but noted that more than 1,300 people were sentenced to death as of October 2021 – 526 of them are foreigners.
Human rights advocates praised the decision as "an important step forward," in a region that has seen a rise in capital punishments.
Singapore recently executed an intellectually disabled Malaysian man convicted on drug charges, despite global condemnation. Meanwhile, Myanmar, run by a junta that came to power in a coup, is preparing to execute two men long involved in civil rights and politics accused of "being involved in terrorist acts" in what would mark the first judicial executions in the country in decades.
UKRAINE, BRIEFLY
Russian forces now control the majority of Sievierodonetsk, the battleground for Ukraine's eastern Donbas area, according to CNN. Street fighting raged on Saturday in the eastern city, where Russian and Ukrainian troops remain engaged in combat.
Ukraine's President Volodymyr Zelenskyy said he was trying to strengthen support for his country's candidacy to join the European Union, as commentators warned the war looked to be entering a protracted phase that would benefit Russia, the New York Times added. His comments came following a meeting with European Commission President Ursula von der Leyen, who visited Kyiv and expressed support for Ukraine ahead of a European Union summit later this month to decide whether to formally give Ukraine candidate status.
Nicaraguan President Daniel Ortega will welcome Russian soldiers, planes and ships for deployment to Nicaragua for training and law enforcement purposes, the Associated Press wrote. Ortega will authorize Russian forces to carry out policing, "humanitarian aid, rescue and search missions in emergencies or natural disasters," according to a decision issued this week and confirmed by Russia on Thursday.
DISCOVERIES
The Big Fish
Scientists recently discovered that the monstrous Megalodon shark possibly died millions of years ago because of competition with the great whites, New Scientist reported.
Measuring nearly 50 feet in length and packing palm-sized teeth, the Megalodon had a big appetite while it terrorized the world's oceans millions of years ago.
During these times, the smaller – albeit still big – great white sharks competed with the megalodon in hunting small whales, sea lions and seals.
This has led many researchers to wonder whether a prehistoric food fight resulted in the mysterious demise of the ancient sea monster.
In their paper, a research team studied the individual teeth of a number of modern and ancient sharks, including the Megalodon. They analyzed the levels of zinc in the chompers, marking the first time scientists have used zinc isotope analysis on shark teeth.
Zinc is important for animal life and mostly comes from diet.
The findings showed that the zinc isotope ratio in the Megalodon's sample nearly matched that of the ancient great whites: The team noted that both species had low levels of zinc and suggested that the two creatures most likely shared a comparable apex predator status about five million years ago.
While there could be other reasons for the creature's extinction, the authors were elated to see that their study offers more evidence that competition for food with great whites was a factor.
The bigger fish doesn't always win.
COVID-19 Global Update
Total Cases Worldwide: 535,261,921
Total Deaths Worldwide: 6,309,439
Total Vaccinations Worldwide: 11,549,762,520
Countries with the highest number of confirmed cases worldwide as of 4 a.m. ET*
US: 85,515,795 (+0.02%)
India: 43,230,101 (+0.02%)
Brazil: 31,456,865 (+0.04%)
France: 29,946,603 (+0.00%)**
Germany: 26,809,245 (+0.02%)
UK: 22,571,882 (+0.00%)**
South Korea: 18,229,288 (+0.02%)
Russia: 18,108,285 (+0.02%)
Italy: 17,653,375 (+0.11%)
Turkey: 15,072,747 (+0.00%)**
Source: Johns Hopkins University
*Numbers change over 24 hours
**Numbers have been adjusted by affected country
Not already a subscriber?
If you would like to receive DailyChatter directly to your inbox each morning, subscribe below with a free two-week trial.
Support journalism that's independent, non-partisan, and fair.
If you are a student or faculty with a valid school email, you can sign up for a FREE student subscription or faculty subscription.
Questions? Write to us at hello@dailychatter.com.