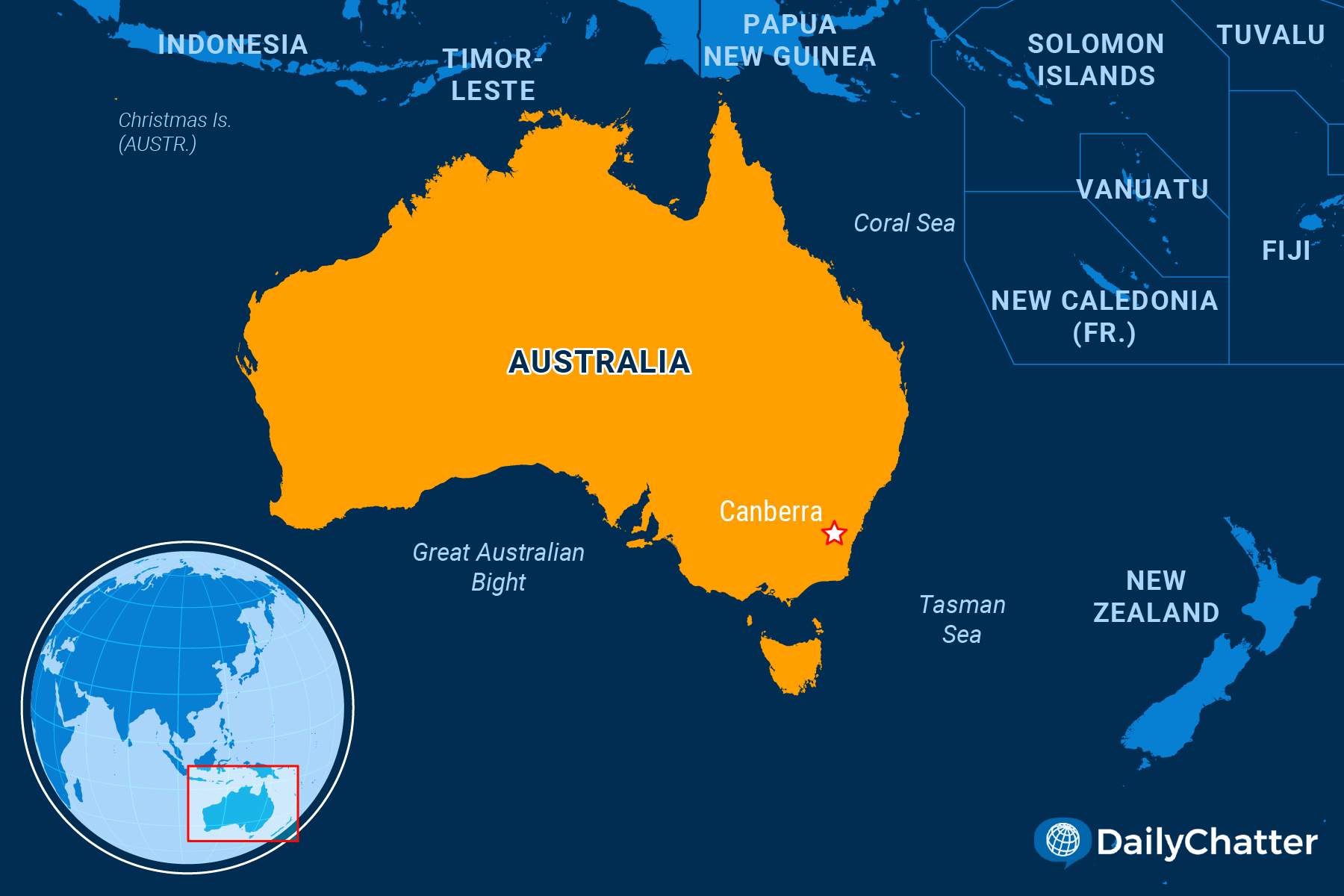 The World Today for May 20, 2022
Listen to Today's Edition
NEED TO KNOW
The New Guard
AUSTRALIA
Australia is experiencing its most raucous federal elections in years as outsiders seemed poised to disrupt the placid pace of leaders in Canberra after polls close on May 21.
Voters in North Sydney, a wealthy, multicultural district of the continent-country's largest city, usually cast ballots for the center-right Liberal-National Coalition of Prime Minister Scott Morrison. But independent candidates under a teal color movement stressing "climate action, integrity in politics and gender representation" are giving the governing party a run for its money in the area, the BBC reported.
"Bell teals for big parties in Australia's election," was the "bell tolls"-alluding headline in an analysis from the Australia-based Lowy Institute, a think tank. The analyst noted how the now opposition Labor Party is also on track to defeating the Coalition, too.
Billionaires Simon Holmes à Court, a mining heir, and Clive Palmer, a mining magnate and one of Australia's richest individuals, are bankrolling the outsider candidates. The former is supporting folks interested in climate change while the latter has been tapping into a general frustration with how the government handled Covid-19, according to Foreign Policy magazine.
As Sky News added, Labor might need to negotiate with some independent candidates if its leaders want to form a government for the first time in a decade. The possibility of a hung parliament, where nobody can form a new government, would keep Morrison in charge but precipitate an intense period of politicking in the legislature, University of Sydney Constitutional Law Professor Anne Twomey explained in the Conversation.
The campaign has been charged. Recently, Morrison debated his rival, Labor leader Anthony Albanese, wrote Yahoo News Australia. Albanese argued that workers needed higher wages, while Morrison dodged a direct question from the moderator asking how much of a pay raise Australians deserve.
"The idea that those heroes of the pandemic, those low-wage workers, people on the minimum wage, they are cleaners, they're people working in the care sector, they're people who work in retail, they are people who helped get us through the pandemic," Albanese argued. "They deserve more than our thanks."
Among voters, there has been a growing sense that the current government doesn't represent their interests. For example, The First Dog on the Moon cartoonist at the Guardian lampooned the sense of secrecy in Australian politics, noting that officials also routinely shelved government reports when they preferred their findings to remain shrouded in ignorance.
Still, the future of Australian democracy is also arguably at stake. As the New York Times reported, Australian political parties have hidden $1 billion in income even as voters' faith in their governing institutions has been on a steady decline.
It looks as if the newcomers will have their chance to try to make things right.
THE WORLD, BRIEFLY
Prisoner Games
IRAN
Iran is reviewing a request to delay the execution of an Iranian-born Swedish academic convicted of espionage in a case that has garnered international condemnation, the Washington Post reported Thursday.
The case is related to Ahmadreza Jalali, a disaster-medicine doctor who was detained while traveling to a conference in Iran in 2016. Authorities accused Jalali of spying for Israel's Mossad, and leaking information that led to the killings of two Iranian nuclear scientists in 2010.
A court later sentenced him to death following a forced confession, according to Jalali's lawyers. In March, a United Nations panel said the doctor was subjected to "severe physical and psychological ill-treatment" in prison, amounting to torture.
On Tuesday, UN officials urged Iran to halt the execution and revoke the death sentence after Iranian authorities announced his sentence as "final."
Jalali's case has drawn widespread criticism about Iran's pattern of arresting dual nationals on questionable charges, often for political leverage.
Recently, a spat broke out between Iran and Sweden after Stockholm arrested and prosecuted former Iranian judicial official Hamid Nouri for murder and war crimes in 2019.
Swedish authorities have accused Nouri of involvement in the mass execution of dissidents in Iran in 1988. The case concluded earlier this month and a verdict is expected in July.
Iran has denounced Nouri's trial as politicized while denying Jalali's case is linked to that of the former judicial official.
The Tusk Dilemma
ZIMBABWE
Zimbabwe is proposing to sell its stockpile of seized ivory to gather funds needed for the conservation of its rapidly increasing elephant population, the Associated Press reported.
Wildlife officials in the central African nation appealed to foreign diplomats and the international community to support the sale of ivory tusks, currently banned by the Convention on International Trade in Endangered Species of Wild Fauna and Flora (CITES), the international body that monitors endangered species.
Currently, Zimbabwe has 130 tons of ivory and about seven tons of rhino horn seized from illegal poaching and animals that have died.
Zimbabwean authorities warned that the world's largest land animal has been multiplying at a "dangerous rate," which has destroyed trees and vegetation vital for elephants and other wildlife.
The elephant population in Zimbabwe is around 100,000 – double the carrying capacity of its national parks – and their numbers have been increasing by five percent per year.
Officials warned that if the population continues to increase "it will be very difficult for us to do anything but culling which is opposed by everyone."
They pledged that all the proceeds of the sales would go towards funding conservation efforts and supporting communities that occasionally clash with wildlife. The funds would also be used to motivate people living near parks to support the fight against poachers.
International syndicates finance poachers to kill elephants for their ivory tusks. The ivory is then trafficked overseas, where it is in demand for jewelry and souvenirs. This trade is thriving in spite of crackdowns.
Zimbabwe maintains that it is ill-equipped to deal with poachers without the ivory sales, particularly because the coronavirus pandemic severely impacted earnings from tourism.
Among Saints
INDIA
Pope Francis this week canonized an 18th-century Indian convert to Christianity who fought for equality for the lower classes, and made him the first layman in India to be bestowed with sainthood, the National reported.
Devasahayam – also known as Lazarus – joins a group of eight saints in India, including European missionaries such as Mother Teresa.
Born Nilakandan Pillai in 1712 in the southern Indian state of Tamil Nadu, Devasahayam hailed from a Hindu upper-caste family. He later converted to Christianity and changed his name in 1745.
The new saint is remembered for fighting against the rigid Hindu caste system and demanding equality for the lower-caste communities. His efforts made him a target of the powerful upper caste, which resulted in his persecution and eventual murder.
The Vatican initially recognized his martyrdom and declared him "Blessed" in 2012. His sainthood was acknowledged two years later. And in 2014, India's Catholic clergy recommended that Devasahayam be beatified by the Vatican.
The layman was canonized during a special mass for 10 new saints at the Vatican this week. It was the first canonization event in more than two years because of the coronavirus pandemic.
UKRAINE, BRIEFLY
DISCOVERIES
Doh
People will immediately try to correct themselves whenever they have an "oops" or "doh" moment.
Scientists call this performance monitoring, which they describe as the brain's way of informing us that we made a mistake.
Recently, a research team finally discovered the precise location of these neurons and why they are important to the human brain, Cosmos magazine reported.
In a series of experiments, the team recorded the brain activity of epilepsy patients equipped with electrode brain implants to help locate the focus of their seizures.
The participants performed a number of complex cognitive activities. Among these was the Stroop task, which tested the reading- and color-naming skills of participants: For example, they would write the word "red" in a blue pen and then were asked to name the ink color rather than the written word.
Researchers found that two types of neurons operated in the brain's medial frontal cortex: The "error" neurons would activate after a mistake was made, while "conflict" ones would fire up in response to the difficulty of the task.
"This indicates that this brain area plays a role in evaluating decisions after the fact, rather than making them," said co-author Zhongzheng Fu.
Fu and his team explained that performance monitoring serves to improve the brain's ability to learn new tasks and concentrate on developing highly specific skills.
"An 'Oops!' moment might prompt someone to pay closer attention the next time they chat with a friend or plan to stop at the store on the way home from work," he said.
COVID-19 Global Update
Total Cases Worldwide: 524,050,895
Total Deaths Worldwide: 6,273,518
Total Vaccinations Worldwide: 11,430,393,607
Countries with the highest number of confirmed cases worldwide as of 4 a.m. ET*
US: 83,060,981 (+0.13%)
India: 43,131,822 (+0.01%)
Brazil: 30,701,900 (+0.00%)**
France: 29,517,146 (+0.09%)
Germany: 25,998,085 (+0.19%)
UK: 22,416,204 (- 7.87%)**
Russia: 18,012,019 (+0.03%)
South Korea: 17,914,957 (+0.14%)
Italy: 17,178,199 (+0.18%)
Turkey: 15,060,112 (+0.01%)
Source: Johns Hopkins University
*Numbers change over 24 hours
**Numbers have been adjusted by affected country
Not already a subscriber?
If you would like to receive DailyChatter directly to your inbox each morning, subscribe below with a free two-week trial.
Support journalism that's independent, non-partisan, and fair.
If you are a student or faculty with a valid school email, you can sign up for a FREE student subscription or faculty subscription.
Questions? Write to us at hello@dailychatter.com.