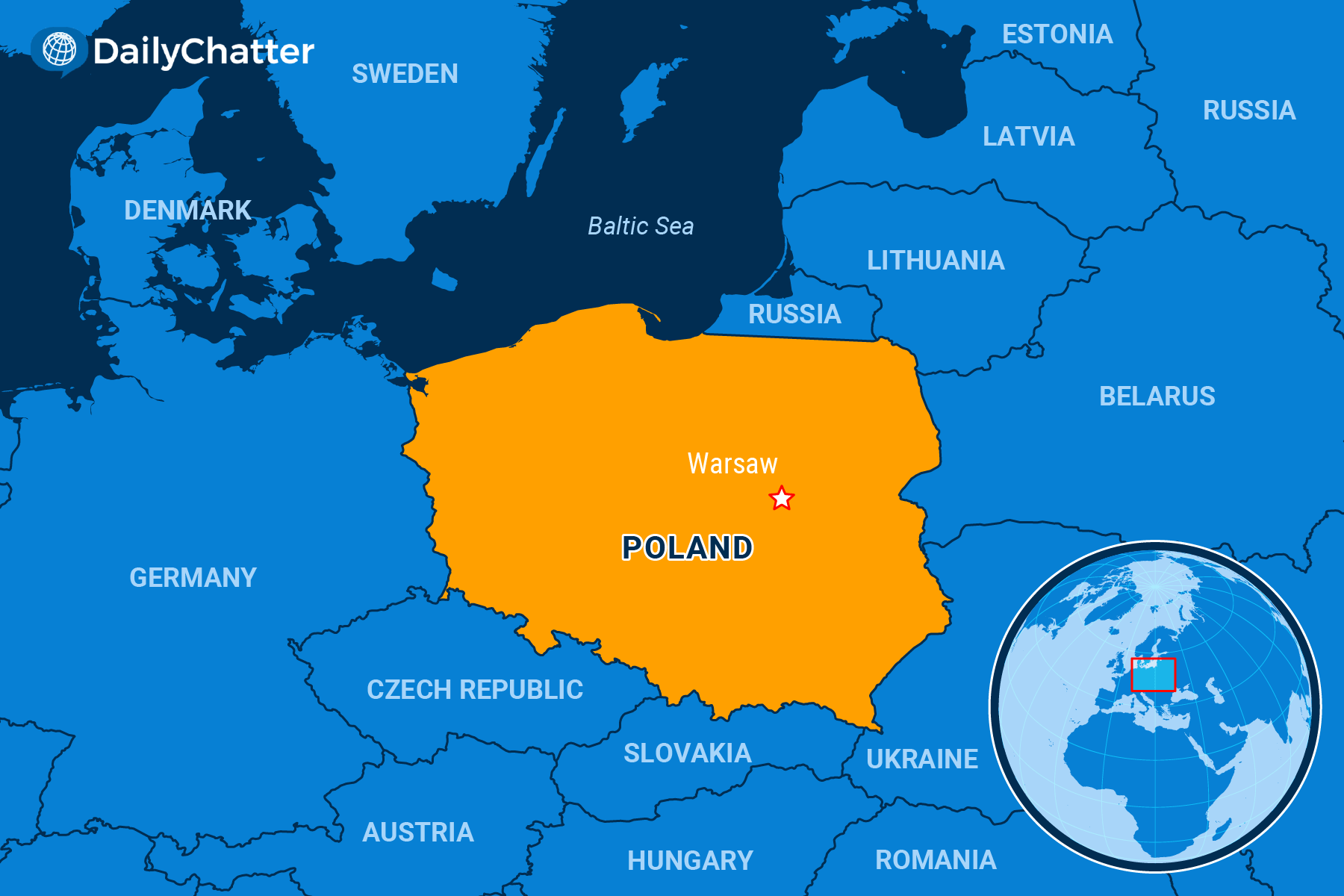 The World Today for May 02, 2022
Listen to Today's Edition
NEED TO KNOW
No Vacancy
POLAND
The number of Ukrainian war refugees who have fled to Poland has surpassed the population of the Central European country's capital, Warsaw. They've largely received a warm reception, a stark contrast to how Polish officials welcomed migrants who have fled the Middle East and other war-torn regions in the past seven years or so, as a Politico opinion piece described.
Now Polish officials might be rolling up the welcome mat. "Warsaw is at capacity," Warsaw Mayor Rafal Trzaskowski told the New York Times recently. "We accepted more than 300,000 people but we cannot accept more. With the escalation by Russia in eastern Ukraine we could have a second wave."
Of the more than five million Ukrainians who have become refugees, around 2.8 million, mostly women and children, have settled in Poland, according to Business Insider India.
Russian President Vladimir Putin might be happy to cause a refugee crisis. As the New York Times editorial board suggested, a crisis that destabilizes the West serves Putin's interests.
That said, as Mayor Trzaskowski's comments illustrate, waves of refugees take a toll on a host country. Many are traumatized and need medical help, Al Jazeera reported, noting how many refugees feel guilt for surviving when they know they have left family and friends behind to combat the Russian invasion.
Some are living in office spaces due to a lack of other housing, as a CNN broadcast explained. Refugees can receive $1,500 in cash assistance to find a place to live. As Time wrote, many are not sure what to do now that they have arrived in Poland and feel relatively safe. The EU has allowed them to travel anywhere in the bloc for three months without a visa or applying for asylum. Some are hoping to return home soon.
"For many, Poland is a place to wait out the war," explained the Deseret News. "They saw Russia's withdrawal from the Kyiv region as a sign that Ukrainian forces are gaining the upper hand, despite a now renewed invasion along the country's eastern front."
Accepting refugees is one way that Poland is taking a stand against Russia. Poland has sent significant military aid to Ukrainian forces and has pushed the US to act as a go-between for a grant of warplanes. Russia recently cut off gas sales to Poland because the country refused to pay its gas bills in rubles, NBC added.
Poland has stepped up. But whether it can continue to do so is an open question.
THE WORLD, BRIEFLY
Calling the Mothership
BRITISH VIRGIN ISLANDS
The British Virgin Islands' (BVI) constitution should be suspended and Britain should take direct control of its overseas territory, according to a new report that found the governance in the self-autonomous islands was "appallingly bad," BBC reported.
The report, led by retired British judge Sir Gary Hickinbottom, was commissioned in 2021 following claims of corruption and misuse of taxpayers' money in the BVI.
The findings showed that elected officials have dismissed basic principles of good governance, creating an environment in which corruption can flourish. The report recommended that Britain should take direct control of its territory, suspend the constitution for two years and dissolve the BVI's government.
The report's release coincided with the detention by American authorities of BVI Premier Andrew Fahie and senior port official Oleanvine Maynard in Miami. The two officials have been charged with drug smuggling and money-laundering conspiracies.
While the report was not connected to Fahie's arrest, British Foreign Secretary Liz Truss said the premier's detention showed the need for "urgent action."
But the islands' acting premier, Natalio Wheatley, said the governance problems could be resolved without suspending the constitution.
The BVI is part of Britain's overseas territories, which include Gibraltar and the Falkland Islands. Although these have their own governments, Britain is responsible for the territories' foreign policy and defense.
Leaked information from the "Panama Papers" and the "Paradise Papers" have shown that the 40-island archipelago is a popular tax haven.
Convoy Redux
CANADA
Police arrested at least eight people over the weekend as hundreds of bikers and others in cars and trucks waving Canadian flags took the streets of the capital, less than three months after a similar trucker's movement paralyzed Ottawa for more than three weeks, Reuters reported.
The rallies, known as "Rolling Thunder" by its organizers, began Friday. Organizers have not been clear about the convoy's goals, saying they are in support of "freedom" and military veterans.
One of the main organizers said that he is planning to lay a wreath at the National War Memorial in a show of respect for veterans.
Local media noted that some of the organizers were people who participated in the "Freedom Convoy" earlier this year, according to CNN. The weeks-long demonstrations began after truckers and protesters occupied the streets of the capital in protest of Covid-19 restrictions and vaccine mandates.
The February protests prompted the Canadian government to invoke rarely-used emergency powers to clear Ottawa's streets and arrest dozens who blocked the downtown area near parliament.
Over the weekend, Ottawa's police – which came under fire for its handling of the "Freedom Convoy" protests – said they would prohibit motor vehicles from stopping or parking on streets downtown.
They also warned they would detain anyone who was arrested in connection with the February demonstrations and ordered to stay out of Ottawa.
What's In a Name?
ITALY
Italy's Constitutional Court ruled this week that children should inherit both of their parents' last names, a verdict that would end a longstanding tradition for a child to automatically receive their father's surname, NPR reported.
The top court said parents should each have a say in their child's surname as it constitutes a "fundamental element of personal identity." It added that the practice of automatically assigning children the father's last name was not only unconstitutional but "discriminatory and harmful" to a child's identity.
The new ruling will permit both parents to assign their child's surname in an order they agree upon. It also allows them to choose a single last name for the child.
The case began after a family of five in the Basilicata Region wanted to give their newborn child the mother's surname. The older two children, meanwhile, carried only the mother's last name as they were only legally acknowledged by their father later, according to the Washington Post.
But regional officials denied the request because the law only permitted for the father's surname or both surnames to be bestowed.
Lawmakers and government ministers praised the change as "another fundamental step in achieving equal rights between the women and men of our country."
The court's decision would bring Italian naming conventions in line with those of nations like Mexico, where children's surnames are frequently made up of the father's followed by the mother's.
Even so, the decision will need to receive parliamentary approval before it officially becomes law.
UKRAINE, BRIEFLY
DISCOVERIES
You've Got Mail
NASA scientists are planning to beam a new message across the Milky Way galaxy in the hope of making contact with intelligent extraterrestrial beings, the Guardian reported.
The "Beacon in the Galaxy" will include simple principles of communication, a few basic concepts about mathematics and physics, as well as a history of Earth and humanity. The research team has also placed a return address in case there is a reply.
"Humanity has … a compelling story to share and the desire to know of others – and now has the means to do so," the team wrote in their paper.
Lead author Jonathan Jiang said the message will be delivered to a dense ring of stars near the center of the Milky Way, a region believed to have the biggest potential for life to have emerged.
Still, a lot of questions linger about the move, such as whether the message will ever be picked up and if the recipients will understand it. And if they do, when – and how – they will reply.
The late scientist Stephen Hawking had posited the dangers of such an endeavor and compared it to Christopher Columbus' arrival in America.
"(It) didn't turn out well for the Native Americans," he told a Discovery channel documentary.
But Jiang and other researchers are looking at the bright side, suggesting that humanity "could have much to learn" from others in the universe.
The beacon is not the first human attempt at interstellar communication.
In 1974, scientists sent out the Arecibo message toward a cluster of stars about 25,000 light-years away. It won't arrive any time soon.
COVID-19 Global Update
Total Cases Worldwide: 513,876,245
Total Deaths Worldwide: 6,236,561
Total Vaccinations Worldwide: 11,313,350,958
Countries with the highest number of confirmed cases worldwide as of 4 a.m. ET*
US: 81,365,218 (+0.02%)
India: 43,082,345 (+0.01%)
Brazil: 30,454,499 (+0.02%)
France: 28,872,621 (+0.13%)
Germany: 24,813,817 (+0.02%)
UK: 22,214,004 (+0.00%)**
Russia: 17,924,145 (+0.04%)
South Korea: 17,295,733 (+0.12%)
Italy: 16,504,791 (+0.25%)
Turkey: 15,033,573 (+0.01%)
Source: Johns Hopkins University
*Numbers change over 24 hours
**Numbers have been adjusted by affected country
Not already a subscriber?
If you would like to receive DailyChatter directly to your inbox each morning, subscribe below with a free two-week trial.
Support journalism that's independent, non-partisan, and fair.
If you are a student or faculty with a valid school email, you can sign up for a FREE student subscription or faculty subscription.
Questions? Write to us at hello@dailychatter.com.