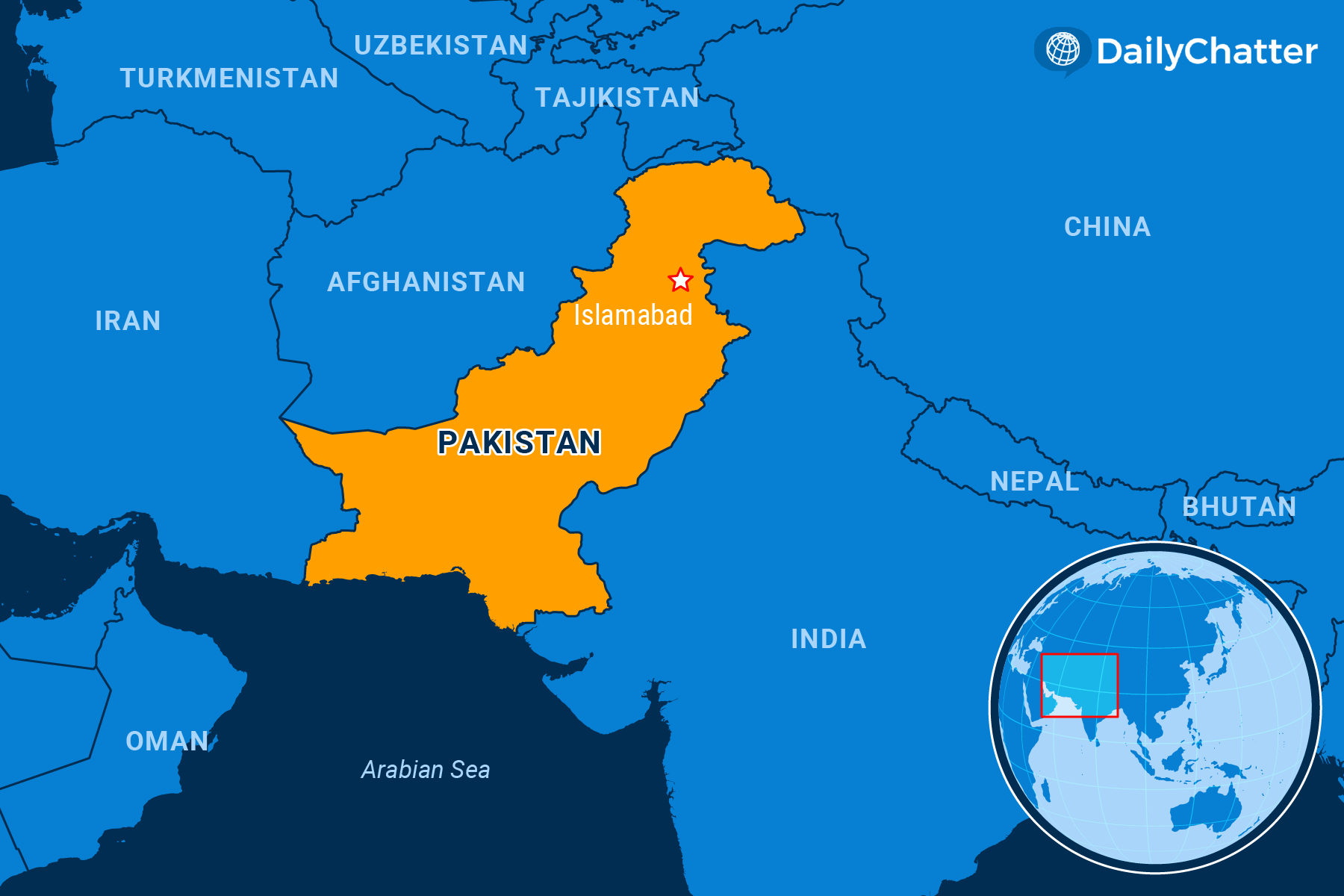 The World Today for April 28, 2022
Listen to Today's Edition
NEED TO KNOW
The Comeback Kid
PAKISTAN
Tens of thousands of Pakistanis attended a recent rally in support of former Prime Minister Imran Khan in Lahore. A former jet-setting cricket star who allied with religious conservatives, Khan told his supporters that he was the victim of a US-led conspiracy that was in retaliation for Pakistan's improving relations with Russia and China. As the BBC explained, nonpartisan experts have disputed those claims even as his followers wholeheartedly believed them.
Elected in 2018, Khan lost a no-confidence vote earlier this month after he attempted to illegally dissolve parliament to stop the vote, Nikkei Asia reported. Since then, he has doubled down on blaming the US for the debacle and also demanded that the new government of Prime Minister Shahbaz Sharif calls for elections immediately, Agence France-Presse added, presumably because he thinks he could win office again if given a chance.
"Pakistan became an independent state in 1947 but the freedom struggle begins again today against a foreign conspiracy of regime change," Khan tweeted after he left office, according to Foreign Policy magazine, whose writer worried aloud about the nationalism and division that Khan was sowing at his events.
Sharif, meanwhile, is the younger brother of Nawaz Sharif, who served as prime minister three times. As the New York Times wrote, he, like other family members, has been dogged by accusations and investigations of graft and malfeasance.
Meanwhile, Sharif's political honeymoon fell prey to an absurd political controversy: the emergence of a video of a singer serenading Sharif in his office. Released soon after he took office, the video made Sharif look aloof and indulgent, Agence France-Presse wrote. But it turned out the video was from a home event that occurred months before Sharif took office.
With one crisis averted, the new prime minister has turned to solving the worst economic crisis in Pakistan in years. Inflation is soaring, the Financial Times reported. Foreign debt is high, especially funds owed to China, which has funded massive projects in the South Asian country. The country is also negotiating the future of a $6 billion IMF aid package, as Reuters discussed. At the same time, Sharif is working hard to solicit more Chinese financing, as the South China Morning Post noted.
Khan left these problems to Sharif to solve. But Khan had inherited them, too, wrote Husain Haqqani, a Hudson Institute scholar and Pakistan's former ambassador to the US, in the Hill.
The Pakistani military, which plays an outsized role in the country's politics, meanwhile, has largely stayed out of the politics, argued the Diplomat. That likely means they gave tacit approval to Khan's ouster after falling out with him last year. Whether they take a more active role in the future remains an open question, however.
Whether or not Khan can precipitate a crisis depends on the resilience of Pakistan's democracy. But with misery rising, democracy might just become an afterthought.
THE WORLD, BRIEFLY
Kangaroo Justice
MYANMAR
A court in Myanmar found Aung San Suu Kyi guilty of corruption Wednesday, the latest verdict against the former civilian leader, who was detained under a series of charges following last year's military coup, BBC reported.
The court sentenced the Nobel Peace Prize laureate to five years in prison for taking a $600,000 bribe in the form of cash and gold bars from the former head of Yangon, Myanmar's largest city and region.
She has already been convicted of inciting dissent against the military and breaking Covid-19 health rules. Earlier this year, she was found guilty of having contraband walkie-talkie radios and breaching more Covid-19 rules.
The latest verdict brings her total prison sentence to 11 years but she still faces a myriad of other accusations including voter fraud. If convicted on all her charges, she would face a total jail sentence of more than 190 years, by some estimates.
Suu Kyi has denied the allegations. Her supporters and human rights groups, meanwhile, have denounced the proceedings as a farce and an attempt to jail her for life.
The country's military junta, however, maintains that the trials have been fair.
In February 2021, the army overthrew Suu Kyi's democratically-elected government, which resulted in mass pro-democracy protests against the junta. The military responded by launching a bloody crackdown against demonstrators, which has killed nearly 1,800 people and arrested more than 10,000.
Connecting the Dots
ISRAEL/ WEST BANK
Israel is planning to implement a policy addressing the entry and the residence of foreigners in the West Bank, a move that has raised concerns that the new rules will add further restrictions on movement in the occupied territory, Al Jazeera reported Wednesday.
The "Procedure for Entry and Residence for Foreigners in Judea and Samaria Area" is a new ordinance that will replace the current one that regulates entry and movement in the West Bank – which Israel refers to as "Judea and Samaria."
The 97-page document imposes more expansive entry regulations, which observers say further complicate restrictions for foreigners wishing to visit, do business or volunteer in the West Bank.
It also adds more rules for Palestinians holding foreign passports visiting the area: These include collecting personal information and national ID numbers of "first-degree" relatives, or other non-relatives with whom they may stay or visit. Foreign-passport holders must also mention whether they own property or stand to inherit any in the West Bank – although no reasons are given as to why this information is required.
Israeli authorities said the new rules will "define the levels of authority and the manner of processing from foreigners" entering the West Bank. They added that the travel restrictions are necessary for security reasons.
Digital rights advocates, however, warned that the increasing demands for personal information by Israel are "a surveillance exercise" that aims to "to map out the social circles and property of Palestinians who live abroad with foreign passports."
The new policy will also impose quotas and restrictions on foreign academics and students attending Palestinian educational institutions in the territory. One prestigious Palestinian university denounced the new procedures as "a violation of international law."
No Quarter
SINGAPORE
Singapore executed a Malaysian man convicted of smuggling drugs, despite a series of appeals by human rights advocates and global leaders to spare him because he suffered from a mental disability, the New York Times reported.
Nagaenthran K. Dharmalingam was hung early Wednesday, a day after the country's appeals court cleared the way for the execution.
The 34-old-man had been on death row for more than a decade: In 2009, authorities caught him trying to enter Singapore from Malaysia with about 1.5 ounces of heroin strapped to his thigh.
His lawyers, family and activists said that Nagaenthran suffered from an intellectual disability, adding that he was coerced and unable to comprehend his actions. Nagaenthran's case attracted the attention of many powerful figures, including Malaysian Prime Minister Ismail Sabri Yaakob and British billionaire Richard Branson.
More than 100,000 people signed a petition pleading with Singapore's president, Halimah Yacob, to pardon him.
Many advocates criticized the execution of the intellectually disabled man as a "tragic miscarriage of justice" and "a flagrant violation of international laws."
But Singaporean authorities had rejected multiple appeals to overturn his death sentence, saying that Nagaenthran had received a fair trial and that his actions were "the working of a criminal mind."
The small Southeast Asian nation has one of the world's toughest drug laws and considers the death penalty a deterrent to drug trafficking.
UKRAINE, BRIEFLY
DISCOVERIES
Been There, Done That
Roman statesman Marcus Tullius Cicero wrote about a financial crisis that was afflicting Rome during the 1st century BCE.
In his essay, he described the crisis as one where "the coinage was being tossed around so that no one was able to know what he had."
Historians questioned what Cicero was referring to but a new study found that Rome was experiencing a devaluing of its currency at the time, Heritage Daily reported.
Researchers conducted a metallurgical analysis on ancient Roman coins as part of a five-year project that looked into Mediterranean states' economies between 200 BCE and 64 CE.
Their findings revealed a monetary devaluation in which pure silver coins from before 90 BCE were chopped with up to 10 percent copper only five years later. During this period, Rome was about to go bankrupt due to wars in Italy that led to a debt crisis.
The research team noted that financial difficulties during this period resulted in the relaxation of standards at the mint. The silver content of the coins fell in two stages so that by 87 BCE, the coinage was mixed with five to 10 percent copper.
"The Romans had been used to an extremely fine silver coinage, so they may well have lost confidence in the denarius when it ceased to be pure," said co-researcher Matthew Ponting. "The precise level of debasement might have been less important to contemporaries than the mere realization that the coin was adulterated and no longer made of true 'silver.'"
COVID-19 Global Update
Total Cases Worldwide: 511,749,288
Total Deaths Worldwide: 6,228,622
Total Vaccinations Worldwide: 11,320,989,888
Countries with the highest number of confirmed cases worldwide as of 4 a.m. ET*
US: 81,189,379 (+0.11%)
India: 43,068,799 (+0.01%)
Brazil: 30,399,004 (+0.07%)
France: 28,673,411 (+0.24%)
Germany: 24,609,159 (+0.53%)
UK: 22,186,658 (+0.08%)
Russia: 17,894,787 (+0.04%)
South Korea: 17,086,626 (+0.00%)**
Italy: 16,279,754 (+0.55%)
Turkey: 15,026,141 (+0.02%)
Source: Johns Hopkins University
*Numbers change over 24 hours
**Numbers have been adjusted by affected country
Not already a subscriber?
If you would like to receive DailyChatter directly to your inbox each morning, subscribe below with a free two-week trial.
Support journalism that's independent, non-partisan, and fair.
If you are a student or faculty with a valid school email, you can sign up for a FREE student subscription or faculty subscription.
Questions? Write to us at hello@dailychatter.com.