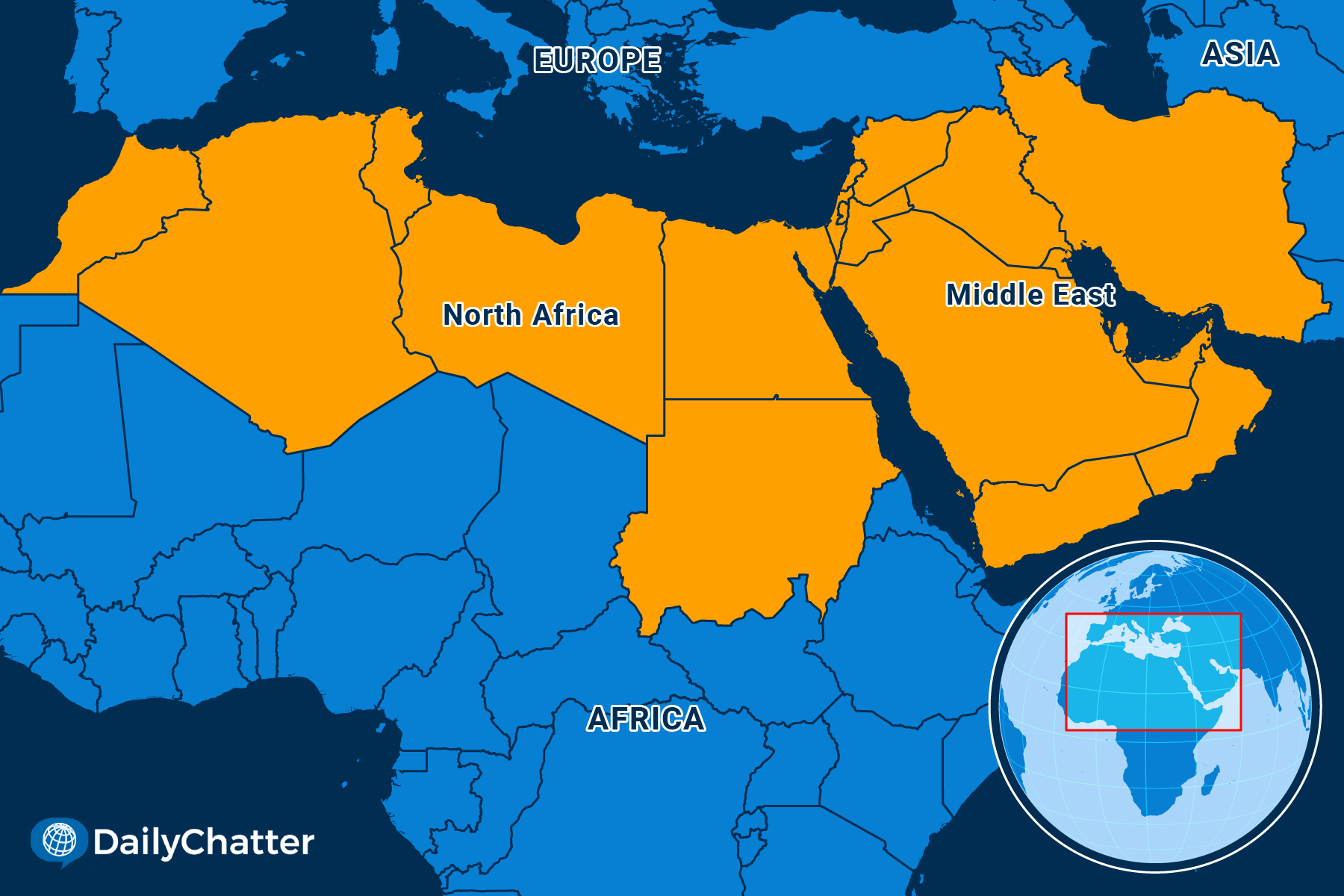 The World Today for April 27, 2022
Listen to Today's Edition
NEED TO KNOW
Guns & Butter
MIDDLE EAST & NORTH AFRICA
Observers in Tunisia are wondering how much higher food prices can go before civil unrest breaks out. Supermarket shelves in the North African country have been bare for weeks. Staples like eggs, flour, rice and sugar are "almost impossible to find," according to Middle East Eye.
If violence does occur, the victims will be additional casualties of the war in Ukraine. Soon after the Russian invasion, fuel-price spikes and food exports from both Ukraine and Russia plunged while Western sanctions sought to crack down on Russian trade. The two countries' customers – especially those in the Middle East and North Africa who traditionally import much of their wheat through Eastern Europe – are now suffering, the Africa Report wrote. Russia and Ukraine supply around 30 percent of global wheat.
Climate change, drought and water shortages and disruptions from the coronavirus pandemic were already undermining Middle Eastern and North African agriculture production, explained the Council on Foreign Relations. The Islamic holy month of Ramadan also complicated matters. Starting in early April, families fasted and then ate large meals at the end of the day.
A group of scientists and others exhorted the international community to act or face the consequences of millions of people dying from starvation or suffering from malnutrition. "In the longer term, a global malnutrition crisis could lead to lifelong effects on education, diet-related chronic diseases and a decline in people's capacity to thrive and contribute to their countries' economic growth," they wrote in Nature magazine.
Lebanon is an example of a country in crisis. Food prices had already increased by more than 1,000 percent in the past three years. Then the 2020 port explosion in Beirut damaged the country's grain storage facilities. In late February, after the start of the Russian invasion, Lebanese officials said they had only one month of wheat reserves as supplies dwindled, National Public Radio reported.
The Lebanese government is now negotiating a $150 million World Bank loan for cash to buy more food, the Associated Press noted. It's seeking a deal with the International Monetary Fund to stabilize the country's banking sector, too. Meanwhile, the financial system is under pressure, as food and fuel prices skyrocket. Wildfires haven't helped the situation, the World Food Program added.
Syrians can also expect lean times ahead. Spikes in food prices have forced the United Nations to reduce food aid to northern Syria, for example, Al Jazeera reported.
In a globalized world, more guns can mean less butter.
THE WORLD, BRIEFLY
Justice, Delayed
CENTRAL AFRICAN REPUBLIC
A long-awaited trial to prosecute war crimes in the Central African Republic was postponed for the second time in a week, delaying once again the work of a special court created to address the ongoing civil war, Africanews reported Tuesday.
The delayed proceedings by the country's Special Criminal Court (SCC) were to be the first for the tribunal, which was established in 2015 to prosecute war crimes, genocide and other crimes against humanity committed in the country over the past two decades.
The case involved three suspects, members of the Return, Reclamation, Rehabilitation (3R) armed group, one of the most powerful rebel movements in the country. The defendants are accused of killing 46 civilians in two villages in the country's northeast in May 2019.
The initial hearings were scheduled for April 19 but the court delayed them after the defendants' lawyers failed to appear because of disagreements over their pay. The most recent delay came after the defense lawyers and others asked the court to postpone the trial, saying they were not prepared.
The new hearing is scheduled for May 16.
Representatives of the victims criticized the postponements, while SCC prosecutors described them as delaying tactics.
The trial is considered integral to fostering accountability in a country that has been marred by violent conflict for years.
The SCC is considered unique because it was established while a civil war had already been raging in the country for two years – usually such courts are established after a conflict's conclusion. It is made up of 11 international and 10 domestic judges that work alongside the International Criminal Court.
Its formation demonstrates that a judicial mechanism can be established even in conflict-torn countries.
Judicial 'Assassination'
TURKEY
A Turkish court sentenced businessman and philanthropist Osman Kavala to life in prison on charges of attempting to oust the government, in a long-running trial that has underscored the erosion of democratic standards and rule of law in Turkey, the Wall Street Journal reported.
Kavala, one of Turkey's most famous political prisoners, has been in detention since 2017 over a series of allegations, including conspiracy to overthrow the government and providing financial support for the 2013 Gezi Park protests in Istanbul.
President Recep Tayyip Erdogan also accused Kavala of being part of a foreign conspiracy against Turkey backed by philanthropist George Soros.
Kavala and his co-defendants have denied the charges and labeled the recent court ruling "an act of assassination by the hand of (the) judiciary."
The verdict can still be appealed. Meanwhile, the trial has created a lot of friction between Turkey and its Western allies. In 2019, the European Court of Human Rights accused Turkish authorities of violating Kavala's rights and called for his release.
Turkey rejected the European court's verdict and threatened to expel a number of Western ambassadors.
Analysts said that Monday's ruling "further discredited Turkey's reputation internationally," adding that it highlights the country's slide into autocracy during Erdogan's nearly two decades in power.
The Gezi Park protests saw hundreds of thousands of people take to the streets of Istanbul to protest a government plan to build a replica of Ottoman-era barracks in a park in central Istanbul. The demonstrations soon evolved into a broader movement against the government after police violently cracked down on protesters.
The protests prompted Erdogan to increasingly target his political opponents, a crackdown that intensified after he survived an attempted military coup in 2016.
No, Big Brother
MEXICO
Mexico's Supreme Court struck down a 2021 law that would have ordered cellphone companies to collect biometric data from their customers in an effort to fight phone crime in the country, the Associated Press reported Tuesday.
The court ruled that the request to collect data such as fingerprints or eye scans was too invasive. It added that the authorities could implement other measures to fight crimes involving phones.
Cellphones are often used by kidnappers and extortionists, as well as prison inmates. But analysts and civic groups said that those calls are made from stolen, pre-paid or "burner" phones, which would evade the law.
The verdict marks another defeat for President Andrés Manuel López Obrador, who has tried to crack down on phone crimes.
He had said the legislation is "just a registry to care for the population," adding that "we will never spy on anybody."
But critics warned that Mexico's previous government had attempted to create a similar registry and later shut it down after user data was leaked.
They cautioned that a huge database with information from as many as 120 million cellphones would be vulnerable to hackers, who could leak or sell the data to help criminals.
UKRAINE, BRIEFLY
Russia's state-controlled gas firm cut off natural gas supplies to Poland and Bulgaria on Wednesday, signaling a dramatic escalation in tensions between Moscow and the West over the Ukraine crisis, the Washington Post reported. Gazprom said the move was prompted by the failure of Poland's PGNiG gas company and Bulgaria's Bulgargaz to comply with the demand to pay in Russian currency.
Russian officials warned Tuesday that if the United States and its Western allies continue to arm Ukraine as it battles Moscow's invading forces, the risk of the war escalating into a nuclear conflict "should not be underestimated," CBS News wrote. The warning came as Poland and Germany said they will deliver armaments to Kyiv, including anti-aircraft tanks.
A series of "strange" explosions in Moldova have raised the prospect of Russia's conflict in Ukraine escalating into new territory, with unforeseeable repercussions, according to the Guardian. The blasts occurred in the eastern region of Transnistria, a disputed territory along the Ukrainian border controlled by Russian-backed separatists. Authorities in Transnistria blamed the explosions on Ukrainian infiltrators but Ukraine countered that the incident was a false-flag operation to deploy more Russian troops to the disputed region.
A third mass grave was discovered outside Mariupol, the besieged port city in southeast Ukraine that has been bombarded by Russian forces for weeks, Axios noted. Mariupol Mayor Vadym Boychenko said satellite footage of the graves backs up Ukrainian officials' claims that Russian soldiers "used mass graves to bury civilians killed" during the city's shelling. Meanwhile, UN Secretary-General Antonio Guterres urged independent investigations into "possible war crimes" in Ukraine following a Tuesday meeting with Russian Foreign Minister Sergei Lavrov in Moscow, France 24 added. Guterres also met with Russian President Vladimir Putin, a meeting that resulted in little progress, CBS News reported.
The 193 members of the United Nations General Assembly approved a proposal on Tuesday that would automatically force a meeting of the General Assembly after the use of a veto by one of the Security Council's five permanent members, the UN said. The meeting would discuss and allow for comment on the veto itself. An old idea aimed at making Security Council permanent members cut back the use of their veto powers, it has been revived by Russia's recent invasion of Ukraine because many members see Moscow's veto power as having allowed it to paralyze action in the Security Council, which is supposed to intervene in such conflicts, France24 noted.
DISCOVERIES
Mirror, Mirror
Selfies are distorting the images people see of themselves and are prompting them to undergo unnecessary cosmetic surgery, the Telegraph reported.
In a new study, researchers at the University of Texas took photos of 30 volunteers using different camera devices to analyze how the images differed.
They took two pictures with a smartphone – 12 and 18 inches away – and one using a digital camera from five feet away. All the photographs were taken in the same setting and with the same lighting.
Participants also filled out a questionnaire to rate how satisfied they were with their appearance in the images.
The team also compared measurements of photo "landmarks" – including the nose, lip, chin and facial width.
The findings showed that noses looked up to 6.4 percent longer in selfies than in a standard picture. The selfies also shortened chins by up to 12 percent and increased the nasal length to chin length ratio by 17 percent.
Lead author Bardia Amirlak explained that the distorted features caused by selfies are encouraging younger patients to book rhinoplasties and other cosmetic procedures.
"We need to increase awareness of how false perceptions on selfies may affect rhinoplasty requests, perceptions of self-image, and subsequent depression and anxiety," she noted.
In Britain, nose jobs remain the top plastic surgery for men and among the top five for women.
While surgical rhinoplasty is less frequent in the United States, Americans have been undergoing "liquid nose jobs." This involves the injection of fillers such as Hyaluronic acid, which is used for filling in facial wrinkles, to plump out hollows or filling out a nose.
COVID-19 Global Update
Total Cases Worldwide: 511,051,830
Total Deaths Worldwide: 6,225,447
Total Vaccinations Worldwide: 11,255,749,900
Countries with the highest number of confirmed cases worldwide as of 4 a.m. ET*
US: 81,101,114 (+0.07%)
India: 43,065,496 (+0.01%)
Brazil: 30,378,061 (+0.07%)
France: 28,605,614 (+0.34%)
Germany: 24,479,055 (+0.58%)
UK: 22,168,390 (+0.08%)
Russia: 17,887,152 (+0.04%)
South Korea: 17,086,626 (+0.45%)
Italy: 16,191,323 (+0.19%)
Turkey: 15,023,662 (+0.02%)
Source: Johns Hopkins University
*Numbers change over 24 hours
Not already a subscriber?
If you would like to receive DailyChatter directly to your inbox each morning, subscribe below with a free two-week trial.
Support journalism that's independent, non-partisan, and fair.
If you are a student or faculty with a valid school email, you can sign up for a FREE student subscription or faculty subscription.
Questions? Write to us at hello@dailychatter.com.