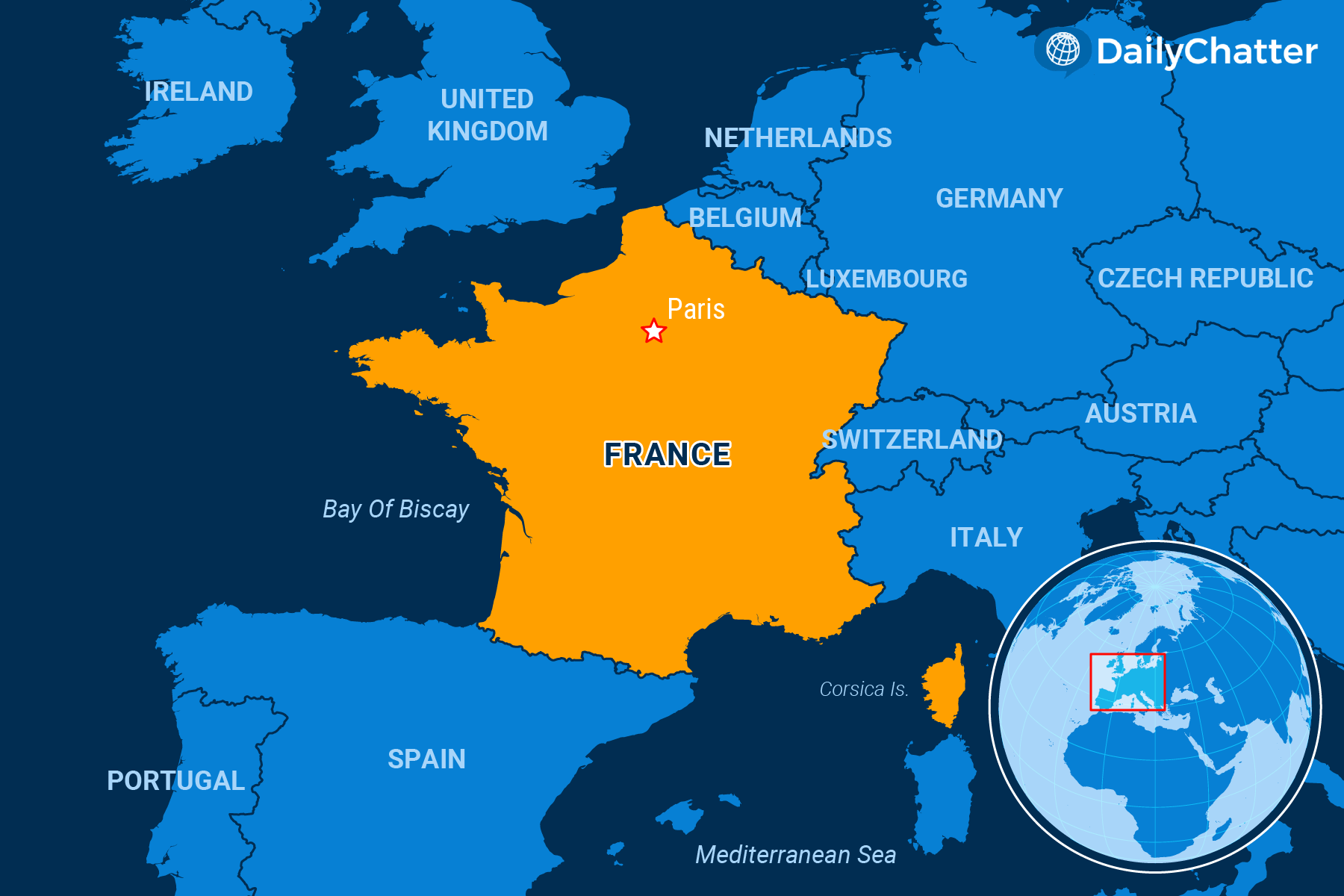 The World Today for April 08, 2022
Listen to Today's Edition
NEED TO KNOW
FRANCE
Folks in the small town of Moissac in southern France are on edge.
The ethnic composition of the medieval town has changed dramatically in the past decade. Around 2,000 Bulgarians – mostly Roma – have settled in Moissac. Last year, concern over the newcomers led Moissac residents to elect Romain Lopez, a far-right politician who has increased the police budget and vowed to crack down on the East Europeans.
"Their lifestyle is different," Lopez told the BBC. "They spend a lot of time outside, drinking, and [staying out] late at night, often because they lived in crowded small apartments."
Concerns like these occupy the minds of many French voters as they decide whom should receive their support when the country holds its presidential election on April 10.
The race is between incumbent President Emmanuel Macron and two far-right rivals: Marine Le Pen of the National Rally, a political party that espouses Euroscepticism and opposes immigration, and another far-right politician, Eric Zemmour, TV pundit and author.
As Reuters explained, polls show that Macron is in the lead in part because of his leadership during the Russian invasion of Ukraine. But his support is not as strong as it was when he defeated Le Pen and won office in 2017. If he can't win more than 50 percent of the vote, he'll face either le Pen or Zemmour in a runoff on April 24.
He also took a hit Wednesday when France's National Financial Prosecutor's Office opened an investigation into consulting firms that have worked for the French government, on suspicion of money laundering and tax fraud, Politico reported. The news sparked national outrage, spawned the viral "#McKinseyGate" hashtag, and forced Macron and several ministers on the defensive, the news outlet added.
Meanwhile, Le Pen has run for the French presidency three times and failed. But she has more support than ever, according to France 24. The boost could derive from her softer language and stances on issues. She welcomed Ukrainian refugees, for example, when the war began, in spite of her previous support for Russia.
She has also focused on bread-and-butter issues like rising living costs, issues that have attracted left-leaning voters and the so-called "yellow vest" protesters who have staged demonstrations against the price of fuel and other staples, noted the New Statesman magazine.
Zemmour might have helped her, too. His bombastic tone has stolen some of Le Pen's fire. But it has often made her look more presidential. Zemmour advocates for the so-called "great replacement" conspiracy theory, for example, which holds that Arabs and other non-Europeans are seeking to displace white people in France.
Though Jewish, Zemmour has also been sued for Holocaust denial – a crime in France, National Public Radio added. He's also been convicted of hate speech three times in the past 10 years. And recently, he like Le Pen, has come under fire for his closeness to Russia.
Like tensions in Moissac, the success of the far-right throughout France illustrates how deep rifts exist within the country, argued the Financial Times.
Still, analysts have long noted how French voters often chose the far right in the first round as a protest, then return to more center candidates for the second.
That means, that although Macron's plans will likely work out, he has a lot of work to do.
THE WORLD, BRIEFLY
Baby Steps
YEMEN
Exiled Yemeni President Abd Rabbu Mansour Hadi transferred his powers to a presidential council Thursday, a major step aimed at ending the years-long civil war in Yemen, the BBC reported.
Hadi announced that the new leadership council will be led by former Interior Minister Rashad al-Alimi and will be tasked with reaching a permanent ceasefire and political solution with the Iran-backed Houthi rebels.
The transfer of power comes less than a week after the start of a two-month nationwide truce between Yemen's warring factions, the first nationwide ceasefire in six years.
The conflict in Yemen has been raging since 2015, when the Houthis seized control of large parts of the country and forced Hadi to flee. A Saudi Arabian-led alliance of Arab states later stepped in to restore Hadi's rule but the war continued on, resulting in one of the world's worst humanitarian disasters.
More than 150,000 people have died and more than 23 million – three-quarters of the population – are in desperate need of aid.
Following the power transfer, Saudi Arabia offered its full support to the council and pledged $3 billion in financial aid. It also urged the council to "embark on negotiations with the Houthis under the auspices of the UN."
United Nations officials noted that the two-month ceasefire has significantly reduced violence in the country, calling it "an important… but a fragile step" to end the seven-year conflict.
No 'Help,' Please
SPAIN
Spain approved a law this week that would criminalize the harassment or intimidation of women going for an abortion, legislation aimed at deterring anti-abortion activists who attempt to dissuade women from having the procedure, CBS News reported Thursday.
The bill states that anyone trying "to impede (a woman) from exercising her right to voluntarily interrupt pregnancy (through) bothersome, offensive, intimidating or threatening acts" will face prison sentences between three and 12 months, or community service.
The legislation also protects healthcare professionals working in abortions clinics from intimidation and harassment. In practice, it also bans anti-abortion demonstrations outside of these clinics.
The socialist government of Prime Minister Pedro Sanchez pushed for the law, which is set to take effect in the coming days.
The move comes amid reports that anti-abortion activists sometimes confront women trying to undergo an abortion: A 2018 study found that 89 percent of Spanish women said they felt harassed when attending an abortion clinic, while 66 percent said they felt threatened.
The predominately Catholic nation decriminalized abortion in 1985 only in cases of rape, if the fetus was malformed or if the birth poses a serious physical or psychological risk to the mother. But in 2010, the law was broadened to allow terminations on demand in the first 14 weeks of pregnancy.
Sanchez's government is also planning a bill to ensure that all public hospitals offer abortions and also allow 16- and 17-year-olds to terminate their pregnancies without parental consent.
Meanwhile, anti-abortion advocates protested against the "criminalization" of their demonstrations, saying that they will continue "to pray and offer our help to all those women who need it so that they can see that abortion is not the only solution."
Robot Workers
QATAR
Qatar World Cup organizers admitted this week that migrant employees were exploited while working for FIFA's preparation tournaments in the Gulf State, following a scathing report by Amnesty International, the Associated Press reported.
The organizers' admission followed a 73-page report by the human rights organization detailing how security guards worked for three years without a day off.
The findings showed that employers refused to respect the weekly rest day required by Qatari law, adding the migrant workers worked "12 hours a day, seven days a week – often for months or even years on end without a day off."
Qatari labor laws restrict working hours to a 60-hour maximum, including overtime, and workers are entitled to one full, paid rest day each week, the Telegraph noted. But the report found that workers who took a day off "faced being punished with arbitrary wage deductions."
The work conditions have been described as "forced labor," even though the Gulf kingdom had earlier claimed that worker rights in the country are on par with the West.
Workers are still exploited in Qatar, despite World Cup organizers claiming that procedures to ensure health and safety have been in place since 2014, four years after FIFA gave the country hosting rights.
Representatives of Qatar's Supreme Committee – which oversees the World Cup preparations – responded to the report's findings that it is taking "every measure possible to ensure that workers on our projects are protected and their rights are upheld."
Qatar is scheduled to host the World Cup in Doha from Nov. 21 to Dec. 18.
UKRAINE, BRIEFLY
DISCOVERIES
Reading the Stars
Archaeologists recently discovered that a 2,500-year-old artificial lake off the west coast of Sicily was actually one of the Mediterranean's largest sacred pools, CNN reported.
The huge body of water – longer and wider than an Olympic-sized swimming pool – is located on the island of San Pantaleo, which once housed the bustling Phoenician port city of Motya.
First discovered in the 1920s, previous archaeological teams believed the pool was a Kothon, an artificial harbor.
But years of excavations revealed that the artificial lake – which was not connected to the sea – was fed by natural springs and was at the center of a large religious compound.
In 2010, archaeologists unearthed what they determined to be the Temple of Ba'al – a Canaanite and Phoenician deity – on the edge of the artificial lake.
This finding prompted the archeological team led by Lorenzo Nigro to drain the basin in order to excavate more thoroughly.
In their new study, Nigro's team came across more temples along the basin, as well as altars and a pedestal at the center of the lake that once held the statue of Orion – known as Ba'al to the Phoenicians.
They also found that the religious complex was laid out in alignment with the stars. They suggested that the pool's horizontal surface was used as a reflective tool to map the movements of the stars, which is important for navigation as well as observing certain religious holidays at the time.
The authors wrote how the stars and constellations were regarded by the Phoenicians as gods and sacred ancestors, and followed very closely.
"This points to the deep knowledge of the sky reached by ancient civilizations," said Nigro.
COVID-19 Global Update
Total Cases Worldwide: 496,351,421
Total Deaths Worldwide: 6,170,710
Total Vaccinations Worldwide: 11,085,245,168
Countries with the highest number of confirmed cases worldwide as of 4 a.m. ET*
US: 80,289,264 (+0.05%)
India: 43,033,067 (+0.003%)
Brazil: 30,095,328 (+0.09%)
France: 26,738,483 (+0.60%)
Germany: 22,478,703 (+0.79%)
UK: 21,578,368 (+0.22%)
Russia: 17,693,468 (+0.08%)
Italy: 15,106,066 (+0.47%)
South Korea 14,983,694 (+1.38%)
Turkey: 14,939,259 (+0.06%)
Source: Johns Hopkins University
*Numbers change over 24 hours
Not already a subscriber?
If you would like to receive DailyChatter directly to your inbox each morning, subscribe below with a free two-week trial.
Support journalism that's independent, non-partisan, and fair.
If you are a student or faculty with a valid school email, you can sign up for a FREE student subscription or faculty subscription.
Questions? Write to us at hello@dailychatter.com.