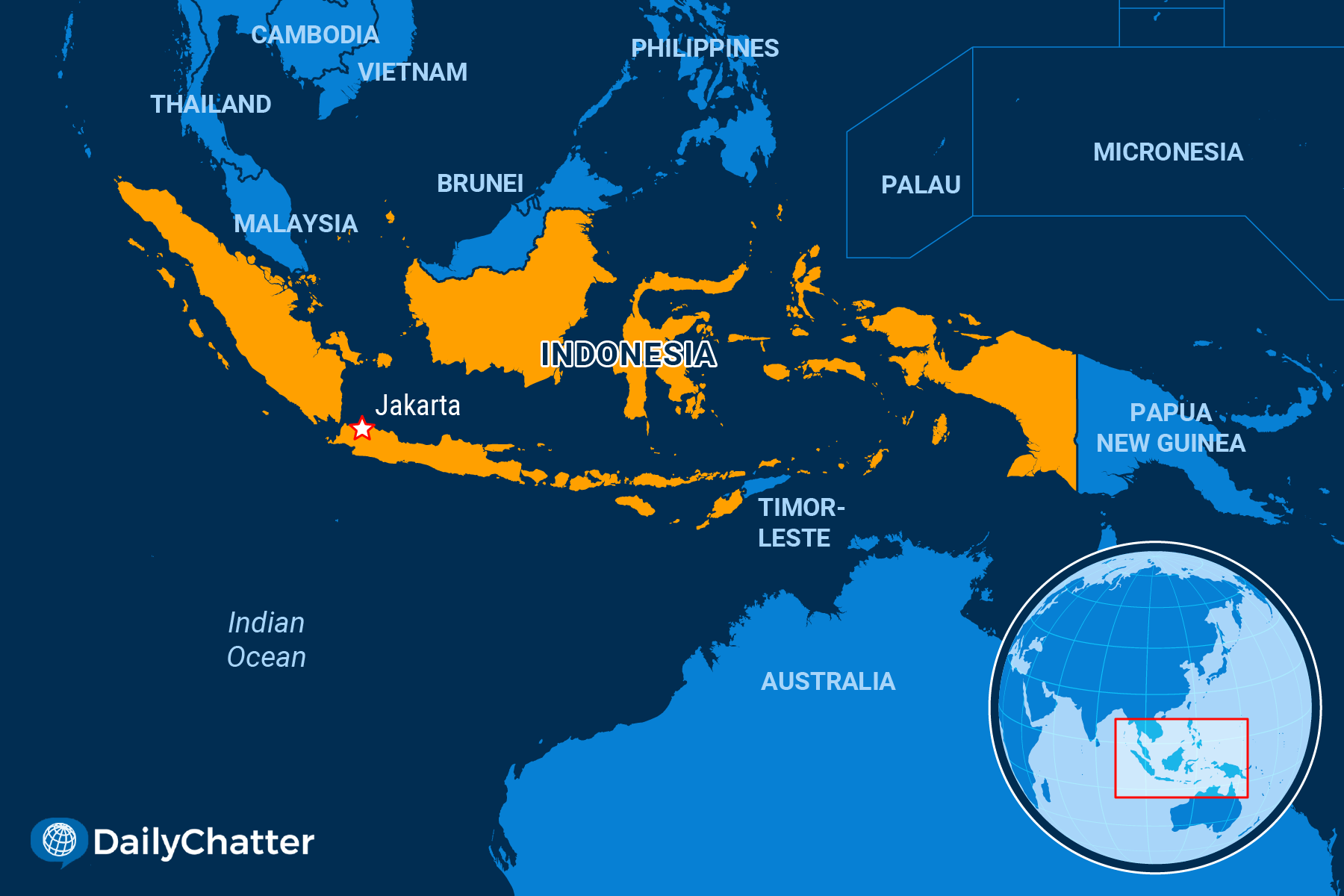 The World Today for April 05, 2022
Listen to Today's Edition
NEED TO KNOW
Green Fields, Orange Apes
INDONESIA
Indonesians are talking about their government's plan to move their capital from the metropolis of Jakarta on the island of Java to a new city under construction, Nusantara, on the island of Borneo.
Expected to be completed in 2045, the $32 billion, 990-square mile megaproject will host offices and agencies that employ 1.5 million civil servants, the Los Angeles Times reported. The Indonesian government is paying for around a fifth of the project, while state-run and private companies are footing the rest of the bill.
Polluted and congested, Jakarta is sinking due to groundwater extraction and rising sea levels, wrote the Associated Press. Nusantara, in contrast, will be built using green technology and sustainable principles, officials say, according to Antara, Indonesia's state-run news agency.
It's not a new idea. Brazil built Brasília to replace Rio de Janeiro. Turkey built Ankara to help slough off its Ottoman legacy in Istanbul. The United States built Washington, DC rather than keep Philadelphia as its capital. Egypt is almost finished with its new capital, a metropolis in the desert that will replace Cairo.
But critics of Nusantara are numerous. Local polls show that more than 60 percent of the country disapproves of the move.
Politician Edy Mulyadi, who had been part of the opposition Prosperous Justice Party, for example, got himself into hot water when he said that President Joko Widodo (also called Jokowi) was erecting a city on land "where genies dump kids," noting that "kuntilanak" and "genderuwo" – or vampiric and troll-like creatures from Indonesian folklore – are reputed to haunt the region of East Kalimantan Province where Nusantara will rise.
He was then arrested on charges of "inciting hatred" against the Kalimantan people and "causing a racket," wrote Nikkei Asia.
Perhaps Mulyadi's comments were flip. They obliquely related to real concerns, however. Environmentalists are worried the city will hasten the forest burning and development that has destroyed habitat for endangered orangutans and other species, noted CNN. Nearly 1,000 square miles of trees will be cut to make way for the city, for example.
The orangutan population in Borneo decreased by half between 2005 and 2018. Less than 100,000 of the furry, highly intelligent apes remain. It's hard to see how a new city and associated development will prevent that downward trend, argued Science magazine.
Others have voiced skepticism about the capacity of the government to prevent bribery and other forms of corruption, the Financial Times explained. Still, others wonder if the Indonesian government can afford to spend so much on the project. The answer to that question could come years from now, of course.
Ambitious projects help countries advance. They can also become boondoggles that burden future generations.
THE WORLD, BRIEFLY
Abandoning Ship
SRI LANKA
Several Sri Lankan ministers and officials resigned Monday following ongoing mass demonstrations as the country experiences its worst economic crisis in decades, CNN reported.
The Minister of Justice and the Minister of Youth and Sports – the latter who is also President Gotabaya Rajapaksa's nephew – are among those who have either resigned or indicated their intention to leave the administration. On Monday, the Central Bank Governor Ajith Nivard Cabral became the latest to quit.
The resignations come amid demonstrations over the country's dire economic situation that has seen a currency devaluation, skyrocketing prices of basic goods and days-long power blackouts.
The protests turned violent last week when protesters threw bricks and set fires outside the president's residence in the capital, Colombo. The incident prompted Rajapaksa to declare a state of emergency, impose a curfew in parts of the city and block social media platforms.
Even so, demonstrators took to the streets over the weekend in defiance of the curfews.
Rajapaksa addressed the situation Monday, saying the crisis is a result of "several economic factors and global developments." He urged all parties to "work together for the sake of all the citizens and future generations."
Over the past two years, Sri Lanka's currency reserves have fallen by 70 percent to $2.31 billion. The island nation must repay almost $4 billion in debt this year, including a $1 billion international sovereign bond maturing in July.
Small Victory, Big Plans
COSTA RICA
Former World Bank economist Rodrigo Chaves won Costa Rica's presidential runoff elections over the weekend, promising to shake up traditional party politics and revive the country's economy, Bloomberg reported Monday.
Preliminary results showed that Chaves secured 53 percent of the vote against his rival, former President Jose Maria Figueres. Turnout was considered the lowest in decades as voters expressed dissatisfaction with the country's lagging economy and widespread corruption.
Chaves has vowed to boost growth with more foreign investment and favored a close relationship with the International Monetary Fund. In his victory speech, he pledged to modernize Costa Rica, reduce unemployment and govern with "transparency and austerity."
The former economist also said that he plans to use referendums to bypass the legislature and shake up the Central American country's normally stable political structure.
Costa Rica has long enjoyed some of the best living standards in Latin America but the country's tourism-based economy has been struggling in recent years because of the coronavirus pandemic, the BBC noted.
Chaves previously served as finance minister in the outgoing government of President Carlos Alvarado. He also worked for nearly three decades at the World Bank, where he became country director for Indonesia in 2013.
Still, the new leader faced a series of controversies during his campaign, including allegations of sexual harassment when he worked at the World Bank.
He denied the allegations.
A Rough Ride
HONG KONG
Hong Kong Chief Executive Carrie Lam will not run for a second term in the upcoming May elections, even as mainland China has increased its control of the semi-autonomous city in recent years, CNBC reported Monday.
Lam said during a press conference that her decision was "entirely based on" her family considerations. Her announcement came a day after the nomination period for Hong Kong's chief executive election began.
She declined to comment on any potential candidates in the May 8 polls.
Although part of China, the special administrative region of Hong Kong is governed through the "one country, two systems" framework, which provides the city with election rights, as well as a mostly separate legal and economic system.
Elected in 2017, Lam's term had been plagued by months-long anti-government protests and the impact caused by the coronavirus pandemic.
In 2019, tens of thousands of people protested a proposed law that would have allowed people in the city to be extradited to mainland China. The bill was later withdrawn but the protests prompted Beijing to impose a controversial national security law on Hong Kong.
Lam said that the legislation was aimed at prohibiting secession, subversion, terrorism and foreign interference. But many critics said it would undermine Hong Kong's autonomy.
The chief executive also led the city's response to the Covid-19 outbreak, with Beijing taking a zero-Covid policy and Hong Kong attempting to maintain its status as an international financial center despite stringent travel restrictions.
UKRAINE, BRIEFLY
Calls for war-crime investigations and harsher sanctions on Russia grew Monday as Ukrainian and Western officials responded to discoveries of mass graves and streets littered with the bodies of dead civilians following the Russian retreat from suburbs around Kyiv, the Los Angeles Times reported. But, Russian officials denied civilians were killed in the town of Bucha, outside the capital, CBS News added. The Russian defense ministry claimed the gruesome scenes were faked by Ukrainian forces as a "provocation."
Buses meant for the rescue of civilians from Mariupol were not able to reach the besieged southern Ukrainian city on Monday, Deputy Prime Minister Iryna Vereshchuk said, according to Reuters. She accused Russian forces of blocking the International Red Cross's evacuation efforts and said 100 Turkish citizens were still trapped in Mariupol.
The British-based charity Save The Children warned that around 22 schools have been attacked in Ukraine per day since the war began in February, NBC News reported. According to the organization, the war has affected the education of around 5.5 million children who remain in the nation. More than two million children have fled.
DISCOVERIES
Colorful Funerals
The inhabitants of the ancient city of Çatalhöyük, located in modern-day Turkey, had some strange burial practices that have left archaeologists perplexed, Gizmodo reported.
Inhabited from 7100 to 5950 BCE, Çatalhöyük is considered one of the oldest cities in the world. Just like today's urban areas, it was plagued by overcrowding, violence, disease, poor sanitation and decay.
Hosting up to 8,000 citizens at its peak, the ancient remains are an important archaeological site for clues about Neolithic Anatolians.
In a new study, a research team discovered that the ancient people used colorful pigments for building decorations and burial practices. Their findings showed that Çatalhöyük's inhabitants used different pigments on their dead that were either applied directly to the deceased or included in the grave.
Red ochre was the most common colorant found on both adults and children, but the team also discovered instances where that particular pigments were used for men and women.
They also found that the number of graves in a structure corresponded to the number of layers of paintings on the structure's walls. They suggested that there could be a connection between the individuals buried and the color used.
Another finding revealed that the ancient people exhumed the bones and skulls of the deceased and circulated them among the community, before burying them again.
Co-author Marco Milella admitted that it's not clear why residents of Çatalhöyük had such strange practices but added that the study "helps us to better understand the symbolic world of this Neolithic society, and about the relationship between the living and the dead."
COVID-19 Global Update
Total Cases Worldwide: 493,686,686
Total Deaths Worldwide: 6,170,133
Total Vaccinations Worldwide: 11,007,998,076
Countries with the highest number of confirmed cases worldwide as of 4 a.m. ET*
US: 81,495,644 (+1.67%)
India: 43,029,839 (+0.002%)
Brazil: 30,015,357 (+0.04%)
France: 26,218,724 (+0.12%)
Germany: 21,706,329 (+0.00%)**
UK: 21,428,721 (+0.23%)
Russia: 17,651,048 (+0.09%)
Turkey: 14,907,378 (+0.08%)
Italy: 14,877,144 (+0.21%)
South Korea 14,267,401 (+1.90%)
Source: Johns Hopkins University
*Numbers change over 24 hours
**Numbers have been adjusted by affected country
Not already a subscriber?
If you would like to receive DailyChatter directly to your inbox each morning, subscribe below with a free two-week trial.
Support journalism that's independent, non-partisan, and fair.
If you are a student or faculty with a valid school email, you can sign up for a FREE student subscription or faculty subscription.
Questions? Write to us at hello@dailychatter.com.