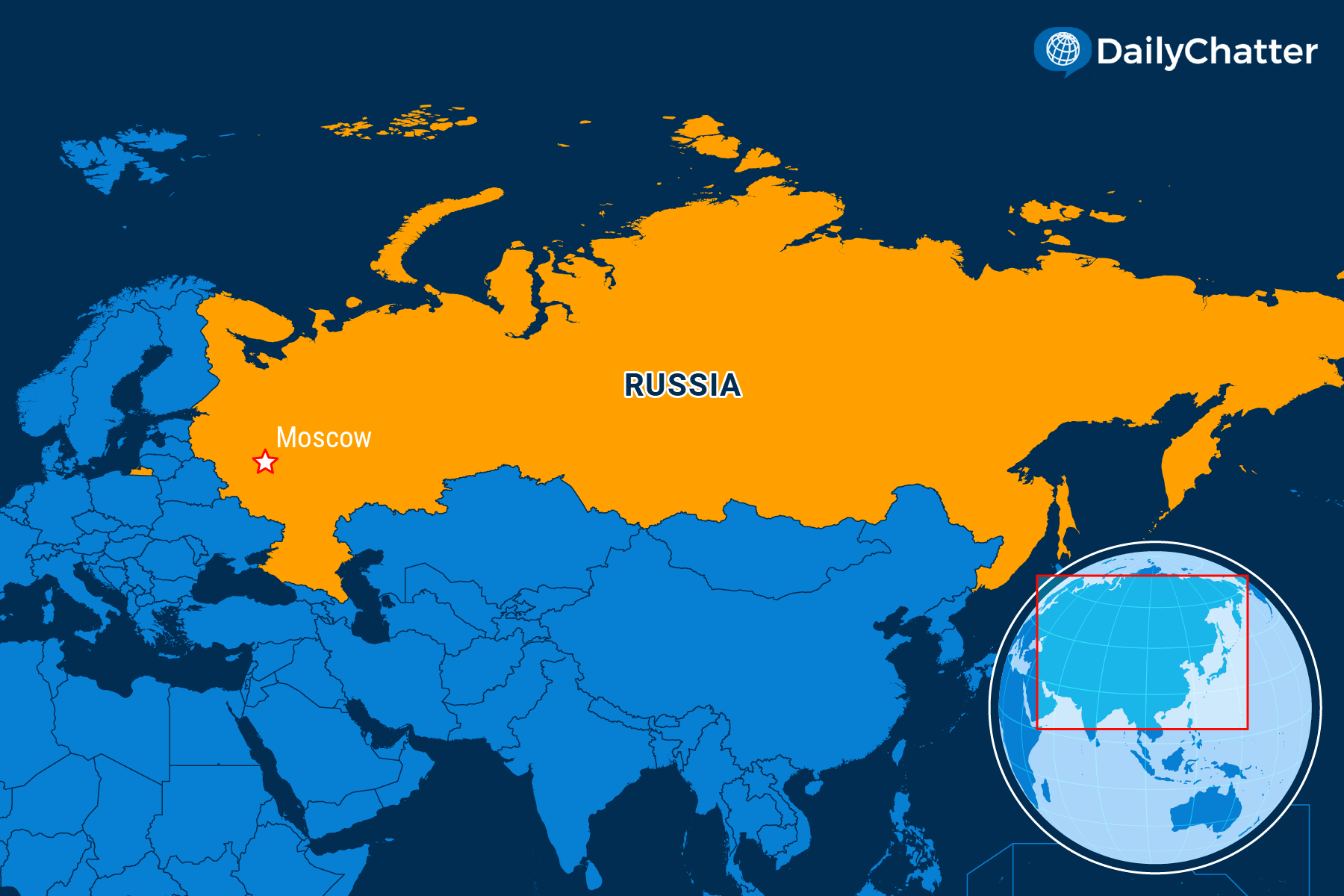 The World Today for March 31, 2022
Listen to Today's Edition
NEED TO KNOW
Russkiy Mir
RUSSIA
Artur and Vsevolod fled to Istanbul, Turkey from their hometown of Moscow fearing that they might face conscription into the Russian military as the country's brutal but botched invasion of Ukraine continues.
"The atmosphere of fear in Russia is unprecedented," said Vsevolod, whose name was changed to protect his identity, in an interview with the Guardian. "There's no draft right now but there's activity. The military networks are active. Whether this is intimidation or preparation for a draft I don't know."
The two men are among numerous Russians who have fled their country for the Turkish city. Recently, reported Forbes, high-ranking Russian official Anatoly Chubais fled to Istanbul with his family in protest against Russian President Vladimir Putin's invasion of Ukraine. Chubais, who oversaw Russia's post-Soviet reforms, was his country's climate change envoy.
Such defections show how life within Russia could be souring some Russians' image of Putin. As many as 200,000 Russians have left their country since the start of the war. Around 25,000 Russians have traveled to the former Soviet republic of Georgia (which Russia invaded in 2008.) "Many can be seen wandering around the capital, Tbilisi, with their suitcases and often even their pets," wrote the BBC.
Many of these travelers don't want to be associated with a regime that indiscriminately bombs a neighbor's cities. Others said that life in Russia was becoming materially worse due to severe Western sanctions while civil society was coarsening due to Putin's crackdown on human rights.
"The country faces a shortage of medicine and other basic supplies, laws against freedom of speech have been introduced and numerous social networks have been blocked," reported Spanish news agency EFE.
On the other end of the scale, main shopping streets in Moscow and elsewhere often with luxury brands such as Dior are almost deserted as hundreds of Western brands pulled out of the country and closed their stores.
Western tech companies have pulled out of Russia, too, undercutting its digital infrastructure, while Putin has erected barriers to keep Russians from accessing websites outside the country. Human Rights Watch warned that Russians were in danger of being isolated without any legitimate or useful news or information. This week, the last independent newspaper in Russia, Novaya Gazeta, suspended operations after getting a second warning from Russian communications regulators. Even so, US-funded RFE/RL recently reported a surge of traffic from Russians using VPNs after it mostly suspended operations because of Russian government pressure.
Still, the propaganda goes on. Putin recently attended a concert, for example, in Luzhniki stadium to mark the eighth anniversary of Russia's annexation of Crimea from Ukraine. Behind him appeared a flag that said "For a world without Nazism," perpetuating the falsehood that fascists run the Ukrainian government, noted CNN. No dissent from the pro-war spectacle was allowed, of course.
Putin has a large swathe of supporters regardless of what is being said on the country's broadcast media or online. But fed a steady diet of propaganda, many Russians within Russia are more worried about their daily lives than the government even as they don't know the full scope of the tragedy that has unfurled in Ukraine, Vox added.
They only know that something feels very wrong.
Putin felt that, too, eight years ago, when he spoke of the concept of the "divided" Russian world (Russkiy Mir) as justification for annexing Ukraine's Crimea. He said it's a civilization that has to be protected from external forces such as the West, the German Council on Foreign Relations noted.
With thousands of Russians contributing to a growing "brain drain," it's clear this isn't a world many want to live in.
THE WORLD, BRIEFLY
The Sparks
ISRAEL/ WEST BANK & GAZA
Israel raised the nationwide alert level to the highest level possible for the first time since last year's war against Hamas in Gaza following a series of deadly attacks that have raised fears of a new round of conflict between Israelis and Palestinians just before Passover, Easter and Ramadan, the New York Times reported.
The army sent reinforcement to the occupied West Bank, where a gunman behind an attack on Tuesday resided. The assailant killed five, marking the fifth attack in less than two weeks.
Tuesday's attack followed one by two Islamic State sympathizers who killed two police officers in northern Israel Sunday.
The new wave of violence has killed 11, most of them Israeli Jews but also two foreigners and members of Israel's Arab minority.
Though no one has claimed responsibility, a number of Palestinian militant groups, including Hamas which controls the Gaza Strip, praised Tuesday's attack.
A Hamas official said the shooting was a response to a historic diplomatic summit between Israel and four Arab countries, a meeting that – to the dismay of Palestinians – boosted Israel's regional legitimacy.
Even so, the president of the Palestinian Authority, Mahmoud Abbas, condemned the shooting, as did a prominent Arab-Israeli politician.
Meanwhile, officials worry that the new spate of violence could escalate with the beginning of the Muslim holy month of Ramadan later this week: Ramadan is frequently a period of heightened tensions between Palestinians and Israelis. This year, the holy month will converge with the Jewish holiday of Passover and the Christian Easter.
The rare occurrence could lead to more Muslims, Jews and Christians gathering at shared religious sites in Jerusalem.
Israel had tried to ease certain tensions in the buildup to Ramadan by approving more work permits for Palestinians in the occupied territories. Israel's Supreme Court also postponed the evictions of a number of Palestinian families in an East Jerusalem neighborhood that became the flashpoint for last year's Gaza war.
Game Over
PAKISTAN
Pakistani Prime Minister Imran Khan is under pressure to resign after a major ally in his coalition switched to the opposition on Wednesday, a move that comes ahead of a no-confidence vote next week, Al Jazeera reported.
The Muttahida Qaumi Movement Pakistan (MQM-P) party said it was leaving Khan's ruling Pakistan Tehreek-e-Insaf (PTI)-led coalition government, following negotiations with the opposition.
The embattled prime minister also saw nearly two dozen PTI lawmakers defecting, which currently leaves Khan's ruling alliance with only 164 votes.
He needs 172 votes to defeat the no-confidence motion.
The political crisis began earlier this month when the opposition announced the no-confidence vote amid accusations that Khan has mismanaged Pakistan's economy.
For his part, Khan – who was elected in 2018 – blamed the recent turmoil on a foreign-funded conspiracy attempting to oust him.
No Pakistani prime minister has ever served a full term in the country's 75-year history, which has seen frequent military coups. In Khan's case, the army has been a stabilizing factor for his administration.
Even so, analysts said that Khan has lost the support of the military following his choice of a new spy chief.
No Special Privilege
EUROPEAN UNION
The European Union is calling for an end to their member states' "golden passport" schemes and for them to suspend the sale of visas to Russians and Belarusians following Moscow's invasion of Ukraine last month, Reuters reported.
A number of EU nations have implemented the "golden passport" programs as a way to sell citizenship to foreign investors. But the multi-billion-dollar industry has been long considered a security risk.
The recent move follows a push by the European Parliament to reduce and regulate the contentious scheme. It comes amid fears that some of the individuals who were subject to EU sanctions following Russia's invasion might be golden passport holders.
The European Commission urged countries to end the existing national programs and check whether sanctioned individuals hold a golden passport or visa.
Currently, only Malta, Cyprus and Bulgaria have such schemes and they have all committed to ending them: Bulgarian lawmakers recently voted to end the program.
It's unclear how many sanctioned Russians and Belarusians are beneficiaries of the passport scheme.
According to numbers released by the EU Parliament in February, around 130,000 people took advantage of citizenship and residency-by-investment initiatives in the bloc between 2011 and 2019, the Washington Post noted.
The schemes brought in more than $20 billion to participant countries.
UKRAINE, BRIEFLY
Russia dismissed reports of progress in peace negotiations with Ukraine, saying the results of a round of talks in Istanbul were nothing "too promising," according to Radio Free Europe.
Poland plans to phase out all Russian oil imports by the end of the year, while Germany issued a warning about natural gas levels and urged citizens to conserve, underscoring how Russia's war in Ukraine has heightened concerns over securing energy supplies to power Europe, the Associated Press reported. Meanwhile, a senior Russian legislator told the European Union that if it wanted Russian natural gas, it would have to pay in rubles, and that oil, grain, metals, fertilizer, coal, and lumber exports might soon be priced similarly, Reuters added.
The EU Advisory Mission to Ukraine's office in the besieged city of Mariupol was struck by Russian artillery. No injuries were reported, Politico noted. Meanwhile, the UN human rights mission told Reuters that thousands of people may have died in the besieged port city of Mariupol in southern Ukraine since the bombardment began four weeks ago.
DISCOVERIES
All in the Family
Scientists constructed the largest ever human family tree to provide a glimpse of humanity's genetic history going back two million years, New Scientist reported.
In their study, a research team compiled more than 3,600 complete genomes, the majority belonging to our species, Homo sapiens, as well as three from Neanderthals and one Denisovan.
The extensive family tree took about two decades to construct and includes more than 6.4 million DNA variants.
Among their findings, the tree suggests that humanity's earliest roots were in northeastern Africa: DNA variants that appeared 72,000 years ago were most prevalent in that region, with the oldest found in what is now Sudan.
The oldest variants were around two million years old and might have belonged to the earliest member of the Homo genus – not specifically H. sapiens, because they emerged around 300,000 years ago.
The genealogical tree also showed that certain human migrations happened earlier than previously believed, for example, that people lived in Papua New Guinea nearly 100,000 years before the earliest documented inhabitants.
Another instance is the migration to the Americas: The new study posits that people were first on the continent 56,000 years ago, instead of 18,000 years ago as thought earlier.
The authors acknowledged that more research and evidence are required to confirm their findings but added that the study indicates that all humans are "ultimately related to each other."
COVID-19 Global Update
Total Cases Worldwide: 486,874,009
Total Deaths Worldwide: 6,138,426
Total Vaccinations Worldwide: 10,940,617,757
Countries with the highest number of confirmed cases worldwide as of 4 a.m. ET*
US: 80,057,236 (+0.05%)
India: 43,024,440 (+0.003%)
Brazil: 29,920,604 (+0.11%)
France: 25,633,476 (+0.66%)
Germany: 21,142,217 (+1.32%)
UK: 21,141,378 (+0.42%)
Russia: 17,564,186 (+0.11%)
Turkey: 14,846,224 (+0.09%)
Italy: 14,567,990 (+0.49%)
South Korea 13,095,631 (+2.51%)
Source: Johns Hopkins University
*Numbers change over 24 hours
Not already a subscriber?
If you would like to receive DailyChatter directly to your inbox each morning, subscribe below with a free two-week trial.
Support journalism that's independent, non-partisan, and fair.
If you are a student or faculty with a valid school email, you can sign up for a FREE student subscription or faculty subscription.
Questions? Write to us at hello@dailychatter.com.