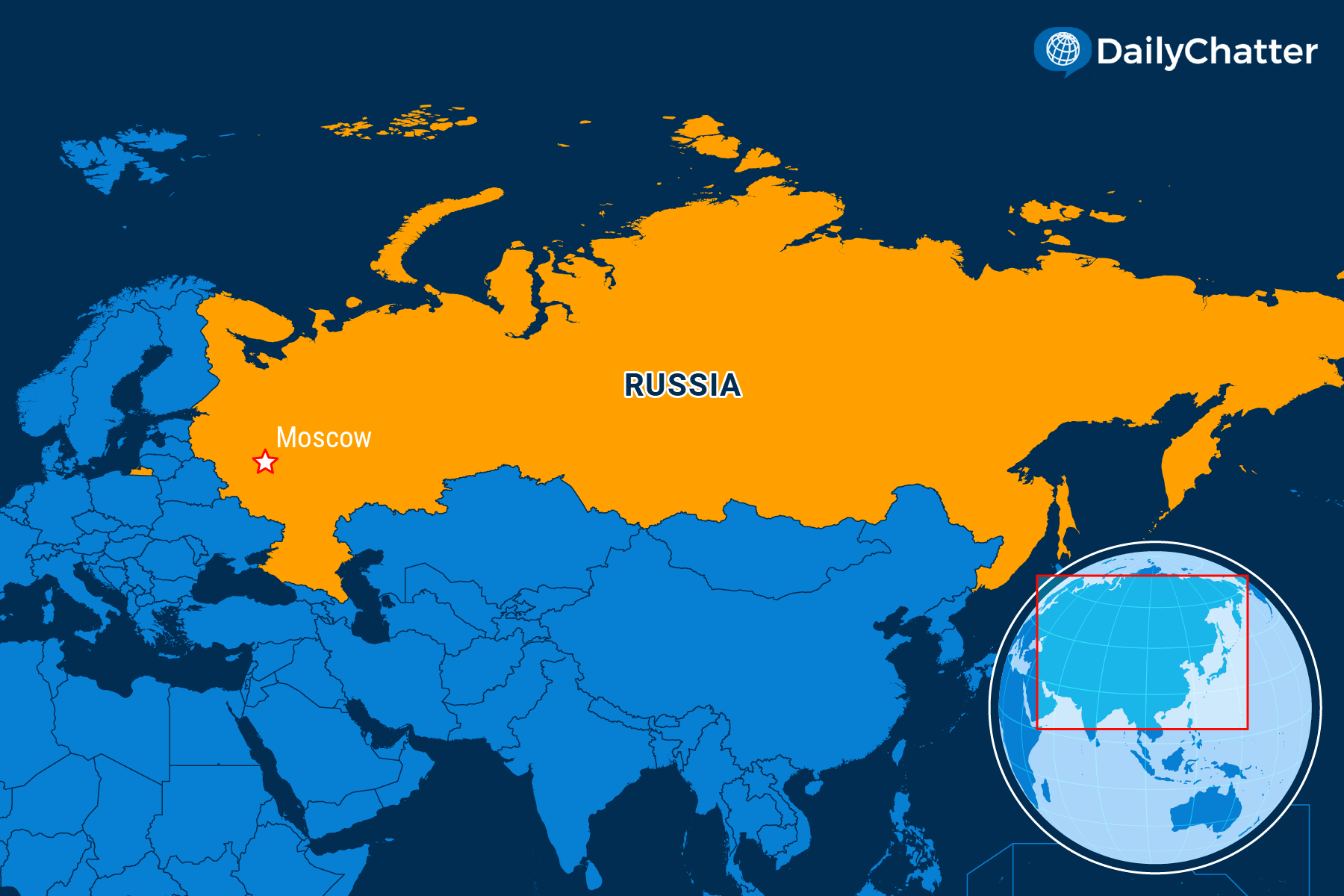 The World Today for March 21, 2022
Listen to Today's Edition
NEED TO KNOW
An Angry Man
RUSSIA
Recently, Putin declared that any country that interfered in Russia's special operations in Ukraine would face "consequences greater than any you have faced in history," raising the specter of mutually assured destruction, as the Atlantic magazine recounted.
Is Vladimir Putin's threat of a nuclear strike only bluster? Or is the Russian president capable of using nuclear weapons in Ukraine or elsewhere in Europe or the world? The world faces a potential nuclear standoff that hasn't been seen since the Cuban Missile Crisis, the New York Times said.
Many echo that view these days.
"The prospect of nuclear conflict, once unthinkable, is now back within the realm of possibility," said United Nations Secretary-General António Guterres, according to Reuters.
Some believe the West should be very afraid, especially if Russia's invasion continues to falter. More than 7,000 troops have perished in the Ukraine war that started on Feb. 24, the Times of India noted. That's more than the US military lost for 20 years in Iraq and Afghanistan. Nuclear weapons might be the only way for the Russian army to conquer their foes.
Setbacks on the battlefield appear to have influenced Putin to put his nuclear forces on alert last month, explained Bloomberg. As his conventional forces run out of steam, he'll be under pressure to show that Russia and his administration have options for continuing the fight in the face of failure. Putin already uses the nuclear option to bully neighbors and keep NATO on alert, the Jerusalem Post wrote.
"I find it hard to imagine Putin accepting a complete military defeat without him trying to use nuclear weapons first," said Matthew Kroenig, deputy director of the Atlantic Council's Scowcroft Center for Strategy and Security, in an interview with the Washington Post. "I think he sees limited nuclear use as more attractive than accepting defeat."
Russia would likely use so-called "tactical" nuclear weapons over short distances. As the BBC wrote, these tactical weapons might have the explosive power of one kiloton of TNT. In comparison, the explosive power of the atomic bomb dropped on Hiroshima in 1945 was 15 kilotons of TNT.
Meanwhile, in Ukraine, where one of the worst nuclear accidents in history occurred at Chernobyl, experts have sounded alarms about Russian attacks that might damage operating nuclear power plants, causing environmental disasters, Al Jazeera reported.
In Rome, Pope Francis used apocalyptic language to describe the tenor of the world at the moment. "Our imagination appears increasingly concentrated on the representation of a final catastrophe that will extinguish us," the pontiff said.
That's one way to describe Putin's strategy so far.
THE WORLD, BRIEFLY
Writing on the Sand
WESTERN SAHARA
Algeria recalled its ambassador from Spain over the weekend in protest of Madrid's decision to support a Moroccan autonomy plan for the disputed territory of Western Sahara, Agence France-Presse reported.
On Friday, the Spanish government declared "a new stage" in its strained relations with Morocco and announced it backed a 2007 Moroccan proposal to offer Western Sahara autonomy under its sovereignty. Spanish officials described the plan as the "most serious, realistic and credible basis" to end the long-running conflict.
After Spain withdrew from the region in 1975, Morocco annexed Western Sahara and considered it as part of its territory. And since then, the Moroccan government has been engaged in a conflict with the Algerian-backed Polisario Front fighting for independence, Africanews noted.
Before Friday's announcement, Spain had kept a neutral stance toward the conflict and supported a United Nations-backed referendum to resolve the dispute.
Algeria and the Polisario Front criticized Spain's "abrupt about-turn," saying the Spanish government was bowing to pressure and "blackmail" from Morocco.
Spain's relations with Morocco have nosedived since last year when Madrid secretly allowed Polisario Front commander Brahim Ghali to seek medical care at a Spanish hospital.
Morocco responded by withdrawing its ambassador in Spain and allowing thousands of migrants to storm the border around the Spanish North African enclave of Ceuta, the latter causing a humanitarian crisis.
The Long Road
EAST TIMOR
Voters cast their ballots in East Timor's presidential polls over the weekend, the Southeast Asian country's fifth election since it gained independence from Indonesia about 20 years ago, the Associated Press reported.
The election featured 13 candidates, including two former independence leaders – one former president and one incumbent. Four women took part, the highest number of females ever running for office there.
Polls show that former President Jose Ramos-Horta of the National Congress of the Reconstruction of East Timor (CNRT) had a lead over incumbent Francisco Guterres of the Revolutionary Front for an Independent East Timor party (Fretilin).
Both candidates and their parties have accused each other of causing a yearslong political crisis that resulted in the resignation of Prime Minister Taur Matan Ruak in February 2020 after the government repeatedly failed to pass a budget.
Since then, Ruak has remained in a caretaker position and his administration has been operating without an annual budget amid the coronavirus pandemic. It has mainly relied on monthly injections from its sovereign fund.
East Timor gained independence from Indonesia in 2002 but the tiny nation has been plagued by poverty, unemployment and corruption since then.
The United Nations estimates that almost half of the population lives below the extreme poverty line of $1.90 a day and half of all children under the age of five suffer poor physical and mental development as a result of malnutrition.
Oil revenues, which finance more than 90 percent of government spending, have been quickly decreasing. Analysts predict that the country's estimated $19 billion sovereign wealth fund will be depleted within a decade as yearly withdrawals outpace investment returns.
They noted that the next leader will also have to address income inequality in East Timor, where the wealthiest earn more than 42 percent of the national income and the bottom half only about 16 percent.
The results are expected on Thursday and the new president will be sworn in on May 20, the 20th anniversary of East Timor's independence from Indonesia.
Back In The Fold
SYRIA
Syrian President Bashar Assad visited the United Arab Emirates over the weekend in the first trip to an Arab country since the start of Syria's civil war a decade ago, Bloomberg reported.
Assad met with de facto UAE ruler Sheikh Mohammed bin Zayed Al Nahyan and Prime Minister Sheikh Mohammed bin Rashid Al Maktoum in what analysts describe as a sign that Gulf leaders are willing to welcome Syria back into the Arab world.
In 2011, Syria became a pariah state in the region following Assad's violent crackdown on the anti-government protests that eventually triggered the ongoing civil war.
Despite the isolation, Assad clung to power with the help of Iran and Russia, whose intervention helped turn the tide of the conflict.
In the recent meeting, the leaders reportedly discussed "issues of common concern," such as Syria's territorial integrity and the withdrawal of foreign forces from the country, according to Al Jazeera.
The Emirati crown prince also expressed hope the visit would be the beginning of peace and stability for Syria and the entire region. His comments underscore the willingness of Gulf Arab governments to reintegrate Syria into the fold, instead of abandoning Damascus to their regional rival Iran.
Even so, the United States criticized the meeting and said it would not support any normalization with Assad's regime.
Assad's visit comes as the US and Iran are trying to revive the 2015 nuclear deal that many Gulf leaders see as a threat to their security.
Meanwhile, Washington is trying to rally traditional Gulf allies to isolate Russia over its invasion of Ukraine.
Assad has supported Russia's incursion of Ukraine and the Kremlin has threatened to bring fighters from the Middle East into Ukraine. Some reported that Syrians are already fighting in Ukraine.
UKRAINE, BRIEFLY
Russia claims to have fired its newest Kinzhal hypersonic missiles in Ukraine for the first time in an attack on a weapons storage facility in the country's west. According to the defense ministry, the aeroballistic missiles destroyed a large subterranean storehouse holding missiles and aircraft ammo, Al Jazeera reported.
The Russian military destroyed an art school where 400 people had taken sanctuary in the besieged Ukrainian coastal city of Mariupol, Radio Free Europe wrote. Local officials said that the school's structure had been damaged and that individuals may have been buried beneath the rubble. No casualties have been reported. The attack came just days after another one on a theater in the city where hundreds took refuge. Russian troops are all over the city and the fighting is going "street by street," said the Washington Post. Meanwhile, city authorities warned that "several thousand Mairupol residents" are being taken to Russia against their will by Russian forces, CNN added.
The United Nations reported that close to 900 civilians have died in Ukraine since the start of Russia's invasion but warned that it believes the true death toll is "considerably higher," the Hill reported. At the same time, Ukraine accused Russia's military of purposefully opening fire into a nursing care facility, killing 56 elderly people in the eastern Luhansk area, the Telegraph added.
Ukraine opened seven humanitarian corridors on Sunday to allow civilians to leave, according to the Hill. Deputy Prime Minister Iryna Vereshchuk said the humanitarian corridors would allow people of villages targeted by the Russian assault to be evacuated as well as aid to be sent into areas close to the frontlines.
Russian President Vladimir Putin addressed a pro-government rally to mark the eighth anniversary of Russia's annexation of Crimea, Moscow Times reported. During the rally, Putin defended Russia's military operation in Ukraine, saying they were protecting people in eastern Ukraine's Donbas region from a so-called "genocide." The event was beset by "technical difficulties" and reports of people being forced to attend.
Turkey's foreign minister signaled Sunday that talks between Ukraine and Russia are making progress. Meanwhile, Ukrainian President Volodymyr Zelensky reiterated Sunday that he is ready to negotiate with Russian President Vladimir Putin, CNN reported. "I was ready for the last two years," he said. "And I think that without negotiations, we cannot end this war." He ruled out abandoning Ukraine's efforts to join NATO or giving up any territory or sovereignty.
Ukrainian President Volodymyr Zelensky said the government will ban 11 Ukrainian political parties over their "ties" with Russia. The parties share some positions with Moscow or have Russian-leaning platforms. One party, Opposition Platform-For Life, is led by Viktor Medvedchuk, a businessman with personal ties to Russian President Vladimir Putin.
DISCOVERIES
Endurance on Ice
Marine researchers and technicians recently discovered the wreck of the "Endurance," which had sunk to the bottom of Antarctica's Weddell Sea more than 100 years ago, the New York Times reported.
For more than two weeks, explorers scanned about 150 square miles of deep, freezing waters using battery-powered submersibles, sonars and high-resolution cameras.
They reported that the ship was "in a brilliant state of preservation," despite being submerged underwater for more than a century. The team explained that the cold waters and the lack of wood-eating marine organisms prevented the 144-foot "Endurance" from disintegrating.
The "Endurance" was considered one of the most famous undiscovered shipwrecks and the hunt for the wreck cost more than $10 million.
Under the terms of the decades-old Antarctic Treaty, the wreck is considered a historical monument and will be used as the basis for educational materials, as well as museum exhibits.
"We have made polar history with the discovery of Endurance, and successfully completed the world's most challenging shipwreck search," said John Shears, the leader of the Endurance22 search expedition.
The historic vessel was part of British explorer Ernest Shackleton's ill-fated attempt to cross the icy continent in the early 20th century, near the end of a period remembered as the "heroic age of Antarctic exploration."
In 1914, Shackleton and a crew of 27 people left England en route to the Weddell Sea but the ship never made it to the pole. Instead, the "Endurance" became stuck in Weddell's icy waters and drifted for more than 10 months as the ice slowly crushed it.
Despite the setback, Shackleton and his crew survived the arduous voyage and were memorialized as heroes in Britain.
COVID-19 Global Update
Total Cases Worldwide: 470,741,415
Total Deaths Worldwide: 6,077,309
Total Vaccinations Worldwide: 10,796,514,542
Countries with the highest number of confirmed cases worldwide as of 4 a.m. ET*
US: 79,734,788 (+0.01%)
India: 43,009,390 (+0.00%)**
Brazil: 29,637,814 (+0.05%)
France: 24,323,239 (+0.34%)
UK: 20,243,940 (+0.44%)
Germany: 18,809,998 (+0.49%)
Russia: 17,327,694 (+0.00%)**
Turkey: 14,693,917 (+0.09%)
Italy: 13,861,743 (+0.45%)
Spain: 11,324,637 (+0.00%)**
Source: Johns Hopkins University
*Numbers change over 24 hours
**Numbers have been adjusted by affected country
Not already a subscriber?
If you would like to receive DailyChatter directly to your inbox each morning, subscribe below with a free two-week trial.
Support journalism that's independent, non-partisan, and fair.
If you are a student or faculty with a valid school email, you can sign up for a FREE student subscription or faculty subscription.
Questions? Write to us at hello@dailychatter.com.