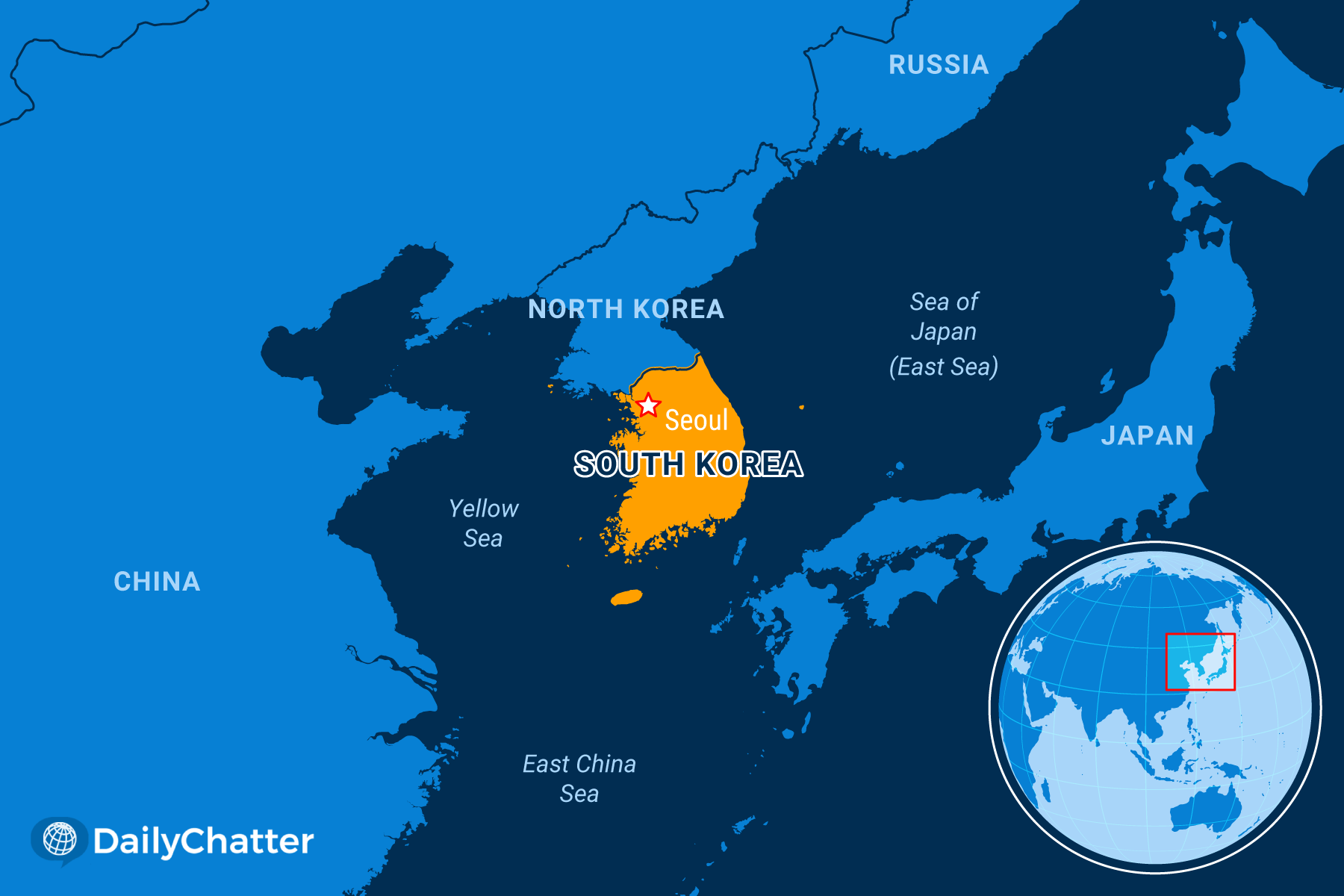 The World Today for March 08, 2022
Listen to Today's Edition
NEED TO KNOW
Of Handicapped Wins
SOUTH KOREA
More than 70 percent of South Koreans favor their country deploying nuclear weapons. They believe that the weapons of mass destruction might be their best defense against Chinese or North Korean aggression, according to a Chicago Council on Global Affairs survey.
The poll came as South Korean voters prepared to elect a new president on March 9. It wasn't clear if Russia's invasion of Ukraine affected the poll's outcome. But it is hard to deny that many South Koreans feel as if the world has become more dangerous for countries who neighbor big powers that might express different, even contrary, ideological views to their own.
The two leading candidates are the ruling Democratic Party's Lee Jae-myung and the Yoon Suk Yeol of the conservative People Power Party, the primary opposition group. Lee, 57, a former mayor and human rights lawyer, aspires to be a "successful Bernie Sanders," he told the Washington Post. He says the free-market policies of his predecessors have let South Koreans down. He wants dialogue with North Korea.
Yoon, 61, meanwhile, was the country's top prosecutor and part of the team prosecuting former president Park Geun-hye for corruption. He wants a tough approach to North Korea including deterrence capabilities such as the ability to launch a preemptive attack in case of nuclear hostilities.
Unfortunately, as Al Jazeera wrote, many South Koreans are not particularly enamored with either. Many are voting for whichever candidate they view as the lesser of two evils rather than the politician that they want in office.
The campaign has been dirty. Both candidates have cast their rivals as uncivilized and beyond the pale at a time when voters, pundits and political scientists are debating those qualities amid the horrors in Ukraine. Yoon described Lee as "Hitler" and "Mussolini" while Lee's allies called Yoon "a beast," "dictator" and "an empty can," added the New York Post.
Allegations of officials cheating to help their children enter elite schools, speculating on real estate illegally and other scandals have tarred both politicians, National Public Radio reported. A man recently attacked Democratic Party leader Song Young-gil, for example, striking Song with a hammer, reported Reuters. Song is now in the hospital.
The tensions threaten to affect how South Korea behaves in a world where the foreign order appears to be splintering as Russia seeks to rearrange Europe and many analysts believe China might invade Taiwan with the same rationale.
Lee has also been critical of America's role in Japan's annexation of Korea in the early 20th century while Yoon has made anti-China rhetoric a central part of his campaign, Foreign Policy magazine wrote. Traditionally, South Korea has pursued strategic partnerships with the US while pursuing closer economic integration with China. Now, however, it's hard to tell where economic and strategic interests divide.
Meanwhile, the country is experiencing a surge in the coronavirus, added the New York Times, adding to voters' disgust with their leaders. South Korea had been an early model for containment.
The winner will face a disgruntled public at home and an uncertain situation abroad. It's a tough starting point.
THE WORLD, BRIEFLY
Down Under, Shoring Up
AUSTRALIA
Australia will build a new naval base on its east coast that could welcome United States nuclear submarines, a move aimed at countering China's rising influence in the Indo-Pacific region, the Wall Street Journal reported Monday.
Prime Minister Scott Morrison said the country is setting aside $7.4 billion for facilities and infrastructure to accommodate new submarines, including some new nuclear ones Australia is expected to acquire in the coming decades through the AUKUS military partnership with the US and Britain.
Morrison noted that the new base will "enhance our strategic deterrent capability," adding that the existing naval facilities in Western Australia will continue to operate.
The announcement comes a few months before Australians prepare to head to the polls to elect a new government. Morrison's popularity has dipped and the center-right leader has been trying to portray himself as tough on national security.
The prime minister has taken a strong stance against China, brought Australia closer to its traditional allies and strongly condemned the Russian invasion of Ukraine.
The submarine base plans follow concerns over China's assertiveness in the Indo-Pacific, which has prompted the US to make Australia more central to its strategy to counter Beijing.
Apart from sharing nuclear-submarine technology, the AUKUS partnership also includes security cooperation in cyberspace, artificial intelligence and undersea capabilities.
Old Emperor, Old Clothes
AFGHANISTAN
Taliban authorities have been launching a widening crackdown on Afghans and foreigners across the country six months after the armed group took control of Afghanistan following the withdrawal of foreign troops, the Washington Post reported Monday.
Among the detained is Nadima Noor, a dual Canadian-Afghan national who ran a humanitarian organization in the country. The 38-year-old activist was arrested last month by a Taliban intelligence unit. The charges against her are not known.
Taliban officials have refused to publicly comment on her arrest.
Noor's detention is just the latest to hit Afghan activists, journalists, academics and foreigners: Many have been detained by authorities without any formal charges and held for days before the relevant diplomatic missions or even the Taliban's own Ministry of Foreign Affairs was notified.
A senior Taliban intelligence official told the Post that the total number of Westerners held is currently eight. The majority of the imprisoned are British citizens but one American is also being held.
The official added that most Westerners are arrested on allegations of espionage, a lack of proper documentation and human trafficking – the latter charge is often used against those accused of helping Afghans flee the country.
The ultra-conservative group had initially said they had changed since they were ousted in 2001 but their crackdown in recent months has worried Afghans and the international community.
Many believe that the latest crackdowns indicate that the Taliban aim to dominate the comparatively liberal urban regions with the same brutal methods it used to control large areas of rural Afghanistan over the previous two decades.
Extending the Olive Branch
VENEZUELA
Senior US officials met with representatives of Venezuela's government this week to discuss the possibility of easing sanctions involving Venezuelan oil exports as Washington considers a ban on imports of Russian oil and gas following Moscow's invasion of Ukraine, the Hill reported.
The meeting is considered the highest-level US visit to the troubled state in years – the two nations broke off diplomatic relations in 2019.
At the time, the Trump administration recognized opposition lawmaker Juan Guaidó as the country's legitimate leader. It also accused President Nicolas Maduro of winning the 2018 presidential elections through fraud and subsequently blocked all US revenue to Venezuela's national oil company.
The visit also comes a few days after Russian President Vladimir Putin and Maduro spoke over the phone about boosting the partnership between the two nations.
Venezuela is currently Russia's most important ally in South America.
Analysts and officials related to the talks said the meeting aims to ease oil sanctions on Venezuela in order to fill the gap left by Russia if its oil comes under sanctions.
They added the talks also focused on releasing a number of imprisoned individuals, including two former Green Berets and six former executives of the Houston-based Citgo Petroleum Corp., an oil refiner formerly controlled by the Maduro government,
Questions linger as to how these talks will impact Venezuela's battered opposition, which has failed to topple Maduro and has been recently in negotiations with the Venezuelan government. Opposition officials told the Washington Post they had no knowledge of the meeting.
Meanwhile, some observers noted that it's unclear how much Venezuelan oil will help fill the void left by Russia: Despite sitting on top of the world's largest reserves, Venezuela's oil production and exports have been reduced by domestic mismanagement and crippling US sanctions.
UKRAINE, BRIEFLY
DISCOVERIES
Avian Nobility
Researchers in Australia studying Australian magpies hit a snag after the birds figured a way to remove each other's tracking devices, New Atlas reported.
The research team was trying to study the movement and social dynamics of magpies, a highly intelligent species that live in groups and cooperate to defend their territory. To do so, the team used a set of lightweight and sophisticated tracking devices to monitor one group.
The tracking devices were designed to be difficult to remove and needed a magnet or strong scissors to do so.
Enter bird bills: Only 10 minutes after fitting the final tracker, scientists noticed that one of the adult females used her bill to remove the tracker harness from a younger bird.
A few hours later, most of the trackers were gone. The final one disappeared by day three.
The authors aren't clear how the birds helped each other get free of the trackers but said this marks the first instance of "altruism" in magpies.
They explained that the avians see the trackers as parasites that need to be removed and therefore were "rescuing" others by removing the devices.
The team said such behavior has only been seen in a group of Seychelles warblers freeing one another from sticky Pisonia seed clusters.
COVID-19 Global Update
Total Cases Worldwide: 447,897,960
Total Deaths Worldwide: 6,007,401
Total Vaccinations Worldwide: 10,608,545,968
Countries with the highest number of confirmed cases worldwide as of 4 a.m. ET*
US: 79,339,202 (+0.09%)
India: 42,971,308 (+0.01%)
Brazil: 29,077,831 (+0.07%)
France: 23,253,877 (+0.07%)
UK: 19,298,535 (+0.22%)
Russia: 16,770,275 (+0.43%)
Germany: 16,065,024 (+1.05%)
Turkey: 14,388,231 (+0.20%)
Italy: 13,048,774 (+0.17%)
Spain: 11,136,425 (+0.32%)
Source: Johns Hopkins University
*Numbers change over 24 hours
Not already a subscriber?
If you would like to receive DailyChatter directly to your inbox each morning, subscribe below with a free two-week trial.
Support journalism that's independent, non-partisan, and fair.
If you are a student or faculty with a valid school email, you can sign up for a FREE student subscription or faculty subscription.
Questions? Write to us at hello@dailychatter.com.