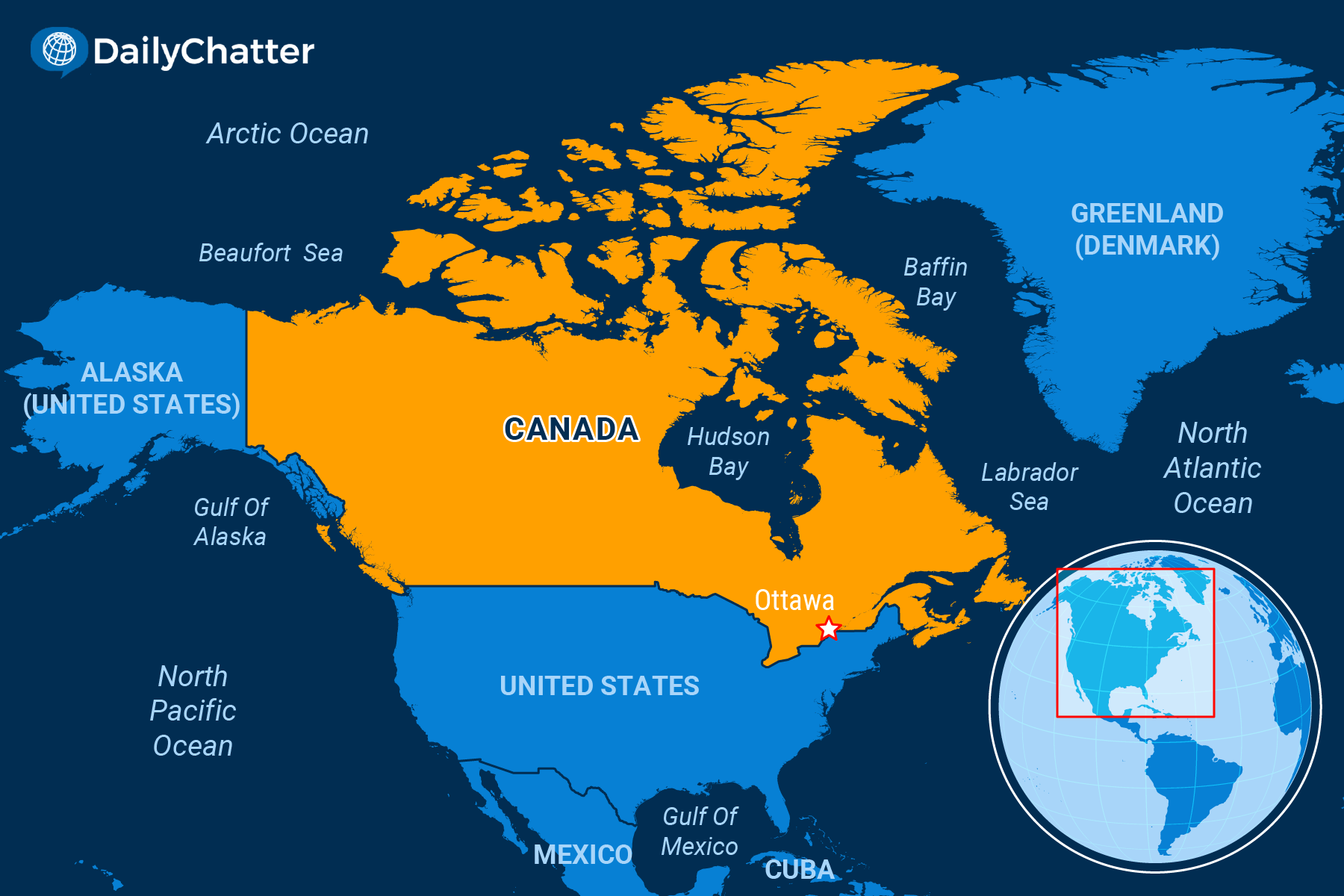 The World Today for February 15, 2022
Listen to Today's Edition
NEED TO KNOW
Frustration, Fear and Baby Shark
CANADA
The 5,525-mile border between Canada and the US has long been described as the most peaceful frontiers in the world. Now, however, the boundary is the origin of an ideological war that threatens to take the world by storm.
Hundreds of truckers in a self-described "Freedom Convoy" have been protesting against vaccine mandates and other Covid-19 measures in the Canadian capital of Ottawa – and elsewhere – for weeks, paralyzing the city's streets.
"I want all these mandates gone, and I'm not leaving until all the mandates are gone. So, I am here for the long haul. They can try to get rid of us but we're not leaving," Dylan Friesen, a protester who said he lost his job at a transport firm after he refused the vaccine, told CNN. "That's not right for companies to be able to decide that and take away our right to earn money and support our livelihood."
Canadian Prime Minister Justin Trudeau has not signaled any intention of easing the measures, however. Instead, he's called the protests "unacceptable," noted the BBC, and invoked emergency powers Monday, the first time in Canadian history. On Sunday, police cleared the blockade on Ambassador Bridge and reopened the border crossing, the Washington Post reported.
Ottawa residents, meanwhile, have complained that they don't feel safe. "They're targeting anyone who's wearing a mask, anyone who's respecting public health policy," said a nursing student who lives in downtown Ottawa in an interview with NBC News. "I myself have been accosted at least three times."
As trust in the government falters, some have started to fight back, hitting the streets to block vehicles from joining the convoy, "objecting to my city being occupied."
"They say they speak for freedom, but apparently only freedom for themselves," one infuriated resident told the Post at a counterprotest. "Not freedom for the residents who live here and are not only being inconvenienced but harassed and bullied."
Meanwhile, the protests have spread to other parts of the Canadian-US border as well as to Australia, France and other countries across the globe.
In North America, blockades have forced truckers to take long detours to deliver parts that are crucial to the auto industry, the Associated Press reported. Pundits at Fox News, where sympathetic coverage of the truckers has been intense, warned that hurting business activity was counterproductive. Car manufacturers, including Toyota and Ford, have reduced some nearby operations, citing the disruption of supply chains.
Supply chains are only one aspect of these developments. The Canadian truckers have tapped into a deep reservoir of frustration among truckers who feel as if experts and elites have imposed disruptions on their lives without their input after they have worked to deliver goods under incredibly difficult conditions during the pandemic, as Alaskan state lawmaker Jamie Allard argued in an Anchorage Daily News op-ed.
Those veins of frustration also run deep in France, where Freedom Convoys have appeared, echoing the so-called "Yellow Vest" protest movements against fuel price hikes and other issues that kicked off in 2018, the New York Times reported. Similar protests have erupted in Australia and New Zealand, too, added the Washington Post. On Paris' Champs-Élysées Saturday, protesters blocked the famous avenue despite a ban. Police arrested around 100 people, Le Parisien reported. Belgian police on Sunday and Monday attempted to stop more than a thousand vehicles crossing the border from France from entering the capital, Brussels, France24 reported. Still, the expected blockade of Brussels' streets fizzled.
In New Zealand, meanwhile, sprinklers and the Baby Shark song were the weapons of choice in an attempt to disperse demonstrators.
Guardian columnist Arwa Mahdawi claimed that the Freedom Convoys were not grassroots movements but astroturf campaigns created by far-right money and social media misinformation.
That could be a distinction without a difference if nobody listens closely to the voices of the people taking to the streets.
THE WORLD, BRIEFLY
Bullying the Bully
MAURITIUS
Mauritius formally challenged the United Kingdom's ownership of the Chagos archipelago in the Indian Ocean on Monday, after the Mauritian ambassador to the United Nations raised the country's flag on the islands, the Telegraph reported.
The move is related to a decades-long dispute over the archipelago's ownership between Britain and the island nation of Mauritius, which became independent in 1968.
In 1965, Britain separated the Chagos Islands from Mauritius and leased the archipelago to the United States to set up the Diego Garcia military base. The British government also forcefully deported the islands' 2,000 inhabitants and relocated them to Mauritius and the Seychelles.
In 2019, the International Court of Justice ruled that Britain should return the islands to Mauritius and a resolution saying as much was adopted by the UN General Assembly. But the UK has continually ignored the ruling, saying that the military base is vital to its strategic interest in the Indo-Pacific region.
The recent challenge came a week after a Mauritian vessel sailed to Chagos for what Mauritius Prime Minister Pravind Jugnauth described as a "scientific study" of a partly submerged reef.
Britain criticized the visit as a political stunt by Mauritius to enforce its sovereignty.
However, UN ambassador Jagdish Koonjul told the Guardian that they "are reclaiming what has always been our own." The prime minister called the move legitimate, adding that the international community and institutions have already decided that this is part of Mauritius' territory.
When asked what would happen if British authorities later removed the Mauritian flag, Jugnauth said that the move will "amount to a provocation on their part."
The Threat of Small Garments
INDIA
Schools opened in India's southern Karnataka state on Monday, a week after authorities shut them down following protests by Muslim female students over a ban that prevents them from wearing religious garments, Sky News reported.
The issue initially began last month when students at a government-run college were told not to wear the head coverings known as hijabs and barred from entering the institution, prompting them to sit outside in protest and say they were being discriminated against.
Demonstrations soon spread in other educational institutions across the state, those both in favor of and against the hijab ban, according to Al Jazeera. The situation escalated after the state government – ruled by Prime Minister Narendra Modi's Hindu-nationalist Bharatiya Janata Party (BJP) – issued an order on Feb. 5 to ban clothes that "disturb equality, integrity and public order."
Many Muslim students, parents and human rights groups criticized the move, which is seen as another attempt to sideline the community in the Hindu-dominated nation.
Protesters from neighboring Pakistan and US diplomats also condemned the move as a violation of religious freedom in India.
On Monday, a state court began hearing the matter and told students to stop wearing any religious clothing in class until further notice.
The recent unrest comes as Modi's ruling party heads into elections in key states, according to Reuters.
Joining the Club
COOK ISLANDS
The Cook Islands in the South Pacific reported its first coronavirus infections this week after an infected traveler from New Zealand visited the remote islands, Reuters reported.
The unnamed traveler was fully vaccinated, with officials noting this was a case of "silent transmission":  Those cases in which infected people can spread the pathogen unknowingly, the New York Times noted.
Brown suggested that the island's high vaccination rate "is so protective that people get Covid but so mildly that they do not realize they have it."
According to official data, 99.6 percent of the island nation's 17,000 residents over the age of 12 are fully vaccinated, and 70 percent of those eligible have received boosters.
The announcement comes a month after the Cook Islands resumed quarantine-free travel with New Zealand after the former had shut itself off from the world at the beginning of the pandemic in early 2020. Officials had been bracing for cases to appear, more than two years after the pandemic began.
In December, the country reported one case of the coronavirus in a person quarantining after arriving on a repatriation flight. The individual was not exposed to the community.
DISCOVERIES
Chimp Healthcare
Scientists have long known that chimpanzees are smart but they outdid themselves recently by displaying medical techniques, according to USA Today.
A new study reported that chimps use insects to treat the wounds of others, a finding that also highlights the animals' ability to empathize.
Researchers first observed such ministrations in 2019 in an adult female chimp named Suzee: The caring mother caught a bug in the air, placed it in her mouth, squeezed it and then applied it on her son's wound.
Later on, the team studied a group of 45 central chimpanzees – an endangered species – in Gabon and witnessed the same behavior more than 19 times.
They noted that chimps were acting not for their own benefit but with "the welfare of another being" in mind.
"It takes a lot of trust to put an insect in an open wound," co-author Simone Pika told Agence France-Presse. "They seem to understand that if you do this to me with this insect, then my wound gets better. It's amazing."
Scientists said that they aren't sure what kind of insect the primates were using but added that it could contain anti-inflammatory compounds that have a comforting effect.
Insects are known to have a variety of medical characteristics and the authors said that more research is needed to find and examine the medicinal bug in question.
COVID-19 Global Update
Total Cases Worldwide: 413,506,834
Total Deaths Worldwide: 5,826,564
Total Vaccinations Worldwide: 10,224,083,403
Countries with the highest number of confirmed cases worldwide as of 4 a.m. ET*
US: 77,919,052 (+0.23%)
India: 42,692,943 (+0.06%)
Brazil: 27,552,267 (+0.22%)
France: 21,886,328 (+0.14%)
UK: 18,475,373 (+0.23%)
Russia: 14,102,736 (+1.28%)
Turkey: 12,984,953 (+0.59%)
Germany: 12,628,843 (+1.40%)
Italy: 12,134,451 (+0.24%)
Spain: 10,672,906 (+0.65%)
Source: Johns Hopkins University
*Numbers change over 24 hours
Not already a subscriber?
If you would like to receive DailyChatter directly to your inbox each morning, subscribe below with a free two-week trial.
Support journalism that's independent, non-partisan, and fair.
If you are a student or faculty with a valid school email, you can sign up for a FREE student subscription or faculty subscription.
Questions? Write to us at hello@dailychatter.com.