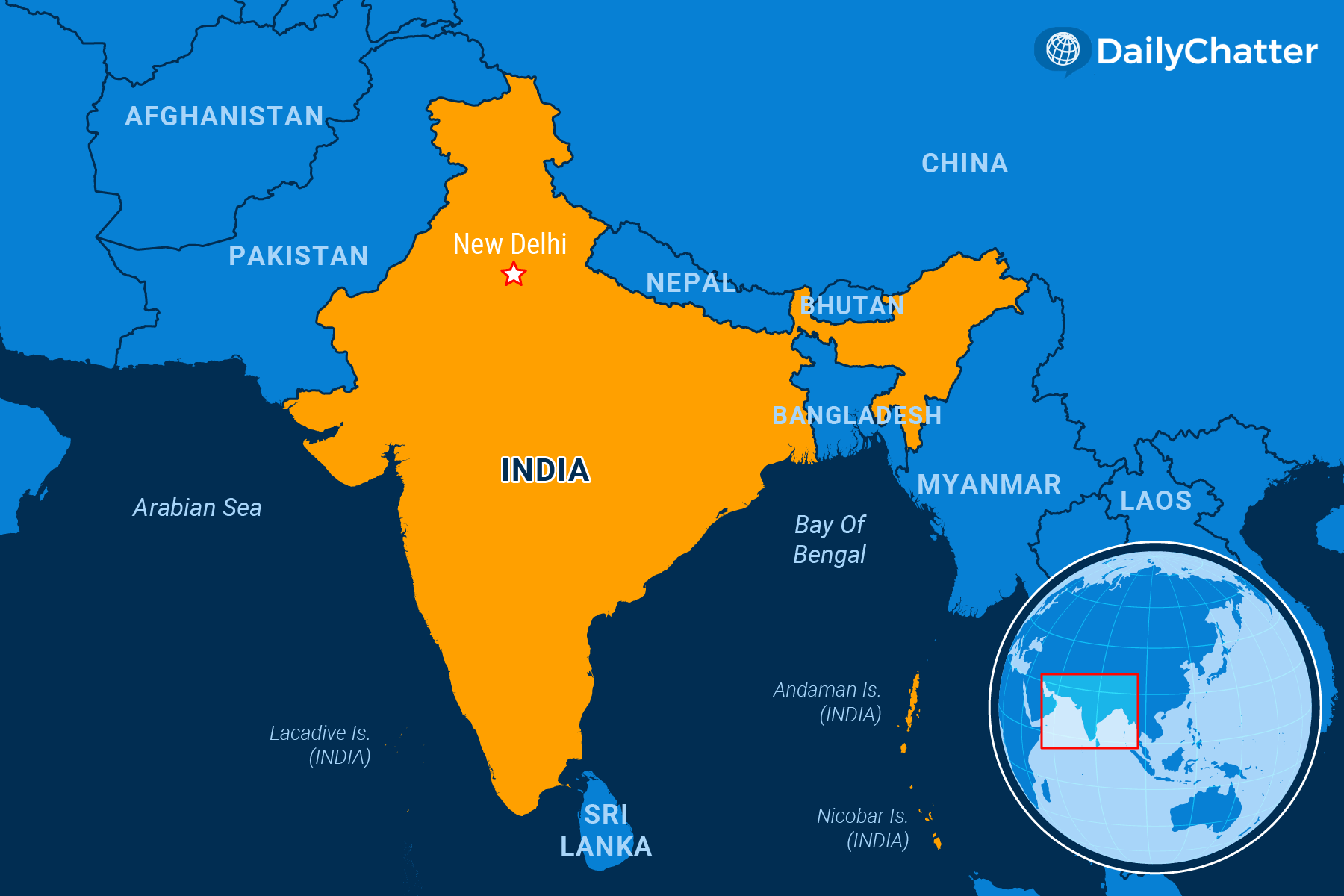 The World Today for February 10, 2022
Listen to Today's Edition
NEED TO KNOW
Battlegrounds
INDIA
With live political rallies banned due to the coronavirus, LED screens are going up throughout India in anticipation of Indian Prime Minister Narendra Modi holding virtual campaign speeches in the run-up to local elections in five states that start on Feb. 10.
As India Today reported, Modi plans to discuss how his central government has boosted social welfare programs amid the pandemic and plans to spend more on big infrastructure projects.
Modi wants to build 15,500 miles of highways, 100 cargo terminals, 400 new trains and new affordable housing, Foreign Policy wrote. Those projects could appeal to almost 35 percent of India's working-age citizens who are currently unemployed.
Those moves came as Modi's "strongman" image has taken hits in recent months, CNBC explained. Elected in 2014 as a pro-free market nationalist who argued for the primacy of Hinduism in the technically secular country, Modi saw his popularity decrease over his handling of the pandemic, including his short notice on lockdowns that sent millions of Indians scrambling from cities to the countryside.
Then, in November, protests compelled Modi to repeal controversial farm laws that would have ended state protections and instituted free-market-oriented reforms. It was his biggest defeat ever.
Looking for thoughtful, independent coverage of US political news? Try Tangle.
DailyChatter only reports news from around the globe, so we look to our colleagues at Tangle to help us discern what's happening in the complex world of US politics. Tangle is a daily newsletter that covers political news in the United States with the same kind of balance and neutrality we strive for in covering the rest of the world. It's a rare breed – news that's read and trusted by a wide range of people from across the political spectrum. Tangle's rational, reasoned, and nuanced coverage earns media bias ratings that are always in the center which makes the Tangle newsletter a highly valued resource for many, including us.
Try it for free. Plus, get 20% off your Tangle membership with the Black Friday deal they are running this week.
The elections are viewed as vital precursors to a general election in 2024, reported the Independent. Modi's Bharatiya Janata Party (BJP) controls four of the five states, while the Indian National Congress, which held power in India for decades, controls the fifth.
Of the five states, the BJP-controlled state of Uttar Pradesh, the most populous state in the country of nearly 1.4 billion people, is the most hotly contested ground. Its voters represent 17 percent of India's total electorate. Some BJP lawmakers have fled the state party under hardline Hindu nationalist Yogi Adityanath and joined another rival group, the Samajwadi Party.
Muslims comprise almost 20 percent of the electorate in Uttar Pradesh. It's not clear if they will play much of a role in the vote even though, theoretically, they should oppose the BJP's pro-Hindu stance. BJP candidates criticize opponents who speak up for Muslims who are traditionally alienated from Indian politics, argued TRT World, a Turkish public broadcaster.
Modi has been holding events in Uttar Pradesh and plans to direct a large chunk of his new spending to the state. "The BJP swept that state in 2017, which contributed to building its image of electoral invincibility," Ashoka University Political Scientist Gilles Verniers told Bloomberg. "Losing ground in Uttar Pradesh now would automatically make the 2024 election more open and competitive."
Expect a rumble.
THE WORLD, BRIEFLY
Running For Cover
SLOVAKIA
Slovakia's parliament approved a defense military treaty with the United States on Wednesday, a deal that received intense opposition amid fears of compromising the country's sovereignty, the Associated Press reported.
The Defense Cooperation Agreement would allow the US military to use two Slovak air force bases for 10 years, while the European Union nation – and NATO member – will receive $100 million to modernize them.
The deal was originally signed by US Secretary Anthony Blinken and Slovakian Defense Minister Jaroslav Nad last week. The treaty comes as fears rise over a Russian invasion in Ukraine – the Kremlin has stationed more than 100,000 Russians near the Ukrainian border.
Ukraine borders Slovakia.
Prime Minister Eduard Heger welcomed the agreement and said it will "significantly enhance our security."
But opposition lawmakers countered that the deal will impact Slovakia's sovereignty, make possible the permanent presence of American troops in the country and even permit the possible deployment of nuclear warheads on Slovak soil.
Thousands of people protested the deal in front of the parliament building this week.
Lingering Embers
KAZAKHSTAN
Thousands of Kazakhs protested in the country's western region of Mangystau this week in a series of rallies that come a month after the Central Asian nation was rocked by unprecedented mass anti-government protests, Radio Free Europe reported.
Oil company workers in the town of Zhanaozen – the epicenter of January's demonstrations – launched a strike Wednesday. Elsewhere, about 1,000 employees at the Mangystau nuclear power plant have been protesting in the regional capital, Aqtau, since Monday.
The demonstrators are demanding higher salaries and better working conditions.
Meanwhile, Zhanaozen residents have been demonstrating for more than a week against youth unemployment.
In January, anti-government demonstrations began in Zhanaozen over sudden fuel-price hikes. The protests later spread to many Kazakh cities, prompting President Kassym-Jomart Tokayev to declare a state of emergency and invite troops from the Russian-led Collective Security Treaty Organization.
Tokayev blamed the unrest on foreign terrorists, although he has provided no evidence to back up his claim.
The unrest was soon squashed. Officials say more than 220 people died, including 19 members of law enforcement.
Human rights groups, however, said the number is likely much higher: They noted that many peaceful protesters and people not linked to the demonstrations were killed by security forces following Tokayev's "shoot-to-kill-without-warning" order.
Ye Olde Era
UNITED KINGDOM
Britain's oldest pub closed its doors this week because of the economic difficulties caused by the coronavirus pandemic, ending more than 1,000 years of operations, NPR reported.
Ye Olde Fighting Cocks, located in St. Albans, England, dates back to the eighth century CE, according to its website. The ancient venue has been used as a pigeon house, an inn and the site of numerous cockfights before the sport was banned in the middle of the 19th century.
The building is also linked with tunnels stretching from the beer cellar to nearby St. Albans Cathedral because the facility was reportedly frequented by monks. English statesman Oliver Cromwell is also believed to have spent a night at the inn during the Civil War of 1642-1651.
Owner Christo Tofalli said that the closure came following "a sustained period of extremely challenging trading conditions." He cited the rising business rates and taxes, as well small profit margins that were exacerbated by the pandemic.
The historic pub – whose age remains a topic of debate – is one of the thousands of licensed premises that were forced to permanently close because of the pandemic: Nearly 10,000 restaurants, pubs and clubs shuttered their doors in 2020.
Tofalli said that despite how recent British health measures did not stop pubs from operating, the new omicron wave forced many people to stay at home. Also, efforts to save the pub didn't materialize, such as a GoFundMe page that raised nearly $4,500 before it stopped accepting donations.
Still, he added that he was working with brewery owners Mitchells & Butlers "to lessen the impact" of the pub's closure and hopefully, eventually, reopen it.
DISCOVERIES
As the Crow Sweeps
More than one billion cigarette butts are discarded on Swedish streets each year, which make up about 62 percent of all litter in Sweden, according to the Keep Sweden Tidy Foundation.
Now, a startup in Södertälje is planning to sweep up the city's streets using trained crows, the Guardian reported.
Corvid Cleaning is conducting a pilot project in Södertälje, located near the capital, using New Caledonian crows – a member of the corvid family of birds.
Previous research has shown that these crows are as good at reasoning as a seven-year-old child, and are possibly the smartest avians for this kind of job.
"They are easier to teach and there is also a higher chance of them learning from each other," said startup founder Christian Günther-Hanssen. "At the same time, there's a lower risk of them mistakenly eating any rubbish."
Günther-Hanssen explained that to motivate the new employees, the wild birds will receive food for every cigarette butt they collect and deposit in a bespoke machine designed by his startup. He added that the pilot will also monitor if the waste-collecting activity affects the birds' health.
He said that this novel method could save the city at least three-quarters of the costs involved in picking up cigarette butts.
Södertälje spends more than $2 million on street cleaning.
COVID-19 Global Update
Total Cases Worldwide: 403,274,031
Total Deaths Worldwide: 5,778,028
Total Vaccinations Worldwide: 10,120,683,388
Countries with the highest number of confirmed cases worldwide as of 4 a.m. ET*
US: 77,267,254 (+0.28%)
India: 42,478,060 (+0.16%)
Brazil: 26,972,914 (+0.67%)
France: 21,178,764 (+0.02%)
UK: 18,123,192 (+0.38%)
Russia: 13,128,679 (+1.40%)
Turkey: 12,554,674 (+0.87%)
Italy: 11,847,436 (+0.69%)
Germany: 11,832,331 (+2.18%)
Spain: 10,502,141 (+0.60%)
Source: Johns Hopkins University
*Numbers change over 24 hours
Not already a subscriber?
If you would like to receive DailyChatter directly to your inbox each morning, subscribe below with a free two-week trial.
Support journalism that's independent, non-partisan, and fair.
If you are a student or faculty with a valid school email, you can sign up for a FREE student subscription or faculty subscription.
Questions? Write to us at hello@dailychatter.com.