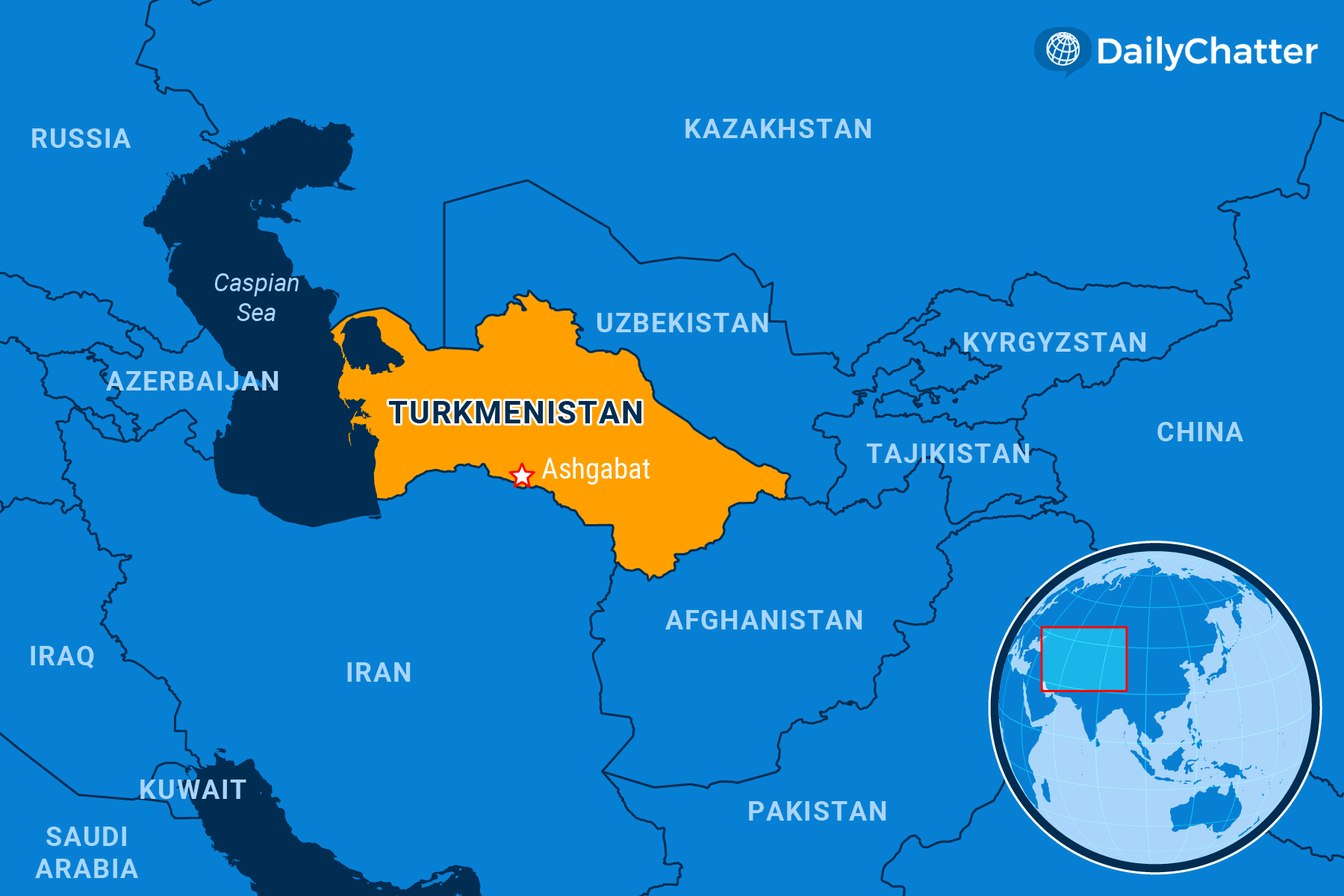 The World Today for February 03, 2022
Listen to Today's Edition
NEED TO KNOW
The Gates of Hell
TURKMENISTAN
Turkmenistan's autocratic President Gurbanguly Berdymukhamedov recently went on state television to demonstrate his awesome power. The leader of the Central Asian former Soviet republic wants to shut the gates of hell.
Given how Turkmen leaders have a history of bizarre ideas – the capital features a massive statue of a supposedly holy book, the Ruhnama, published by the late President Saparmurat Niyazov in 2004 and Berdymukhamedov erected a 68-foot gold statue of himself on a horse as well as a 20-foot gold statue of his dog – one could be forgiven for thinking that Berdymukhamedov was aiming to close a passage to the netherworld.
The truth is more mundane. He wants experts to extinguish a natural gas fire that has been burning in a 229-feet-wide, 65-feet-deep crater called the "Doorway to Hell" since a drilling accident in 1971. "We are losing valuable natural resources for which we could get significant profits and use them for improving the well-being of our people," Berdymukhamedov said, according to Agence France-Presse.
Canadian explorer George Kourounis was the first person to descend into the Darvaza, which is now a striking tourist attraction on the steppe, reported the Guardian in 2014. Wearing a heat-resistant suit and breathing apparatus, he collected samples to discover whether life could exist in the pit. Describing the crater as a "coliseum of fire," he likened the experience to traveling to another planet.
It was not clear why Berdymukhamedov has been focusing on the burning crater. Perhaps he wants to eliminate an embarrassing symbol that may detract from the natural gas projects he is currently planning with neighboring countries. As EurasiaNet explained, the president has been working desperately to restart the 1,100-mile TAPI pipeline project, which would carry Turkmen natural gas to Afghanistan, Pakistan and India and bring foreign currency to Turkmenistan. He has also been working hard to expand electricity exports, as the Chinese state newswire Xinhua noted.
Pushing for a more stable economy might have become a more urgent concern in the wake of recent protests in neighboring Kazakhstan – another former Soviet republic – that started due to surging fuel prices but reflected widespread discontent over economic and political issues in general, the New York Times wrote. Leaders throughout the region fear those protests could spread. Russia deployed forces to Kazakhstan to prop up the government, a move that comports with Russian President Vladimir Putin's revanchist, imperial strategies throughout the former Soviet Union, as the British tabloid the Sun described.
In response to unrest in Kazakhstan, Berdymukhamedov increased his control over people's lives, reported Radio Free Europe. He deployed police in residential neighborhoods, permitted them to randomly check citizens' phones and imposed an unannounced curfew that began at 9 p.m.
Turkmen should beware. When the gates of hell close, they might be stuck inside.
THE WORLD, BRIEFLY
Dodging Bullets
GUINEA-BISSAU
Gunmen attempted to assassinate Guinea-Bissau's president and his cabinet this week in a failed coup that comes after a series of military takeovers across West Africa in recent months, the BBC reported.
President Umaro Cissoko Embalo said the attackers tried to kill him and his cabinet at the government palace. Security forces thwarted the assault. At least six people died during the fight, according to local media.
It was not clear who was behind the assault but Embalo said the gunmen were connected to drug traffickers in the country – although he did not elaborate.
West African leaders described the incident as a coup attempt and said they were following the situation in the country "with great concern," the Associated Press reported.
Coups are not new in Guinea-Bissau: The former Portuguese colony has seen nine coups or attempts since 1980. The country has also been labeled as Africa's first narco-state due to its status as a transit point for Latin American drugs.
Meanwhile, the attack has raised fears about another coup in West Africa: Three countries – Mali, Guinea and Burkina Faso – have already seen military juntas take over in the past few years.
Many soldiers in the region have used public outrage over an inadequate and corrupt administration to justify their actions. In Burkina Faso and Mali, the coups have been welcomed by many voters.
Even so, analysts worry that the democratic gains made in West Africa over the past few years have been erased.
The Mute Button
GERMANY
Germany banned the transmission of the German-language channel of Russian state-run broadcaster Russia Today on Wednesday, amid rising tensions between the Kremlin and Western nations over Ukraine, the Moscow Times reported.
The country's Commission on Licensing and Supervision said the ban was instituted because RT "has not been granted or applied for" a broadcast license required under German media law.
RT's Deputy Chief Editor Anna Belkina criticized the move and said she would appeal it in court. The Russian channel noted that it is headquartered in Moscow and has pointed to a Serbian cable and satellite transmission license that permits it to transmit in Germany.
The ban comes more than a month after Germany's media watchdog took RT DE off the air from Europe's satellite network. The broadcaster, however, remained accessible online and via a mobile app.
Germany's move could further exacerbate tensions with Russia: Last week, Russian Foreign Minister Sergei Lavrov told his German counterpart Annalena Baerbock to refrain from "discriminating against RT" and warned that Moscow would retaliate.
The state-funded channel launched in 2005 and has expanded with broadcasters and websites in various languages, including English, Spanish and Arabic.
Western countries have accused RT of being the Kremlin's mouthpiece and the broadcaster has become controversial in many nations.
The former Soviet republics of Lithuania and Latvia have banned the channel, which has been accused of instigating separatism among ethnic Russians in those countries, the Washington Post reported.
Rocks and Hard Places
TONGA
The Pacific nation of Tonga went into lockdown Wednesday after reporting cases of the coronavirus, a move that comes as the island struggles to recover from last month's catastrophic volcanic eruption and tsunami, the Voice of America reported.
Officials said that two dockworkers tested positive for Covid-19 this week. The two individuals were handling foreign humanitarian aid arriving in Tonga to assist the country's recovery after the eruption of the Hunga Tonga-Hunga Ha'apai volcano in mid-January.
Three more cases among family members were later confirmed, CBS News noted.
Prime Minister Siaosi Sovaleni said the current lockdown will last for at least 48 hours. He added that boat travel between the islands and domestic flights will be suspended.
Despite strict "no contact" protocols during the aid delivery, the virus was able to slip inside the remote nation of more than 100,000. Until now, Tonga was able to avoid Covid-19 after closing the borders at the start of the pandemic.
Last month's volcanic eruption was one of the biggest recorded in decades: The blast created massive tsunami waves and covered the island in toxic ash. At least three people died. Locals cleared the airport runways by hand to allow planes to bring relief to land.
Last week, the United Nations warned that Tonga's greatest concern is access to clean water. The volcanic explosion also destroyed an underwater communications cable that connects the archipelago to the rest of the globe.
DISCOVERIES
No Bones About It
A newly developed substance could revolutionize the healing of bones, according to Cosmos magazine.
An international research team created a bone-inspired material that can alter its shape with a little jolt of electricity before hardening.
The unnamed material was inspired by the fontanelle tissue found in babies' skulls: This tissue allows the skulls to be soft and flexible when a baby passes through a birth canal but later hardens into bone, New Atlas noted.
For their study, researchers created the material by combining an electroactive polymer called polypyrrole (PPy) and cell-derived plasma membrane nanofragments (PMNFs) – which stimulate bone growth. The two components were then sandwiched together to form a thin strip of alginate – an algae-derived – hydrogel.
The team wrote that the material would change its volume and its shape when low voltage was applied. Meanwhile, the PMNFs would naturally mineralize and harden like bone when submerged in a solution designed to encourage cell growth – such as those found in the human body.
When they tested these new strips on chicken bones, the authors observed how the novel materials fused with the real tissue to become artificial bones.
Researchers believe that with some tweaking this material could be used to make "microrobots" that could help doctors treat complex bone structures.
"These soft microrobots could be injected into the body through a thin syringe, and then they would unfold and develop their own rigid bones," co-author Edwin Jager told Cosmos.
COVID-19 Global Update
Total Cases Worldwide: 384,993,873
Total Deaths Worldwide: 5,701,281
Total Vaccinations Worldwide: 9,998,946,663
Countries with the highest number of confirmed cases worldwide as of 4 a.m. ET*
US: 75,680,487 (+0.44%)
India: 41,803,318 (+0.41%)
Brazil: 25,820,745 (+0.73%)
France: 19,999,561 (+1.62%)
UK: 17,632,062 (+0.50%)
Russia: 11,936,064 (+1.20%)
Turkey: 11,833,165 (+0.94%)
Italy: 11,235,745 (+1.07%)
Germany: 10,474,992 (+2.33%)
Spain: 10,125,348 (+0.86%)
Source: Johns Hopkins University
*Numbers change over 24 hours
Clarification: In Wednesday's DISCOVERY section, we said in our "Ancient Slurpers" item that the Maikop tubes used for communal drinking are the oldest drinking tubes to have been discovered to date, even though Sumerian seals depicting such tubes shows that the tradition dates back at least 1,000 years. In fact, although the Maikop tubes are the earliest to have been found, the Sumerian seals are at least 1,000 years older than the Maikop tubes, dating back to the fourth and fifth millennium BCE. We apologize for the confusion.
Not already a subscriber?
If you would like to receive DailyChatter directly to your inbox each morning, subscribe below with a free two-week trial.
Support journalism that's independent, non-partisan, and fair.
If you are a student or faculty with a valid school email, you can sign up for a FREE student subscription or faculty subscription.
Questions? Write to us at hello@dailychatter.com.