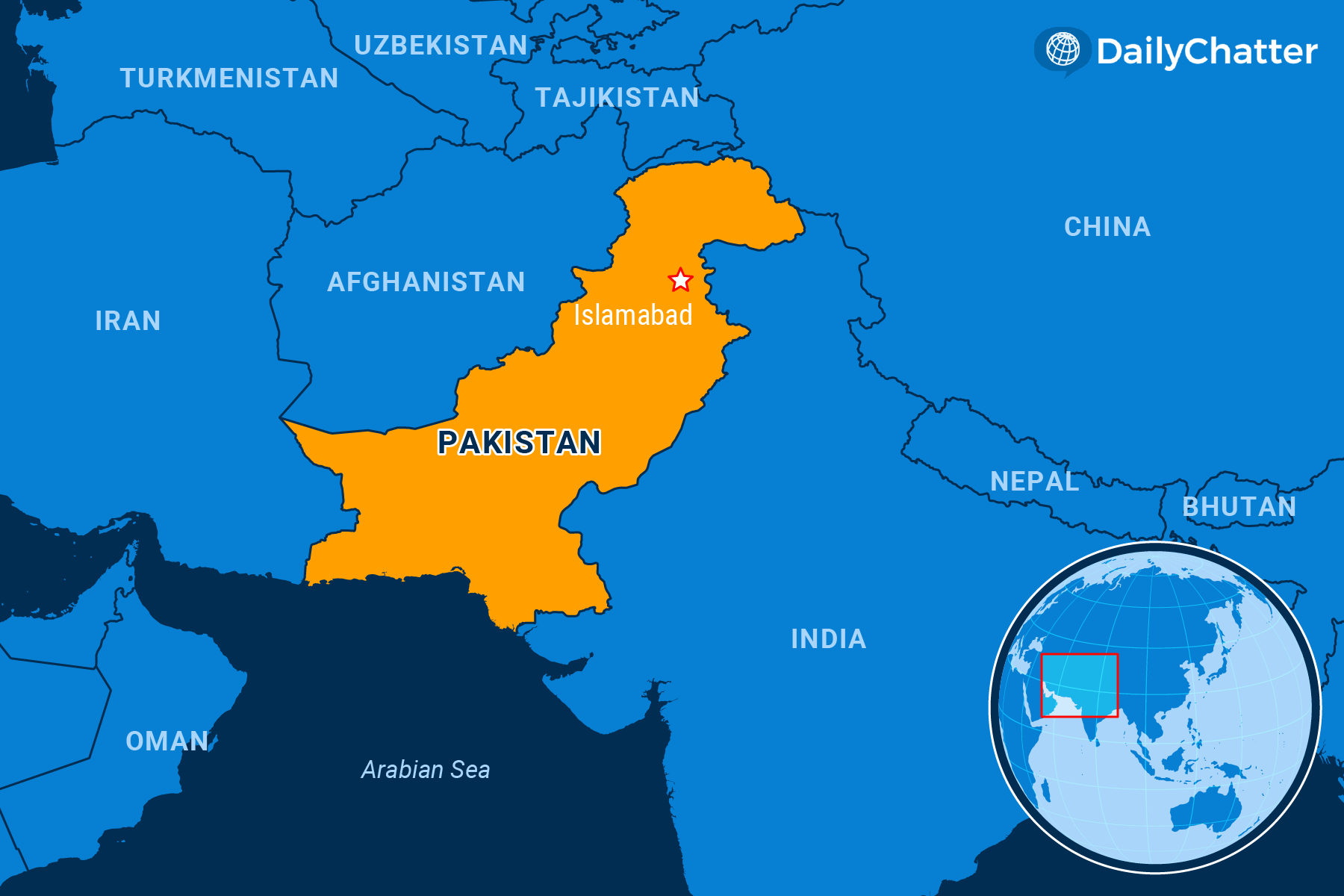 The World Today for January 04, 2022
Listen to Today's Edition
NEED TO KNOW
Bloody Passions
PAKISTAN
Priyantha Kumara was a Christian and Sri Lankan citizen who managed a Rajco Industries factory in Pakistan. When rumors spread that he had trashed some posters of the Islamic prophet, Muhammed, ahead of a planned repainting of his factory, hundreds of his more than 2,000 employees became incensed.
In their eyes, Kumara, 48, committed blasphemy, reported the Washington Post. He had to die. So they lynched him and torched his corpse.
Police have since arrested 100 people in connection with the incident, which has been shared in viral videos around the world, the BBC noted.
But while the killing might have been illegal, Kumara's death was in line with the harsh punishments that Pakistani authorities can mete out for convicted blasphemers. Disturbing religious assemblies, desecrating the Muslim holy book, the Quran, burial grounds or sacred sites and even making derogatory remarks against Islamic luminaries can elicit the death penalty in the South Asian nation.
In November, for example, Pakistani police arrested four men who argued with an imam who refused to announce a funeral for their Christian neighbor in his mosque. "As soon as they arrived [at the mosque], they started cursing the mosque's imam, they disrespected the mosque and they insulted Islam," said a police report cited in Al Jazeera.
Nobody has ever received the death sentence for blasphemy in Pakistan, explained Ahmet Kuru, a political science professor at San Diego State University. But vigilantes have killed more than 70 people suspected of blasphemy since 1990.
Authorities have condemned Kumara's killing. But not by much. According to the Deccan Herald, Pakistani Defense Minister Pervez Khattak said the murder was the work of "angry, charged youngsters who were swept away by religious emotions… even I can get excited and do wrong when it comes to religion…boys do such things in passion."
Efforts to change the laws face significant hurdles. "The reluctance to address this cause is rooted in fear that criticism of the blasphemy law itself could be deemed blasphemous in Pakistan," wrote Foreign Policy. In 2011, Punjab governor Salman Taseer sought to eliminate Pakistan's blasphemy law, for example. He was assassinated.
But Kumara's killing might change things. A writer at the Diplomat wondered if Pakistanis' intolerant attitudes could affect their country's economy. Foreign investors will think twice about parking their money in a country where the slightest indiscretion or rumor of an indiscretion results in violence.
At a time when scholars like the Brookings Institution's Madiha Afzal is calling in the New York Times for a reset between Pakistan and the US, those concerns might be more important than ever.
But nobody ever convinced an irrational person to change their mind with good arguments.
THE WORLD, BRIEFLY
Tripping All the Way
SUDAN
Sudanese Prime Minister Abdalla Hamdok resigned this week following ongoing mass protests against the military, a move that threatens Sudan's transition to a democratic rule, BBC reported Monday.
Hamdok announced that he was trying to stop the country from "sliding toward disaster (but that) despite everything that has been done to reach a consensus… it has not happened".
Since 2019, Sudan has been ruled a fragile transitional government of civilian and military leaders following a popular uprising that ousted longtime President Omar al-Bashir.
In October, the military staged a coup that removed the civilian government and detained Hamdok – it was just one month before the country would transition to a civilian head of state.
However, pro-democracy protesters took to the streets to demand a full return to civilian rule, prompting the military to launch a deadly crackdown. In November, civilian and military leaders created an uneasy power-sharing agreement and reinstated the deposed prime minister.
Even so, demonstrations continued after Hamdok returned to office, with critics saying that his reinstatement helped legitimize the military takeover. At least 50 people have died in the anti-coup protests.
Hamdok's resignation will bring back the military leadership and deals a major blow to Sudan's attempts to become a democracy. The current crisis also risks returning Sudan to the international "pariah" status it held during Bashir's regime.
Meanwhile, the United States has threatened to impose sanctions on anyone that impedes civilian rule.
Wanted: Absolution
SCOTLAND
Scottish lawmakers are moving to pardon more than 3,800 people convicted and executed for witchcraft more than three centuries ago, the Wall Street Journal reported.
The bill's inception follows a two-year campaign by the "Witches of Scotland" group, which has demanded a legal pardon for people accused under Scotland's Witchcraft Act of 1563, as well as an official apology and a monument commemorating the victims.
Historians say that 3,837 people – mostly women – were accused of witchcraft from 1563 to 1735 when the controversial law was repealed. Two-thirds of the accused were executed.
Witchcraft was considered a capital crime during that period and those convicted were strangled to death and then burned at the stake to ensure there was no body to bury, according to Euronews. Suspects were imprisoned and tortured in order to obtain confessions.
Campaigners noted that the pardon is important as Scotland comes to terms with its history, including its involvement in the trans-Atlantic slave trade. Scholars recently found that more than one-third of the land in Scotland's West Highlands and Islands became part of enormous estates using money from the slave trade.
Some say Scotland's ruling pro-independence party is pushing for the pardon as part of a broader assessment of the country's past – and potentially – its future.
Meanwhile, campaigners and supporters believe the bill could encourage other countries to abolish laws that punish witchcraft.
Last year, the United Nations passed a resolution calling for an end to witch trials still being held in countries such as Nigeria, India and Papua New Guinea.
Of Wind Tunnels and Power Grabs
TUNISIA
Tunisia launched a wide-ranging plea to voters to help draft a new constitution, a move seen by critics as an attempt by President Kais Saied to boost his authority and boost his image, Agence France-Presse reported.
The process calls on citizens to send in suggestions regarding various topics, including electoral, economic, social and cultural affairs. It will last until March 20 and a constitutional referendum is set for July 25 – one year to the date that Saied dissolved the government, suspended parliament and seized wide-ranging powers for himself.
The initiative is part of a reform package pushed by Saied, who has been ruling by decree since September 2021. His power grab initially received public support amid frustrations over political deadlocks and a divided parliament in recent years.
However, his opponents warned that the president's attempts to alter Tunisia's political structure are creating a new autocracy just a decade after the revolution that resulted in the downfall of authoritarian leader Zine El Abidine Ben Ali after decades in power.
The revolution later sparked similar movements in the Middle East and North Africa, which later became known as the Arab Spring.
Civil rights groups said that since Saied's power grab, opposition figures have been facing military trials on charges such as "insulting the president."
Last week, the arrest of a senior official of the Islamist-inspired Ennahdha – one of Tunisia's main political parties – sparked outrage, with party representatives calling the detention "a kidnapping and dangerous precedent marking the country's entry into a tunnel to dictatorship."
DISCOVERIES
New Editions Pending
The mysteries of the human body continue to confound scientists and physicians.
Recently, a research team discovered a new part of the body that had never been documented before, Live Science reported.
The new part is a deep muscle layer located in the masseter, which raises the lower jaw and is important for chewing.
In their paper, the team dissected and closely examined multiple human cadavers, as well as analyzed the MRI scan from a living subject. They noted that modern anatomical textbooks describe the masseter muscle as having two layers but a few historical texts have hinted at the existence of a third one.
Their findings showed an "anatomically distinct" third layer of the masseter. This novel part extends from the zygomatic process – a bony projection that forms part of the "cheekbones" – to the coronoid process – a triangular protrusion on the lower jawbone.
"…our finding is a bit like zoologists discovering a new species of vertebrate," said co-author Jens Christoph Türp.
Türp and his colleagues suggested that the deep layer helps stabilize the lower jaw by "elevating and retracting" the coronoid process.
The authors said the layer's discovery could assist doctors to perform improved surgeries in that region and better treat conditions involving the joint that joins the jawbone to the skull.
COVID-19 Global Update
Total Cases Worldwide: 292,595,158
Total Deaths Worldwide: 5,450,670
Total Vaccinations Worldwide: 9,217,775,702
Countries with the highest number of confirmed cases worldwide as of 4 a.m. ET*
US: 56,191,733 (+1.94%)
India: 34,960,261 (+0.11%)
Brazil: 22,309,081 (+0.05%)
UK: 13,497,515 (+1.41%)
Russia: 10,390,052 (+0.31%)
France: 10,442,873 (+0.85%)
Turkey: 9,599,640 (+0.47%)
Germany: 7,258,804 (+0.69%)
Spain: 6,667,511 (+5.92%)
Italy: 6,396,110 (+1.08%)
Source: Johns Hopkins University
*Numbers change over 24 hours
Correction: In Monday's THE WORLD, BRIEFLY section, we said in our "Paint It Green" item that the European Union's proposed taxonomy list will temporarily label natural gas as "green," as long as certain criteria such as a carbon dioxide emission level of 270g of CO2 per kilowatt generated are met. That is actually "270g of CO2 per kilowatt-hour." We apologize for the omission.
Not already a subscriber?
If you would like to receive DailyChatter directly to your inbox each morning, subscribe below with a free two-week trial.
Support journalism that's independent, non-partisan, and fair.
If you are a student or faculty with a valid school email, you can sign up for a FREE student subscription or faculty subscription.
Questions? Write to us at hello@dailychatter.com.