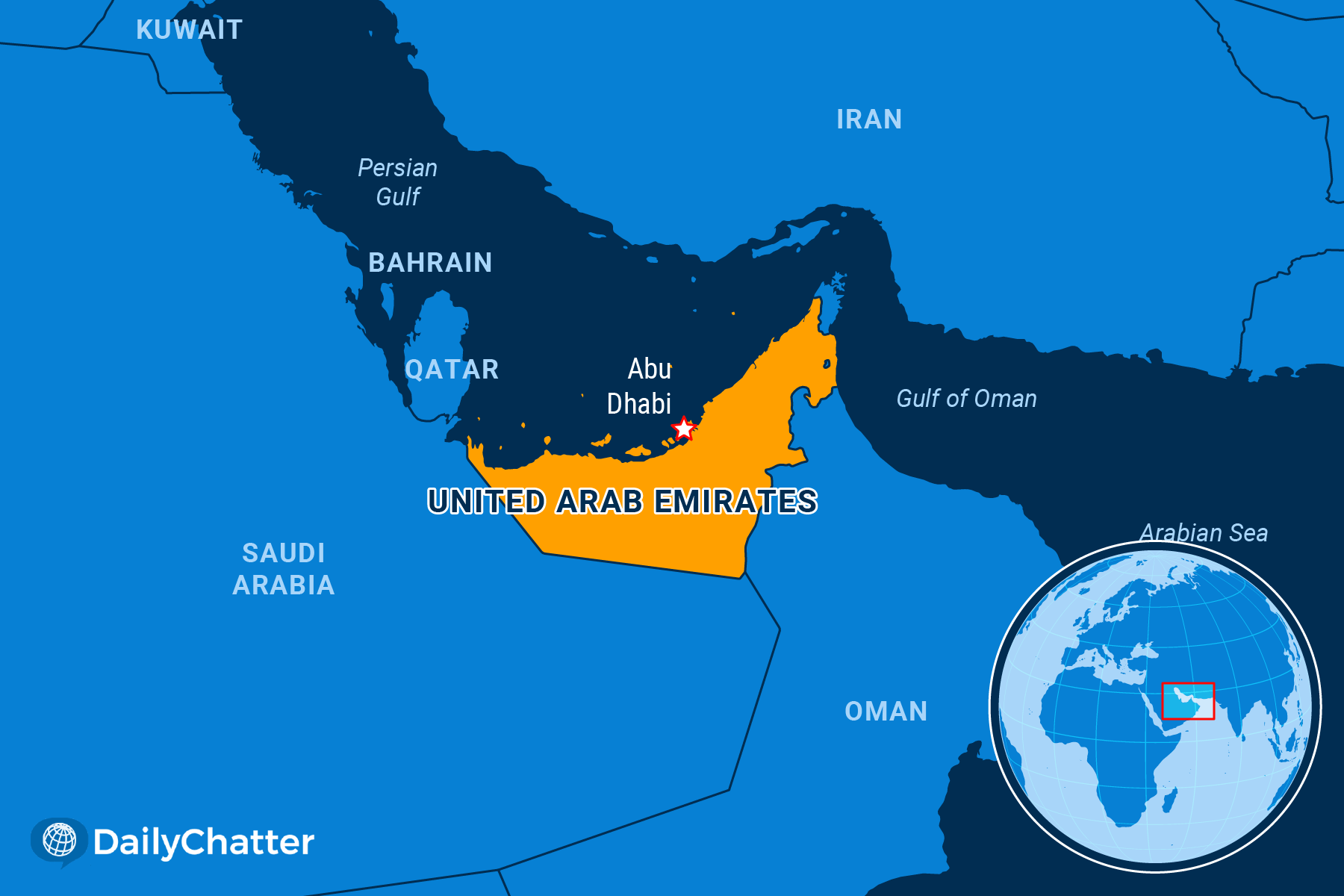 The World Today for December 21, 2021
Listen to Today's Edition
NEED TO KNOW
Just Business
UNITED ARAB EMIRATES
The United Arab Emirates recently made Sunday a day off, putting the Persian Gulf kingdom in step with the Western world's workweek. In most Arab countries, the workweek runs from Sunday to Thursday, as Friday is a Muslim holy day. UAE citizens will now have a four-and-a-half workweek that ends at noon on Friday just before prayer time.
The move "enhances the integration of the national economy with the various economies and global markets and ensures the matching of the days of exchanges and commercial and financial transactions," Emirati officials said in a statement to the New York Times.
It was also a sign of how UAE is realigning itself vis-à-vis the Gulf region and wider world.
Israeli Prime Minister Naftali Bennett recently met, for example, with Abu Dhabi Crown Prince Sheikh Mohammed bin Zayed Al Nahyan, the UAE's preeminent leader. The historic first came a year after Israel and the UAE signed an accord that has led to billions of dollars of commerce and technology exchanges between the two countries, CNBC reported.
[holidaypromo]
The UAE has also reversed its previous opposition to the Iranian nuclear deal that President Barack Obama negotiated with Iran and other countries but which President Donald Trump then abandoned, added the Washington Post. UAE leaders viewed the deal, which involved the US dropping sanctions in return for Iran's promise not to develop nuclear weapons, as potentially empowering Iran. The UAE is a majority Sunni Muslim country allied with Saudi Arabia while Iran is a majority Shiite Muslim nation.
Meanwhile, UAE officials have been pursuing efforts to improve relations with the mullahs in Tehran, too. The UAE's national security adviser Sheikh Tahnoon bin Zayed Al Nahyan recently visited Iran, wrote Al Jazeera, in order to cool tensions in the region.
A recent crisis between the UAE, China and US is another indicator of how the former is trying to push in a new direction.
As the Financial Times explained, Emirati leaders recently canceled talks over a $23 billion deal to buy American high-tech fighter jets. The deal was part of Trump's arranging the UAE's 2020 accord with Israel. But President Joe Biden, who was skeptical of the deal, then caused consternation in Abu Dhabi when he sought to limit the UAE's purchase of Chinese 5G telecommunication technology. The UAE canceled the order in retaliation.
At around the same time, the UAE finalized a $19 billion deal with France to buy French fighter jets, Politico reported. The purchase appeared to be comeuppance for the US undercutting French efforts to sell submarines to Australia.
Was the UAE trying to snub the US? Maybe. Maybe not. Either way, UAE diplomats could plausibly say the French transaction was just business.
THE WORLD, BRIEFLY
Patriots Only
HONG KONG
Pro-Beijing candidates secured a major victory in Hong Kong's legislative elections over the weekend in a poll that was marred by a significantly low turnout and questions over its legitimacy, Reuters reported Monday.
Results showed that candidates who support mainland China took most of the seats in the Legislative Council, while moderate candidates failed to gain any. The turnout of about 30 percent was nearly half that of the previous legislative elections in 2016.
The election came months after the city overhauled the Legislative Council's electoral process, which included rules to only allow "patriots" – candidates screened and approved by the government – to run for a seat.
The changes also increased the seats in the council from 70 to 90 and reduced the proportion of directly elected candidates from 35 seats to 20. Forty seats were reserved by a committee made up of Beijing loyalists, while the remaining 30 seats were occupied by professional and business sector candidates from finance and engineering, known as functional constituencies, the Associated Press noted.
Following the weekend polls, advocacy groups and foreign governments criticized the election as undemocratic. Pro-democracy parties did not participate and said they would not support candidates for an undemocratic poll.
Meanwhile, exiled Hong Kong activists said that the low turnout showed that most of the city had "consciously boycotted the election to express their discontent to the world."
Political analysts noted that the low turnout could undermine the new legislature's legitimacy but Hong Kong Chief Executive Carrie Lam said the ballots cast were a "show of support for the improved electoral system."
Turning Left
CHILE
Leftist candidate Gabriel Boric won the hotly-contested Chilean presidential runoff over the weekend, a victory that some said might spook markets and others predicted would embolden leftwing candidates across Latin America, Bloomberg reported Monday.
Boric, a former student leader, received 56 percent of the vote while his rival, far-right candidate Jose Antonio Kast, secured 44 percent. His victory also marks a considerable turnaround – the 35-year-old Boric came in second – after Kast – in the first round of elections last month.
The polls took place during a period of deep polarization in Chile over issues of inequality: In 2019, mass protests erupted over a transit fare hike but soon turned into a broader movement demanding better healthcare and pensions.
Boric pledged to overhaul Chile's economy through raising taxes for the rich and the nation's integral mining industry – the Andean country is the world's biggest copper producer. He also promised to dismantle the country's private pension system and improve social services.
Analysts noted that Boric's victory will likely scare markets, calling his policies "radical" but added that the new president will also face numerous challenges when he takes the helm in March 2022. These include a divided congress, an economic slowdown and the redrafting of Chile's constitution.
Even so, political observers noted how the election follows the triumph of leftist President Pedro Castillo in Peru earlier this year. They added that a leftist victory could add momentum to other leftwing candidates in Colombia and Brazil, both of which will hold presidential elections next year.
'Tip of The Iceberg'
ITALY
Italian anti-trust regulators imposed a whopping $1.28 billion fine on Amazon this month for abusing its market dominance, a move that analysts said could initiate broader scrutiny over the e-commerce giant elsewhere, CNBC reported.
The Autorità Garante della Concorrenza e del Mercato (AGCM) found that Amazon had harmed competing operators in e-commerce logistics by using its dominant position to push sellers on Amazon.it – Amazon's website in Italy – to its own logistics service, Fulfilment by Amazon (FBA).
Amazon rejected the fine as "unjustified and disproportionate" and said it would appeal.
The US-based firm maintains that more than half of all annual sales on its platform in Italy come from small and medium-sized businesses, adding that their success is important to Amazon's business model.
Ruhell Amin, global head of retail equity research at William O'Neil + Co, said that the fine was "significant" for Amazon. He described the move by Italian regulators as "part of a broader trend that we've seen in Europe around trying to regulate some of these Big Tech companies."
He noted that the fine could later encourage other antitrust watchdogs in the European Union and elsewhere to regulate other parts of Amazon's business empire.
"This certainly seems like the tip of the iceberg," Amin said.
DISCOVERIES
Competing For a Place
An archeological team recently discovered that ancient stone monoliths in Ethiopia's southern Gedeo zone are older than previously believed, according to a new study.
The Sakaro Sodo archaeological site is home to phallic-shaped monoliths – or stelae – that rise as high as 20 feet. While many of them have fallen or remain undecorated, some monuments still display wrought faces and other anthropomorphic designs.
Considered as a potential UNESCO World Heritage Site, the origins behind Sakaro Sodo and other archaeological sites in Gedeo still puzzle researchers.
"This is one of the most understudied archaeological sites in the world, and we wanted to change that," lead author Ashenafi Zena said.
With her colleagues, Zena used radiocarbon dating on the stones and found that they were built around the first century CE. A previous study on other archaeological sites in the Gedeo zone had estimated that some of the stelae – ones found in Tuto Fela in the north – were built around 1100 CE.
The findings also showed that the ancient builders quarried the stone and even obtained one of the materials used, obsidian, from more than 180 miles away in northern Kenya – possibly through some form of trade.
The monoliths' construction also coincided with the arrival of domesticated animals in the region and the start of more complex social and economic systems.
The stelae's purpose still eludes researchers but they hope that further investigation and preservation of the sites could help the monuments gain UNESCO World Heritage designation.
COVID-19 Global Update
Total Cases Worldwide: 275,484,279
Total Deaths Worldwide: 5,361,906
Total Vaccinations Worldwide: 8,730,671,775
Countries with the highest number of confirmed cases worldwide as of 4 a.m. ET*
US: 51,100,799 (+0.50%)
India: 34,752,164 (+0.02%)
Brazil: 22,215,856 (+0.01%)
UK: 11,518,255 (+0.81%)
Russia: 10,064,290 (+0.00%)**
Turkey: 9,191,851 (+0.20%)
France: 8,745,272 (+0.17%)
Germany: 6,834,488 (+0.32%)
Iran: 6,173,369 (+0.04%)
Spain: 5,535,231 (+1.46%)
Source: Johns Hopkins University
*Numbers change over 24 hours
**Numbers have been adjusted by affected country
Not already a subscriber?
If you would like to receive DailyChatter directly to your inbox each morning, subscribe below with a free two-week trial.
Support journalism that's independent, non-partisan, and fair.
If you are a student or faculty with a valid school email, you can sign up for a FREE student subscription or faculty subscription.
Questions? Write to us at hello@dailychatter.com.