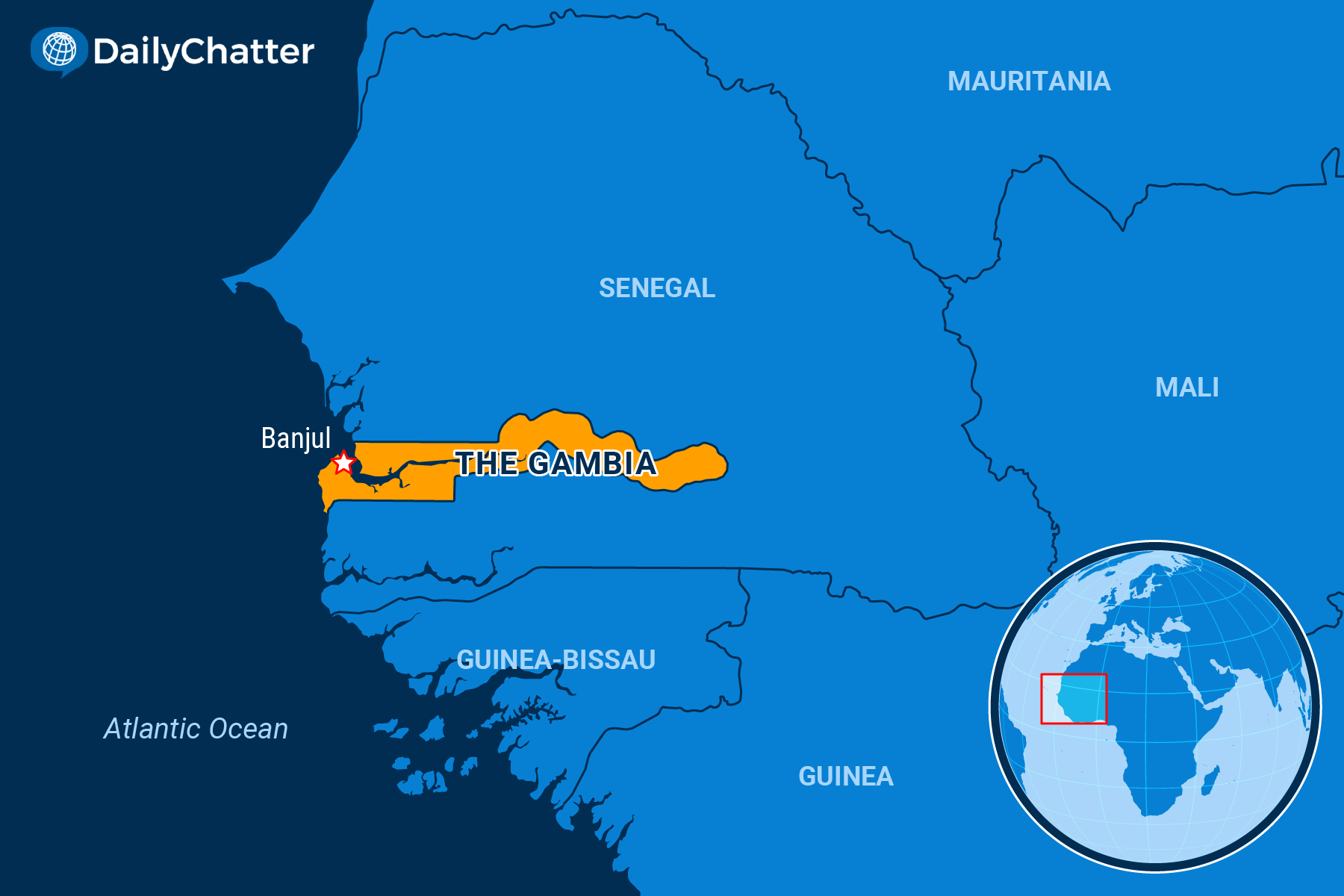 The World Today for December 02, 2021
Listen to Today's Edition
NEED TO KNOW
The Politics of Atonement
THE GAMBIA
In 2017, after ruling the Gambia for 22 years, former dictator Yahya Jammeh went into exile in Equatorial Guinea after neighboring countries sent troops to enforce the election that resulted in the victory of current President Adama Barrow.
Jammeh "orchestrated the crimes of mass killings and raped innocent mothers and daughters, and fathers and sons for 22 years," the BBC explained. A Truth, Reconciliation and Reparation Commission is now examining those crimes.
That history is one reason why many Gambians became angry with Barrow when he announced that he had reached a deal with Jammeh's former political party, the Alliance for Patriotic Reorientation and Construction. The deal is apparently a means for Barrow to gain votes for the Dec. 4 presidential election after he fell out with the leaders of his old party, the United Democratic Party, according to African Arguments.
[holidaypromo]
But critics wonder if Barrow is seeking Jammeh's help in his reelection bid, perhaps with a promise of pardoning the former president before the Truth, Reconciliation and Reparation Commission can render its judgments.
Barrow faces six candidates in what is shaping up to be a tough race, if only because of the economic catastrophe of the coronavirus pandemic, Reuters reported. The incumbent's chief rivals include Ousainou Darboe, the head of the United Democratic Party, Essa Mbye Faal, the head of the Truth, Reconciliation and Reparation Commission and Mama Kandeh, who has hosted video feeds of ex-president Jammeh at his political rallies.
Barrow had warned Jammeh not to interfere in the elections. But the former president ignored his successor's order – possibly because Jammeh was not necessarily acting illegally, noted the National Interest magazine. As Al Jazeera wrote, Jammeh recently appeared virtually at a Kandeh event, saying the candidate would bring "free education, free medical care for all Gambians…Gambia will be developed to a point where it will be one of the most developed countries in the world."
Other presidential candidates include a Rasta Internet engineer running on a platform of legalizing marijuana, Deutsche Welle reported, as well as Jaha Dukureh, an activist who helped achieve a ban on female genital mutilation in The Gambia, the Guardian reported.
Barrow's critics claimed that he has not cooperated with the Truth, Reconciliation and Reparation Commission to investigate the former president's misdeeds. In running for reelection, Barrow also alienated voters by reneging on his initial promise to serve as a transitional leader after Jammeh's departure.
It might sound like The Gambia hasn't come far since it ousted its dictator. That would be false. These days, comedians poke fun at presidential candidates and journalists write without fear. All that would have been unthinkable five years ago, the BBC noted.
Barrow helped bring that democracy to The Gambia. Now, democracy might help usher him out.
THE WORLD, BRIEFLY
Prepping for Battle
WORLD
Members of the World Health Organization agreed Wednesday to start negotiations on a treaty that would create a coordinated global response to prevent and control future pandemics, the Sydney Morning Herald reported.
The deal was struck during a special session of the World Health Assembly, which convened specifically to address the failures of the world in handling the spread of the coronavirus last year.
Although they didn't use the word "treaty," members agreed to create the special instrument – or convention – under Article 19 of the WHO constitution – meaning it would be legally binding.
The proposed treaty would strengthen measures against pandemics and would include measures from data sharing and genome sequencing new pathogens to equitable distribution of vaccines and drugs derived from research, according to Reuters.
The first negotiations are scheduled to begin next March and will continue in the summer of 2022. WHO hopes to reach a final deal by May 2024.
WHO Director-General Tedros Adhanom Ghebreyesus called the decision "historic and vital."
The European Union and about 70 countries had previously pushed for an internationally binding treaty but Brazil, India and the United States had been reluctant to commit to a deal.
Even so, the US welcomed Wednesday's agreement as a "momentous step" in international cooperation "to advance health security and to make the global health system stronger and more responsive."
Slow Wheels, Turning
GERMANY
A German court sentenced a former Islamic State fighter to life in prison for genocide and crimes against humanity against the Yazidi community in the first major verdict involving the persecution of the religious minority by the militant group, Voice of America reported.
The Frankfurt court said that the defendant, Taha al-Jumailly, was guilty of involvement in the killing of more than 3,000 Yazidis and the enslavement of 7,000 women and girls by IS members in 2014 and 2015.
This included the murder of a five-year-old Yazidi girl, whom al-Jumailly had enslaved along with her mother. Prosecutors said that al-Jumailly and his wife purchased the mother and the child as slaves in Syria in 2015, and later moved to Fallujah, Iraq, where they mistreated them, Sky News noted.
That same year, the defendant chained the little girl outside his house in the blistering heat as punishment for wetting the bed. The girl died from dehydration.
The mother survived and escaped captivity. She was a witness for the prosecution.
His wife, Jennifer Wenisch, was sentenced last month to 10 years in jail for the girl's death. She was also a witness at al-Jumailly's trial.
Aside from the sentence, al-Jumailly was also ordered to pay the mother $57,000.
Al-Jumailly is the first person to have been found guilty of genocide in the persecution of the Yazidis, an ancient religious minority who live in eastern Syria and northern Iraq.
During their terror campaign, IS fighters forced Yazidi boys to fight for the militants and would execute men that didn't convert to Islam. Women and girls were sold as slaves.
In 2016, a United Nations commission declared the IS treatment of the Yazidis inside Syria as genocide.
A Big Stick
CHINA
The Chinese government has been pressuring other countries to extradite Taiwan nationals to China, a move described as "an assault on Taiwanese sovereignty," a new report said, according to Al Jazeera.
Safeguard Defenders, a human rights group, released a report Wednesday detailing how more than 600 Taiwanese were extradited or deported by foreign governments to China instead of Taiwan between 2016 and 2019.
The findings show that many individuals had been accused of telecom fraud. It added that Spain, Armenia and Kenya, as well as multiple Asian countries, sent Taiwan nationals to China.
The report revealed that the extraditions would take place after the nationals were denied consular support or communication with Taiwan. Once they were in China, the Taiwanese citizens would sometimes also be denied contact with Taiwanese officials or their families.
International law forbids countries to send individuals to another country where they are at risk of persecution or human rights abuses.
China considers Taiwan as part of its territory but the two reached a deal more than a decade ago that police would work together in third countries to return overseas suspects to their respective territories.
However, Safeguard Defenders noted that China has been violating that deal, particularly since the election of Taiwanese President Tsai Ing-wen five years ago. The group said Tsai wants independence for Taiwan.
The human rights group urged the international community to take immediate action to oppose the extradition of Taiwanese nationals to China.
DISCOVERIES
Black Ice
Most people know that water comes in three forms – solid, liquid and gas – but scientists have recently discovered a new one, CBS News reported.
A research team created a novel phase known as "superionic ice" – or "strange black" ice – after putting water under extreme pressure and heat.
Superionic ice can be found at the core of many planets, including Uranus and Neptune. Scientists have also been able to reproduce it – albeit only for a short time – after sending a massive shockwave through a water droplet.
In their new experiment, lead author Vitali Prakapenka and his team pressed water between two diamonds to recreate the same pressure found in a planet's core. They then used high-brightness X-ray beams to shoot a laser through the diamonds to heat the water.
Their findings showed that the ice became less dense and had a black color because it interacted differently with light.
"It's a new state of matter, so it basically acts as a new material, and it may be different from what we thought," Prakapenka said.
Prakapenka's team, however, was surprised to see that it took less energy to produce this new form: They only used 20 gigapascals of pressure, instead of 50 gigapascals or more – which is equivalent to the amount of pressure inside rocket fuel as it combusts for lift-off.
The ice is also present on Earth and helps maintain the planet's magnetic field.
The authors noted that more research on superionic ice can aid scientists in searching for life on other planets.
COVID-19 Global Update
Total Cases Worldwide: 263,565,559
Total Deaths Worldwide: 5,225,667
Total Vaccinations Worldwide: 8,041,107,778
Countries with the highest number of confirmed cases worldwide as of 4 a.m. ET*
US: 48,692,582 (+0.28%)
India: 34,606,541 (+0.03%)
Brazil: 22,105,872 (+0.05%)
UK: 10,333,672 (+0.47%)
Russia: 9,500,836 (+0.34%)
Turkey: 8,820,114 (+0.26%)
France: 7,829,045 (+0.65%)
Iran: 6,121,757 (+0.07%)
Germany: 5,999,022 (+1.27%)
Argentina: 5,332,629 (+0.04%)
Source: Johns Hopkins University
*Numbers change over 24 hours
Not already a subscriber?
If you would like to receive DailyChatter directly to your inbox each morning, subscribe below with a free two-week trial.
Support journalism that's independent, non-partisan, and fair.
If you are a student or faculty with a valid school email, you can sign up for a FREE student subscription or faculty subscription.
Questions? Write to us at hello@dailychatter.com.